Christmas is an interior design enthusiasts dream, providing the perfect excuse to change up your interiors to bring in some festive cheer! For many, interior design in December is all about creating cosy, comfortable spaces – something that winter and Christmas aesthetics embrace wholeheartedly.
Take a look at some of our favourite emerging Christmas trends to give your interiors a magical makeover this season. From warm retro lights to sustainable decorations, there are plenty of ways to give your home a stylish yet festive new look.
The Perfect Lighting For Christmas Interiors
It wouldn't be Christmas without a plethora of twinkling lights, and once you've got your multi-coloured LEDs sorted, it's time to think about how larger light fixtures can be incorporated into your space to add to that sense of cosiness!
As retro aesthetics become more popular, it comes as little surprise that many are reaching for distinctive industrial-style lights this year. Retro lights pair beautifully with Christmassy rooms as the natural materials blend well with the rustic look often favoured in interiors around Christmastime.
Pedants or wall lights with a brass or copper finish work particularly well as they add to a sense of warmth and luxury especially when set against deep reds and lush greens.
Tinted glass lights are also wonderful additions to Christmas-themed spaces, as they will cast an ambient glow over your interiors, adding to the layers of light to create a room full of depth.
Pale Colour Palettes
While Christmas is often known for its classically bright colour palette, for a more modern, toned-down look, you might prefer a pale pastel colour scheme.
Monochrome spaces are also on-trend this year – why not commit to a light grey or white colour palette to create a winter wonderland?
Softer, more subdued colour palettes work brilliantly in minimal interiors and are perfect for those that don't love the indulgent, sometimes excessive Christmas look.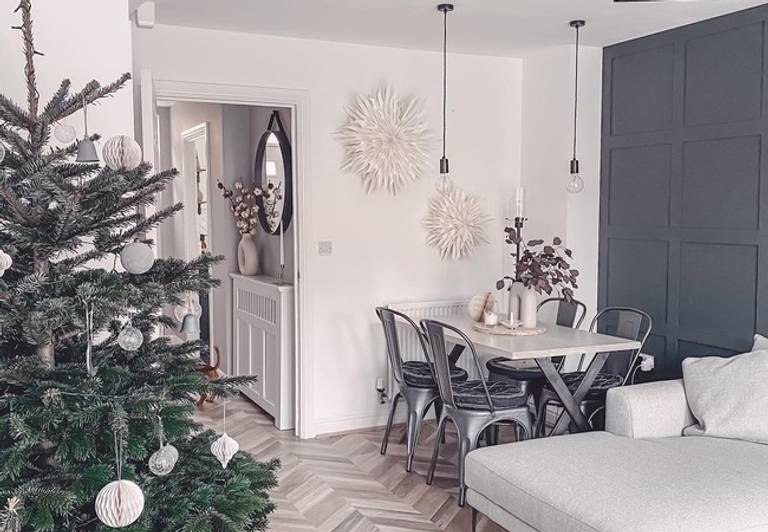 Sleek Edison Pendant - 1 Wire - Pewter, £29, by Industville (Image supplied by @em_thelifestylediaries)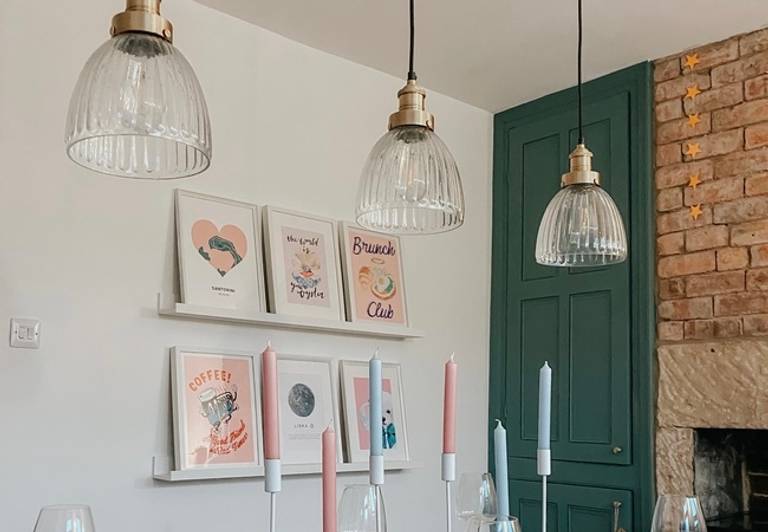 Incorporate Lots of Textures & Layers
For a cosy cabin vibe, plenty of soft, textured blankets are a must. Incorporating a range of cushions and different textures via your rugs and sofas is a great way to ensure your space feels warm and inviting – creating the ideal Christmas ambience!
Different textures will also add further depth to your space, giving it that expertly-styled, sophisticated look.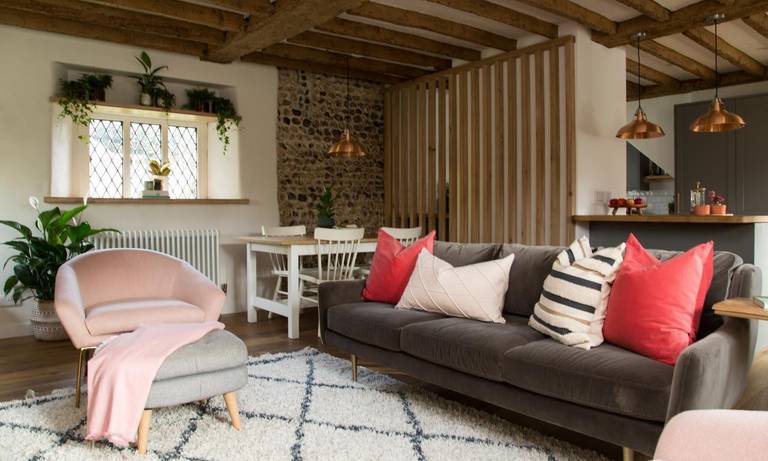 Old Factory Pendant - 12 Inch - Copper, £99, by Industville (Image Supplied by @amazingtelly, Photographed by @beetspulseandthyme)
Natural Home Decor
As the push for sustainability becomes more prevalent in the interior design world, high-quality decor pieces made with natural materials have never been more on-trend.
During Christmastime, this idea might include things like a real tree rather than a plastic one – nothing beats that pine smell! You might also opt for natural decorations like dried orange garlands, homemade wreaths or winter foliage to decorate your mantelpiece.
You might also embrace the idea of going green by using recycled materials to make your decorations and wrap any presents in scrap newspaper, for instance.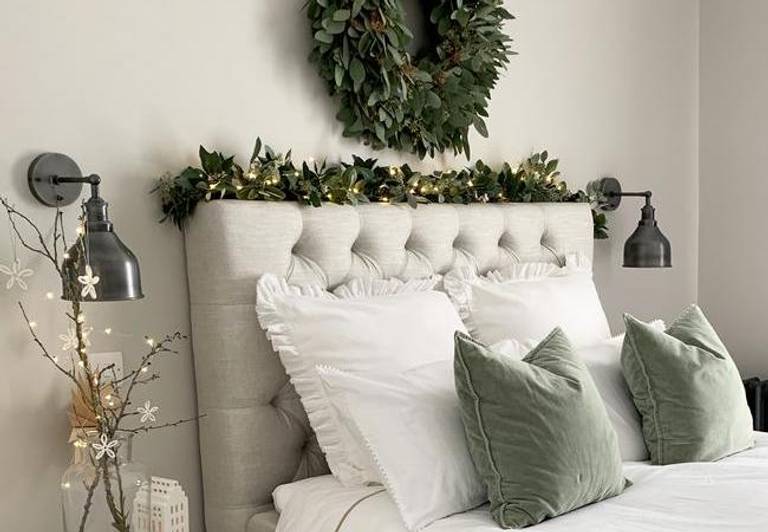 Brooklyn Cone Wall Light - 7 Inch - Pewter, £79, by Industville (Image supplied by @simplyscandikatie)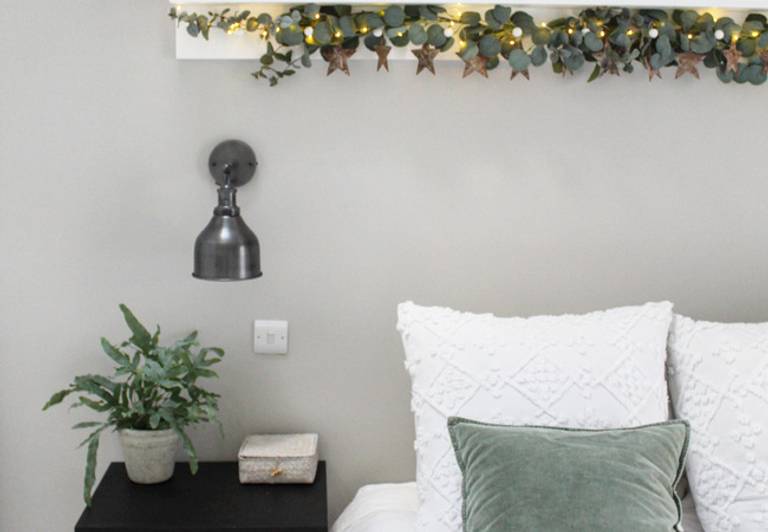 Deep Blue Paired with Gold
Is there a more luxurious combination than a regal blue and opulent gold? Deep blue tones are perfect for the winter months and will look especially elegant against your Christmas decorations.
If you're feeling bold, a deep blue feature wall paired with metallic light fixtures will provide a particularly striking look. Or, if you want to incorporate this idea in a more subtle way, choose decorations in these colours to embellish your table settings or shelves.
Nostalgic Christmas Inspiration
A big part of why many of us love Christmas comes down to nostalgia. We remember the joy and magical festivities from childhood, so why not bring the comforts of past Christmases into your modern-day interiors?
You can embrace retro and vintage features to tap into this sense of nostalgia. Using family decorations that are passed down or finding second-hand items is a great way to conjure up memories.
These kinds of ideas also help you lean into the trend towards sustainability and take a less wasteful approach to home decor around Christmas.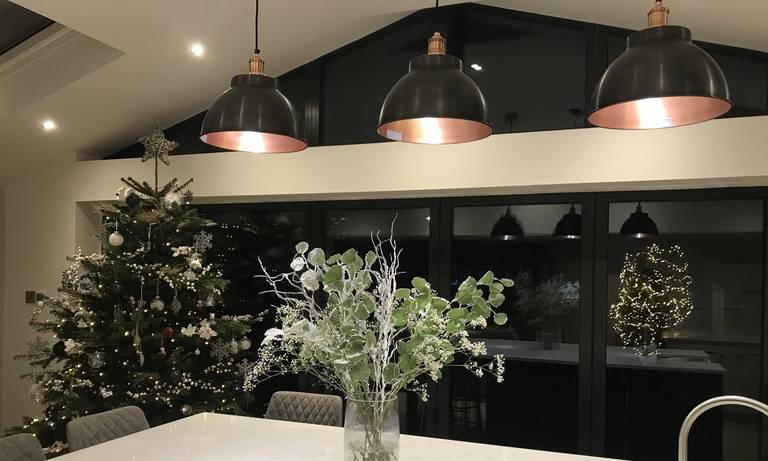 Brooklyn Dome Pendant - 13 Inch - Pewter & Copper, £99, by Industville (Image supplied by @ourplaceinsale)
DIY Christmas Decorations
There are plenty of ways to get crafty around the holidays, whether you want to make your own tree ornaments or upcycle a bit of furniture to fit in with your festive vision.
Paper crafts are particularly popular as they are inexpensive – you can create some spectacular pieces without much fuss. Paper chains, stars and lanterns all look great in paired-down interiors.
Macrame is also very much on-trend and would make some wonderful festive decorations, especially for interiors with a bohemian or rustic look.
Christmas provides the perfect opportunity to decorate your home and get creative with your interiors. If you have decorated for the season, tag us @Industville to share your designs; we'd love to see how you're getting into the Christmas spirit!
You can also follow us on Facebook, Instagram and Pinterest to get more interior inspiration and insight into the latest trends.
Header image credit: @stovaxgazco