We are proud to announce that Industville has recently acquired the ISO 27001 certification in addition to our existing 9001:2015 certification from the British Standards Institute. This double certification reinforces our commitment to data security as well as quality assurance and customer satisfaction.
ISO 9001:2015
Having ISO 9001 certification provides tangible benefits such as improved customer confidence, greater competitive advantage, better resource allocation, stronger supply chain relationships, improved brand perception, higher productivity levels and increased market visibility. It also encourages organizations to focus on continual improvement, leading to greater customer trust in our services or products.
ISO/IEC 27001
ISO/IEC 27001 is an information security management system (ISMS) standard designed to help companies protect confidential data, customer data and their own sensitive information. It is the most widely recognized and adopted international standard for cyber security and data protection.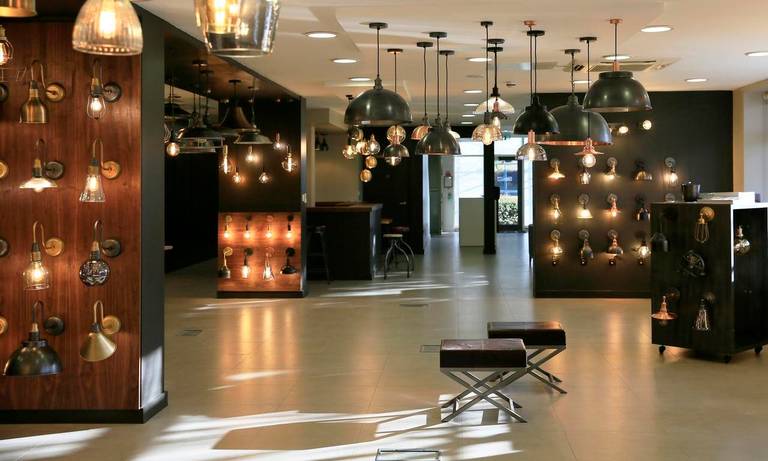 Enterprise Lighting Solutions
At Industville, we have a dedicated team who provide expert sales support, specification and design services to the enterprise lighting sector. We utilise our experience and knowledge to help clients find the perfect solution for their lighting needs, whether they are a start-up or a global organization.
We have a robust portfolio of well-designed, hand-made and sustainable products for a wide range of applications across industrial and modern styles. Our lighting is available in an array of finishes, including antique brass, pewter, chrome and blackened steel, as well as options for both LED and filament designs to suit any project's requirements.
Whether you need reliable commercial lighting solutions for offices, retail spaces, hospitality venues or hotels, Industville can also provide bespoke lighting solutions to suit any environment.
Our MD Mara Rypacek Miller
Industville Managing Director, Mara Rypacek Miller, commented of the announcement, "We are delighted to achieve certification in both international standards. The award of these certifications demonstrates the company commitment to the quality of our products, the services we provide to our customers, and security of all our, our customers' and employees' and partners' data".
She added, "This achievement further strengthens our commitment to support organisations and sectors who require quality products for their projects and security for their data. We strive to provide our customers with the confidence and peace of mind that their data is in safe hands and the products and solutions are at the top-quality standards."
In summary, as a company we are proud to have gained ISO 27001 and maintain ISO 9001 certification, which is a testament to our commitment to providing reliable products and excellent service for our customers. Our dedication to continually improving processes, effectively engaging with stakeholders, focusing on risk-based thinking and responding proactively has led us to become Lighting Suppliers and Accredited Lighting Manufacturers that are trusted by thousands of happy customers - as evidenced by the over 7,500 five-star Trustpilot reviews we have received (at time of writing).
Contact our sales team today or complete our trade enquiries form and join the likes of Smashburger, Next, BrewDog, Superdry and Liberty with the very best lighting and more.