For many, the living room is a central space in the home where family comes together to commune and relax in one another's company. There are countless things that go into ensuring this space looks and feels like the Instagram-worthy interior of your dreams.
One of the things you must consider when addressing living room design is texture. Incorporating different textures into a space is a great way to elevate it to professional standards, giving you that luxurious look.
Take inspiration from our top tips for adding texture to your living room!
Using Texture in Interior Design: Why and How?
So why is it important to consider elements of texture in your living spaces?
Meticulously styled interiors are made up of a good balance of different shapes, patterns, colours and textures, all of which come together to create a visually-appealing space that intrigues and pleases all the senses.
A medley of textures, whether incorporated in your furnishings, decor pieces or throughout all the details in your interior, adds instant life and depth, meaning the room does not fall victim to seeming too flat or derivative.
1. Combine Textiles
One of the most obvious things to do when thinking about imbuing your living room with lots of texture is combining a variety of textiles and fabrics.
Mix and match different fabrics throughout the room with a different look for your sofa, curtains, blankets and rugs. Combining chunky knit blankets with faux fur cushions and woven rugs or blinds is a great way to get various fabrics into your space.
2. Embrace Layers
Going hand-in-hand with this idea of combining fabrics is the concept of layering. Layering rugs of different sizes and patterns can create an especially effective look.
However, this does not merely apply to textiles - you can also think about layering other elements by artfully arranging a vintage tray, a pile of books and a candle on a side table, for example.
3. Add Books
Books always add visual interest and are perfect for bringing a variety of new textures to a room. With paperbacks, hardbacks and glossy coffee table books, there are countless textures to explore when styling your shelves.
Arranging books both horizontally and vertically will make your shelves more dynamic. Books can also be brilliant tools to add pops of colour to an otherwise plain room. If you don't want the colourful spines on display, you can also face the books outward with the pages on show, which is another great way of introducing additional texture.
4. Consider Curtains
Pay attention to the vertical space in your living room by adding another layer and texture in the form of curtains. This could be floaty linen curtains that give a lighter texture or rich, velvet curtains that accentuate a feeling of luxury.
Consider layering different styles of curtains or blinds for more depth.
Brooklyn Dome Wall Light - 8 Inch - Pewter, by Industville (Image supplied by Rebecca Lewis lewisshrek@aol.com)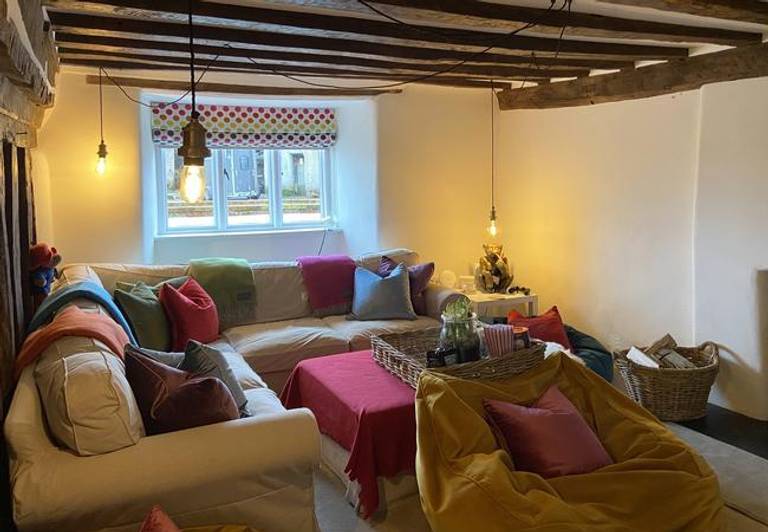 5. Incorporate Natural Elements
Nature offers a huge range of different textures to experiment with - when it comes to your furniture, living room lights, textiles and finishing touches, there is plenty of room to mix and match various textures, offering a real treat for the eyes.
Natural elements could include:
Wooden furniture Woven rugs or wall hangings Rattan baskets or furniture Glass features that complement natural light Metal lights and fixtures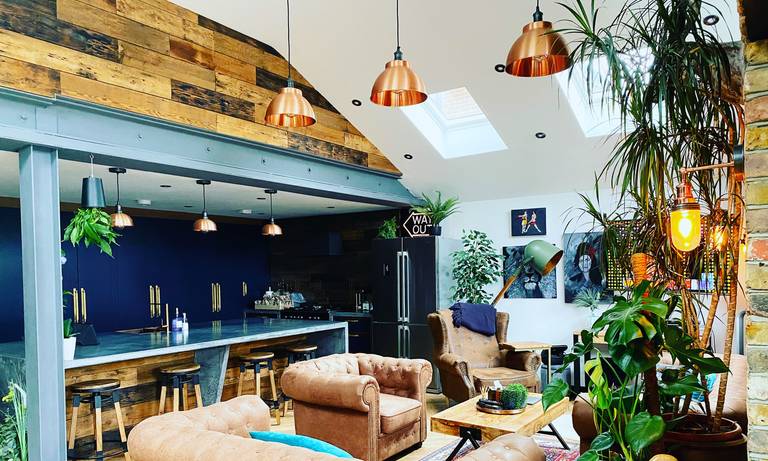 6. Invest in More Houseplants
If you want to go one step further and invite not just natural materials but nature itself into your home, then this idea is for you!
Dotting various kinds of houseplants around your living room, whether this includes taller plants, hanging plants or small succulents, is an easy, inexpensive and on-trend way to add life and texture to the space.
7. Get Creative With Wall Art
Embrace the ever-popular gallery wall trend and arrange an eclectic selection of art to add some vibrancy and texture to your wall. This is a great option for those that don't want to paint walls or texture them through more expensive means, like adding panelling, for example.
For an effective look, combine:
Different styles of art Photographs Diverse frames Wall hangings Mirrors Wall-mounted plants
8. Mix and Match Design Styles
A mixture of different elements from modern and traditional aesthetics is also sure to help you combine some interesting textures.
Embracing variety in the design styles you draw inspiration from opens the door to particularly striking combinations - a blend of contemporary chairs and sofas with an old farmhouse coffee table or vintage lights gives a stylish and welcoming look full of texture.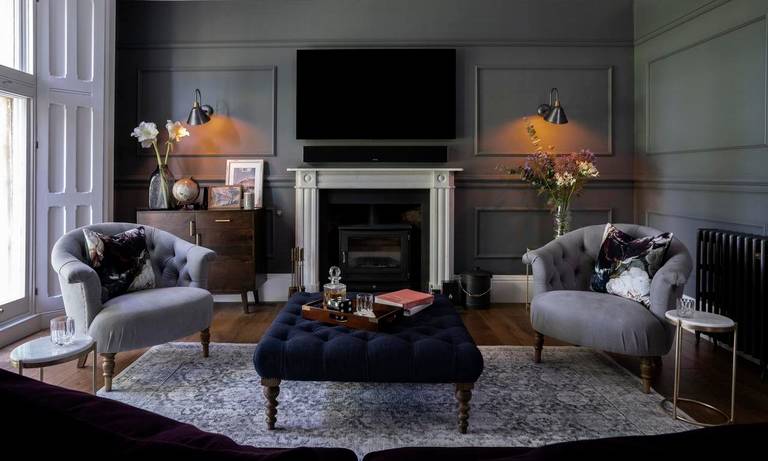 Swan Neck Cone Wall Light - 8 Inch - Pewter, by Industville (Image Supplied by Fawn Interiors Studio, Black Ash Studio)
9. Choose Bold Patterns
Bold patterns add visual texture and dimension to your space. Even if you're going for a minimalist look, subtle patterns around the room can do wonders for adding an enhanced feeling of depth.
Patterned feature walls, murals or cushions bursting with pattern and colour are perfect for adding a striking element to your living room without overwhelming the space or making it seem too busy.
10. Have Multiple Light Sources
You may not think of lights as being able to add texture to a room, but they can be another great tool in creating more layers.
Distinct light sources diffuse around a room differently and provide a varied effect, highlighting some areas while mood-lighting others. Use a combination of wall sconces, ceiling lights and stunning pendants to add layers of light to your space.
Get inspired with our top living lighting trends for 2023.
When it comes to adding texture to your living room, there is no 'one size fits all', so consider what would work best in your space. There are plenty of ways to turn your interiors into cosy havens full of texture and style.
Want to discover more? Head over to our Instagram, Pinterest and Facebook pages for daily interior inspiration.