Living room design should strike a balance between practicality and comfort, and living room lighting plays a big part in creating a homey atmosphere. Stylish lighting fixtures will be the perfect companion to your living room interiors, casting a warm shining glow.
1. Layered Living Room Lighting Designs
You can embrace diverse lighting sources throughout your living room to create layered pockets of light. Consider using living room lights such as wall lights and clusters of pendants designed to provide optimal functionality and comfort. Take advantage of task lighting to diversify areas within the living room that require a significant amount of light to achieve tasks like reading.
You can incorporate lighting fixtures such as pendants, flush mounts and wall lights in your living room to achieve different layers and lighting zones within the space. Combining diverse light sources helps achieve a more satisfying and energised atmosphere.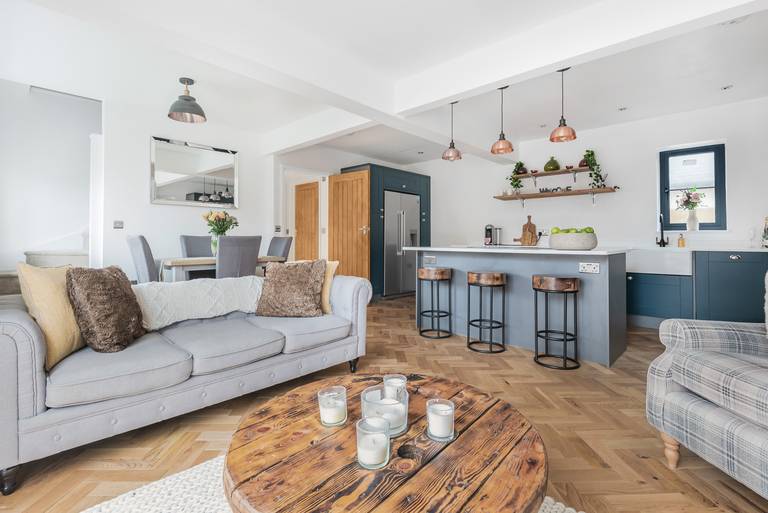 Brooklyn Dome Pendant Light - 8 Inch - Copper + Brooklyn Dome Flush Mount - 13 Inch - Pewter & Brass by Industville (Image supplied by @cscotswoldproperties)
2. Modern Sleek Industrial Lighting
Living room lighting trends in 2023 will welcome a new era of 'Modern Sleek Industrial Style'. This stunning lighting style offers sleek elegance while acknowledging industrial heritage such as robust manufacturing and high-quality metal material finishes. Modern Sleek Industrial lighting works beautifully against contemporary accompanying fixtures and focal points, adding defined texture within the living room.
Modern Sleek Industrial lighting can contribute to a greater range of interior design styles such as modern, scandi, botanical, maximalist and boho. These lights that embrace an evolution of classic industrial aesthetics redefine the living room into a unique space that suits your desired interior preferences.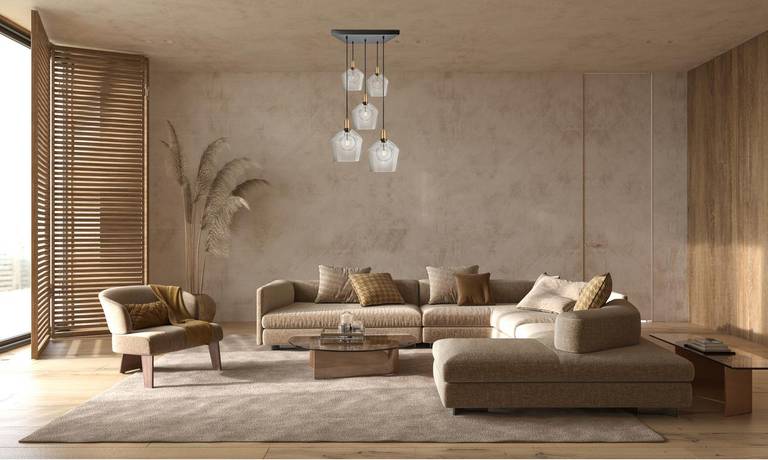 Sleek Tinted Glass Schoolhouse 5 Wire Square Cluster Lights - 10 inch - Smoke Greyby Industville (Image supplied by Industville)
3. Glass Lighting
This timeless lighting fixture is set to become even more popular in 2023. Glass lighting adds depth and texture throughout the space creating tranquil comfort and sleek delicacy.
Glass fixtures are strikingly versatile, with various shades and finishes becoming available such as tinted glass shades in amber, grey and opal white colourways. Layered glass lights create a stunning ambience in your living space that's perfect for relaxation.
4. Lights Made of Natural Handcrafted Materials
Purchasing light fixtures with sustainability in mind is on the rise for interior design enthusiasts in 2023. Embrace lights made of natural handcrafted materials in your living room for a modernised yet striking look.
Our handcrafted collection of wire cage pendants complements a wide range of interior styles and perfectly casts dynamic warm shadows throughout your living space. Handcrafted light fixtures are the perfect addition to any living room, showcasing unique, understated grandeur while creating a warm and inviting atmosphere.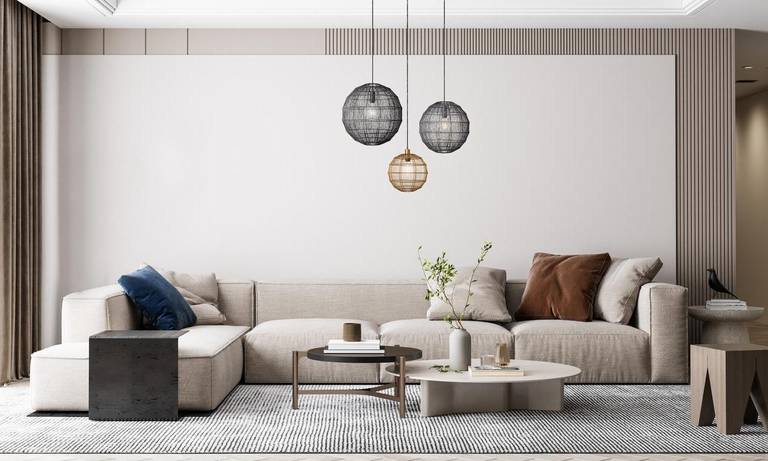 Handcrafted Wire Cage Pendant Light - 12 Inch - Globe - Brass + Handcrafted Wire Cage Pendant Light - 16 Inch - Globe - Pewter + Handcrafted Wire Cage Pendant Light - 20 Inch - Globe - Pewter by Industville (Image supplied by Industville)
5. Accent Wall Lights
Adding modern & contemporary wall lights into your living room interiors can provide functionality while highlighting focal features within the room. Wall lights are excellent features of accent lighting, and with their striking design statement, they beautifully complement ceiling pendant lights to produce a warm ambience.
Angling a wall light over focal points such as art, reading corners, statement pieces and furniture highlights your unique design characteristics. The little pockets of light created by wall lighting make the room feel warm and inviting, while the rest of the room endures a low and intimate atmosphere.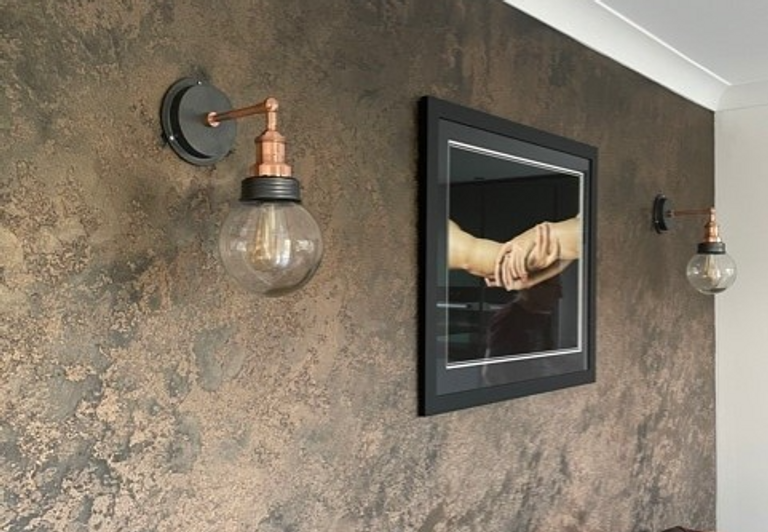 Brooklyn Outdoor & Bathroom Globe Wall Light - Copper by Industville (Image supplied by David Green)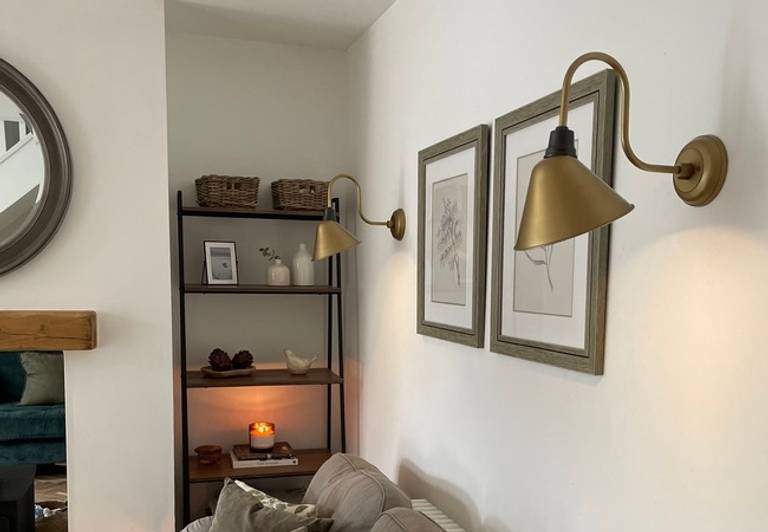 6. Globe Lighting
For a sense of harmonious comfort, incorporate globe lights into your living room interiors in 2023. The sleek rounded silhouettes come in various shades and materials, such as glass and metal.
Globe lighting complements other rounded shapes in your living room, like chairs and coffee tables. By adopting this trend, you can showcase a distinct, modernised, but minimal style that doesn't intrude on the overall look and feel of the living room.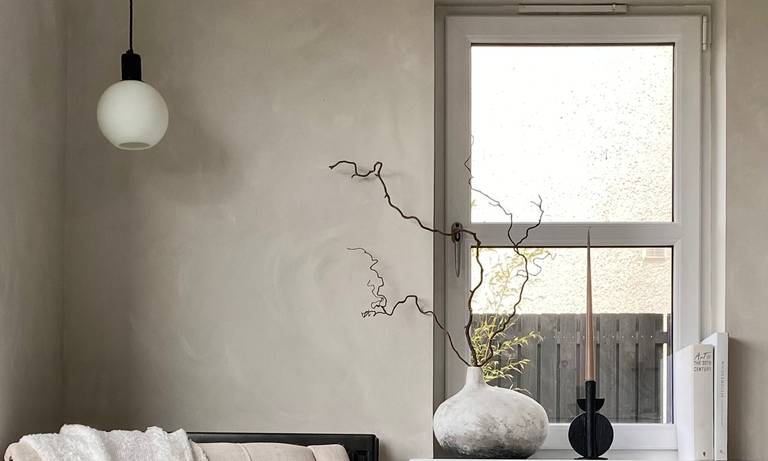 Sleek Opal Glass Globe Pendant Light - 7 Inch by Industville (Image supplied by @home_with_candy_sky)
7. Modern Living Room Chandelier Lights
Modern cluster chandelier lights create an impact within your living room without making the space too dramatic. Modern chandeliers combine several pendant lights in one fixture to create a sensational focal point in the living room.
These kinds of cluster lights are perfect for creating a living room that encapsulates an inviting and cosy atmosphere.
8. Embracing LED Bulb in Your Living Room Lighting
Ensure that the light fixtures placed within your living room are compatible with LED bulbs. Adopting LED bulbs within your living space is a must if you are environmentally conscious, and LED bulbs are energy efficient and provide a longer lifespan in comparison to other bulbs.
LED bulbs are available in various shapes, sizes and shades, allowing you to achieve the perfect living room atmosphere. Our collection of Edison light bulbs flawlessly casts a warm glow throughout the space adding dimension and unique character. All are lighting fixtures are compatible with our Edison light bulbs. Why not swap your old bulbs for Edison LED bulbs in 2023?
Will you be embracing our top living room lighting trends of 2023? If you need new living room lights to help complete your design in the new year, delve into our extensive collection of indoor lights. Our diverse range of styles will complement any interior design style you are inspired by.