The living room is a hub for comfort and cosiness, especially during the depths of winter. Modern living room lights will cast a warming glow over those darker days and help ensure your home really feels like home.
Embracing the best modern living room lights to suit your space allows you to find the perfect balance between form and function. And, most importantly, they'll help you turn flat, uninviting interiors into cosy havens where you can kick back and relax!
How to Make Your Living Room Cosy with Lighting
When trying to achieve a particular feeling and ambience in your home, the first port of call should be lighting. The right lights can significantly influence the mood of a space, changing the tone from vibrant and energised to intimate and relaxed, even when the rest of your decor and styling stays the same.
Using lighting with a compatible dimmer switch can be a great way to change the mood of your living room, depending on the situation or task. Being able to dim your pendants and wall lights independently gives you more control over the feel of the space, allowing you to create different tones in the different zones of your room.
The same can also be said for smart light bulbs that allows you to change the brightness or even colour of the different lights in your living room.
Also, think about the colour of your light shades here – something like tinted glass can change the feel of the light, projecting a sense of warmth.
Here are some of our favourite modern living room lighting ideas for upping the cosy factor.
1. Layered Living Room Lighting
Using different lighting sources allows you to create a more dynamic space with different zones and layers. This can help add more moments of warmth and lets you enhance the multi-functionality of the living room, offering elements of task lighting and ambience.
Strategically combine living room wall lights with a modern ceiling pendant or flush mount, lamps and even candles dotted around the room for illuminating pools of snug light.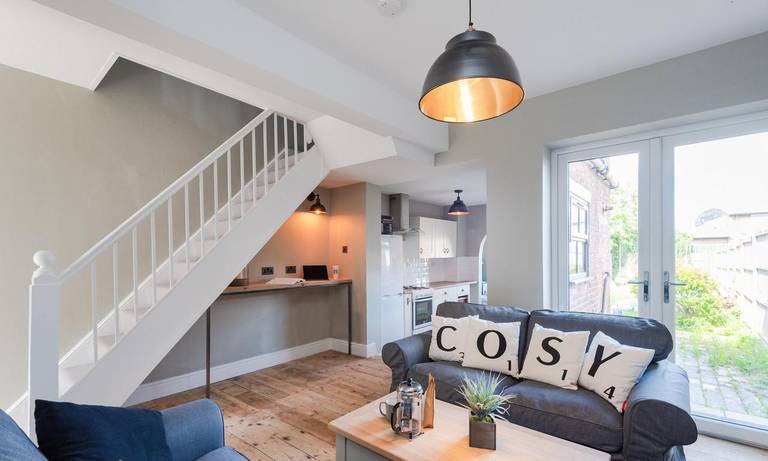 Brooklyn Dome Pendant - 17 Inch - Pewter & Brass and Brooklyn Dome Wall Light - 8 Inch - Pewter by Industville (Image supplied by @redlivingproperty / @Kayleigh_higgs_photography)
2. Lights with Organic Shapes
Embrace an organic, natural look for a softer, more rustic feel. Lighting shades with rounded profiles work well here, reducing any sense of harshness and balancing the sharp edges of your living room.
Handcrafted living room lights that use softer shapes and natural materials make beautiful additions to your space, especially if your interiors already incorporate other natural materials and handmade items throughout.
Characterful lights like this can not only add to the overall cosiness of your room but will enhance your sense of unique style and the personality of the space.
3. Minimalist Modern Pendant Lights
Minimalist aesthetics are all about embracing functionality and the things you love – ideal for the modern home. Keep things simple with single-wire pendants and sleek, modern lighting designs for an elegant, hygge-focused look.
Simple light shades or exposed bulb fixtures are great, as they'll blend seamlessly into your space while providing a hearty, warm glow and an additional level of comfort.
4. Modern Living Room Chandelier Lights
If you want to create a real impact in your living room and still keep things cosy and inviting, a modern chandelier is the way to go. Modern chandeliers and cluster lights combine numerous pendants in one fixture for a stunning focal point.
Unlike traditional chandeliers, they don't feel too grand and can create impact without turning your room into an imposing space.
5. Brass Fixtures
Bright metallic shades are ideal for living rooms as they'll bring pops of colour and shine while still remaining relatively neutral. Brass lights are particularly warming, combining well with a range of cosy colour palettes and earthy tones for a space that truly exudes relaxation.
Brass lights will also create a subtle sense of luxury and further enhance the unbeatable ambience.
6. Oversized Lighting
Like chandelier lights, oversized pendants can add a bold centrepiece to your living room. Giant metallic pendants are ideal for industrial-style spaces as well as less-defined interior styles, providing a sophisticated point of interest.
When paired with atmospheric Edison bulbs, a large pendant light will cast an appealing light over the entire room, reducing the risk of too-harsh overhead light and creating a soft yet stylish space where you can relax.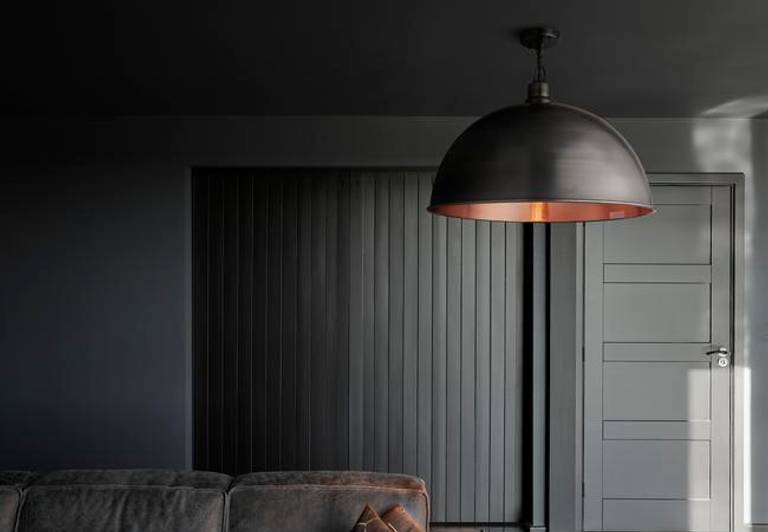 Brooklyn Giant Dome Pendant - 24 Inch - Pewter & Copper by Industville (Image supplied by Andy Haslam Photography)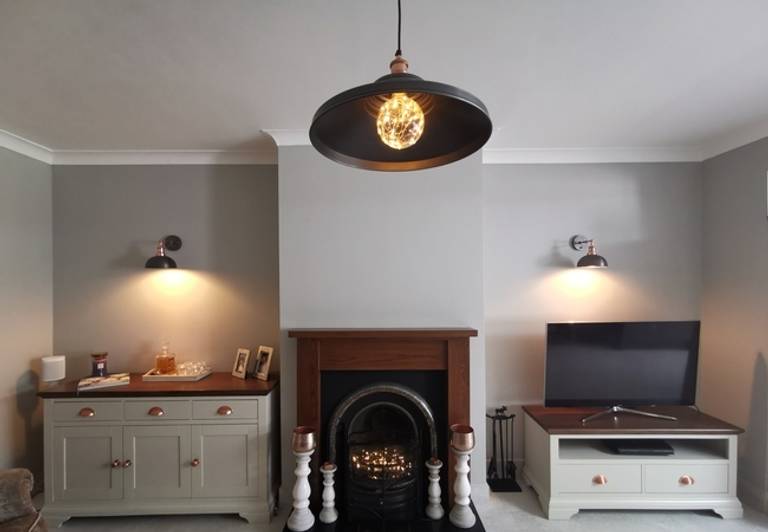 7. Elegant Wall Lights
The living room isn't all about ceiling lights; in fact, incorporating smaller living room wall lights is a great way to bring subtle moments of warmth into your interior. Wall lights can be used to shine focused light on your favourite reading spot or can act as attractive accents, offering another layer of light and shadow.
Swan neck wall lights will provide a particularly elegant look, working to give your living room an additional element of softness. Sconces and wall-mounted lights are also brilliant space-savers, freeing up floor or side table real estate that has previously been taken up by lamps.
Getting your living room lighting right is essential if you want a relaxing space fit for numerous purposes. Hopefully, these living room lighting ideas will set you well on your way to creating a beautiful space where you can retreat to at the end of a tiring day filled with the stresses of modern life!
And if you need even more inspiration, head over the our predictions for the top living room lighting trends in 2023.
Header image credit: @stovaxgazco