As ways of living change, so too must our interior design sensibilities; with this in mind, there are plenty of intriguing living room trends to look forward to over the coming year.
Our living rooms are places of relaxation and community, making comfort and practicality top priorities. As the cost of living rises, thrifty trends will also serve as an undercurrent to many of our new design decisions.
Here's our living room trend forecasting for 2023!
Upcycling, Stooping & Buying Second-Hand
With paying more attention to the environment and spending less becoming a focus for most, making something new again will likely be the first port of call for those looking to refresh their living rooms on a budget.
If you're itching for a change, something as simple as painting or refinishing furniture will help breathe new life into a space. Even rearranging furniture or decor and finding new visual configurations for existing items is a good way to experiment with new looks without spending any money.
Buying second-hand will remain popular, along with the rising trend towards 'stooping', which refers to the practice of claiming old furniture people have left on the street – this two-way relationship means someone can easily get rid of items that no longer serve them while your living room receives an interesting new piece, free of charge!
Accent Lighting for Cosy Interiors
Living rooms should be warm, inviting and cosy, and one of the best ways to achieve this (beyond lots of blankets and different textiles) is with the right lighting.
Small living room lights that serve as subtle accent features will become increasingly popular as they'll help create more focused moments of ambience in a larger space.
We'll see a rise in lighting that can be dimmed, producing less light and using minimal power for reduced energy consumption and more intimate, dynamic feeling spaces. Living room lights with opaque shades will also become more sought after as we gravitate towards this dimmer, more subdued atmosphere.
To get more inspiration for your lounge lights, see our favourite living room lighting trends for 2023.
Warm, Earthy Colours
Earthy tones can add a layer of cheerfulness to your living room without being too full-on. Natural colours (different deep browns, greens, oranges and yellows) embody tranquillity and a connection to the outside world while being incredibly soothing.
As more people crave simplicity without the perceived harshness of stark minimalism, we'll see the continued rise of earthy tones in living rooms.
Mushroom-inspired decor and motifs are also beginning to receive a lot of interest, which perfectly plays into this notion of grounded, natural warmth and provides a quirky way to get back in touch with nature.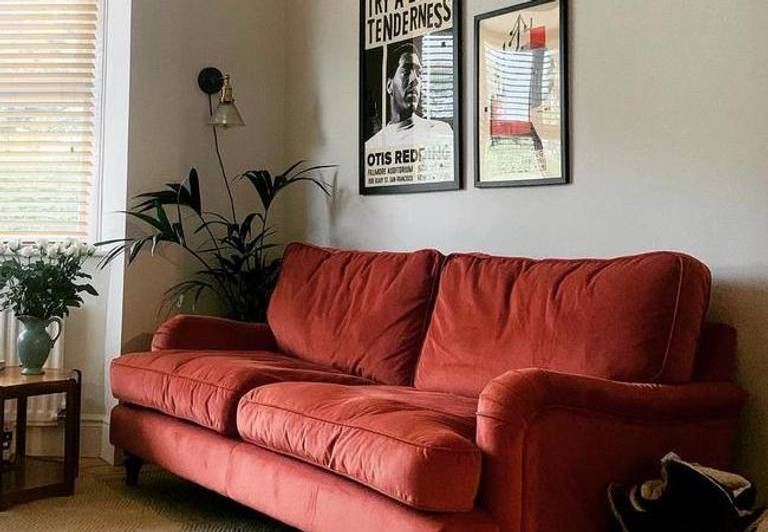 Brooklyn Glass Funnel Wall Light - 7 Inch - With Plug by Industville (Image supplied by @renovating._26)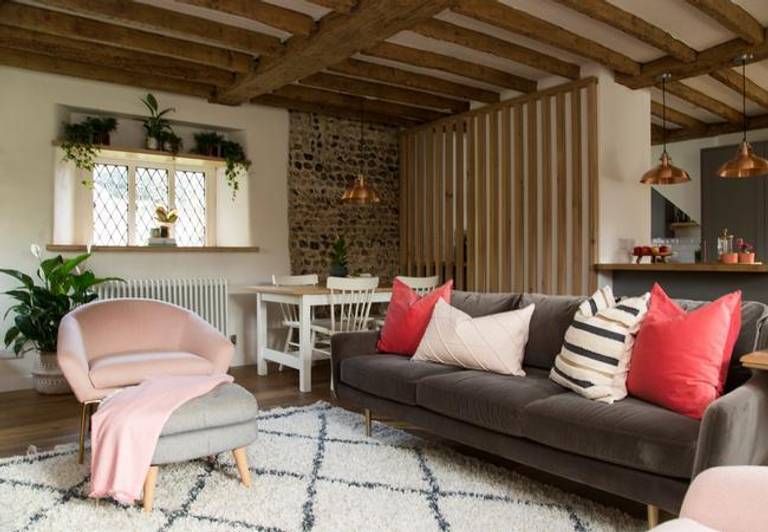 Creatively Coloured Ceilings
One unexpected but effective place you can use colour is on the ceiling. Social media feeds are currently full of exciting examples of people using colour in unique ways, and 2023 will see our ceilings getting some of this love.
Again, we expect to see warm earth tones continue coming into their own here – colours like terracotta, sage green or grey add new dimension without being too vibrant or overwhelming, while also adhering to the current consensus that natural is better.
Depending on the kind of impact you want to create, a striking black ceiling light or airy glass fixture could be the ideal accompaniment to your painted ceiling.
If you're not sure which finish would best complement your living room's colours, pick up one of our metal finish sample rings to experiment with the different available tones.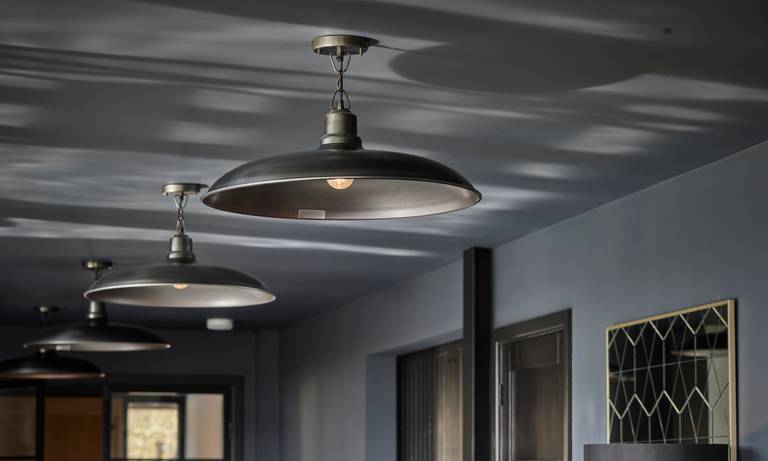 Brooklyn Giant Bowl Pendant - 24 Inch - Pewter by Industville (Image supplied by Andy Haslam Photography & @barnconversionblog)
Wood Burning Fires
Let's embrace the nod towards warmth and comfort even more with wood burners and open living room fires! Fires provide a stunning, crackling centrepiece to your room, bathing your interiors in an unbeatable glow that'll also serve as a welcome reprieve in colder months.
Ensuring you combine your fire feature with the right lights to complement its natural warmth is a must. Brass highlights and fixtures combine particularly well with bright fire tones, reflecting light and further drawing out its brilliance.
Black Contrasts
If you're after something a little more striking than the aforementioned trends toward warmth and cosiness, rest assured there are plenty of stylish living room trends for you.
Contrasting black hardware and other interior features against a softer palette is a sure-fire way to create a timeless space that exudes easy refinement.
Mirrors, side tables or coffee tables and modern black lights all offer good ways to bring sleek, darker elements into otherwise lighter interiors, helping refine your living room with a carefully curated look.
A Balance Between Maximalism & Minimalism
Top living room trends of the past few years have often been geared toward notions of all or nothing, maximalism or minimalism, but 2023 will see more people landing somewhere in the middle, picking their favourite aspects of each.
Interesting colours and patterns will remain popular, but people will be more mindful of how and where they use them, giving them room to embrace both simplicity and boldness.
Geometric shapes and clean lines will also contribute to this blending of the two design approaches, as features like this will provide structure while also making your living room more visually dynamic when paired with rounded profiles.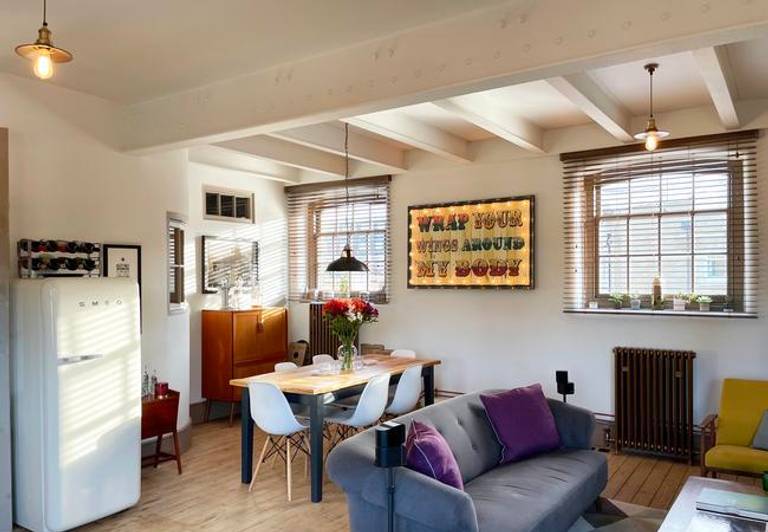 Brooklyn Flat Pendant - 8 Inch - Brass & Old Factory Slotted Pendant - 15 Inch - Pewter by Industville (Image supplied by @towerofcreativity)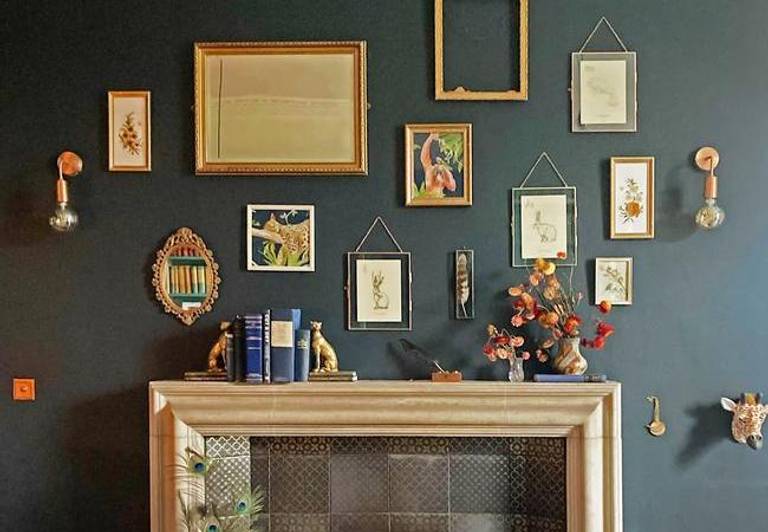 Interiors That Boost Wellness
At the core of many of these living room design trends is our desire to create interiors that can boost our mood and improve our well-being. It's all about investing in the simple luxuries that bring you joy.
Whether this means adding a bit of luxury to your living room by incorporating a home bar, embracing even more houseplants or creating zen zones with natural materials and the things you love, designing a wellness-focused space will come down to including what you personally need to relax and unwind.
We can't wait to see how our living room design predictions come to life! As with every new year, we're sure to see some unexpected interior trends cropping up over the coming months, so keep an eye out for lots of living room inspiration.
In the meantime, browse the full Industville lighting range to find the missing puzzle piece to your interiors.