Finding new ways to get the experience of going out while staying in remains attractive for many of us. Pub interiors are cosy and welcoming, making them the perfect places to escape to when you want to unwind and socialise. And bringing a bit of this unbeatable Friday night atmosphere into your own home can be a great way to make the most of your interiors, ensuring they reflect your personality and needs.
Whether you want to embrace the classic pub look or are aiming to emulate a luxury lounge, there are plenty of ways to design a home bar that makes a statement. Here are some of our best home bar and pub design tips.
Use Darker Colour Palettes For an Iconic Look
For that iconic pub look, think about opting for darker colours in your design. This could include painting walls, shelves and cabinets black or choosing dark toned furniture that inspires a sense of depth and sophistication.
Painting the space behind open shelving units can be a particularly good way to incorporate this feeling of depth and understated luxury.
Darker colour palettes can also contribute to a sense of cosiness and warmth. Rich reds and browns are staples of the traditional pub aesthetic.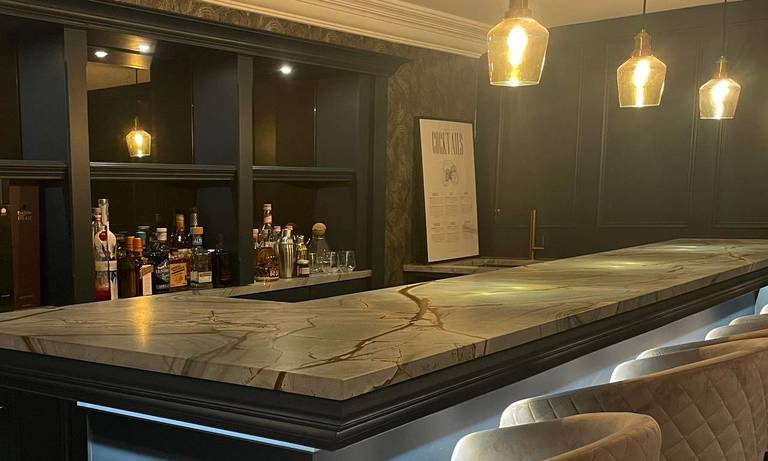 Brooklyn Tinted Glass Schoolhouse Pendant - 5.5 Inch - Smoke Grey by Industville (Image supplied by @Projectriverview)
Make a Statement With Eye-Catching Bar Lighting
Even small home bars allow you to embrace an element of luxury and extravagance, so you'll certainly need an equally eye-catching light fixture to complete your new centrepiece! Sleek pendant lights with shimmering metallic finishes make fantastic choices in this regard, acting as the crowning jewel to your elegant bar.
However, when it comes to home bar lighting ideas, there are endless options. If you're opting for a more traditional pub look, industrial style lights are ideal for adding that homey, more rustic feel.
Lighting is also essential for getting the atmosphere – whether it's a cheerful pub or high-end bar feel – just right. Combine your favourite light style with dimmable LED Edison style bulbs to create ambient mood lighting that does your interior design justice.
Use Bar Stools as a Feature
Having somewhere comfortable and convenient to sit is essential for your home bar – this is where bar stools come in. These chairs can be conveniently tucked away under kitchen islands and beside bar cabinets, perfect for helping save space, while giving your bar area that signature look.
Bar stools for kitchen islands come in an endless array of unique styles, and making your seating a prominent feature in your home pub gives you a great opportunity to hone in on a particular look. For instance, vintage leather bar stools provide a wonderfully traditional feel while handcrafted wooden bar stools will work brilliantly in a modern minimalist bar space or kitchen.
Don't Underestimate Good Bar Shelf & Storage Ideas
Storage is another vital part of a stylish and functional home bar – you need somewhere to store glasses, bottles and other accessories with plenty of room to proudly display your collection. As they are such a necessary feature, why not make the most of your shelves by drawing the eye and making a statement?
Floating shelves especially offer an opportunity to play with interesting materials, opting for things like reclaimed wooden beams or other recycled materials. Illuminating the underside of shelves like this with LED stips will offer another layer and a further sense of luxury.
Built-in shelves and bar units also make good storage options and work especially well for those that want to blend their bar into their existing kitchen. Incorporating wine coolers or other open cabinets into kitchen islands offer another clever storage option.
Create Living Room Bars for Small Spaces
A mini bar for your living room might be the most realistic way to incorporate a home bar into your space. Bar carts or dedicated side tables aren't intrusive and can provide a luxury bar look with very little effort.
Depending on your preferred aesthetic, you could use antique furniture or a sleek modern cart that can be moved easily for a space-saving home bar. Installing shelves above your bar unit is another way to ensure you have enough storage space while achieving your desired look.
Incorporate Garden Bar Interior Ideas
With garden kitchens, offices and outdoor living trends becoming incredibly popular, it's no surprise that many are also taking their home bars outside – whether this means within a garden structure or an open-air bar area.
Embracing a beach theme or rustic country feel in your outdoor or garden bar is a great way to enhance that feeling of escape provided by the luxury of a home bar. This could include incorporating more natural materials into the design and embracing light wood panelling and pastel colours for a carefree, airy feel.
Benches and DIY bars are also ideal for open-air outdoor pub areas, helping you create a beer garden on a budget. With a bit of imagination, discarded wooden pallets, pipes and other reused materials make for perfect impromptu bar carts and shelving units!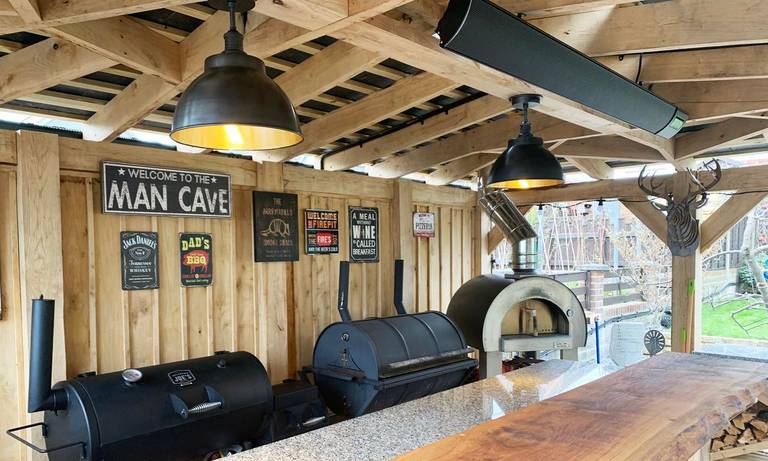 Brooklyn Outdoor & Bathroom Dome Flush Mount - 17 Inch - Pewter & Brass by Industville (Image supplied by @The ArrrmadilloSmokeShack)
Consider Outdoor Garden Bar Lighting Ideas
To ensure you can enjoy your outdoor bar well into the evening, you'll need a couple of outdoor lights that can act as good mood lighting while providing enough illumination to remain comfortable.
Stylish wall lights that can withstand the elements are ideal here as you can easily install them around patios and exteriors and use them as complementary highlights in the interiors of your outdoor structures.
Wall lights installed around your bar area and countertops also act as useful task lighting, ensuring you can prepare drinks and lounge in comfort all night long.
With these simple home bar ideas, there's nothing stopping you from embracing the modern pub aesthetic in your interiors!
Remember to check out our range of bar stools and lighting suitable for bars, kitchens and dining rooms to find the best complimentary furniture and accessories that'll take your bar to the next level.
Header image credit: @classicinteriors_