From terracotta to camel to rich chocolate, shades of brown were an interior design staple in the 70s, and with the resurgence of this decade's iconic aesthetic, we're seeing this colour trend come into its own once again.
Best Brown Interior Design Ideas
With more and more people reaching for brown colour palettes, it might just be the next trend you draw inspiration from! Whether you opt for luxurious beige, caramel, earthy browns or any other brand of the colour, there are plenty of ways to incorporate the versatile look into your home.
Discover how to create a stunning brown interior with some of our top tips.
Use Brown for Cosy Colour Schemes
Many designers are attributing the rising interest in brown interiors to the sense of comfort the colour in all its shades can provide. Earthy colours like brown keep us grounded, so it's no surprise that amidst the chaos of the last few years, we're seeking ways to bring comfort, warmth and order to our interiors.
Both dark and light brown shades can introduce a feeling of cosiness while still leaving plenty of room to experiment with other colour combinations and interior features.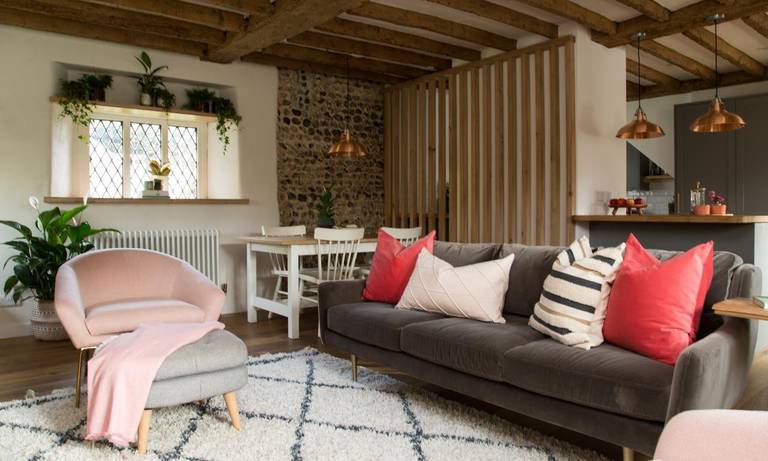 Old Factory Slotted Pendant - 15 Inch - Copper by Industville (Image supplied by @amazingtelly and photographed by @beetspulseandthyme)
Embracing Warm Minimalism
For some, minimalism conjures a picture of stark white rooms with an element of harsh scarcity. But the minimalist ethos is so much more than this.
An array of colours can complement a minimalist aesthetic, helping to highlight the things you love and prioritise what you value – like comfort and subtle warmth. So, sophisticated brown details could just be what your interior is missing.
Minimalism is the ideal look to combine with your favourite ideas for modern interior designs that incorporate brown colour shades.
Using Brown as a Neutral Colour
Brown can act as a wonderfully-neutral shade, making it ideal for those who want a toned-down, refined look but want a slightly warmer backdrop than a white or grey colour palette could provide.
In all its forms, brown works as a great base colour for you to project your other design visions against, opening the door to countless possibilities.
A Versatile Colour Palette
We've already mentioned some of the shades in the brown family (chocolate, camel, caramel), but there are so many more to work with. No matter if you're going for a light, airy feel or a sense of indulgent luxury, there's a shade to help you achieve it.
On the lighter, more subdued end of the spectrum you have tones like almond, beige, tan sandy brown and light ashy brown, providing undeniable sophistication for your interiors. While the more vibrant end of the spectrum includes dark wood tones, rich orangey browns, rust, mocha, taupe and all the shades in between.
What Colours Go with Brown?
Different browns will also complement a range of other colours, bringing out their vibrancy or adding a sense of natural warmth. Bright primary colours, opulent jewel tones, pastels and other neutrals will all work with shades of brown, ensuring any highlights can stand out.
Light brown or dark brown interior colour schemes can be good choices for both minimalist and maximalist interiors as there's lots of richness and subtlety to play with in all the shades under the brown umbrella.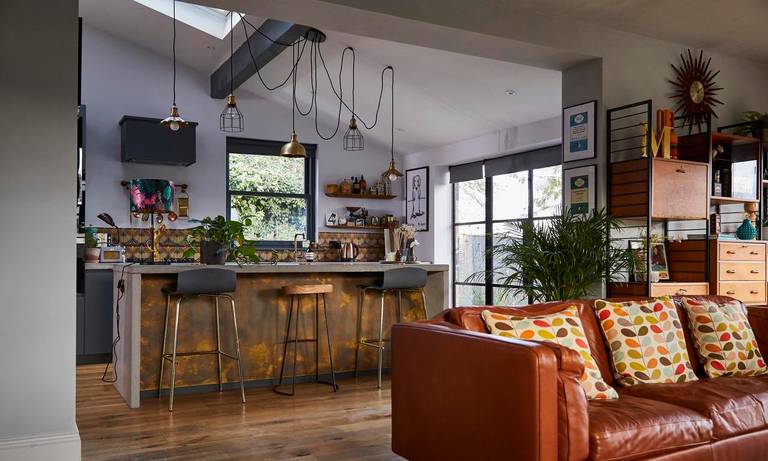 Brooklyn 5 Wire Pendant - Brass by Industville (Image supplied by The Main Company - West Yorkshire, McLoughlin)
The Timelessness of Brown Living Rooms & Interiors
Nothing is off limits when it comes to decorating with browns; walls, furniture, decor, upholstery, carpets and other textiles all look great in brown. It's this effortless incorporation of the colour palette into our interiors that gives it its staying power.
While it may increase and decrease in popularity slightly, brown is a colour that remains a timeless and reliable decorative element. It's so versatile and can complement a plethora of interior styles, allowing you to experiment with other looks while retaining a solid, timeless foundation.
How to Create Sophisticated Brown Interiors
Shades of brown can also evoke a sense of sophistication. Leather and good-quality wood furniture have a timeless appeal that can elevate interiors with a professionally-styled feel, ideal for contemporary and vintage styles.
Darker browns and rich mahogany tones especially will infuse your space with an air of drama and luxury without making the atmosphere imposing. Contrasting expressive shades of brown against lush blue tones can offer a particularly winning combination.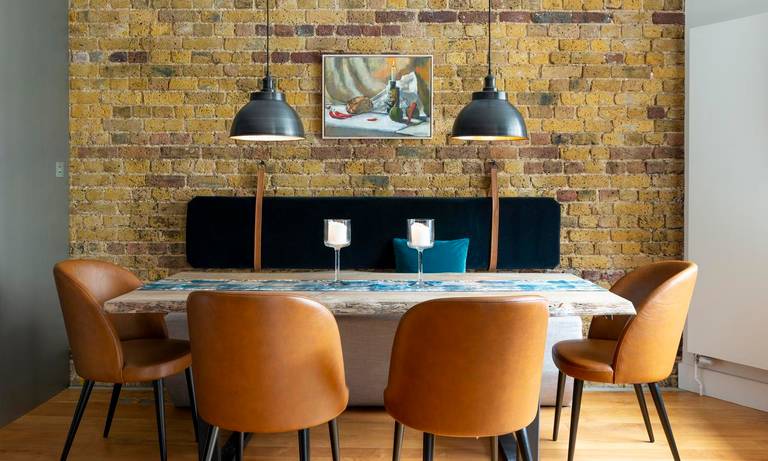 Brooklyn Dome Pendant - 13 Inch - Pewter & Copper by Industville (Image supplied by @honey_and_toast_interiors)
Embrace Sustainable Interior Design Ideas
Keeping your interiors to a brown, earthy theme will also encourage you to further embrace sustainable design features. Many of the natural materials you incorporate into your home will likely be a shade of brown – think exposed wooden beams, reclaimed wooden furniture, bamboo, hessian, cork and other raw fabrics.
So, what better colour to use to demonstrate your determination to be kinder to the planet? As another colour that evokes scenes of nature, green also contributes to this idea of prioritising sustainability as well as complementing different shades of brown beautifully. You can easily incorporate green and brown colours into your interiors by embracing different houseplants and nature-inspired motifs.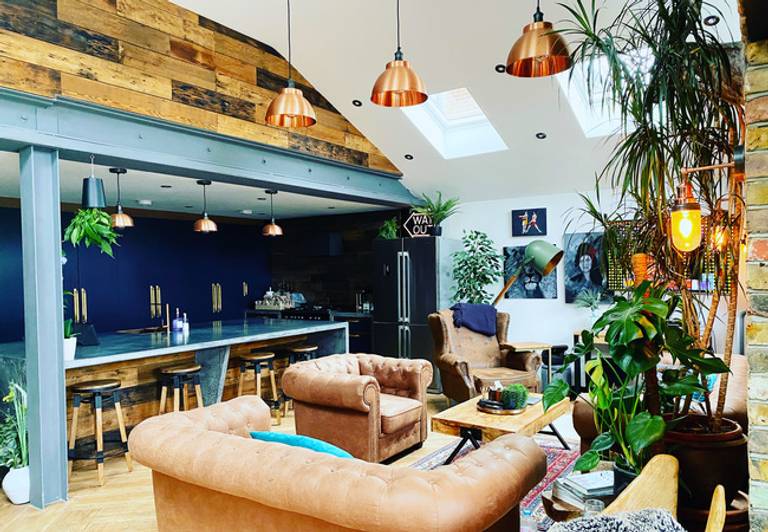 Brooklyn Dome Pendant - 13 Inch - Copper and Brooklyn Dome Pendant Light - 8 Inch - Copper by Indsutville (Image supplied by @Project_threezero)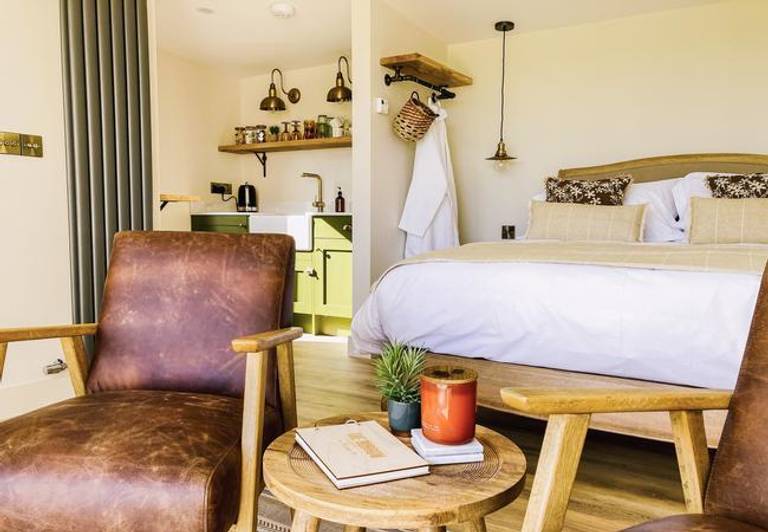 Use Metal Decor Ideas in Brown Interiors
Metallic accents provide a splash of brightness and give a sophisticated shimmer to your space. Burnished mirror and picture frames, metallic lights and other bronze, brass, copper or gold details will combine wonderfully with the brown elements in your room.
As another natural material, metals also combine with your wooden finishes and plants, making them pop. These metal details will help bring out the richness of your brown, coffee, tan or cinnamon toned colour palette, with brass and copper being especially good options for those seeking a hint of warmth.
Our vintage lights and modern lighting ranges include fixtures with brass and copper finishes to ensure you can make your brown interior features pop. Filter our products by finish to see all the styles available in these colours.
Incorporating shades of brown into our interiors is just one of the trends we're looking forward to seeing evolve over the coming months, whether that means an influx of cocoa, khaki, russet or any other brown coloured interior designs. Have we convinced you to set aside your go-to colours and opt for something a little browner with our brown interior design tips?
No matter your preferred colour palette, the versatile Industville range will have a light to suit you. Choose from a range of shades, bulbs and fitting styles to find the ideal finishing touch for your space. Our leather or wood stools could also make the perfect addition to your brown-inspired interiors.
Header image credit: @honey_and_toast_interiors