Countless interior design trends come in and out of fashion these days, with a new must-have look flooding our Instagram feeds every few weeks. However, there are two overarching core design concepts that continue to reign supreme, no matter which trend is in the current zeitgeist – minimalism and maximalism.
Despite these timeless styles seeming to rely on opposing approaches (one advocates for a little, the other a lot), they are both rooted in displaying the important things and highlighting features that really reflect your personality and style.
By understanding whether your taste leans more towards minimalism or maximalism, you can determine the perfect themes, colours and decor to suit your space and style.
Which Interior Design Style is Right for You?
Whether you're a minimalist, maximalist or somewhere in between, many styles and trends crossover with these concepts, allowing you to curate on-trend yet personal interiors that speak to your preferences.
The modern industrial design is just one style we're big fans of and we are always seeking the best ways to incorporate it into a range of interiors. One of the great things about this stylish aesthetic is that it is so versatile, meaning, depending on how you embrace the look, hand-made metallic and glass features can work wonderfully in spaces geared towards either minimalism or maximalism.
Our industrial lights are available in a wide variety of styles, shapes and colours, ensuring that you can add a hint of that distinct industrial flavour to your interiors, regardless of your underlying design themes.
But before you decide which vintage lights are right for your space, let's see if you're a minimalist or maximalist!
What is Minimalist Interior Design?
Minimalism is often characterised by a lack of 'stuff', but when it comes to the practical expression of this in our interiors, this is usually more accurately defined by a lack of excess clutter. Minimalist, zen interior designs focus on highlighting select features or decor, keeping colours, silhouettes and other visual noise to a minimum.
Minimalism is all about clean lines and simplicity in interior design and clean lines. Instead of having surfaces laden with several objects, minimalists will focus on drawing the eye to empty space and displaying only what is necessary or a few pieces that capture the essence of the home and its occupants.
Many who enjoy the minimalist interior design aesthetic also embrace the wider ethos of being less concerned with materiality and making room for the things we really care about!
How to Achieve the Minimalist Style
Minimalism might not look the same for everyone, but, generally, main characteristics of this design style include:
1. Neutral, monochrome or minimal colour palettes – Pale colours or earthy tones work particularly well for soothing, minimalist space and contribute to a sense of harmony and balance.
2. Getting rid of clutter – Create a sense of zen by removing the chaos of clutter and excess items. Focus on the items that really bring you joy and say goodbye to the things that no longer serve you well.
3. Limited patterns – Lots of clashing patterns means you end up distracting from the most important elements in your interiors, so avoid using patterns or only incorporate one you think will work.
4. Clean, simple lines and shapes – Visual noise doesn't just come from pattern and colour; you also need to consider how simple, sophisticated shapes can contribute to a sense of peaceful minimalism.
5. Functionality over excess – Everything in your home should have a place and function, so if it's superfluous, consider getting rid of it. Don't fill your home with things just for the sake of it.
6. Smart storage solutions – Neatly tuck away the things you don't want on display in clever storage solutions that make the most of your space and keep your interiors free of clutter.
7. Highlighting empty space – Put a focus on the empty or 'white' space in your interiors to enhance the sense of tranquillity and leave more room for your select pieces to make an impact.
8. Every design element adds value – This goes back to every item needing to have a function and purpose. Consider why you've included something and whether it adds value to the overall feel you want to achieve; don't keep adding things for the sake of it!
9. Harmonious design – Your chosen colours, shapes and features all need to work together, creating a sense of balance and harmony.
If these features sound like the kinds of things you reach for when designing your space, you just might be a minimalist. But what if you're firmly on the side of 'the more, the better'?
What is Maximalist Interior Design?
Committed minimalists might be tempted to pair the maximalism trend with words like 'cluttered' or 'messy', but maximalism is a little bit more sophisticated than that – and is a preferred look for many.
At its core, maximalism is about being bold with your design choices, combining loud colours, patterns and shapes for an eclectic yet meticulously-curated space that exudes luxury.
For interiors that make an impact but don't feel cluttered, you need to create a sense of balance, finding connections and having a clear theme or vision even if you are embracing mismatched items. Like in minimalism, your design choices and decor needs to be carefully considered.
How to Achieve the Maximalist Style
Because maximalism is characterised by adding more, these kinds of interiors will often include:
1. Bright colours – Don't be afraid to take risks with your colour choices and combinations. The more vibrant, the better! Think hot pink, luxury turquoise and sunny yellow, among any of your other favourite colours.
2. Bold patterns – Embrace numerous patterns that clash or complement each other, also incorporating numerous colours for a rich and luxurious look.
3. Various textures – Pair all your patterns with different textures and textiles. Adding different materials to your interiors creates depth and makes your space more dynamic.
4. Playing with different shapes and silhouettes – Arrange tall and short or geometric and curvy furniture and decor together for a lively visual combination.
5. Pair disparate but complementary items together – Ensure that your decor pieces and interior elements complement each other and have a purposely curated feel, even if they have a completely different look.
6. Pair disparate but complementary items together – Ensure that your decor pieces and interior elements complement each other and have a purposely curated feel, even if they have a completely different look.
7. Lavish and opulent interiors – The theme of maximalism is 'the more, the better', so don't be afraid to go all out and embrace opulence at its best. Maybe you opt for a gold and jewel-toned theme for a luxurious, royal feel.
8. Statement lights and mirrors – Create interiors that will wow onlookers with eye-catching statement pieces like modern cluster chandeliers and elaborate mirrors or artwork.
9. Creative, personality-driven spaces – Maximalist spaces are still an expression of your style, so include elements that have meaning to you. Let your creativity run wild; there is no limit to what you can do in a maximalist interior!
So, if you're a collector or lover of numerous different styles and trends, you'll probably enjoy maximalism over minimalism!
Is Minimalism or Maximalism Better?
This, of course, comes down to personal preference, with both design styles having their merits.
Or maybe, you prefer a combination of both minimalist and maximalist aesthetics? You might choose to embrace the parts of each look that work for you, discarding any notion that you have to follow a set of particular rules to get the perfect interior.
On the surface, it might seem like the answer to whether you're a minimalist or a maximalist comes down to whether you prefer lots of everything or less of everything, but it's also about the kind of feeling you want to create in your home and finding a style that best reflects you.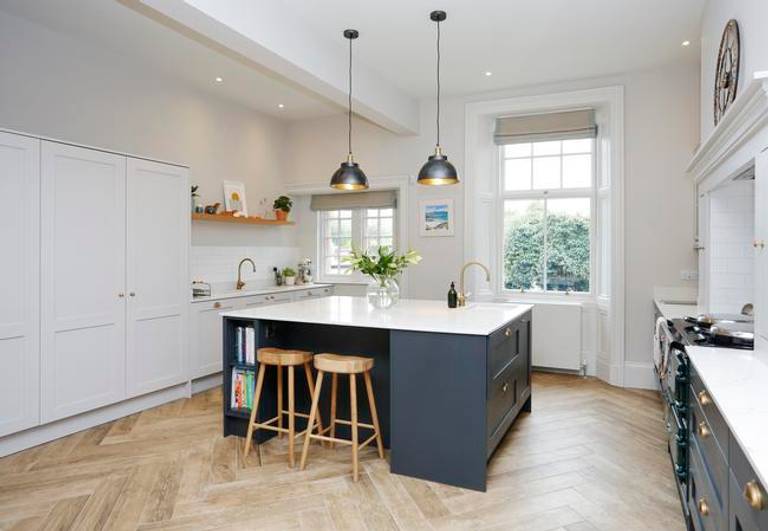 Brooklyn Dome Pendant - 13 Inch - Pewter & Brass by Industville (Image supplied by @arcadiainteriors)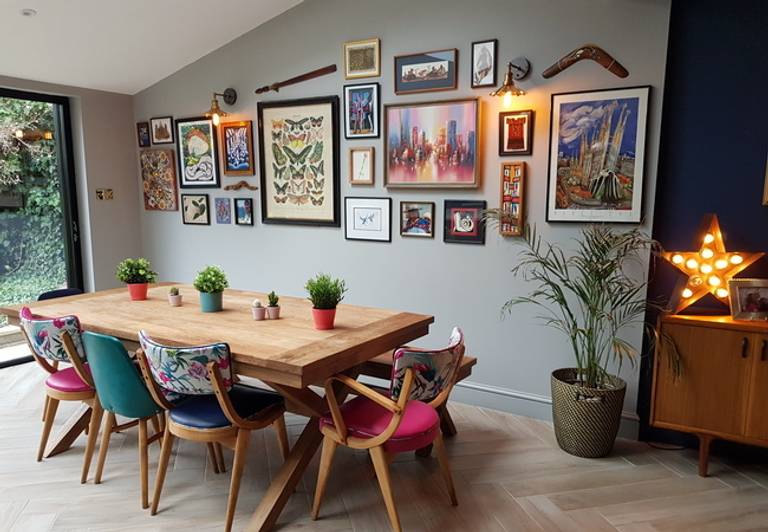 We know that finding the right lights can often be the final puzzle piece in pulling your interiors together. Our extensive range living room lighting and fixtures for any other room in the house is sure to include a design that suits your space and complements your style – whether you decide you're a minimalist or a maximalist.
Header image credit: @oakappledecor & @the_lowry_home