With winter in full swing, it's time to turn our homes into wonderfully warm spaces, perfect for relaxing during those darker nights.
A cosy interior means something different to every one of us; this could be comforting textures, warmly-lit hues or a neutral colour palette. In many cases, warmth is brought by a combination of decorations and the things we cherish, whether that's family or something like our favourite book or seat.
In this blog, we look at ways to create a cosy interior and hope to inspire you to cosy up your own space!
Warming Yellows
If you're looking for a new colour palette for this season, you should definitely be looking at mustard. This subtle, warm yellow is the on-trend colour of the winter season!
Mustard is the perfect shade for autumn and winter as it will help bring an element of brightness to your home. Yellow is a naturally uplifting shade, perfect for those early sunsets, while the mustard tone adds a layer of warmth and cosiness.
If you're not a fan of yellows, you can consider other deep, bold and earthy tones that are driving this year's winter trends, such as:
Dark reds
Deep browns
Emotive greys and blacks
Add Texture
There's nothing better for the winter season than filling your interior with soft textures. If you want to create a cosy space, adding texture is an absolute must!
Mixing different textures is a great way to add depth to your interior. Soft textures, like rugs, are great at keeping warmth inside your home – perfect for the winter months! However, other natural materials such as metal, wood, leather and even brick can all deliver that cosy feeling thanks to their warm tones and unique character.
Think about where you want to place certain textures when designing your room. A woven basket by the door can be a practical option, while shaggy rugs are great for living spaces. In homes with industrial-inspired interiors, instead of concealing these elements, make them your focal point. For the ultimate shabby chic look, incorporate vintage lighting fixtures to add a striking focal point.
Rustic Calm
Countryside aesthetics such as cottagecore are hugely popular at the moment, and this look is great for creating a cosy winter interior.
Add countryside themes to your space to create a wonderful homely feel in your interior. Textures such as metal and wood are great for creating a cosy space, but little touches, such as unrefined edges, can really make that countryside feeling. Also, decorating your space in personal decorations, such as photos or antique finds, is another great way of incorporating some of the country home atmosphere.
Another feature to consider is home plants, as botanicals are definitely on-trend at the moment. Incorporating plants - whether real or fake - adds another layer of texture and depth to your space while also creating a splash of green for an extra sense of calm.
Touches of Luxury
When designing warm, cosy winter abodes, it's easy to get lost in a sea of blankets and candles. If you want to ensure your interior looks modern and clean while also retaining that cosy feeling, look towards your accessories.
Bright, eye-catching accents can bring a decorative edge to a cosy interior. Bright colour metals or statement pieces of furniture from the art-deco style ensure an on-trend look in otherwise soft spaces.
Brass is a hugely on-trend interior feature at the moment, so consider how you can add that energy to your space. Whether it's a luxurious mirror, statement light or eye-catching vase, adding a touch of gold can quickly turn your warm winter space into something elegant and modern.
Create Glow with Lighting
As the nights start earlier, our home interior lighting is more important than ever during the autumn and winter months. Creating the perfect ambience with your lighting will help to bring out the cosiness of your winter interior.
While industrial-style lighting is often seen as a practical part of the home, innovative designs and layouts can transform a space's feel by creating a wonderfully warming glow.
There are many types of lighting in any space. Often, they're divided into three categories:
Accent – Smaller pockets of light designed to highlight a focal point, such as a piece of art.
Ambient – General lighting that provides glow across the space, such as a ceiling pendant.
Task – Focused lighting that is designed to help when performing tasks, such as reading or cooking.
When trying to create a warm and cosy interior, look to combine these different styles of lighting. Having multiple light sources in a space can create a dramatic glow that helps create a truly warm interior.
For the winter months, consider reducing the strength of your ambient lighting and adding more accent and task lights. By adding more sources, you'll create new shades and depth across your space, allowing you to create a cosier interior.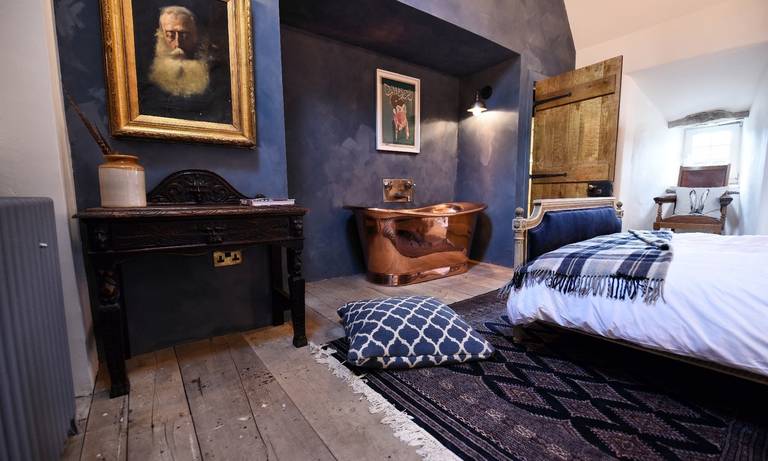 Brooklyn Outdoor & Bathroom Dome Wall Light - 8 Inch - Pewter & Copper, £139, by Industville (Image supplied by Channel 4 'The Great Hotel Escape' at Kilmartin Castle)
There is always something special about feeling cosy in your home, and we hope this guide will inspire you to add warmth to your space this winter! If you're looking for more inspiration, we share our favourite designs daily on our Facebook, Pinterest and Instagram platforms.
Header image credit: @redlivingproperty / @Kayleigh_higgs_photography