As each year draws to a close, we like to consider some of the most exciting upcoming trends that'll be gracing our interiors over the next twelve months.
The bedroom should be the most comfortable and relaxing room in the home, so getting the design right is essential. Whether you want to create the perfect ambience with retro bedroom lights or make a statement to show off your personality, there are plenty of ways to incorporate the latest trends.
Get inspired by some of our favourite bedroom trends for 2022.
Retro 70s Vibes
Embracing a 70s aesthetic for your bedroom is a great way to bring colour, vibrancy and cheer into the space. Burnt oranges, bright yellows, moss greens and vibrant pinks are all colours that evoke a 70s feel.
Bedspreads, wallpaper, curtains and rugs with bold, blocky patterns can also add some of this retro fun, along with large, statement lights that create a focus for your room.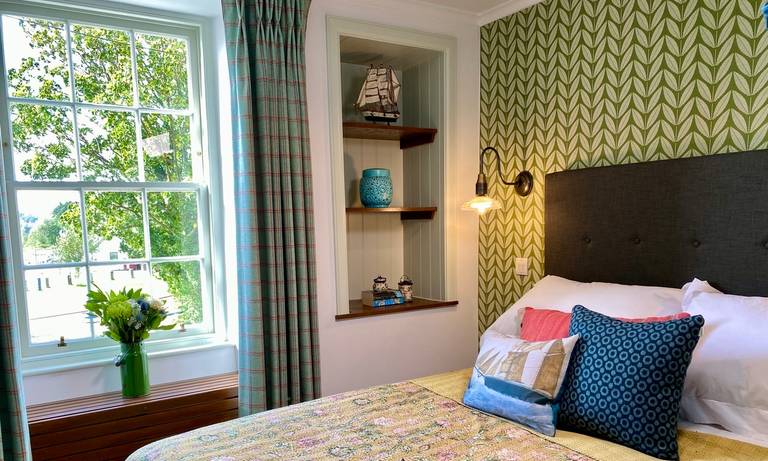 Swan Neck Glass Dome Wall Light - 8 inch – Pewter, by Industville (Image supplied by @emmaclanfieldinteriors)
Inspiration From Nature
Bedrooms should be calming sanctuaries, and leaning into a nature-inspired design will help you achieve this. Houseplants can bring an element of freshness and new life to a space – something that can also help improve the quality of your sleep.
Some of the best plants to decorate your bedroom with include:
Pothos
Rubber tree
Peace lily
Fiddle leaf fig
Lavender
Aloe vera
Utilising earthy tones like greens and browns is another simple way to create a peaceful, natural space.
Minimalism & Simplicity
This classic look isn't going away any time soon. For many, bedroom design is all about keeping things simple and uncluttered.
Minimalist interiors embrace clean lines with a sense of harmony and balance. If this is your aim, storage is especially important to ensure everything is kept in its place – think about how you can use under-bed storage and vertical space to maximise the room you have.
Art Deco Interiors
A hint of art deco is sure to add some refinement and character to your bedroom design. To emulate the art deco style in your bedroom, incorporate bright colours, vibrant metals, geometric shapes and luxurious textures.
The art deco movement is all about being bold and making a statement with your furnishings; 20th-century furniture, art or vintage lights will also contribute to this sense of opulence.
A Focus on Cosiness
We often rely on the style of our interiors to create a certain feeling or atmosphere, and when it comes to bedrooms, the feeling many of us reach for is comfort. With trends like cottagecore and cosycore remaining popular trends on social media, it comes as no surprise that we expect to see plenty of cosy yet modern bedroom designs over the next year.
This trend focuses on utilising soft textures, muted colour palettes and warm lighting to create inviting spaces that you want to spend lots of time in.
Black & White Bedroom Design
Over the years, bedroom design has relied on calming colour palettes and light tones, but for a more dramatic, modern look, black and white themes can offer countless striking design opportunities.
Black walls can add depth to a room, especially when paired with contrasting white bedding. To complete a sleek black bedroom interior, you should also think about lighting to illuminate your space – you don't want to create a space that feels dingy.
Sustainable Interior Design
Second-hand and upcycled furniture are big parts of how the movement for a more sustainable lifestyle takes shape in the interior design world.
While overconsumption and poorly made products are still rampant, more and more people are beginning to realise that quality pieces that are made to last are going to serve them better.
Here at Industville, we pride ourselves using sustainable methods and natural materials to create our handcrafted industrial lights.
With new trends and design ideas spreading around social media like wildfire, making more people aware of all their options, we also expect to see the rapid transformation of trends as individuals choose certain elements of different styles that appeal to them.
Which bedroom trends are you looking forward to seeing over the next year?
Find us on Facebook, Instagram and Pinterest to keep up to date with emerging trends and discover more lighting and design inspiration.