The oversized interior trend is all about playing with proportions – even if your interiors are on the smaller side, there are plenty of ways to embrace extra large statement pieces. One of the easiest and most effective ways to get that effortlessly stylish supersized look is via your light fixtures.
Impressive oversized lights can be incorporated into any room to give it a dazzling boost. Whether you want to create drama with extra large pendant lights or giant wall lights, there are countless eye-catching designs to explore. Get inspired by some of our favourite ways to bring this trend into your home!
Why Embrace Oversized, Extra Large Lights in Your Interiors?
Lighting trends tend to come and go, but oversized lights are set to remain popular over the coming years as they continue bringing functionality and a sense of timeless style to the forefront of our design choices.
Giant lights are so desirable for many because of their bold yet unobtrusive presence. Whatever your style, a statement pendant or wall light can bring your interiors into focus, adding structure and dimension to minimalist spaces or adding different materials into a maximalist room.
Industrial giant lights are especially good at creating an eye-catching focal point in your interiors while also remaining highly functional and casting practical or ambient light over a space.
1. Large Statement Pendant Lights in the Kitchen
Bring character and a new level of impact to your kitchen with large pendant lights. These can be hung over kitchen islands, breakfast bars, dining tables or even just in the centre of the room to illuminate the whole space and add some sleek stylishness.
Our oversized pendant lights are available in several bold finishes and in different retro or modern designs to ensure you can bring your kitchen to life and discover a complementary lighting look.
2. Extra Large Dome Pendant Lights
Our dome pendant designs are some of our most popular across the different lighting ranges. With their classic look and endless versatility, it's easy to see why these are among the most sought out.
The timeless dome shade will look at home in any room, bringing definition to your cosy living rooms, cheerful hallways and multi-functional kitchens.
3. Create Impact With Giant Dining Room Lights
Along the same lines as in the kitchen, you can create stunning focal points over dining room tables with extra large pendants. Your design here should be all about creating the right mood and atmosphere – you want a space that will wow guests and shine light on the meal or socialising below.
If you have more of an open-plan kitchen and dining space, cleverly placing extra large lights in the right places can help create a divide and make the different zones more distinct.
Often, a single giant light hung over a dining table is the most effective. You can see in the examples below how they bring a sense of balance and symmetry into the space.
4. Oversized Bathroom Lights
You may feel that there is less opportunity to play with oversized lighting in the bathroom, but with the right fixture, you can achieve sleek sophistication with the larger proportions.
A single large dome like that pictured below can bring effortless style to your bathroom while lighting all the dark corners and creating the perfect relaxing ambience.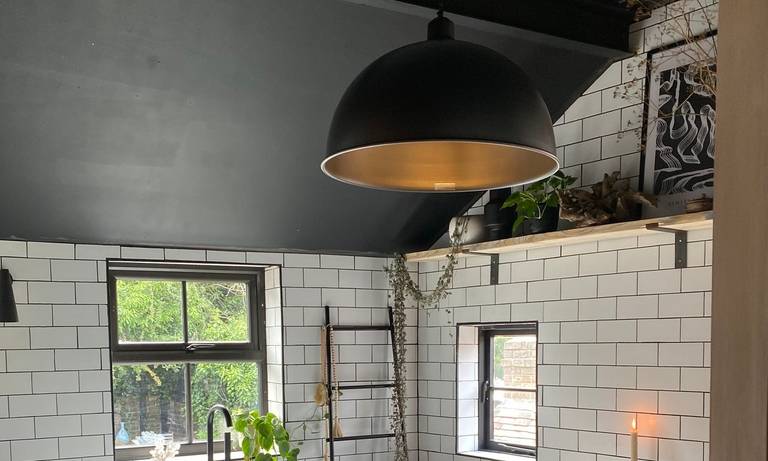 Brooklyn Giant Dome Pendant - 24 Inch - Pewter & Copper by Industville (Image supplied by @Ninageeathome)
5. Modern Oversized Lighting in the Hallway
Another popular space to use large lights is in hallways, entryways and stairwells. These areas of transition are often overlooked when it comes to design, as you don't tend to spend much time here.
The right light fixtures can easily add a sense of liveliness and personality to these spaces, helping tie them more seamlessly to the rest of your interiors. If you're not sure about using oversized lighting in more heavily used rooms, lighting up your hallways is the perfect way to embrace the trend and enjoy its benefits.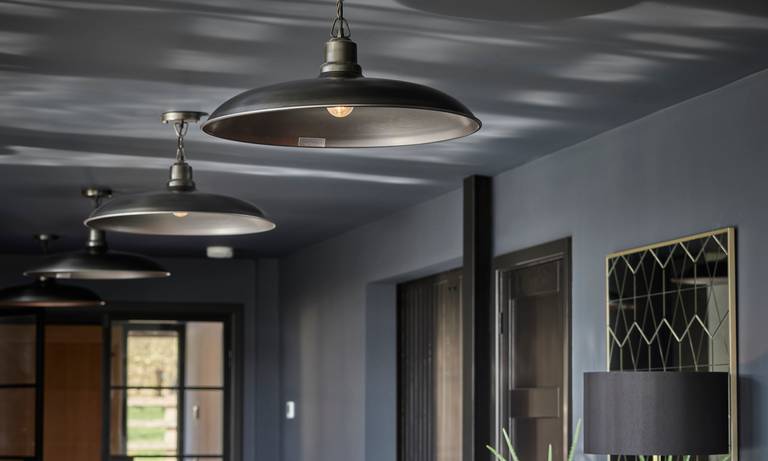 Brooklyn Giant Bowl Pendant - 24 Inch - Pewter by Industville (Image supplied by Andy Haslam Photography / @barnconversionblog)
6. Large Living Room Lights
Living rooms should have plenty of ambient lighting options, allowing you to create a relaxing space where you can retreat at the end of the day. A large pendant or flush mount in the centre of a living room can be great for casting light over the entire space while leaving plenty of room for you to play with accent lights like wall sconces or candles.
Lights with shapely shades like oversized retro pendants or giant bell lights look particularly good in these spaces, adding soft silhouettes that fit perfectly with the comfy atmosphere.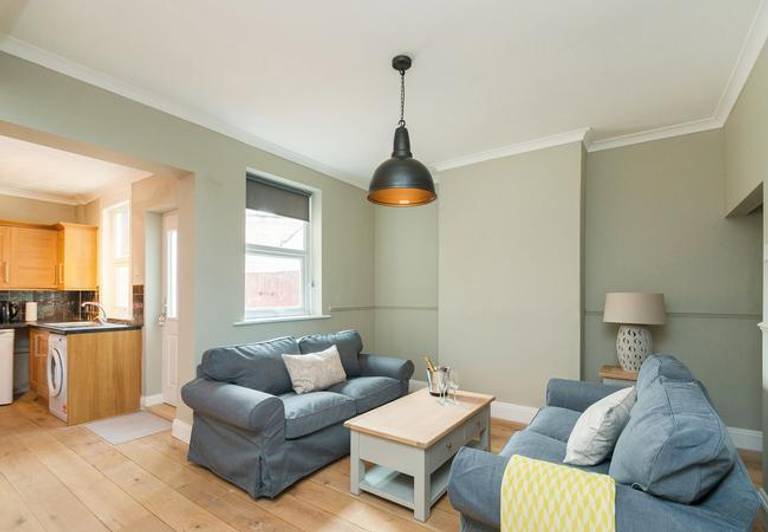 Retro Large Pendant - 17 Inch - Pewter by Industville (Image supplied @redlivingproperty / @Kayleigh_higgs_photography)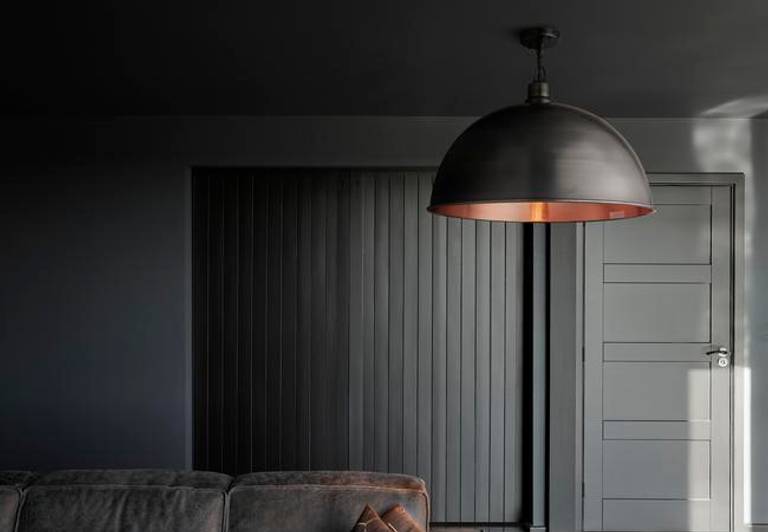 7. Oversized Wall Lights
The most obvious fixture you think of regarding something oversized is a pendant, but extra large wall lights can also offer a great opportunity for you to embrace the trend. These could be paired with matching giant ceiling pendants or used in tandem with more minimal pendants for a striking look.
Giant wall lights are particularly popular for outdoor use as they'll stand out against exterior walls and structures, adding a sense of intentional style to the space.
8. Oversized Lighting For Commercial Spaces
While giant lights can look stunning in the home, they are also popular choices for business premises like offices, restaurants, bars and hotels as they create more memorable spaces with greater impact.
As commercial interiors like this also tend to have higher ceilings, oversized lights can balance the proportions of the space and ensure that every corner is properly illuminated.
If you can't quite find the right oversized light to suit your brand, why not take advantage of our bespoke service? Our team can help you bring your interior visions to life, ensuring your business can shine the brightest.
The Industville oversized lighting range offers pendants, wall lights and flush mounts measuring from 17 to 24 inches. These versatile styles are designed to suit a range of interior styles for both residential and commercial spaces, allowing you to find that missing design puzzle piece.
Feeling inspired? Browse our extra large lighting collection to discover the ideal statement.
Header image credit: James L