When it comes to lighting design, it can be tricky to know what to prioritise and which of the many lighting tips you should embrace in your home. During winter and the darker months especially, you should consider the impact of your lights and how they can be used to enhance a space's ambience.
To get to the heart of achieving the perfect lighting we caught up with the fabulous Nina from @ninageeathome on Instagram, who shares her tried and tested methods.
The Importance of the Right Lighting
Lights can help set the tone of a space, influencing our mood and creating atmosphere, especially as the seasons and outside world begin to change. Good lights are practical parts of everyday life, can become important expressions of personal style and help tie a room together. As Nina states:
Lighting is one of the easiest and most effective ways to make (or break) a space. With the cosy seasons upon us, it's time to hunker down, set that ambient mood, and relax into the darker, cooler days.
We love Nina's recommendations for creating a lighting scheme that'll help you relax and appreciate your space even more! You can see how successfully she has utilised these ideas throughout her interiors.
1. Consider the Purpose of Your Space
Nina's first piece of advice is to start by thinking about how you use your space, and the varying levels of light different activities or tasks will require.
In our dining room, for example, we have a couple of lamps for a softer glow which helps to mark the transition of day into the evening. Our Industville pendant is in a pewter finish and reflects the light beautifully. Hanging it as low as possible illuminates the food as opposed to our guests and feels intimate and inviting.
We also use a warm, dimmer bulb to avoid the room feeling stark or overly bright. You could also invest in dimmer switches for living rooms and bedrooms where you want mood lighting.
2. Don't Be Afraid to Use Big, Statement Lights
Making a statement with larger fixtures and things like industrial ceiling pendant lights can take your space to a whole new level. Nina advises embracing bigger pieces for greater impact.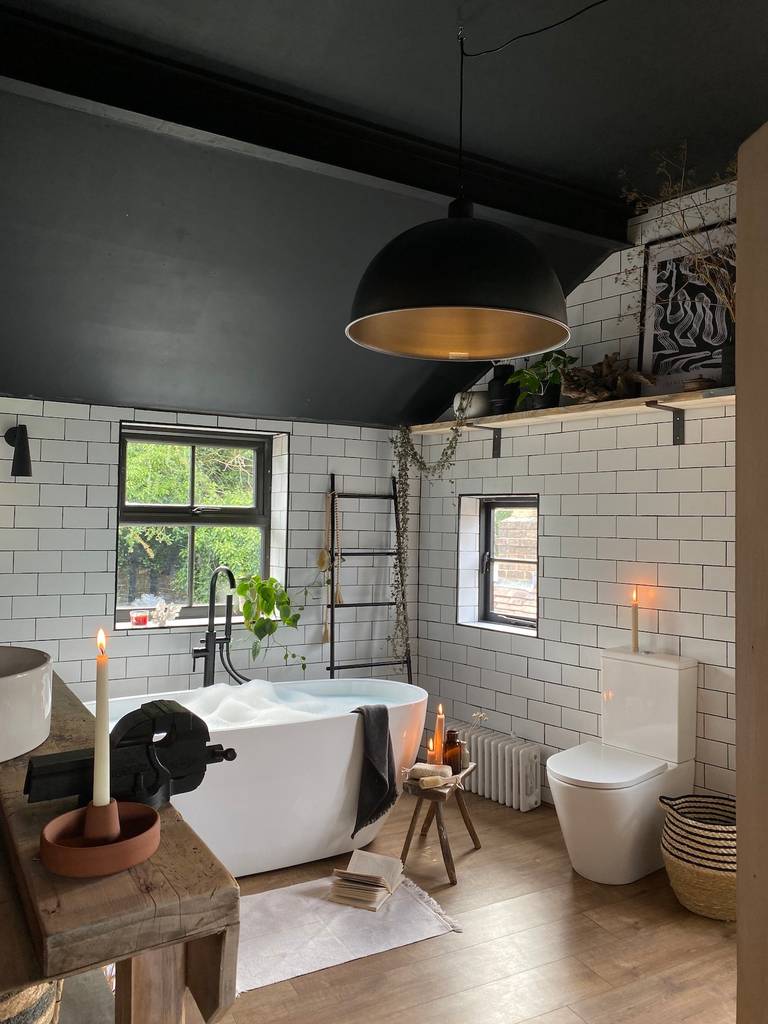 Brooklyn Giant Dome Pendant - 24 Inch - Pewter & Copper by Industville (Image supplied by @ninageeathome)
3. Add Layers of Light With Wall Lights & Lamps
Layering light is another top tip Nina embraces that you shouldn't ignore. Different layers of softer light can add depth and ambience to a space while also helping you prevent headaches or glare from one central, harsher light source.
Lamps and wall lights are your best friend. The light is just so beautifully soft and restful, especially in the colder months. It is mellow, warm and produces lovely little pools of glowy magic and can form part of an interchangeable lighting scheme.
4. Embrace Lights That Complement Your Style
Like Nina, we're big proponents for embracing lights and other interior elements that reflect your personal style and complement your other design choices. Choosing the right lights is a good way to help refine your overall aesthetic.
5: Use Candles as a Finishing Touch
Once you're happy with your fixtures, you can use candles as the perfect ambience-boosting final detail. Nina's take on using candles:
Candles! Need I say more? Everyone knows how much I love a candle. All year round, in fact! But seriously, candles are a lower energy option, add magic and atmosphere like nothing else and are the perfect way to unwind and enliven the senses.
There are so many ways to interpret and embrace these top tips in your home to ensure the feel and look of your space is just right. Thank you to Nina for sharing her expert insight and beautiful home with us!
If your interiors are still missing something, explore our extensive lighting range, complete with wall lights, ceiling pendants, flush mounts and more.