When looking for bathroom lights there are a number of considerations apart from the style you wish to use. You might think, I can only use those bathroom light, those IP rated, because my electrician said so.
Please be aware that this is not always the case, and it's important to better understand regulations when it comes to designing your new bathroom so that you can arrange the best lighting solution possible. Great news is that there is no IP rating requirement for using lights in Zone 3 and beyond!
We've put together our favourite bathroom design trends to incorporate in 2018, including how our industrial bathroom lighting can help!
Bring Home Glamorous Metallics
Despite monochrome colour schemes dominating the bathroom scene for what seems like forever, 2018 is experiencing a shift towards using a variety of textures and finishes in every room in the home. While we are not quite at the stage of suggesting wall-to-wall stainless steel, the emerging trend of modern metallic is certainly one we can get on board with. Brass, in particular, has made a comeback with a vengeance, and can be used sparingly but with purpose. The latest on-trend metallic shades such as copper, pewter, and brass can be implemented through mirror frames and lighting shades for a simple, yet effective colour scheme.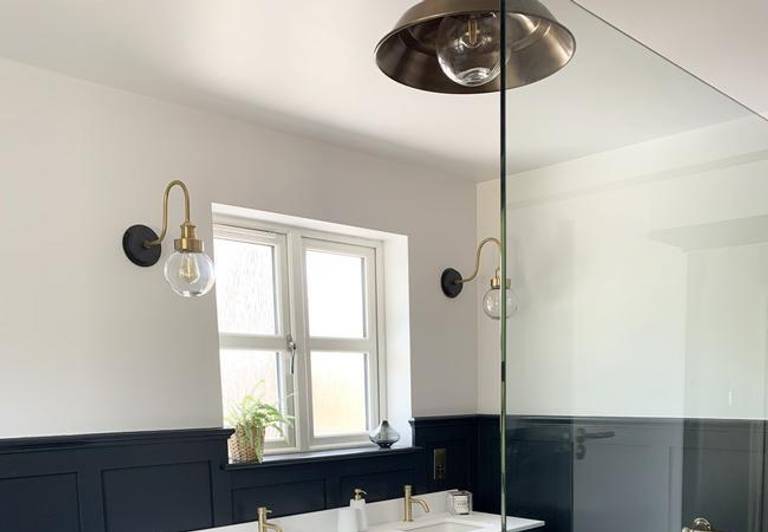 Swan Neck Outdoor & Bathroom Wall Light - Brass - Globe Glass & Brooklyn Outdoor & Bathroom Step Flush Mount - 16 Inch - Brass, by Industville (Image credit: @Marie_at_home)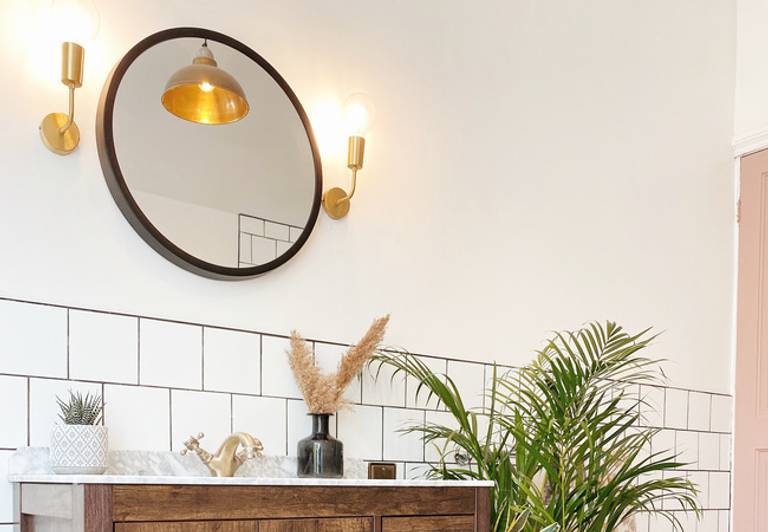 Opt for Original Art
For those looking to go creative in their bathroom or decorate retail bathrooms, be it a restaurant, hotel or otherwise, original statement artwork to set your restrooms aside from the rest is a must. That said, the power of a unique painting in your bathroom at home, should not be underestimated. Combine trends and opt for a brass frame to match your vintage pendants or wall lights, for a harmonious look like no other. This is also a great way to fill space on otherwise blank, uninspiring walls and is sure to please your inner perfectionist as you line everything up in a neat and orderly fashion.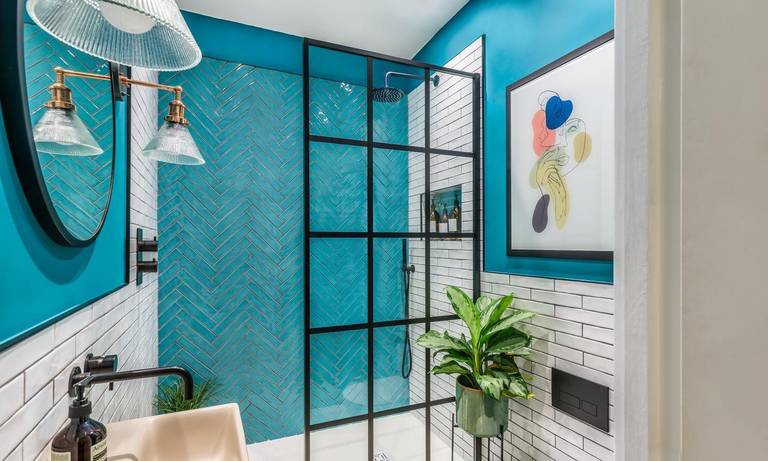 Brooklyn Glass Funnel Wall Light - 7 Inch, by Industville (Image supplied by Pier1 Bathrooms @pier1bathrooms)
Frame Your Mirrors for Vanity Lighting
In the majority of 21st century homes, space constraints mean that bathrooms can often 'double up' as dressing rooms, and therefore people require the ideal lighting for perfecting their contour or hairstyle. Many opt for wall lights to frame the mirror, such as our beautiful vintage bulkhead collection, but don't neglect the option of using smaller pendants for optimum atmosphere.
Make the Most of Small Bathrooms
Whilst we all once lusted after glamorous, spacious bathrooms with larger than life free-standing tubs taking precedence in the centre of the room, 2018 has finally caught up with the fact that this simply isn't possible for most households or hotel rooms. Small, cosy, compact bathrooms with plenty of storage are on the up, which is fabulous news for lovers of lotions and hair product hoarders! This leads to a focus on small-scale luxury and efficiency, and storage doesn't always have to be in the form of the clunky, ugly cabinets that could be found in the bathrooms of your grandparents; sleek, neat storage is the way forward! Wall lights positioned either side of the mirror can also give the illusion of more space, whilst highlighting features or accessories located in the background.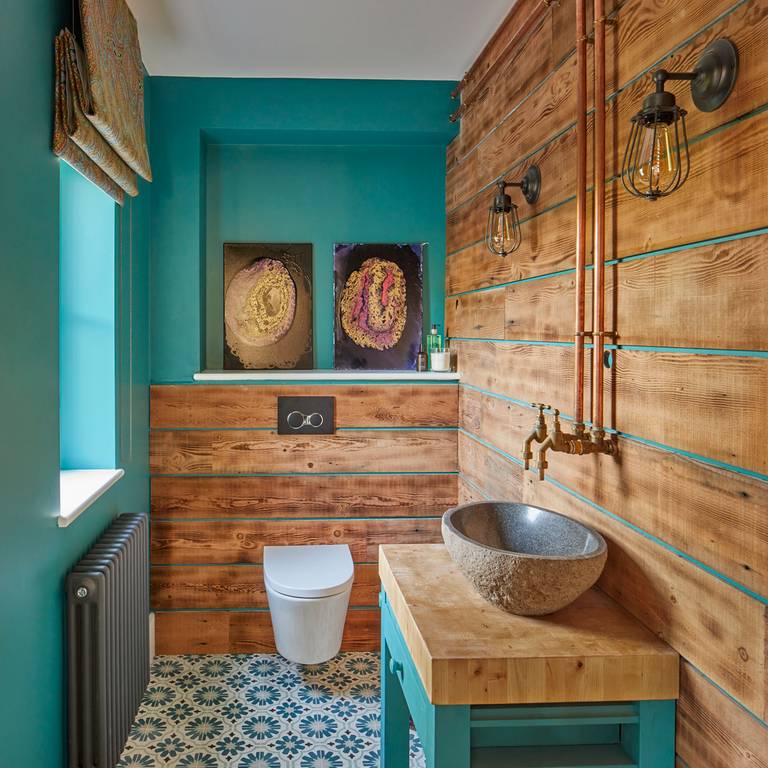 Orlando Wire Cage Pendant - 4 Inch - Pewter, by Industville (Image Supplied by @iansandersontextiles)
Maximise Comfort in Any Way Possible
Whilst design experts may disagree on colour schemes, accessories and flooring options, there's one thing everyone can agree on; there has been an unmistakable shift in recent years in the role of the bathroom as a practical room to an additional living area. Perhaps a result of the hectic nature of 21st-century living, or possibly a reflection of the increased focus on personal care; as people spend more time relaxing in the bathroom, it's décor has changed as well. Soft furnishings, chic lighting fixtures creating an ambient atmosphere, complex mirror arrangements and indulgent rainfall showers with all-over body water jets are just some of the features found in many modern bathrooms. Gone are the days where bathrooms were a 2-minute shower and a scrub of your teeth before dashing out the door – unless you're really late!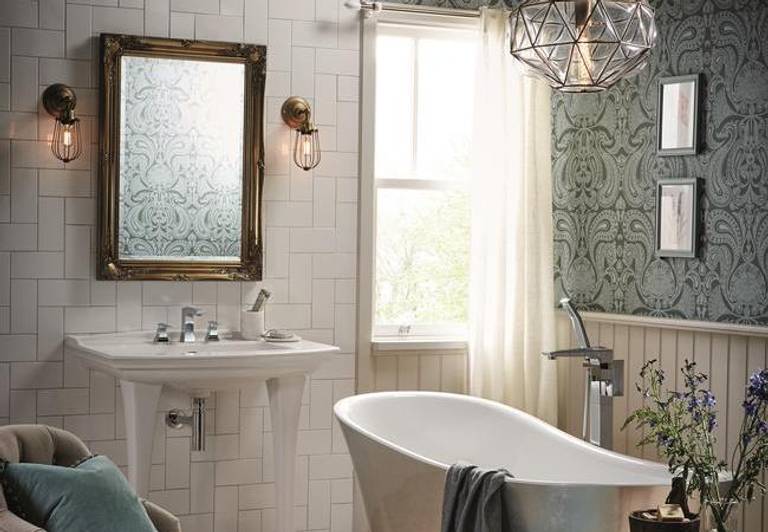 Orlando Wire Cage Wall Light - 4 Inch - Brass, by Industville (Image supplied by Heritage Bathrooms)
Understand the Regulations
Less of a trend, and more of the law, but that's not to say abiding by the rules shouldn't be popular in 2018, particularly if you're designing a bathroom for trade. Contrary to popular belief, and the rumours we've heard surrounding the do's and don'ts of bathroom lighting, all of our lights can be used in the bathroom, providing they are installed in the correct zone. We have a range of IP44 rated lights that can be used providing it is positioned 0.6m outside the perimeter of the bath and to a height of 2.25m from the floor and a 60cm radius away from any tap. All of our lights are IP20 rated, meaning they can be used in areas outside these zones!
Check out our guide to IP ratings for more information on bathroom lighting zones and ratings, and if you are still unsure about anything, don't hesitate to contact a member of our helpful team who will be happy to advise!