Ingress Protection or IP ratings are an integral part of the lighting industry. These handy codes were created by the International Electrotechnical Commission to provide distinguishable levels of protection for different light fixtures.
Here at Industville, we utilise IP ratings to determine how water/dust proof each of our products truly are. This provides a simple way to know where exactly to put your lighting fixtures. Our handy guide to IP ratings covers everything you need to know, from the definition of IP ratings to our range of IP rated lights, and installation suggestions for specific settings.
What are IP Ratings?
Effectively, IP ratings reveal how water/dust/solid resistant each product is to ensure that you can make an informed decision as to where to fit your lights.
Visually, this rating will be presented as a two-digit code. The first digit reflects the dust/solid resistance level, and the second indicates the resistance against water/moisture. This guide to IP ratings will explain how best to utilise IP ratings within your interior to make well-informed lighting decisions.
IP Ratings Guide
Our IP ratings guide provides you with an understanding of all IP ratings for lighting fixtures by outlining each digit with its corresponding definition. The left side indicates the level of protection for solids, whereas the right side projects the degree of water resistance.
Awareness of this guide is crucial to understanding your lighting's perfect location. Not only do IP ratings enhance safety, but they will also ensure that the appropriate protection is provided to enhance the lifespan of the fixture.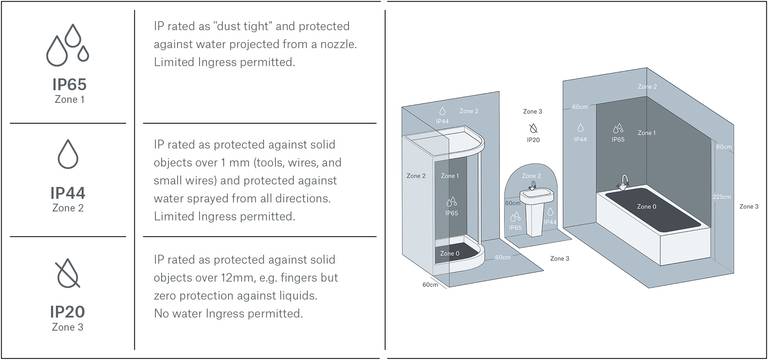 Industville IP Ratings
Here at Industville, we offer three types of IP ratings with our lighting fixtures:
As illustrated on the infographic above, you can fit only the IP65 rating close to potential splash zones. This decision is due to its protection against water projected from a nozzle. Let's take a closer look at what we can offer in regards to IP-rated lights.
IP65 Lights
Our waterproof lighting range includes numerous styles of IP65 industrial lighting fixtures that are perfect for bathroom interiors. Our Brooklyn outdoor & bathroom wall lights are a great choice for those looking to illuminate their bathroom in style.
Keep your bathroom looking elegant while remaining practical with a variety of retro lighting fixtures. IP65 lighting enables you to splash around without the risk of your products being damaged or worn out.
The Brooklyn outdoor & bathroom set continues to offer excellent IP65 lighting with stunning pendant lights also available. Designed and manufactured to fit perfectly within bathrooms, this pendant can add new dimension to your existing interior lighting.
As IP65-rated lights can withstand water directed from showerheads, it is possible for these lights to be directly placed in walk-in showers. This feature allows for additional lighting to be placed around the bathroom for maximum coverage.
How about utilising the strong resistance against dust particles by putting your lights outside?
The Brooklyn lighting set also offers incredibly robust dome wall lights that create beautiful task lighting for your exteriors, making them perfect for outdoor dining areas.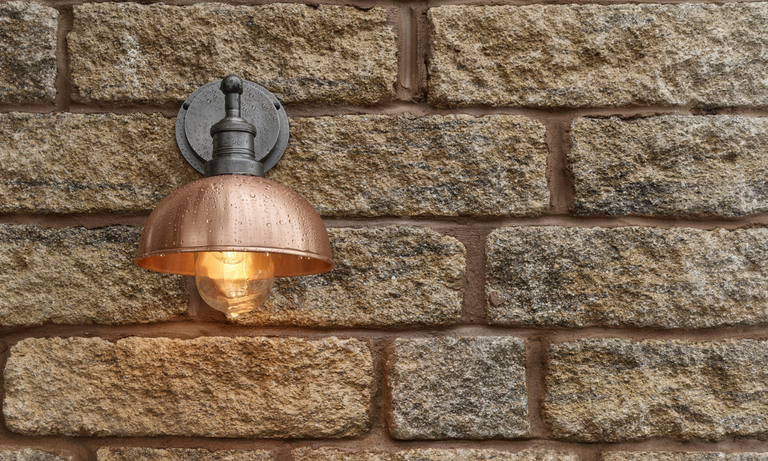 Brooklyn Outdoor & Bathroom Dome Wall Light - 8 Inch - Copper, by Industville (Image supplied by Andy Haslam Photgraphy)
IP44 Lights
IP44 rated lights are the perfect choice for those looking to illuminate their gardens, patios and outside structures. By harnessing an outdoor bulkhead light, you can create a wall of lights that disperse ambient lighting across your garden.
Furthermore, this lighting can be used to maximise security and safety. For example, you can set up a couple of oval lights to light your pathways and guide your guests.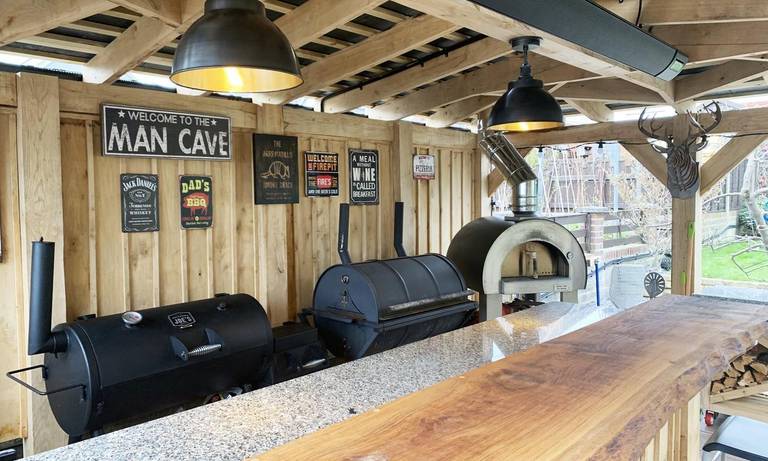 Brooklyn Outdoor & Bathroom Dome Flush Mount - 17 Inch - Pewter & Brass, by Industville (Image supplied by Rob @TheArrrmadilloSmokeShack)
Patios and outdoor structures require the same amount of love for lighting that your interiors receive. The Dome Flush Mount offers an excellent opportunity for you to keep your outside looking fresh and modern while keeping it all warm and bright. For more inspiration on how to light your patio, read our blog on patio lighting ideas here.
IP44 rated lights are splash-proof and partially protected from dust, so outside structures and patios are the perfect places to use them. These lights were designed to withstand the outside world and keep your outdoors looking sophisticated.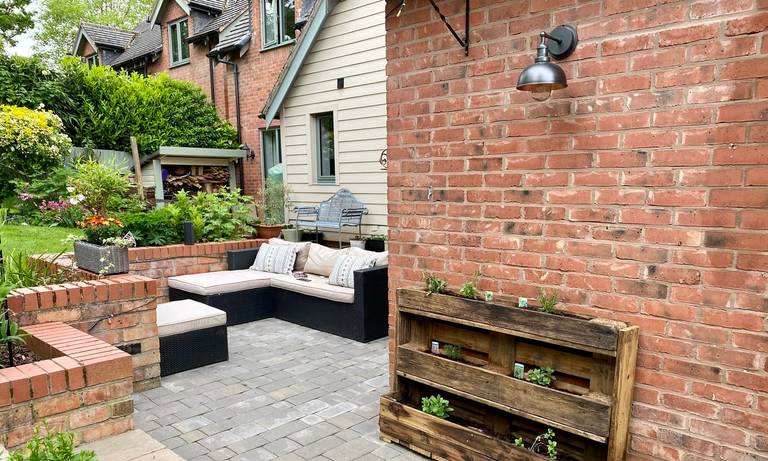 Brooklyn Outdoor & Bathroom Dome Wall Light - 8 Inch - Pewter & Copper, by Industville (Image supplied by @Gardener_on_theedge)
This timeless design can unify your garden to create accent lighting in designated spots. The exterior above utilises the dome wall light to create a moment of warmth and illumination to highlight the plant feature.
IP20 Lights
When picking the location of your IP20 lights, you must consider its low resistance against dust and its inability to protect itself against intrusive water. We recommend implementing these lights in your kitchen and bedroom to ensure that the lighting is safe and secure.
Where this lighting lacks protection, it makes up for it in elegance and artistic flair. The Brooklyn glass dome pendant light is an exceptional fixture that provides the best of both style and practicality.
Due to their low resistance, IP20 rated lights need to be kept away from potential danger. This choice, however, does not prevent you from creating a beautiful light show. By installing a set of pendants within your interior, you can make the feeling of expansion within your space.
We hope you understand the importance of IP ratings and can now distinguish the properties of each code. If you're looking for further guidance or inspiration, then check out our other blogs! You can also get in touch with us on Facebook, Instagram and Pinterest or use the #Industville to join the conversation.
📸 Header Image Credit - Helen Hatton