Overhead lights certainly have a place in some rooms, but that doesn't mean every space is equipped for this kind of lighting or that it's always right for your interiors.
But don't resign yourself to darkness just yet – there are plenty of ways to illuminate larger rooms, even without the use of overhead ceiling pendants or flush mounts. Whether you need a bit of lighting inspiration for your living room, bedroom or dining room, you're sure to find some bright ideas below.
1. Layering Lighting in Large Rooms
The first place to start is by thinking about how you can successfully layer light. This involves using different light sources to create enough ambient light in a room. You will want several lights cleverly positioned throughout the space so their fields of light can cover the same area an overhead light would or to create zoned pockets of light that help segment your room.
Consider how to distribute ambient, task and accent lighting around the room for a richly lit, dynamic and functional space. If you do not want to use overhead lighting in a room, this can be achieved by using different styles of wall lights and lamps.
Using the Right Bulbs to Create Atmosphere
The kind of bulbs you use will have a significant impact on the general atmosphere. Bulbs with lower lumens and warmer colour temperatures are ideal for most spaces in the house, as they'll create more welcoming, relaxing interiors.
Using bulbs that are easier on the eyes also provides an opportunity for you to layer multiple light sources without creating overwhelming brightness.
If used with a compatible dimmer switch, you can also tailor your wall lights or lamps to provide different levels of ambience throughout the day. To find out more about choosing the right light bulbs for your fixtures, see our light bulb guide.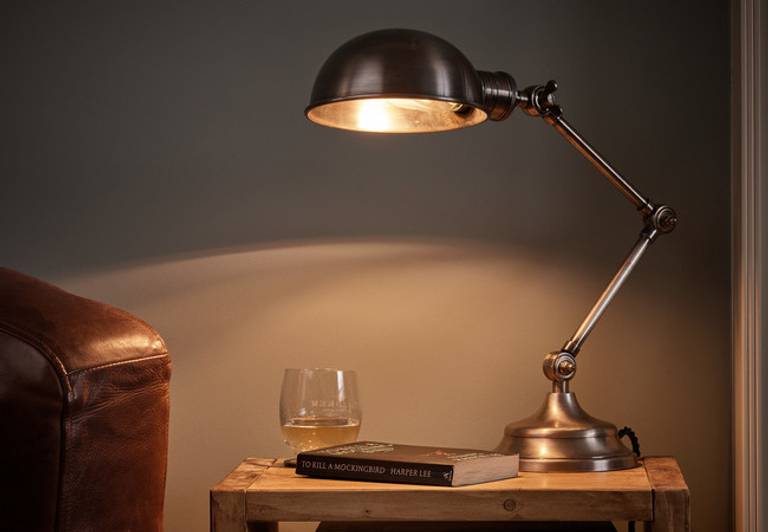 Brooklyn Pharmacy Adjustable Dome Table Lamp - 7 Inch - Gunmetal by Industville (Image supplied by Andy Haslam Photography)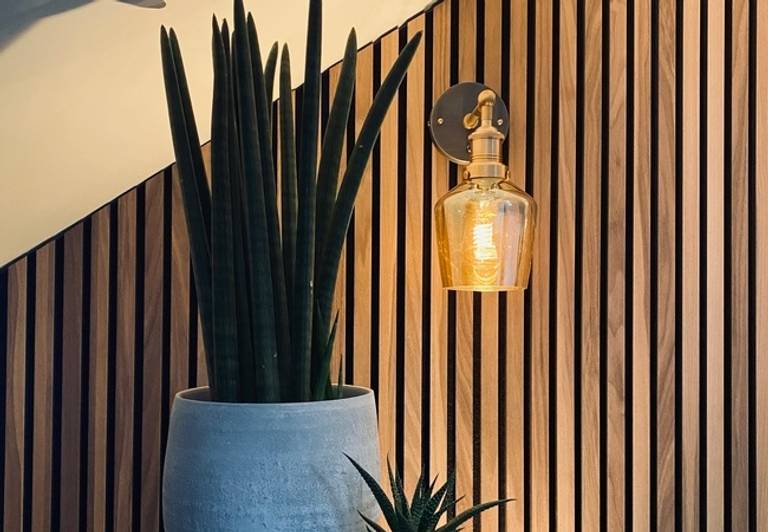 2. Wall Lights
When a room has no overhead light, the next most obvious place to turn to is wall lights. Wall lights or sconces come in a wonderfully versatile range of sizes, styles and finishes to not only bring light to your interiors but also plenty of stylish flair.
Whether you choose a pair of vintage wall lights to bring a bit of charm to either side of your sofa, swan neck wall lights to give your interiors instant elegance or sleek, modern wall lights to illuminate kitchens and bathrooms, there are countless ways to utilise these fixtures.
Wall lights are also brilliant space-saving options as you won't have to style bulky floor lamps around existing furniture or have inconvenient table lamps on every surface.
Plug-In Wall Lights
If you don't want to get an electrician in, plug-in wall lights are ideal, offering increased convenience and versatility with all the same illuminating benefits.
Many of our most popular wall light designs are available with a plug-in counterpart to ensure you can find the right kind of fixture for your home. Each light comes with two metres of black fabric flex to blend with the modern industrial style of our lights.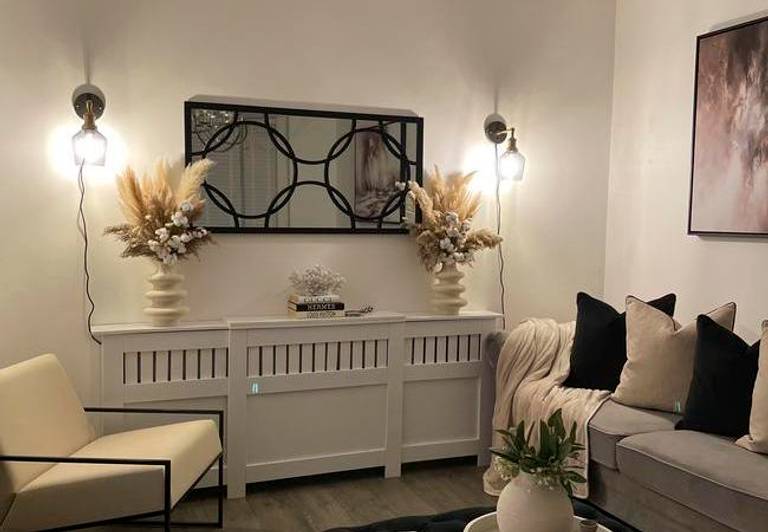 Brooklyn Wall Holder - Brass - With Plug & Tinted Glass Schoolhouse - 5.5 Inch - Smoke Grey - Shade Only by Industville (Image supplied by @we_built_our_home)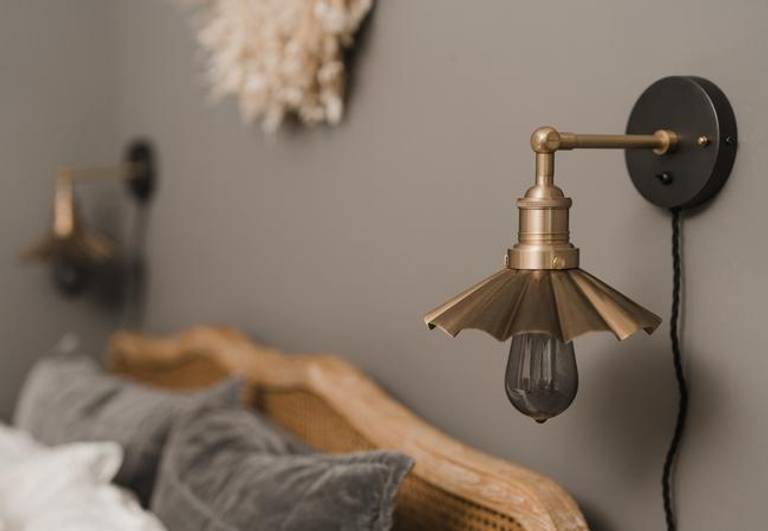 3. Table Lamps
Lamps are ideal for diversifying the type of light in your space without the need to rely on overhead lighting. Even small table lamps make great task lights, especially those with adjustable arms and heads that let you direct the light where it needs to go.
Think about positioning table lamps by the side of chairs in the living room for reading or in office spaces to softly illuminate desks and work areas. You may even choose to put table lamps on side tables in hallways to add an ambient glow to those tricky-to-light spots.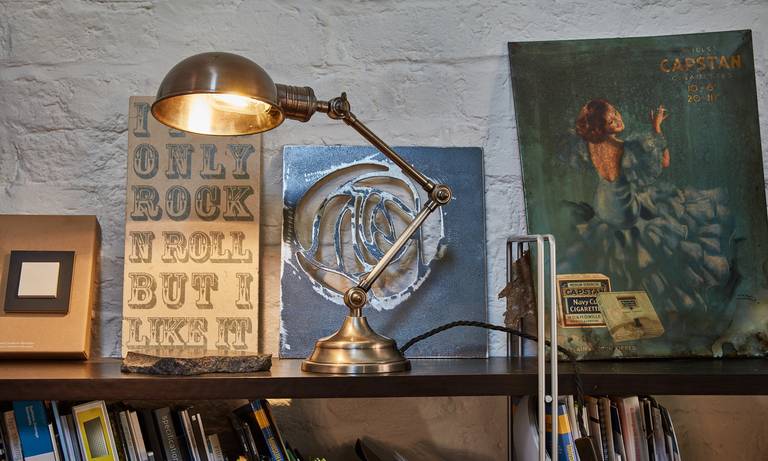 Brooklyn Pharmacy Adjustable Dome Table Lamp - 7 Inch - Gunmetal by Industville (Image supplied by Andy Haslam Photography)
4. Plug-In Pendant Lights
You might not have a fitting for an overhead light, but this doesn't mean pendants are off the table entirely. Like wall lights, pendants are available in plug-in versions. The light is plugged in like normal then the pendant wire is hung from a hook installed to the wall or ceiling, leaving the pendant itself to hang as it would from a ceiling fixture.
You can style these however you want, using them to illuminate living room corners or hanging them over dining tables for better ambience during mealtimes. You could also hang them so they're lower than pendants typically might be so they take on the quality of a wall light on either side of your bed or sofa, for example.
Plug-in pendants are available in a wide range of styles – you could even match your wall lights with a plug-in pendant for a sleek, expertly-designed look.
5. Complementing Lights With Candles
Once you've chosen the perfect lights for your space, adding a few complementary candles can make a stunning final touch. Using an array of candles will enhance the quality of your ambience further, working with your lights to provide increased warmth and softness.
Lights with bright metal finishes will look especially good against flickering candlelight, boosting their shine and complementing them beautifully. The ability to dim your ambient lighting will also increase the impact of the candles in your room.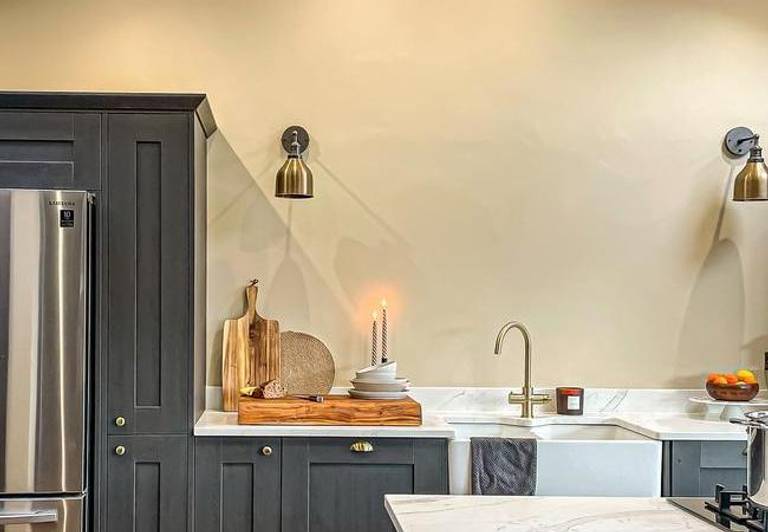 Brooklyn Cone Wall Light - 7 Inch - Brass by Industville (Image supplied by @doing_up_prospect_house)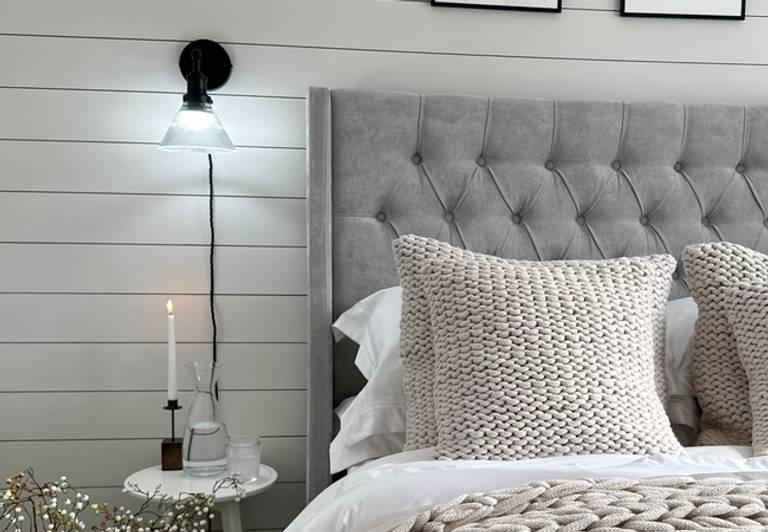 There are several great ways to enhance your lighting without using overhead fittings, ensuring you create a design that works for you. If you're feeling inspired to give your room a new look, why not check out our extensive lighting range, with timeless styles to suit any interior?
Header image: Fawn Interiors Studio & Black Ash Studio