Running Free
Running Free
Regular price

$950.82

EX VAT

$792.35

Sale price

$950.82

Regular price

EX VAT

$792.35
Tax included.
by Tanja Hassel

Artist's Statement
Tanja is a German-born, London based painter who creates bright and colourful acrylic "Mosaic Paintings"...read more
Artist's Statement
Tanja is a German-born, London based painter who creates bright and colourful acrylic "Mosaic Paintings" that sing with happiness and aim to bring joy into people's lives and brighten up their homes.
"Mosaic Paintings" are carefully hand painted using multiple layers of high-quality acrylic paint to create vibrant and intense results. Each painting takes upwards of three days to create with larger pieces easily taking a couple of weeks.

Tanja studied classical drawing at the London Atelier of Representational Art and has been mentored on how to be a professional artist by famous painter Rosa Branson MBE. She has also copied Old Master paintings in the National Gallery, London and the Kunstpalast, Germany.

More then 34 Mosaic Paintings and 27 hand painted mosaic diaries have sold to eight countries around the world, including Brazil, China, India, Norway, Germany, Hungary and the US, where they are held in mostly private collections. Tanja was also commissioned to paint two large-scale mosaic murals in London and has taught mosaic painting in the United States.
Tanja has exhibited in solo and group
exhibitions around London, including at the Mall Galleries and with the British
Red Cross. Her motto is: Live Your Life In Colour!
 Title
Running Free

This Mosaic Painting was inspired by horses I saw on a beautiful Sunday hike with my mother in the stunning English countryside. One horse in particular, a strong looking Chestnut was galloping round and round the field with his mane and tail flying in the wind. We were so mesmerized by the horse's free spirit that we stood and watched for a while before continuing our walk over rolling hills and steep stiles, through woods and kissing gates. I love hiking in England!

The painting's pattern continues around all the canvas edges. As the canvas is slim, with only 2 cm of depth, the painting can either hang on its own or be placed in a grey tray frame, which I make myself in a professional framing workshop setup.

Artist

Tanja Hassel

Size
50 (W) x 60 (H) cm

Medium

Acrylics on Canvas
Website
www.tanjahassel.com
Read less
Pay in 30 days with

LEARN MORE
FREE UK MAINLAND DELIVERY OVER £30
Specification
TITLE
Running Free

ARTIST
Tanja Hassel

SIZE
50 (W) x 60 (H) cm

WEBSITE
www.tanjahassel.com
MEDIUM
Acrylics on Canvas



Shipping Information
Delivery Note: Delivery arrangements will be arranged between the customer and artist separately. The cost of postage is not included in the price of the artwork. The artist will be in touch with the customer within 1 -2 working days to arrange delivery.
Returns
1. Refunds Policy
1.1 We offer customers the option to request a refund or exchange up to 28 days after receiving your Product(s). If you are a consumer, you have certain legal rights if you purchase Products which then turn out to be faulty. You can obtain further information about these legal rights by contacting the Citizens Advice Bureau (www.citizensadvice.org.uk or call 03454 04 05 06).
1.2 If 28 days have gone by since the product was delivered to you, unfortunately, we can't offer you a refund or exchange.
2. Refunds
2.1 Please note that we are not able to offer refunds or exchanges for bespoke products made to your specification, for example chains and flexes cut to order.
2.2 If you are unhappy with your Product(s) and would like to return your purchase this can be arranged free of charge by using DPD pick up shop, simply use the returns label provided with your delivery. You must notify us via email at support@industville.co.uk and send the items back within 28 days of receiving the Product(s) and return the item in its original packaging together with proof of purchase.
To return the items simply follow the simple steps below:
1. Find the DPD 'Return your Parcel' label that came with your parcel.
2. Complete the label with your order number (this is vital as without it we can't match up your order to your return).
3. Peel it off and stick it on the parcel, removing or covering any old labels.
4. Visit www.dpd.co.uk/pickuplocator to find your nearest store and drop off your parcel, you'll be given a receipt, so you can track your return.
Your Returns Label will look like the one in the image below, if you don't receive one in your parcel then please contact us either by emailing us at support@industville.co.uk or by calling 0207 971 7871 and we can send you a returns label via email.
Please note postcodes that begin with AB, BT, EI, FK, GY, HS, IM, IV, JE, KA, KW, PA, PH, TR, ZE and orders outside the UK are exempt from this service.
2.3 Upon receipt of your Product(s) we will:
2.3.1 inspect them to check that they are in their original packaging and are suitable for resale. Should the Products fail the inspection they will remain your property and you will be responsible for their collection.
3. Exchanges
3.1 We hope that you love your Products, but we will happily replace or exchange your Product(s) if they are defective or damaged, or if you change your mind provided that you notify us within 28 days of receiving the Product. Please note that any missing or wrongly sent items must be reported within 48 hours.
3.2 If your item is damaged or faulty and you would like a replacement Product, you will need to send us evidence of the damaged item and notify us within 28 days of delivery. Just send us an email at support@industville.co.uk and we will proceed with the exchange as soon as possible. We will arrange for the collection of the damaged or faulty Product and send you another one free of charge.
3.3 If you change your mind within 28 days of receiving your Product, and would like to exchange your Product for another one on our site, just send us an email at support@industville.co.uk.
Please note that you will be responsible for paying for your own delivery costs when returning your item if you choose to return the items via your own courier. Industville offers a free DPD drop off return service, this is a free service for all UK orders apart from postcodes that begin with AB, BT, EI, FK, GY, HS, IM, IV, JE, KA, KW, PA, PH, TR, ZE. All customers should receive a free returns label included with your delivery, if not please contact support@industville.co.uk and a free returns label can be sent via email. (AB, BT, EI, FK, GY, HS, IM, IV, JE, KA, KW, PA, PH, TR, ZE postcodes are exempt from this free returns service.)
3.4 If it is impractical to offer a replacement product for any item that is damaged or faulty, we reserve the right to offer a repair, an allowance for a repair, or alternatively a refund for your purchase.
Please note that for returns or exchanges, you will need to send them to the address below:
Industville Ltd. 24 Quadrant Court, Greenhithe, DA9 9AY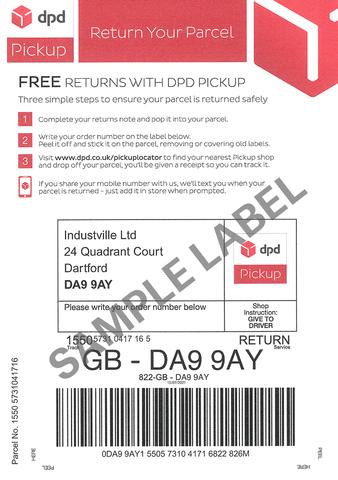 FAQ page to find answers to the questions we get asked the most. If you have a question that you can't find here please feel free to contact support@industville.co.uk