Happy New Year! January provides the opportunity for a fresh start and with it brings a whole host of interior design trends that are set to make waves within the industry in 2018. From trending colour schemes and textures to must-have household accessories; we take a look at ten of our favourite style trends and inspirations to look out for in 2018, for both homes and businesses, along with how you can achieve the look with a little help from us at Industville.
Trend Statement Ceilings
It's only January, and 2018 is already looking up – quite literally! Pinterest, which is renowned for being popular within the industry of interior design, experienced a massive 310% increase on Pins for 'Statement Ceilings', which is telling of the growing popularity of the trend. Whether you opt for a shade of paint, patterned wallpaper or a beautiful lighting feature focal point, such as the Metal Dome Pendant Light, be sure to pay a little more attention up high this year.
New Metallics
Shades of rose and yellow gold are a thing of the past when it comes to interior trends in 2018, and it's time to say hello to industrial shades of metal, which will become the prominent choice for many. From brass to nickel, copper to pewter – a move away from shiny interiors will add the increasingly popular organic feel to any space in the home while embracing a less-polished look. You can incorporate new metallics quite easily into any design scheme, with a little help from the copper, pewter and brass collection of lights at Industville.
Forever Black and White
The theme of black and white is by no means new to the interior design scene and has in fact dominated home décor for decades. While other colours will fade in and out of fashion, the neutral shades of black and white have longevity when it comes to parts of the house you don't want to change with the seasons, such as wall colours, sofas and lighting solutions. Both colours also embrace minimalist trends such as Hygge and Lagom, allowing you to hop-on board with the latest, oh-so-popular, Scandi-trends. We have an extensive range of dark pewter and black lights that give you the perfect opportunity to tap into this forever trend.
Art Gallery Walls
Once upon a time, lots of pictures hung on walls in your home may have been considered outdated, but thankfully for the art enthusiast within, this style is back with a vengeance. Whether you choose to fill your walls with family photos, statement art or a mixture of both, 2018 is the year to bring some life back to the plain magenta walls. Art gallery walls work particularly well when featuring art and photos of varying sizes and you can use frames to further complement any existing themes or tones within the interior. Given that the quest for an individual interior is on like never before in 2018, check out our supporting artwork initiative whereby talented artists are given a platform to display their masterpieces.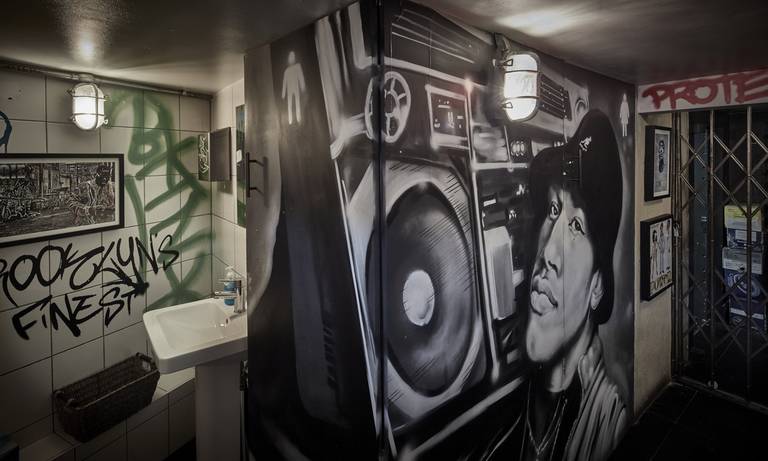 Bulkhead Outdoor & Bathroom Oval Light - 6 Inch - Gunmetal, by Industville (Image Supplied by Andy Haslam Photgraphy)
Mixed Material Kitchens
Just five years ago, an all-white kitchen was in high demand for interior designers all over the UK. Thankfully, experts in the field this year have emphasised the benefits of mixing colours, textures and finishes in the kitchen for an aesthetic that is both eclectic and interesting. The mono-colour kitchens have become the norm for many urban kitchens, leading people to stay away from using designs that feature just one colour. That's not to say you need to include a rainbow of colours that might hurt your head whilst making your morning cuppa! Using two or three colours and tones that complement each other will work wonders, creating the perfect backdrop for your culinary creations.
Geometrical Shapes
The embracing of geometrical shapes in all things interior is an existing trend that looks set to continue well into 2018. Geometrical shapes work well with other trends, including metallics, vintage and the appreciation of tarnish, all of which can be combined with geometrical shapes for optimum impact. This trend has minimalist, modern connotations and yet can be linked to periods through time; namely the Industrial Revolution. Use geometrical shapes to bring something new to your interiors, while paying homage to themes of historical context in urban, industrial-themed interiors.
Earthy Pastels
Speaking of colours, if you're in search of some inspiration for popular shades this season, soft pastels and gentle colours that appear in nature are predicted to make a big impact on interior design in 2018. These are best incorporated into your home décor via accessories, artwork, and anything else with a sense of longevity.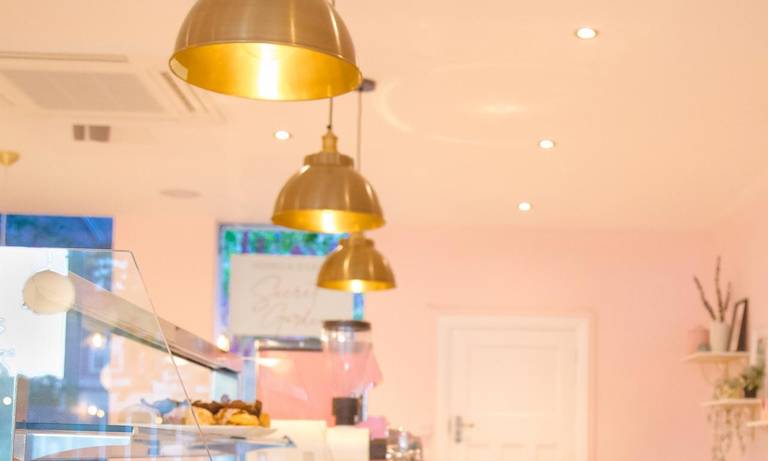 Brooklyn Dome Pendant - 13 Inch - Brass, by Industville (Image Credit: @romeoandjulietscafe, @brookeharmony_design)
Tarnish Appreciation
In the current interior landscape, highly-polished, shiny, hotel-esque interiors have made way for the more relaxed and residential environment provided by metals that give a 'lived-in' vibe. It's expected that most designs will embrace finishes that encourage character and work well with any vintage, nautical or industrial themes within your home. There is an undeniable element of nostalgia about metals with warmth, and this will contribute to perfecting a homely décor that will immediately make visitors feel welcome. Our extensive range of Brooklyn industrial lighting, each handcrafted for a bespoke finish, is the perfect way to hop on the trend train!
Vintage Accessories
One trend that has picked up serious momentum in the last few years, and shows no signs of stopping, is all things vintage. Pre-loved, vintage or antique accessories are the perfect way to personalise your interiors and set them aside from the rest. Interior design is anything but boring, and this gives you the opportunity to exercise your creative flair for a phenomenal finish. We have a range of vintage lights, including the Balloon Cage Pendant Light, that work particularly well for those seeking a truly rustic décor.
Aspirational Places
Our final trend is a shift towards home décor and design taking place in accordance with how people want to feel in their homes, as opposed to the pressures of impressing peers. While you can use interior magazines for inspiration, people are beginning to opt for a one-of-a-kind space that suits both who YOU are and what YOU want the room to accomplish. Whether that be professional, relaxed, welcoming, romantic, playful or energised; 2018 is about you – and the people that will be living in the home! So, make the most of this design freedom, let your imagination run wild and enjoy the design process from start to finish, before creating an aspirational place that you can be proud of.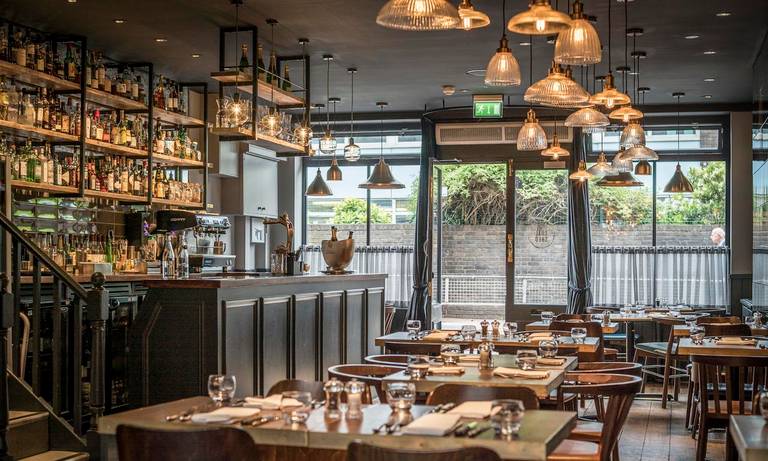 Brooklyn Giant Bell Pendant - 20 Inch - Brass, Brooklyn Cone Pendant - 12 Inch - Brass, Brooklyn Cone Pendant - 7 Inch - Brass, Brooklyn Glass Cone Pendant Light - 7 Inch, Brooklyn Glass Dome Pendant - 8 Inch & Brooklyn Glass Dome Pendant Light - 12 Inch, by Industville (Image Supplied by @thecoalshed)
We hope some of these trends give you some inspiration to how you can change your home for the better in the coming year. If you need a helping hand, we have an extensive range of retro, industrial and vintage lighting fixtures, all of which can work standalone or in combination with other design factors to accomplish these trends in your home. Remember, be bold and be creative… Happy designing in 2018!