Your bedroom is your haven, the space where you will spend the majority of your time. Therefore, it makes sense that you make it look as attractive and welcoming as possible!
Many people think about styling their bedroom last, but you deserve a wonderful space to start the day and unwind at the end. There are so many ways to style a room – from simple classics to more extravagant designs – but the main thing is that you create a space that makes you feel comfortable.
If you're looking for inspiration, check out some of our favourite lighting trends which can breathe new life into your bedroom interior.
1) Nautical Chic
A nautical bedroom is often associated with children's spaces. However, with a few modern and minimalism-inspired twists, you can create a more refined space that calls to the ocean.
You can add a nautical chic to your bedroom with the use of our retro bedroom lighting. Bulkheads are not only an eye-catching feature for your walls but also provide a wonderful light that can illuminate the whole space.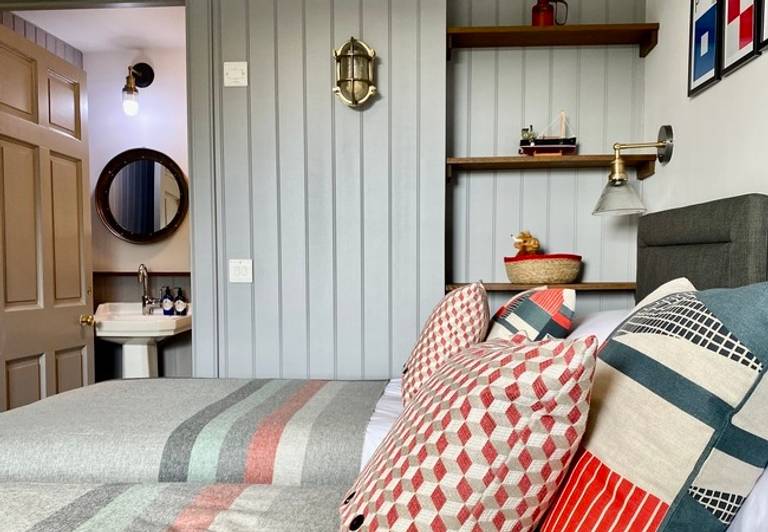 Bulkhead Outdoor & Bathroom Oval Light - 6 Inch – Brass and Brooklyn Glass Funnel Wall Light - 7 Inch, by Industville (Image supplied by @emmaclanfieldinteriors)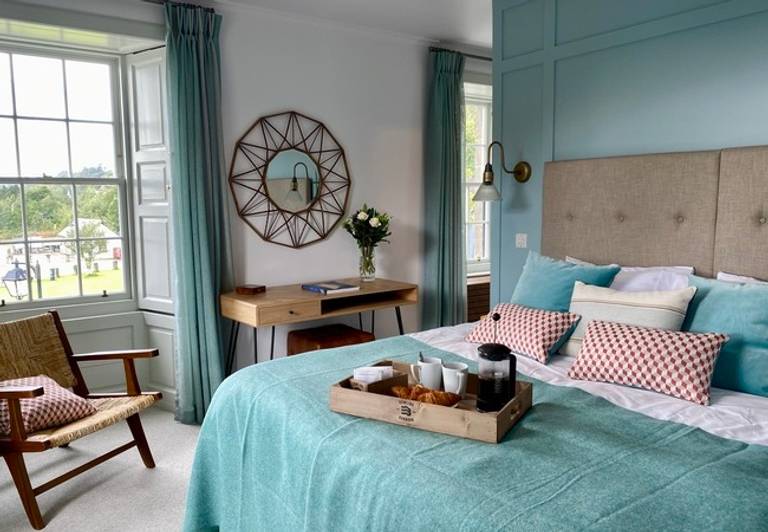 2) Warm Metallics
Everyone loves a bedroom that feels warm and welcoming, and your lighting plays a huge role. One of the most popular trends over the last few years has been the use of warm metallics to provide this feeling, and it's easy to see why.
Using warm metallics provides a wonderful versatility, no matter what your style. A bold copper lampshade like below can be used as a statement piece but equally pairs beautifully with other warm colours to create a complete bedroom interior.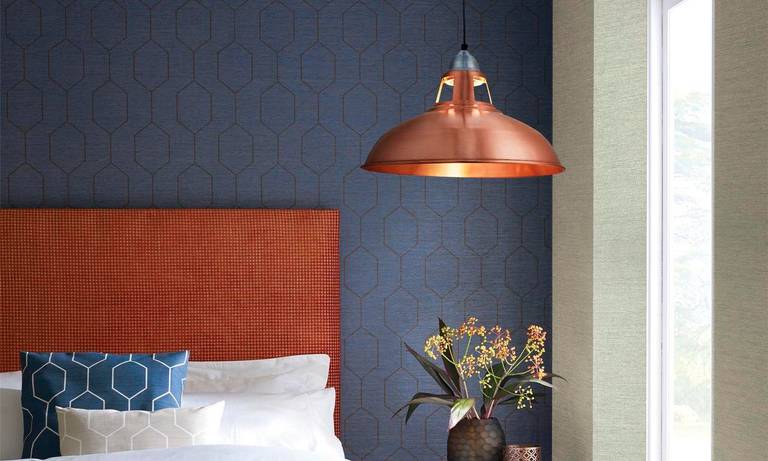 Old Factory Slotted Pendant - 15 Inch – Copper, by Industville (Image supplied by The Paper Partnership)
3) Statement Lighting
If you want to create a bedroom full of individual character, then you can put your lights front and centre. Statement lighting is all about being big and bold, drawing the eye towards other arts of the room.
If you have a tall ceiling, hanging pendants are a really effective way to achieve statement lighting and make full use of that vertical space. We love the look of the glass pendant below and how it creates a beautiful glow in the room, accompanied by characterful side lights.
4) An Industrial Edge
The industrial look is one of the biggest trends from recent years, and we love seeing how people can push the boundaries of this style. Industrial fixtures are great for bringing depth to a room, both through their soft colours and deep textures that provide more viewpoints across the room.
Industrial lights are often associated with minimalist, rugged styles. However, they can also create a chic, modern and luxurious look. We love how the brass cone wall light below pairs with the dark wall and pastel cushions to create a space that is calm yet exudes character and fun.
5) Space-Saving Wall Lighting
When designing a small bedroom, space is hugely important, which is why wall lighting can be key. Our balloon cage wall lights are perfect for creating a minimalist design that maximises space but still brings its unique style.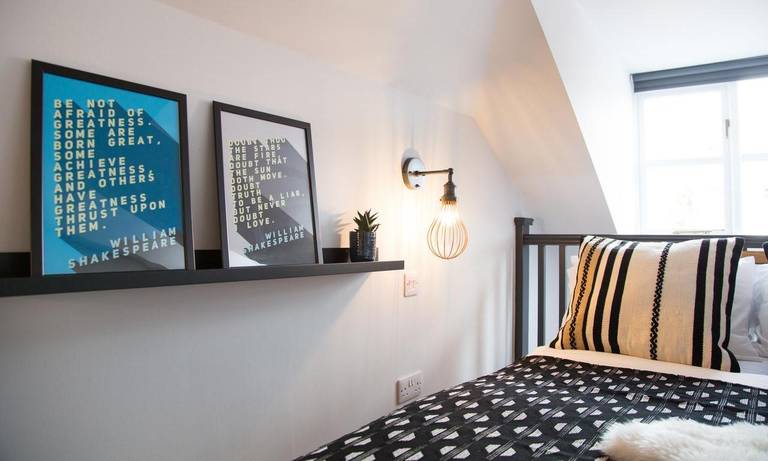 Brooklyn Balloon Cage Wall Light - 6 Inch – Copper, by Industville (Image supplied by George Clarkes Old House New Home)
6) Go Retro
If you want to add colour to your space, then taking inspiration from retro designs might be perfect for you! 60s and 70s style is all about bright colours and items with impact, helping to create highly personal spaces – perfect for your bedroom design!
We love the bedroom design below and how it uses various colours and motifs to create a space full of drama. The white walls and hanging globe light add the perfect subtle finish, helping to bring everything together into a cohesive space.
7) Pendant Collections
Want to be a bit more adventurous with your lighting? A fast-emerging trend is the use of pendant clusters, grounding lights to create a modern take on the chandelier.
This trend is perfect for creating statement lighting in the centre of a large bedroom. It's also hugely versatile; you can mix and match bulbs and shades for an eccentric design, or group identical pendants together for a more subtle effect.
8) A Pop of Colour
Almost everyone is a fan of white bedrooms. After all, there's nothing more calming than returning to a quiet space after a busy day. These spaces can look beautiful in their refinement, and also leave room for more impactful bursts of colour at the edges.
The bedroom below is a wonderful example of adding style to a predominantly white space. Subtle pastel shades keep that softness to the space, while the brass light and natural plant add a pop of colour to create more visual appeal.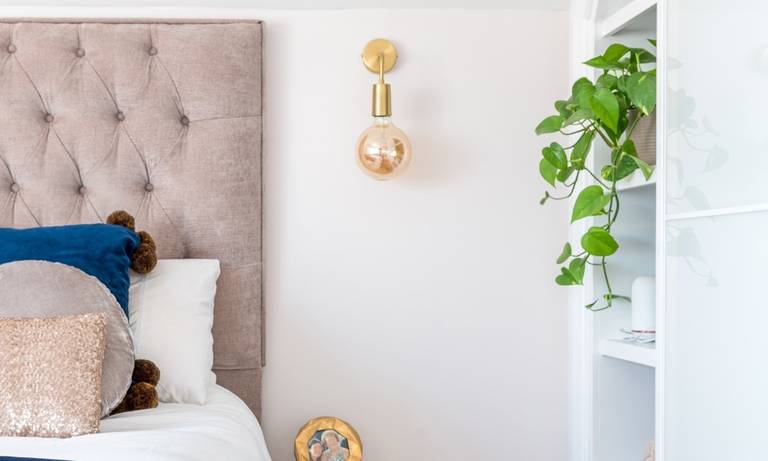 Sleek Edison Wall Light – Brass and Vintage LED Spiral Edison Bulb - 5W E27 Small Globe G95, by Industville (Image supplied by Alex Wroe)
9) Classic Style for Large Bedrooms
A larger space gives you much more scope for your design, but it can also be daunting, especially when choosing your lights. For bigger bedrooms, you'll need a combination of light sources which work across the room.
Designers of large bedrooms can be tempted to turn them into versatile spaces, but it's important not to lose sight of their original purpose. We love the minimalist design below, using various sources of light to create a wonderful glow across the space.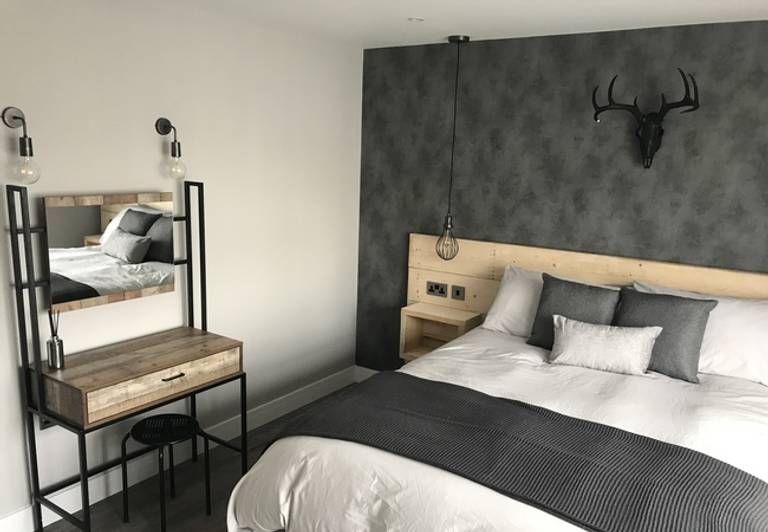 Sleek Edison Wall Light – Pewtern and Brooklyn Balloon Cage Pendant - 6 Inch – Pewter, by Industville (Image supplied by W Birch Developments Ltd)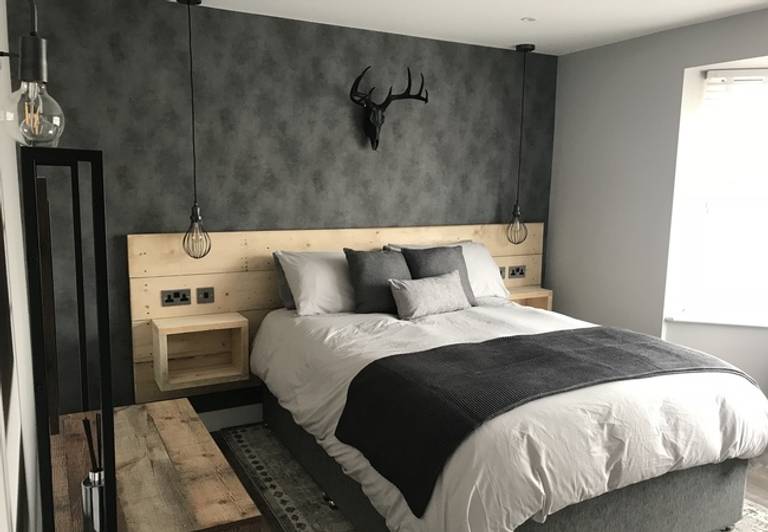 10) A Modern Twist
Modern bedrooms often rely on a minimalist approach, but this doesn't mean you should cut back on adding flair to a space. Thinking about every aspect of your room will help you make the most of your décor and lighting, creating a complete space that appears effortless.
The modern simplicity combined with unique character is personified in our wire cage pendants. Offering a modern take on the industrial style, they're perfect for adding a focal point to subtle modern spaces.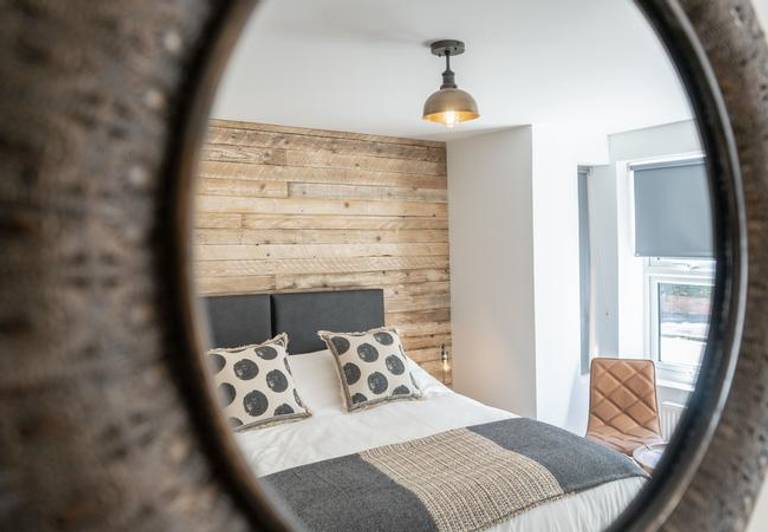 [Brooklyn Dome Flush Mount - 8 Inch - Brass](Brooklyn Dome Flush Mount - 8 Inch - Brass), by Industville (Images supplied by Ashbrook Serviced Apartments)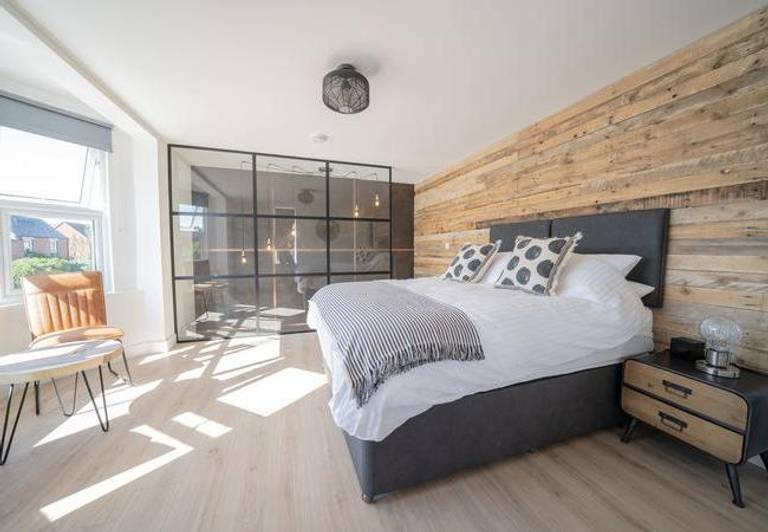 There's no end to the potential design options for bedrooms, no matter the size or layout of your space. Our industrial lights are the perfect versatile option to add to your space, whether you're looking for a classic style of a more modern design.
Looking for more inspiration? We post our favourite interiors every day on Facebook, Instagram and Pinterest, and you can join the conversation using #Industville.