Valentine's Day isn't the only time you can add an element of romance or luxury to your interiors, but the season of love certainly provides some inspiration!
Whether you want to bring pink and red colour palettes into your home or focus on creating a cosy atmosphere with vintage lighting, there are plenty of ways to interpret the idea of romantic interior design all year round.
What is the Romantic Style in Interior Design?
Aside from evoking images of pink hearts and ambient mood lighting, the term Romanticism actually refers to a particular style and aesthetic discipline in interior design.
Design during the Romantic era developed in the late 18th century is associated with bold florals, canopied beds, elaborate candelabras and a refined look. The modern version of Romantic design is more subdued, often utilising pale, neutral colours, soft curves and metallic details – however, florals remain a core feature of the trend.
If you want to add a hint of romance and whimsy to your space, you may want to incorporate some of these features, along with some of our favourite romance-inspired interior ideas below.
How to Create the Perfect Mood Lighting
Many will think about how to create mood lighting for their bedroom, but other rooms in the house can also benefit from ambient lighting that adds dimension and softness.
One of the best ways to add mood lighting into a room is to incorporate different sources of light. This might include complementing one large statement light with smaller industrial wall lights or spotlights to create distinct areas in a room.
The style of light you choose can also contribute to the mood you create. Tinted glass lights will cast a subdued warm glow over your space for a cosy, intimate atmosphere. For a bolder feel, bright metallic shades can add a sense of drama and richness, enhancing the ambience even further.
Incorporate Romantic Red & Purple into Your Interiors
Colour is another main factor that will impact the overall feel of an interior. And when it comes to capturing a sense of romance or Valentine's Day charm, there is no better colour than red!
Initially, the boldness of red might seem difficult to work with, however, it is a colour that emits passion, drama and energy – perfect for making a fiery statement in a range of interiors.
The key to using red in your home is to temper its intensity with more subdued decor to avoid the space becoming too overpowering.
Bold purple colour schemes are also a cornerstone of the romantic look and can be just as vibrant an option as red.
Use Pink in Interior Design for a Romantic Interior Style
Of course, red isn't the only colour that screams romance – there's also pink to consider. Decorating with all manner of pinks, from a soothing pastel to vibrant magenta, is a great way to bring a sense of luxurious, chic style to your interior.
Adding pink accessories like cushions, blankets, rugs or artwork to your room is an easy way to incorporate a taste of this shade for a subtle, sophisticated look.
Pink is also an incredibly versatile colour that combines well with numerous other colours, allowing you to create a unique, characterful interior. Some great colour combinations include:
Pink and green
Pink and blue
Pink and grey
Pink and gold
Rustic Romantic Interior Design Ideas
Romance isn't all about eye-catching red and pink – for some, a more minimal, pared-back look might be preferable.
An interior inspired by nature – whether this means using more natural materials, floral patterns or a neutral colour palette – can provide an airy, light quality to your space, creating somewhere that you can retreat and relax with friends and loved ones.
A rustic or cottage vibe exudes whimsy and a quiet sense of charm that taps into romanticism and regency-inspired interior trends.
Elegant glass lights work brilliantly in this style of interior, further adding to a calming atmosphere.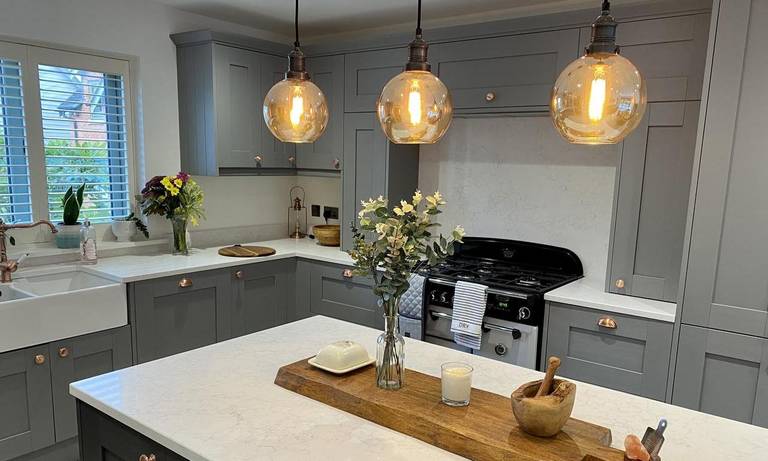 Brooklyn Tinted Glass Globe Pendant - 7 Inch - Amber by Industville (Image supplied by @gardener_on_theedge)
Combine Different Textures
For a cosy, tactile space, combine contrasting textures. This creates an element of visual interest as well as making your room more dynamic and inviting.
A combination of natural materials like warm woods, woven rugs, metal lights and soft textiles come together to make a picture-perfect interior designed for comfort and style.
Romantic Bedroom Interior Design Ideas
This idea of combining textures is especially relevant for bedroom design as it will help you create a personal sanctuary where you can relax at the end of the day surrounded by stylish serenity.
You could incorporate a textured headboard, different layers of blankets, cushions or drapes and soft shapes to offer a tactile treat for the senses.
Making a dedicated cosy corner in your bedroom – or any other spare spot in your home – can also help you embrace a sense of comfy intimacy while allowing you to stay true to your style preferences.
Pay Attention to the Finishing Touches
No interior would be complete without all the little personal details. This might include things like artwork or photography that reflects your style, along with vintage accessories that evoke a sense of romance from the past.
Houseplants can also make the perfect decor as they add life and vibrancy to a space – plants and greenery can even boost your mood!
Getting inspired by romance and Romantic styles is a great way to bring a sense of cosiness and luxury into your home.
If you want to show your interiors a bit of love with a design makeover, browse our range of stunning industrial and vintage lights to complete your space!
Header image credit: Andrea Buckley