Space age shiny or industrial vintage; there's a metal revolution quietly taking place that has blurred the lines between trash and treasure - forget glitz and sparkly any old iron is where it's happening now.
We all know that fashions change, trends come and go but who would have thought we'd be scrabbling around in junk shops and salvage yards for old light fittings, shelving, seating and other industrial fittings and fixtures to give our homes a unique and trendy uplift. It would appear we have finally ended our love affair with shiny, new and sparkly and discovered the raw, no frills style of industrial vintage metal.
Industrial furnishings and fixtures made from plain and simple materials such as steel, iron, tin, pewter, and aluminium can all bring an attractive, cool, functional sensibility to the modern home; somehow, it all seems to work astonishingly well. The best from the now can blend beautifully with the proudly worn and sometimes distressed from the past. It just needs imagination and a little thought.
Vintage Industrial: Design Revolution from Humble Beginnings
The appeal of vintage industrial metal is sometimes hard to quantify and difficult to figure out; beaten up, chipped enamelled industrial signage fetch sky high prices in today's market and are a veritable collector's items. Dull, once mass produced utilitarian everyday objects find themselves star features in trendy wine bars and members' only clubs. These materials and fixtures are as valued today, by many, as prized fine porcelain.
Contrasting Textures Give Added Appeal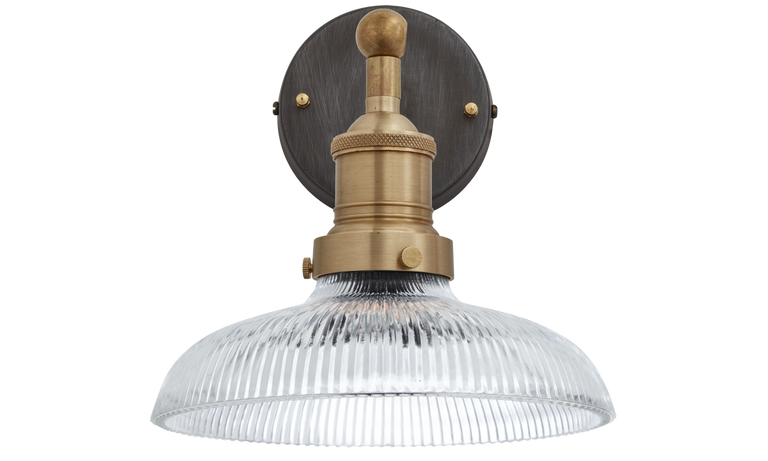 Texture is an important factor in creating a successful interior. Blending industrial style metal fixtures and fittings with other tactile materials creates harmony and balance. Use a combination of textures to give a pleasing aesthetic effect to your space. Fabrics, aged timber, ceramics and base metals are all earth products that work well in combination, but it's all a question of balance…and it's easy to get it wrong.
Vintage industrial metal furnishings and fixtures range in both colour and finish; from gunmetal grey, bronzed copper tones, and oxidised greens. Time, wear, tear and corrosion give texture and surface finish.
Vintage Lighting: The Best Starting Point
Lighting is one of the most important features of any home and is essential in creating good and harmonious design. Industrial lighting is minimal yet stylish, simple but bold, a mix of clean lines and graceful curves- but never too excess- flat finishes and understated tones give metals an organic feel.
Fitting industrial style light fixtures is perhaps the best starting point when 'bitten' by the vintage metal bug. Simply changing lighting fixtures will bring about an instant transformation to any room; will be the starting point in creating that image you can so clearly see in your minds eye.
Vintage industrial style lighting comes in all shapes and sizes, from simple but elegant table top lighting to more elaborate, attention grabbing wall and pendant fittings that simply ooze style; evocative fittings, almost works of art in their own right. Vintage industrial has history and a story to tell- it doesn't pretend to be something it isn't.
Industrial Metal Shelving & Seating
Vintage metal shelving and seating, exposed brick and concrete walls, high ceilings and classy old light fittings are all ingredients for the perfect new meets old interior- throw in your favourite stuff from the here and now and you've created something completely unique.
Kitchens are often the first and easiest rooms to get the vintage shabby chic look; tactile wooden tables and benches with industrial stools as companion are just the beginnings of a lasting love affair with the past. This interest in blending new with vintage often becomes obsession- and you move from room to room, and this is where the fun really begins.
Vintage Industrial Metalwork
Vintage industrial furnishings and fixtures are becoming increasingly difficult to find. Until fairly recently, there wasn't really a market for industrial metal salvage, apart from scrap value. Salvage yards and scrap yards were a literal treasure trove of goodies and the far sighted and innovative really cashed in. The eccentric collectors of yesteryear who filled their gardens and garages with 'junk' turned out it seems to be not so eccentric at all.
When you are making your plans and get to the fun bit- the searching around for treasures and little gems check out our website; you may be pleasantly surprised at what you find. Take a look around at the different ranges of lighting and furniture we have to offer at Industville.