Love is in the lights! Valentine's Day is a day to celebrate love, whether that's with your other half, family or friends. The day is all about sharing and giving, so why not make their day brighter with a gift that keeps on giving all year round?
There are endless ways in which you can add a touch of romance all year round into your interior, whether that's through high-quality, handcrafted lighting or unique artwork. In this blog, we'll look at how you can add a touch of romance into your interior year-round as well as the perfect gifts!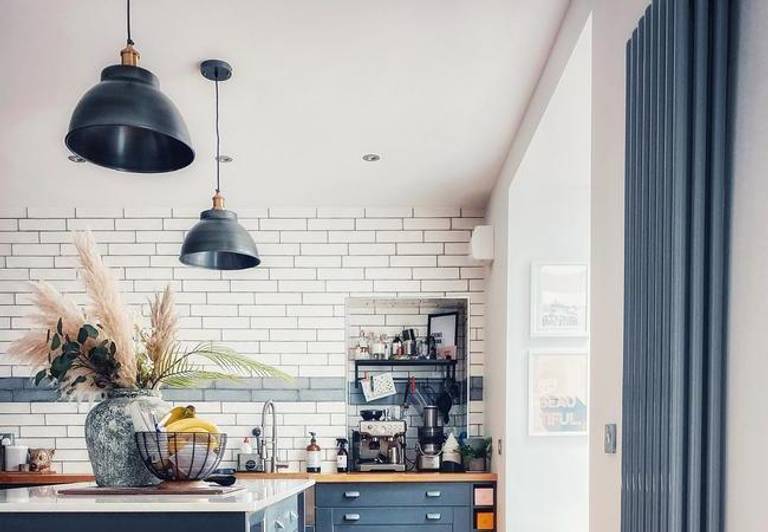 Brooklyn Dome Pendant - 13 Inch – Pewter, by Industville (Image supplied by @inside_the_white_house - The White House - Renovation)
Pretty In Pink
Representing unconditional love and compassion, the colour pink is strongly associated with romance and affection. Whether you incorporate the colour through your furnishings, such as a patterned rug or fluffy cushions, or opt for a statement pink wall, the colour opens up a space and creates a chic décor.
Be Subtle
Pink can be associated with femininity; therefore, if you are looking for a subtle way to incorporate the colour, our Fabric Flex Cables are a seamless way to add a splash of romance.
Available in two different effects, braided and round, this 3-core lighting cable, is a great way of avoiding the concessions of traditional lighting wires, to create a light which is completely beautiful and seamlessly blends with the entirety of your decorative scheme.
Available in over 50 colours, including pinks and reds which have a strong association with Valentine's Day!
Set The Mood With The Right Light
Enhancing the space and setting the mood, lighting is essential in ensuring you make the most of your space. Gone are the days of picking purely functional lighting, there is now the option to find stylish yet functional lighting fixtures just for you.
From wall lights to flush mounts, pendants to table lamps, here at Industville we've invested in our lights to bring you the best! Using high-quality raw materials, all of our lights are handcrafted by skilled artisans.
Vintage Edison Bulbs
To add a romantic and warm glow into your interior, have you thought about using vintage-style filament LED bulbs? Our selection of vintage light bulbs are a great way to create a soft and romantic atmosphere perfect for evening dates all year round.
In addition, due to the LED technology, the bulbs are more energy-efficient and much more cost-effective than standard bulbs!
Go Floral
Searches for floral wall interiors have increased over the last decade, with the rise of Instagram. One of our favourite interiors is The White Collection, a boutique bridal shop based in Somerset.
When it comes to choosing your perfect wedding dress, it's vital for retail interiors to encompass a dreamy and romantic atmosphere, as this special moment will be remembered for years to come.
Our pink flex cables were used with vintage filament bulbs to cast the perfect amount of light around the beautiful shop, creating a tranquil atmosphere to help remind the brides why they fell in love in the first place!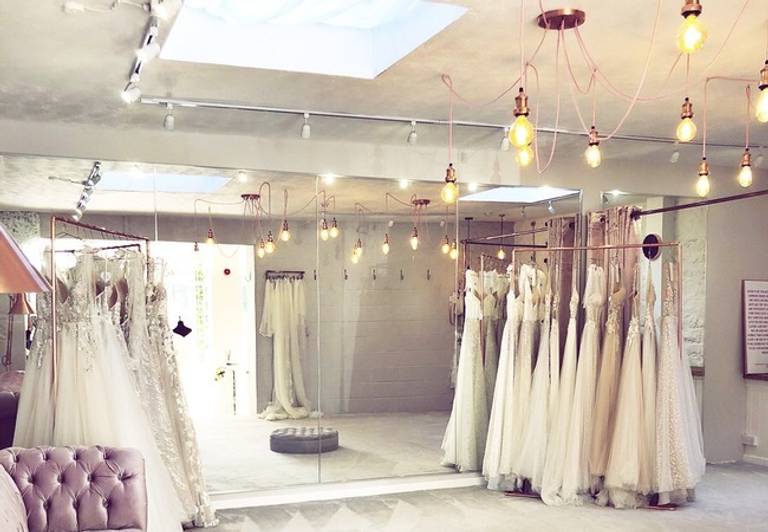 Bespoke Lighting, by Industville (Image supplied by The White Collection Bridal - @thewhitecollection)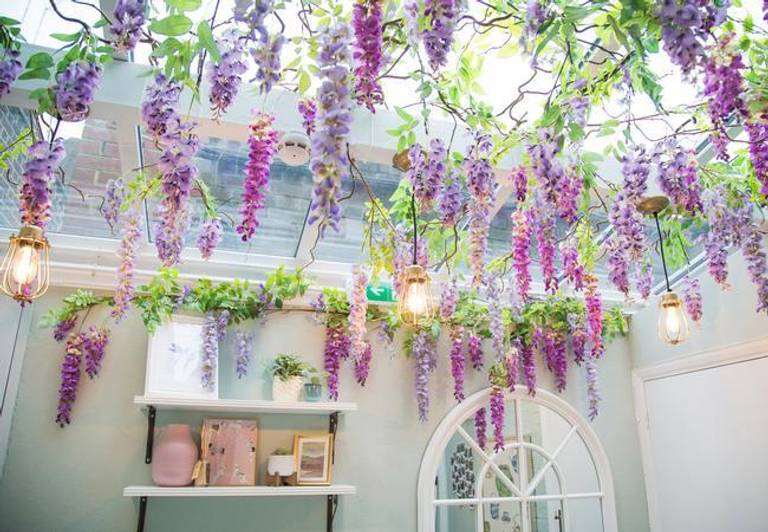 Florals In The Home
Floral walls also look stunning in the home! If a floral wall isn't a viable option, there are numerous other ways you are able to incorporate them. From a vase full of faux flowers to floral patterned furnishings, inject some beauty and elegance into your décor with florals!
Give The Perfect Gift
To show your loved one how much you care, why not gift them something special this year? Here is our pick of the best Valentine's gifts!
A De-Lightful Present
Gifts aren't just for Valentine's, the perfect way to show your admiration is to light up their lives all year round! With lighting options to match every single personality, you are able to shop and be assured you'll find the style and finish to suit your loved one's interior.
Any Interior, Any Style
Whether the interior is contemporary, modern or futuristic, our range of vintage lighting will bring light and style to the interior every single day of the year. So, whatever the style, we have the right light for you!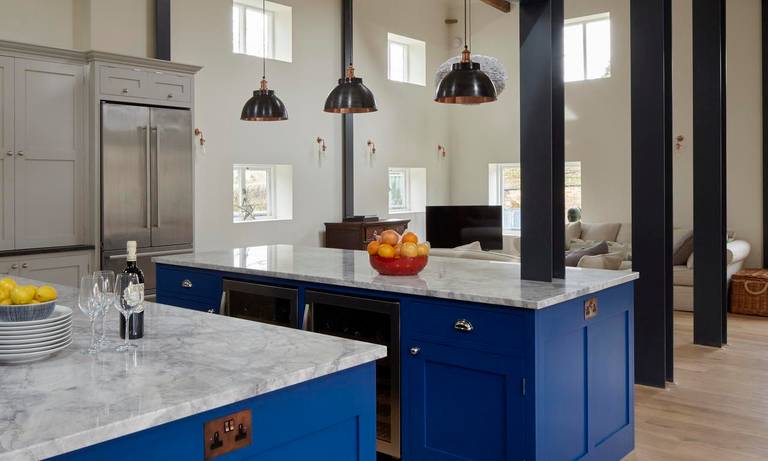 Brooklyn Dome Pendant - 13 Inch - Pewter & Copper, by Industville (Image Supplied by Higham Furniture)
Vouchers
If you're unsure which style or finish of light your giftee would like, why not give them a voucher? With gift vouchers for every single budget, it is the best way for them to find something they'll treasure for years.
A Bespoke Fixture
If you're looking for something completely unique, why not make it bespoke? We have four services; custom lighting design, bespoke, painting and rewiring. Our bespoke painting service allows you to select any light you may wish and paint it any Pantone colour!
Pink Tones
Painted in a seductive pink tone, our Brooklyn Pendant will bring a focal point to any room it is placed. Making it a wonderful way to bring some love into the home!
Unique Artwork
Art can speak a thousand words and tell a story all in one. Gifting your loved one with unique artwork is a great way to show them you care as artwork is an individual gift and differs depending on personality. Long-lasting, art is a gift which can be treasured forever. What better way to show love than with flowers which last forever?!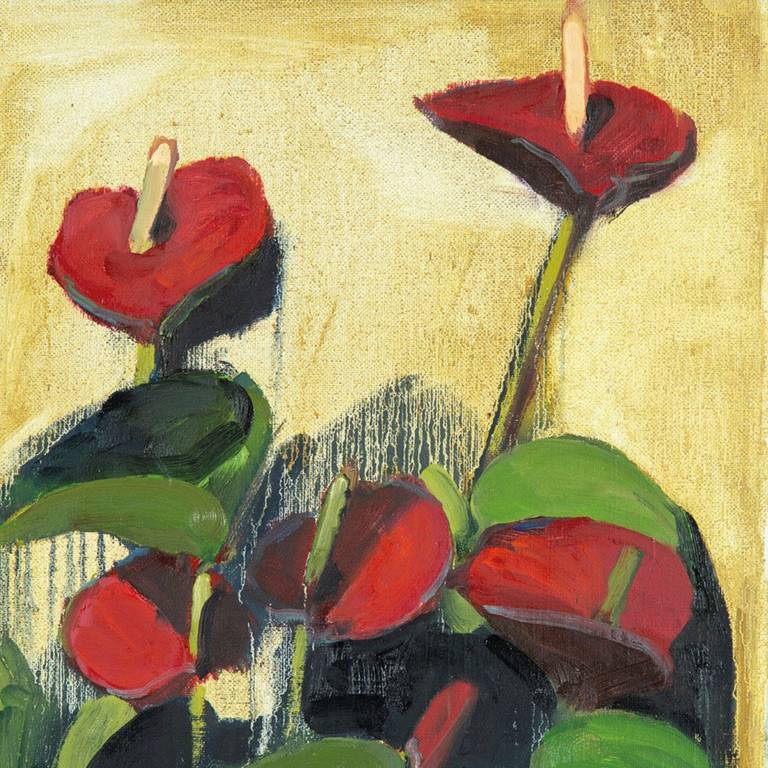 Anthurium by Ondrej Rypacek
With a wide range of artwork showcased on our website, have a browse and find the perfect match!
Date Night
If you're heading out for a date, choose a location which has a romantic atmosphere. If you're thinking of popping the question or organising something special, select a place which has this in mind.
Lighting is key in helping to ensure the space emits the perfect atmosphere; our lights have been featured in many restaurants, pubs, bars and cafes all over the world.
Including Bocca Social in Beckenham, where our Brass pendants and Brass wall lights are placed throughout the space, paired with plush pink furnishings and even a floral wall!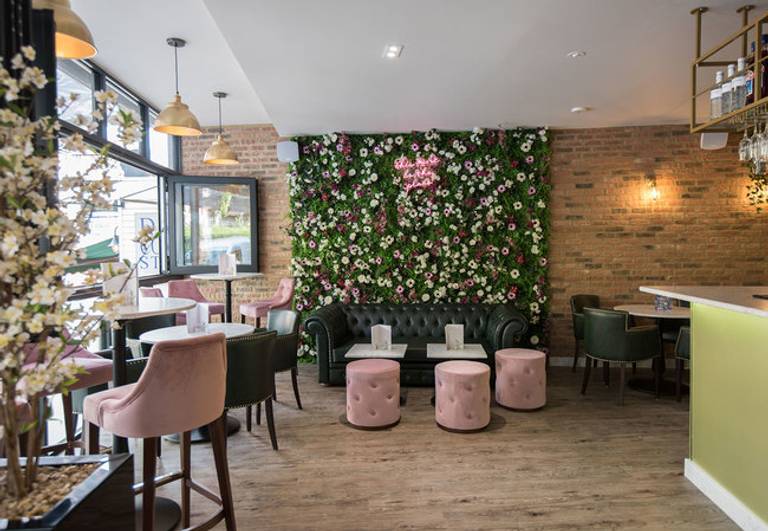 Brooklyn Dome Pendant - 13 Inch – Brass & Orlando Wire Cage Wall Light - 4 Inch - Brass, by Industville (Image supplied by Bocca Social)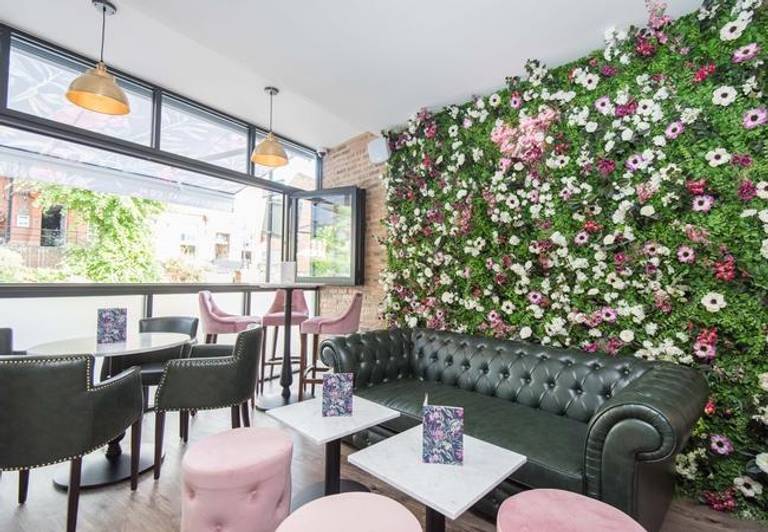 Roses are red, violets are blue, we have the perfect light for you! There are numerous ways you are able to create a romantic atmosphere in your interior, whether it's your home or business. We hope our gift ideas have helped make your Valentine's present buying a lot easier!
If you're looking for further romantic interior inspiration, have a read of our 7 Romantic Interior Design Ideas blog or browse our Pinterest boards!