Our new Bespoke Lighting Service offers our customers a brand new simple and convenient, 'create your own' light assembly and configuration package enabling you to design your own unique light fitting or tailor our existing designs to your exact specifications.
To provide this new service we have joined forces with the brilliant all female electrical firm, Kelly Electrics. Founded by Kelly Vincent, Kelly Electrics is a skilled partnership of City and Guilds qualified, NICEIC certified female electricians serving London, Surrey and Croydon. We are thrilled to have Kelly and her partner join our female only team here at Industville, we are ready to show that lighting is not just a man's game!
For Industville, Kelly Electrics are the perfect partner to help us offer an effortless solution for our customers who wish to create their own bespoke lighting solutions. This partnership means that you will be able to create your own completely unique light fitting or have any of our lights tailored to your requirements, with complete confidence by Kelly.
Designing your perfect light is simple, select all your preferred components – in our lighting components and accessories collection, choose a high quality fabric lighting cable from our selection of over 20 different colours and styles and we will have it assembled and tested before dispatching it to you all for just £20 per unit.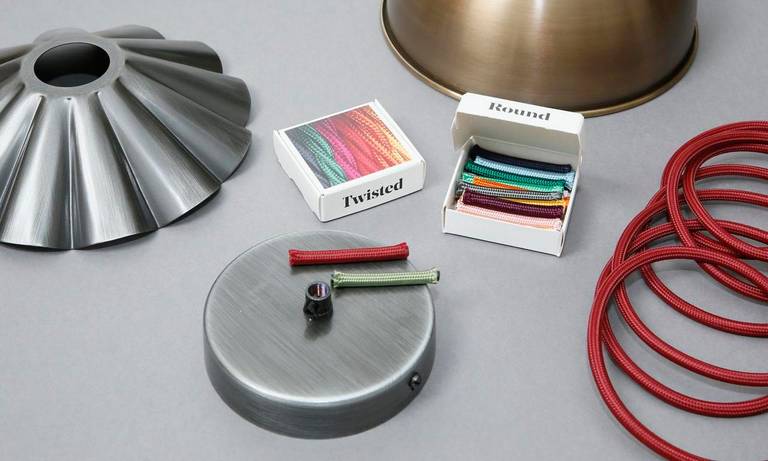 To find out more information and let us know your design ideas, contact us at Info@industville.co.uk and we will help you get the ball rolling!
Once we have received your brief, you will be able to expect your brand new, bespoke light fitting within 5 -7 days. What could be simpler?
So, whatever the project, small or big, complex or simple, whether an addition of some funky orange flex or the creation of a complete, unique statement feature light – do not hesitate to get in touch and let us help you realise your lighting dreams.