The heart of the home and arguably the room we spend the most time in, the kitchen is not only a place we spend cooking up some culinary delights but a place we devote time to socialising and eating with loved ones. Kitchen interiors have become increasingly popular over the last few years, with interior designers and homeowners spending more money on renovating and redecorating this room of the house.
This has resulted in many kitchen interior design trends. We're always on the lookout for new trends, and look forward to putting together our roundup of trends, whether that's 2022 or dark kitchen inspiration! One of the kitchen décor trends which won't see going out of fashion anytime soon is the traditional kitchen. Focusing on utilising raw materials, classic styles and bundles of character, traditional kitchen décors are truly charming. In this blog, we're going to discuss the main ways you can incorporate this style into your kitchen, and uncover a case study, by interior designer and interior blogger, Amelia Wilson!
Focus On Raw Materials
One of the key features of the traditional kitchen is making use of raw materials. Think exposed wooden beams, marble flooring, brick walls and brass accessories. There's been a shift towards utilising natural and organic elements in the home; they blend perfectly with any interior style; therefore, are ideal for any home. If your home is periodic, don't be afraid to utilise the original features, this is the perfect way to create a traditional and unique interior.
If you have a new build, you could introduce raw materials in a number of ways. Either by creating something unique like the interior below, where a trio of our industrial copper pendants are embedded into a wooden beam or by replicating a brick wall by decorating with brick wallpaper!
Keep It Neutral
Nowadays, modern and contemporary kitchens tend to introduce a pop of colour to create a unique space. Traditional styles usually stick to a classic colour palette; whether that's opting for a beige, cappuccino or greys. They're so versatile that it allows you to focus on the finer details, which traditional kitchens are all about. Keep it light and airy, even introduce a trio of stunning glass pendants over a kitchen island, like the interior below, to create a fresh space.
Go Vintage
As we've mentioned the traditional style is all about focusing on the finer details, as in the '50s and '60s, renovations of the home weren't common. To blend beautifully with the style, introduce vintage accessories. Such as vintage lighting, antique vases or retro wall art, it is key to making the space your own, and vintage features allow your character to shine through!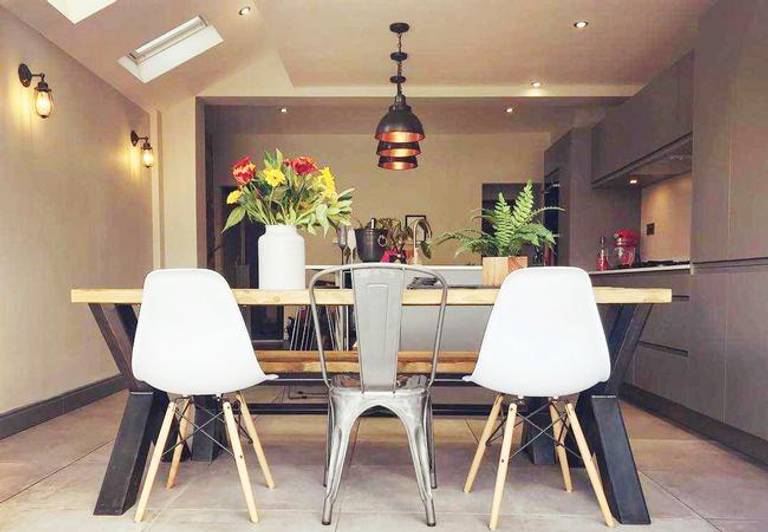 Brooklyn Dome Pendant - 13 Inch - Pewter & Copper & Orlando Wire Cage Wall Light - 4 Inch - Pewter, by Industville (Image supplied by @xaymeex)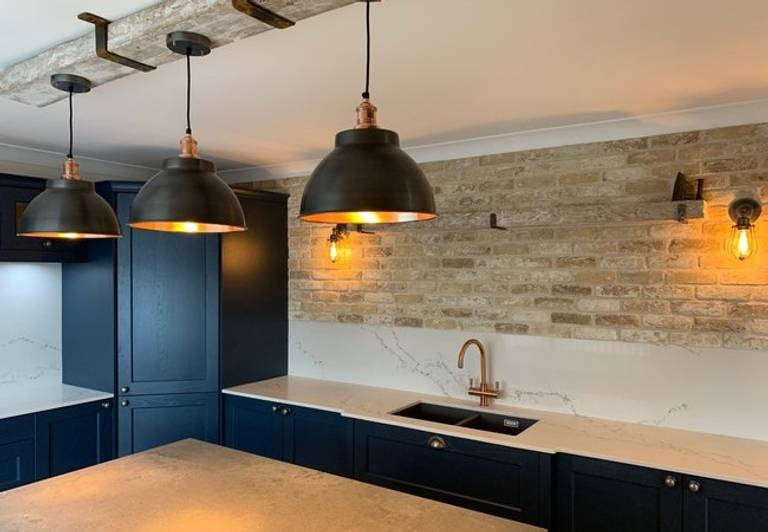 Shake It Up
Not only a space-saving solution, kitchen islands are once again becoming increasingly popular and were typical of traditional kitchens. The kitchen is not only a place we cook but a place we spend time socialising and having a kitchen island opens up the space and even creates a hub to gather. Both practical and aesthetically pleasing, there are many different styles and designs you can opt for when it comes to kitchen islands. Whether you paint it a darker colour or introduce a classic marble countertop, the options are endless!
Amelia Wilson: Case Study
Interior Designer and interior blogger, Amelia Wilson blends styles together to create interiors which are both unique and full of character. Opening the door to her own historic cottage, Amelia describes her thoughts on creating the kitchen of her dreams, "My house was built in 1756, so I felt the kitchen needed to be traditional to some degree, hence the shaker style units, recessed stove and stone floor, but I didn't want it to look too 'country kitchen'."
In Amelia's case, she achieved her unique kitchen through a combination of methods. The striking mix of colours she used, the rich red, ivory and black work fantastically together and by introducing "some industrial elements", she managed to give her traditional kitchen a unique edge. A pivotal piece to achieve this look was our very own Industville Brooklyn Vintage Metal Dome Pendant in Dark Pewter, which helps to create a gorgeous central focal point to the kitchen. It creatively illuminates her beautiful kitchen island, which was custom made to replicate a butcher's block and has been oiled to give a truly authentic look that will age naturally over time.
We absolutely love this project and the way in which Amelia has expertly blended together different styles and created something totally unique yet perfectly suited both to her home and her needs!
Need Further Inspiration?
There is nothing we like more than to inspire each and every one of you! We are constantly updating our projects pages, putting together the latest interior trends into blog posts and pinning to our Pinterest boards. Whatever your interior style, it's essential that you build an interior which reflects your personality!
We hope that this blog and Amelia's stunning kitchen, has inspired you to either style your kitchen interior in a traditional way, or incorporate elements of the style into your kitchen. We love seeing your creativity and the interiors you create, especially when our lights are featured too! If you've got a project which you'd like to share with us, tag us on Instagram - @industville, or by using the hashtag #Industville. Will you be creating a traditional styled kitchen interior? Let us know!