Get ready for Christmas: unveiling the ideal lighting fixtures for your interior design.
As the holiday season approaches, lighting plays an important role in creating a warm and inviting ambiance in your home. Whether you're finding a gift for a loved one or looking to enhance your interior décor in time for Christmas, a table lamp gift let's find the perfect lighting solutions that will add character to your interior design.
Choose the perfect light this Christmas.
While lighting may not be the most traditional of Christmas gifts, the right light will be cherished and used every day. Made with care by our expert artisans, each one of our fixtures is designed to bring style, atmosphere and craftsmanship to any space. Gifting is a thoughtful and strategic process, so choosing the right light is important. With over six-hundred products to choose from, in a variety of different finishes, you will find one your loved one will adore and enjoy for years to come.
The perfect table lamps for gifting
Our contemporary table lamps are the perfect gifts to create a cosy winter wonderland this Christmas. They're not just sources of might, they're gifts of warmth, style and ambiance. Whether it's for a cosy reading nook, a bedside table, or as a décor statement that fits perfectly with festive decorations.
Whether you're treating yourself or searching for a thoughtful gift, our white and green Marble table lamps are a symbol of refinement. Their luxurious marble bases, sleek designs and warm illuminations make them standout pieces in any room. Give a gift that speaks volumes about taste and appreciation for quality.
Wooden geometric table lamps are also an excellent choice for gifting. Showcasing the natural beauty of wood, these lamps bring a touch of the outdoors inside. Their geometric design adds a contemporary flair while maintaining a connection to nature. The variations in the wood grain make each piece unique, making it a personalised and meaningful table lamp gift.
The Ornate table lamp range boasts stunning, intricate designs that are like works of art. Each piece is handmade with care, and the level of detail and craftsmanship makes them stand out as remarkable gifts. Blending seamlessly into various design styles, these gifts are perfect if your loved one is seeking a versatile and unique statement piece to enhance their living room, bedroom or home office. Embodying artistic beauty, timeless elegance and versatility, these table lamps gift make remarkable additions to any living space, and a gift that will be treasured for years to come.
Struggling to find the perfect Christmas gift? Our gift vouchers are the ideal present for your loved ones. Redeemable on any of our products, purchasing a gift voucher means you can choose a product that you truly want and need.
Purchase a gift that captures the spirit of the season while adding a touch of enduring beauty.
Embracing tradition with timeless Christmas lighting fixtures.
Classic ceiling pendants, adorned with intricate details, offer an exquisite touch perfect for winter festivities. Glass lighting is the perfect way to brighten up any room of the home, whilst creating a timeless and elegant interior. Tinted glass lights are wonderful additions to Christmas-themed spaces, they cast an ambient glow over your interiors, adding to the layers of light to create a room full of depth. Embracing a classic aesthetic, the Brooklyn Glass Dome Pendant, is a popular pendant that will make a stunning centrepiece in your home for many years to come.
Layered lighting for a festive glow.
Beautiful lighting isn't just for Christmas. To achieve the perfect festive ambiance, layer your lighting. Lighting is a useful way to uplift a room and make it appear larger. Combine ceiling fixtures with table lamps to create depth and variation in your lighting. Give your home a magical feel by installing pendants and wall lights; brass or copper finishes exude warmth and luxury when set against deep reds and lush greens.
Give shimmering elegance with lighting.
Add a touch of luxury to your Christmas décor with lighting that shimmers like Christmas ornaments. The Cone Glass Pendant offers an exquisite glow that complements both modern and traditional interiors, enhancing your festive décor effortlessly. These fixtures are perfect for reflecting light throughout the room while keeping that modern, minimalist feel.
Add a frosty touch.
Embrace the Christmas aesthetic with the Opal Glass range. With its refined curves and delicate frosted touch, the opal glass collection adds an inviting glow over any space.
White marble table lamps are the perfect choice for adding a frosty touch to your décor during the festive season. The pure white hue of marble exudes an elegant and pristine charm that embraces the tranquillity and elegance of a snowy landscape. Invite the crispness of winter indoors this festive season.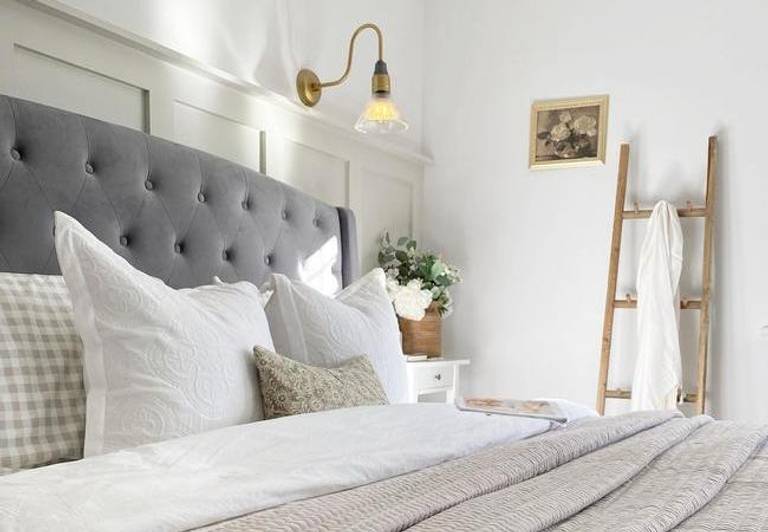 Swan Neck Glass Funnel Wall Light - 7 Inch - Brass by Industville (Image supplied by @allabout_thehome)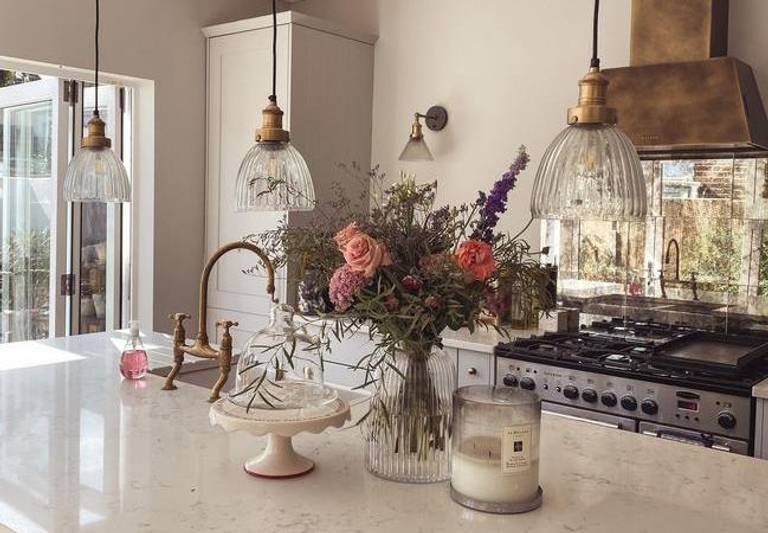 Functionality and practicality.
During the festive season, task lighting is perfect for wrapping gifts or cooking the Christmas dinner. Wall lights installed either side of the fireplace can create a cosy glow that compliments Christmas décor perfectly, and a table lamp gift, placed in the kitchen, is ideal for lighting up a festive cookbook. With our extensive range of lights, you will find the ideal lighting solution for your interior design.
Lighting solutions that will last.
For us, quality extends beyond the Christmas holidays. All our lights are traditionally handcrafted using premium materials, so they are built to last. From design to manufacturing, all of our lights are meticulously crafted to maintain quality and care.
(Banner image supplied by @ourplaceinsale)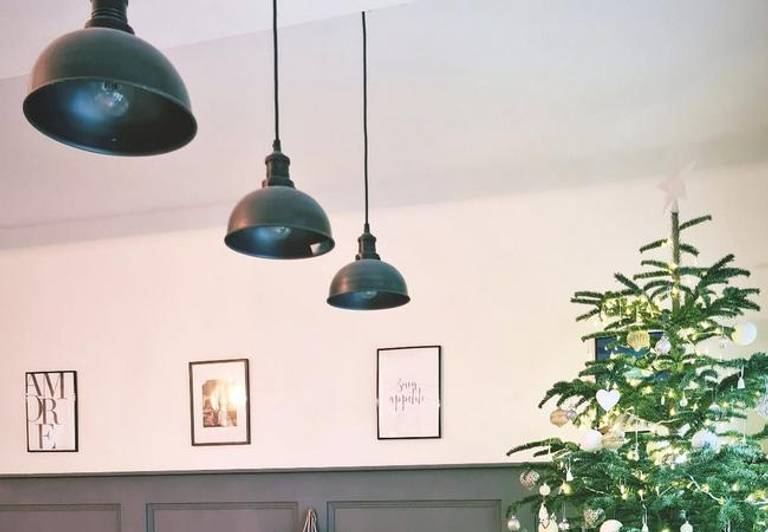 Brooklyn Dome Pendant Light - 8 Inch - Pewter by Industville (Image supplied by @Appreciation_of_a_renovation)