Installing cluster chandelier lights provides the perfect way to introduce an eye-catching feature into your interiors and make a real statement. Multi-pendant cluster lighting can function as a modern chandelier, incorporating a sense of grandeur with sleek, contemporary aesthetics.
Not sure what kind of cluster light is best for your space? Get inspired by some of our favourite cluster and statement lighting ideas.
Why Choose Cluster Pendant Lights?
Increasingly, we're seeing more people looking to put a modern spin on classic lighting looks, and nowhere is this more evident than with the rising popularity of the modern chandelier.
Lighting clusters tend to group together three, five or nine pendants, creating an effect that is rather striking and distinctive. They effortlessly draw the eye and add new dynamic layers to your interiors.
Their diversity also means they'll suit a range of styles, bringing something unique to any room where they're installed.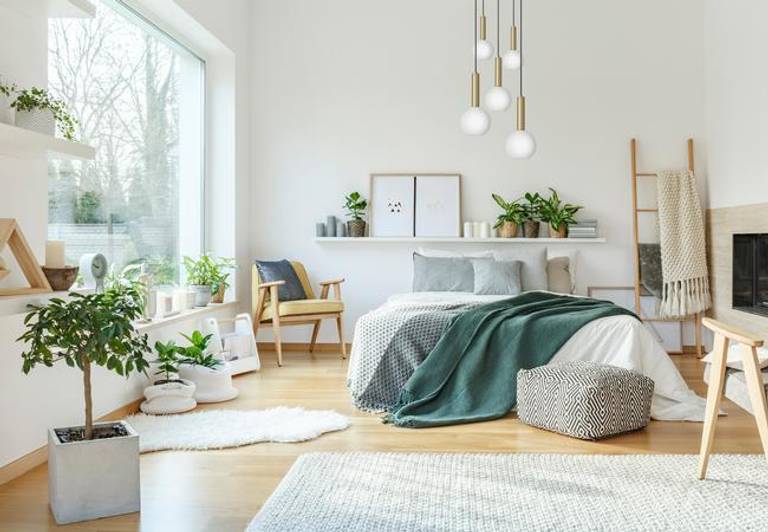 Sleek Cylinder Opal Glass Globe 5 Wire Cluster Light - 7 inch by Industville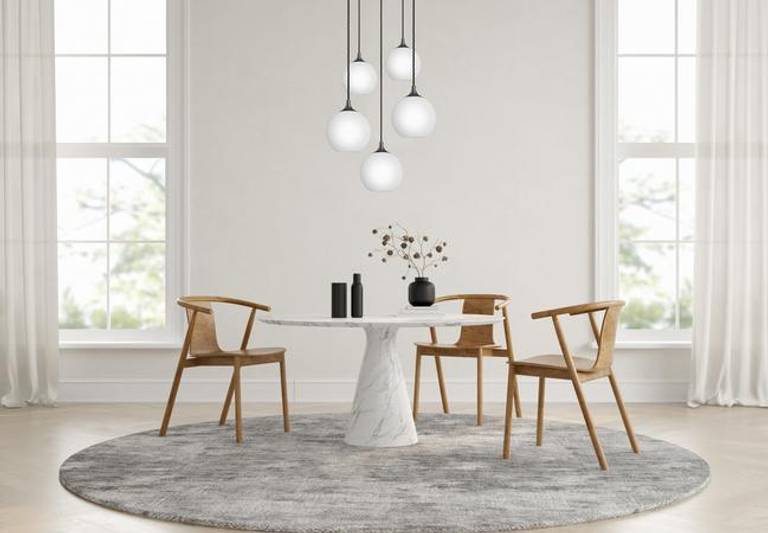 Cluster Pendant Lights for Kitchen Islands
The kitchen is the ideal place for a cluster light, bringing a point of interest into these often minimalist spaces. Hanging an impressive fixture over your kitchen island will serve as vital task lighting, ideal for preparing food or eating at breakfast bars, while also infusing the entire room with heaps of personality.
Our cluster lights can be used anywhere in the house but really come into their own in the kitchen. If there's one room in the house that has enough space for a larger series of pendants, it's going to be the kitchen or dining room! Often, these spaces need to be incredibly functional, but there are still plenty of opportunities to show off your style – cluster lights that are as practical as they are stylish are the perfect choice here.
If you're planning on hanging multiple pendants over a kitchen island or dining table, see our advice on what height pendant lights should be hung for the ideal configuration.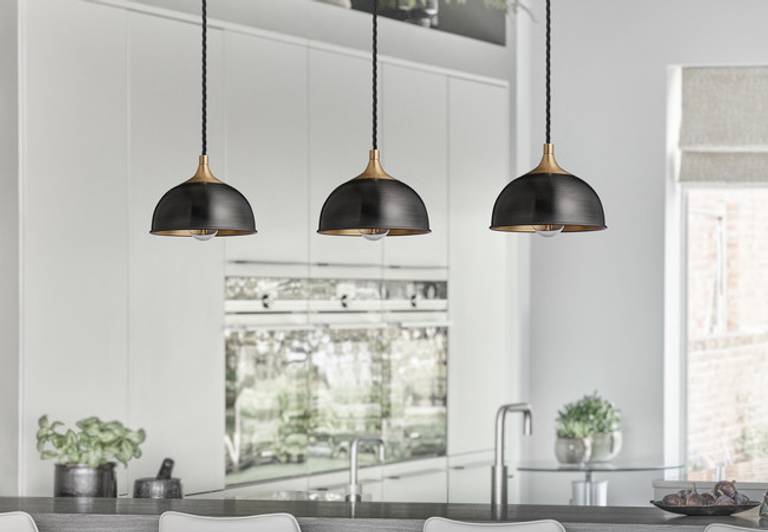 Chelsea Dome 3 Wire Cluster Lights - 8 inch - Pewter & Brass by Industville (Image supplied by Andy Haslam photography / Grid13)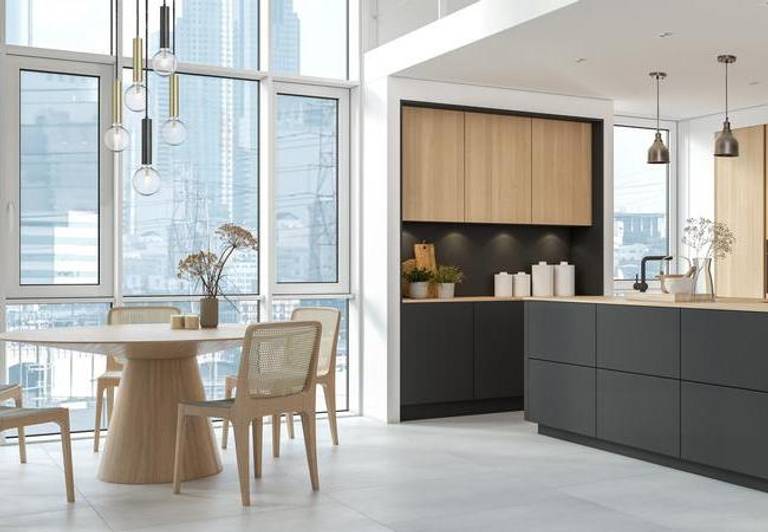 Exposed Bulb Chandelier Cluster Lights
Another way to interpret this look is to go shadeless and embrace exposed bulb clusters.
This cluster style is wonderfully suited to somewhere like the living room where you want to be bathed in a warm cosy light that'll increase the room's sense of comfort and add a hint of luxury. Or, it works well over dining tables for an especially inviting glow to illuminate mealtimes and social gatherings.
Our Brooklyn five-wire pendant is a particularly popular fixture for this look, and many of our new clusters also incorporate an exposed style, perfect for displaying eye-catching Edison bulbs.
Mix & Match Cluster Pendant Shades
If you tend to lean towards more eclectic styles and enjoy variety, mixing and matching your shades might just be the way to go.
When you opt for shades in different finishes, shapes or sizes, you can create an incredibly dynamic cluster, adding something to your space that's a piece of art in its own right rather than a mere light fixture.
When you choose different shades to adorn your cluster, ensure you hang the pendants at staggered heights so they appear more as an intentional collection rather than a mismatch of styles.
Cluster Lights That Provide Maximum Impact
When choosing a cluster light, why not take the chance to invest in something that's really special and provides the ultimate wow factor?
A cluster with nine pendants will certainly stand out and give your room a new perspective. Bold or unique shades will further enhance the impact that's created, showing off your style at an elevated new level.
Designing a Custom Cluster Chandelier Fixture
One especially good way to incorporate cluster lights into your home is with a bespoke fixture that caters to all your design needs. When you hand-pick each element of your light, you can be sure it'll shine to its fullest extent and complement your existing interiors.
Many of our cluster chandelier lights have numerous customisation options, giving you a wide range of finishes, shades styles and designs to choose from.
To find out more about creating your own custom cluster light with the Industville range, see our guide.
Whether you want to go bold or opt for a more understated design, there are plenty of ways to transform your space by incorporating unique statement fixtures that show off your personality.
Browse our extensive chandelier cluster lighting collection now to get more inspiration and find the perfect style to suit your space.