We're big believers in the transformative power of lighting and have seen time and again how the right lights can easily take lack-lustre interiors to new levels of sleek stylishness and sophistication.
Modern chandelier cluster lights are particularly good examples of this as they create an undeniably eye-catching statement, serving as an impressive centrepiece for any room. This modern twist on traditional chandeliers incorporates multiple individual hanging pendants connected to a single ceiling rose, ideal for hanging over kitchen islands, dining spaces or even in living rooms and hallways, not to mention adding character to restaurants or retail spaces.
But how do you create the right cluster pendant chandelier for your space?
How to Design Custom Chandelier Cluster Lighting
We understand there's a lot that goes into creating a design that you love. Even the smallest details can take a lot of consideration, which is why we want to make choosing the perfect modern chandelier cluster light as easy as possible.
Our customisation options allow you to opt for the best style and finish combinations to suit your home and personality. Here's how you can create a custom chandelier light with the Industville lighting range.
Brooklyn Balloon Cage 5 Wire Cluster Lights - 6 inch - Pewter by Industville (Image supplied by Andy Haslam photography / ID architecture)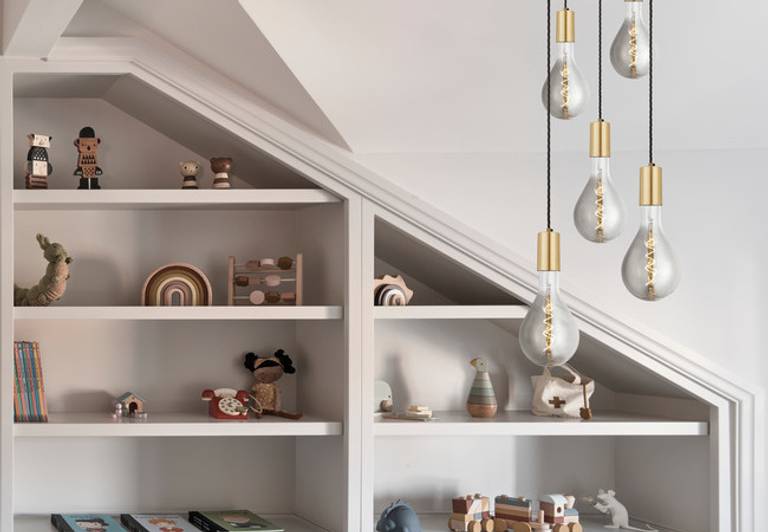 Choose How Many Pendants You Want
One of the first things you'll need to decide is how many pendants you want to make up your cluster light. This will likely depend on the level of impact you want to create and the available space you have for a new fixture.
Cluster options include outlets for:
Three pendants
Five pendants
Nine pendants
The pendants hang in different configurations depending on your chosen ceiling rose style and the number of outlets. Clusters with nine outlets have pedants arranged in a zig-zag pattern rather than a straight line, for instance.
Customise the Height of Your Pendants
When you buy one of our cluster chandelier fixtures, each pendant comes complete with two metres of twisted fabric flex connected to the bulb holder, but not the ceiling rose.
This means the height of each hanging light can be adjusted to suit your needs and create your desired look, with pendants hanging at the same height or at staggered heights.
Choose the Style of Your Ceiling Rose
Each of our cluster products also comes complete with a robust ceiling pendant. To ensure this can blend seamlessly into your interiors, we offer several ceiling rose styles on select cluster designs, including:
Rectangular ceiling roses
Oval ceiling roses
Square ceiling roses (available for five-wire clusters)
Choose Your Light Bulb Holder Finish & Style
No matter if other fixtures and details in your home have cool or warm tones, you'll be able to match or contrast with these elements by choosing one of two holder finishes.
Brass holders
Pewter holders
Our signature finishes give the lights a bit of industrial flair to capture the eye and blend beautifully with our range of modern and vintage shade styles.
Also consider which holder finish would best complement your existing interior details. Depending on the style, our holders provide different silhouettes, which can dramatically change the overall look of the light. Holder styles include:
Brooklyn holders
Sleek holders
Sleek cylinder holders
Chelsea holders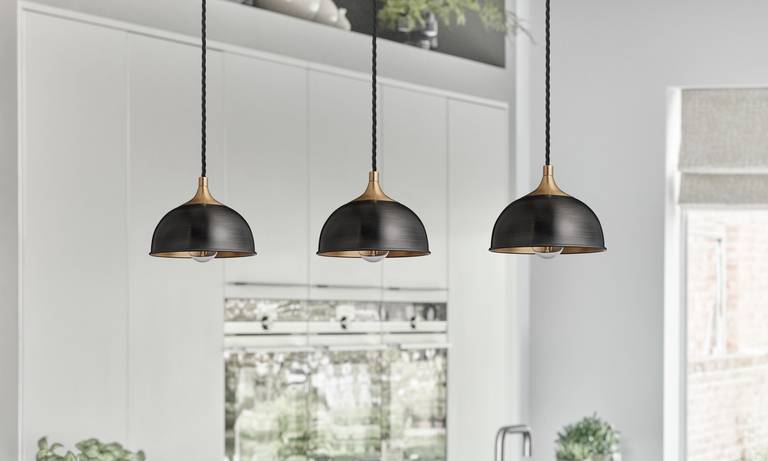 Chelsea Dome 3 Wire Cluster Lights - 8 inch - Pewter & Brass by Industville (Image supplied by Andy Haslam photography / Grid13)
Choose Your Chandelier Cluster Light Shade Style
Arguably, the most important part of your cluster light is the shade. This is where the impact and sense of personality comes from.
Our vast selection of designs ensures you can get a chandelier with the right look that'll elevate your interiors and say what you want it to say.
Whether it's a classic dome light shade or something more unique like a cage shade or elegant schoolhouse silhouette, we've got you covered. Among our chandelier sets, you'll find shades in shapes and styles, such as:
Choose Your Chandelier Cluster Light Shade Finish
When you opt for one of our designs in a metallic finish, you can choose from several colours on select fixtures, including:
Pewter
Brass
Copper
Mixed finishes (for example, pewter on the exterior and copper on the underside of a dome shade.)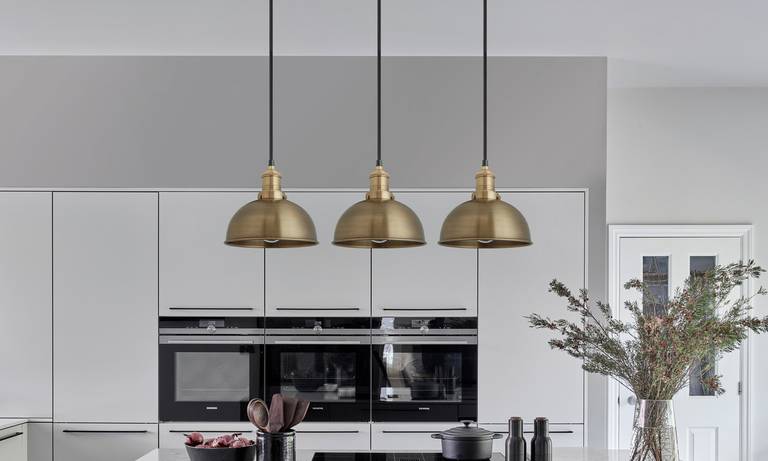 Brooklyn Dome 3 Wire Cluster Lights - 8 inch - Brass by Industville (Image supplied by Andy Haslam photography / Grid13)
We also have a selection of elegant glass cluster chandeliers that provide effortless refinement and offer a more delicate impression.
Classic glass
Tinted amber glass
Tinted smoke grey glass
These different glass finishes will change the mood and ambience of a space, diffusing light to various effects.
Or, if you'd rather go shadeless, opt for one of our Edison clusters for a sleek, exposed bulb look and a striking complement to both retro and modern interior design styles.
If you decide to customise a light completely from scratch, rather than opting for one of our chandelier sets, you can pair a multi-outlet single product ceiling rose with any combination of our shade only products. This means you can mix and match different shades for a more eclectic look and a bespoke chandelier design that's totally unique to you.
Choose the Right Light Bulbs for Your Cluster Chandelier
When you've decided on all of these other elements, the final step is to choose your bulbs. Our chandelier pendant sets with a ceiling rose, holders, wires and shades, but you will need to buy the light bulbs separately.
Head over to our selection of Edison light bulbs to discover which style will suit the custom pendant chandelier you've just created. Here, you'll find several bulb types that are designed to provide a warm, glowing ambience rather than incredibly bright, harsh light. Our Edison-style bulbs include:
Classic bulbs
Pear bulbs
Globe bulbs
Tube bulbs
Spiral filament bulbs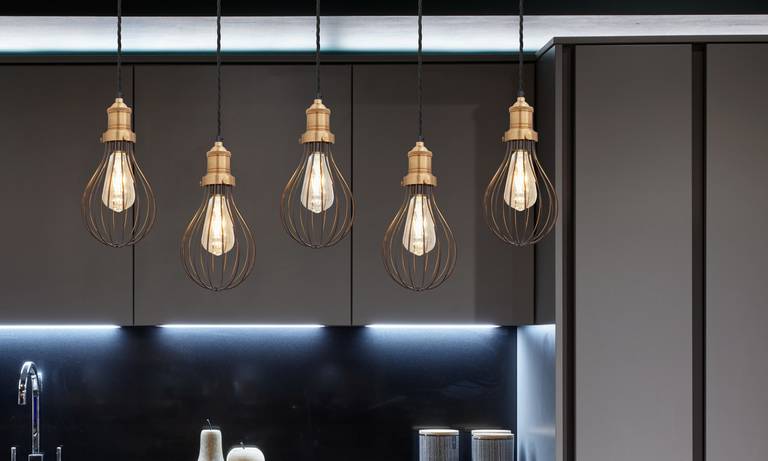 Brooklyn Balloon Cage 5 Wire Cluster Lights - 6 inch - Pewter by Industville (Image supplied by Andy Haslam photography)
You can choose between 5W or 7W bulbs, depending on the colour of the bulb's glass.
There are so many possibilities when it comes to creating bespoke lighting designs and a custom chandelier cluster light in particualr, so, no matter your preferred aesthetic, you'll be able to design a light that works for your interiors.
If you're still contemplating a particular choice and need even more inspiration, check out our blog and social media feeds to see how other customers are styling their Industville lights!
Header image credit: Andy Haslam photography / Monkstadt