Finding the right light bulb to illuminate your fixture can be just as important as choosing the style of your shade or overall look of your fixture.
Vintage-style Edison light bulbs are the ideal solution for those who want to create a welcoming atmosphere while also opting for outstanding energy efficiency. Find out everything you need to know about what these bulbs can add to space in terms of both aesthetics and function.
What is an Edison or Filament Light Bulb?
These filament lights are characterised by the visible filament that is displayed through the bulb's glass – they replicate the look of Thomas Edison's iconic incandescent bulbs made in 1879.
While the original versions of these bulbs were incandescent and used carbon filaments, most modern iterations use a thin LED filament which is far more energy-efficient and eco-friendly.
Bulbs of this style are available in various shapes and sizes and with different styles of filament. As they use LED technology, they can also provide varying levels of brightness, although they tend to output fewer lumens by design so they can create ambient mood lighting.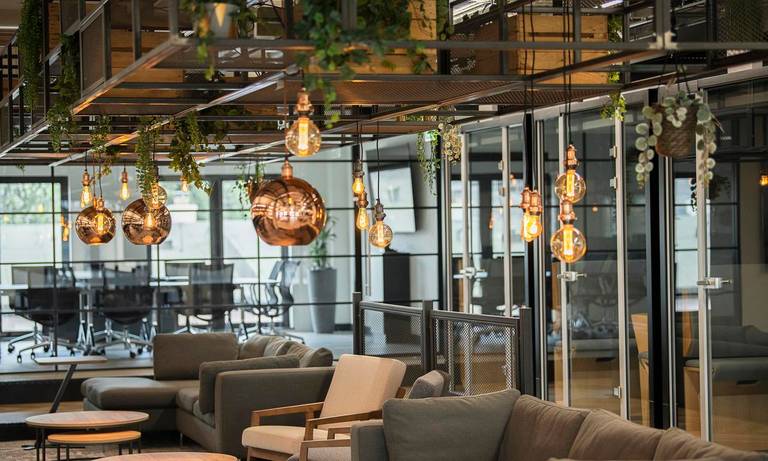 Vintage LED Spiral Edison Bulb - 5W E27 Globe G125 by Industville (Image supplied by Kinetic Workplace Limited)
What is an E27 Light Bulb?
You may also see Edison-style bulbs referred to as E27 or ES (Edison screw) bulbs. This refers to the fact that the bulbs have a 27mm wide threaded base that ensures they can be used with compatible screw-in fixtures.
Are Edison Bulbs Bright Enough?
When establishing how bright a bulb is, you need to look at lumens. This value indicates how much light is visible to the human eye rather than the amount of energy required to get a certain level of brightness, which is what watts measure.
In the past, watts would have shown you how bright a light could get (the more wattage, the brighter the light), but as LED technology advances, you no longer need as much energy to achieve the same level of brightness as you would for incandescent or halogen bulbs.
What is the Lumen Output of LED Edison Bulbs?
Edison bulbs are designed to have a lower lumen level than other bulbs, usually residing somewhere between 250-720 lumens. This means they can more effectively provide a warm, cosy atmosphere that's desirable in contemporary and antique style interiors.
Our Edison bulbs are also dimmable when combined with a compatible dimmer switch, so you can continue creating different kinds of atmosphere.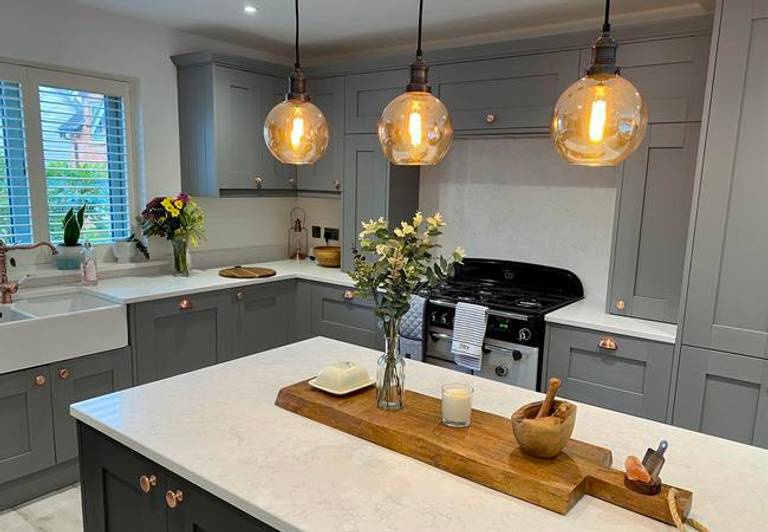 Brooklyn Tinted Glass Globe Pendant - 7 Inch - Amber by Industville (Image supplied by @Gardener_on_theedge)
What is the Equivalent Incandescent Wattage of an LED Edison Bulb?
If you're making the switch to more economical light bulbs from incandescent bulbs, you'll likely be wondering what the LED equivalent of your usual wattage is.
One of our 5W LED Edison bulbs is equivalent to a standard 40W incandescent light bulb. Classic Industville Edison lights with amber bulbs provide 500 and 560 lumens with a colour temperature of 2700K.
One of our 7W LED bulbs is equivalent to a 60W incandescent bulb.
What is the Equivalent Output of 5W & 7W Bulbs?
To help you further understand what you're getting with our lights, you can see their incandescent equivalents below:
25W incandescent bulb, around 200 lumens = 5W LED Edison Bulb with amber glass and spiral filament, 250 lumens
40W incandescent bulb, around 450 lumens = 5W LED Edison bulb, 500-560 lumens
60W incandescent bulb, around 800 lumens = 7W LED Edison bulb, 720 lumens
Why Do Lights State Maximum 40W?
Some of your fittings might state that they can withstand up to a maximum wattage, typically 40 watts. This maximum figure is concerned with how much heat your fixture can tolerate.
So, as LEDs use less energy and don't get as hot as incandescent bulbs, this maximum warning may not be as accurate. For instance, a 7W LED bulb that is the equivalent of 60 watts but does not actually give that output can likely be used with a fitting that states max 40W.
What Colour Light Do Edison Bulbs Give Off?
Antique Edison bulbs also have a warmer colour temperature than most other bulbs, which is what gives them their characteristic glow.
On the Kelvin colour temperature scale, Edison filament bulbs tend to be around 2200K–2700K, giving a very warm white, yellow or orange light. Cool white bulbs are around 4000K. To find out more about light bulb colour tempature, you can see out guide to warm white vs cool white light bulbs.
The colour of the bulb's glass can also affect the perceived colour temperature, with many styles using amber glass that increases the orange warmth of the light.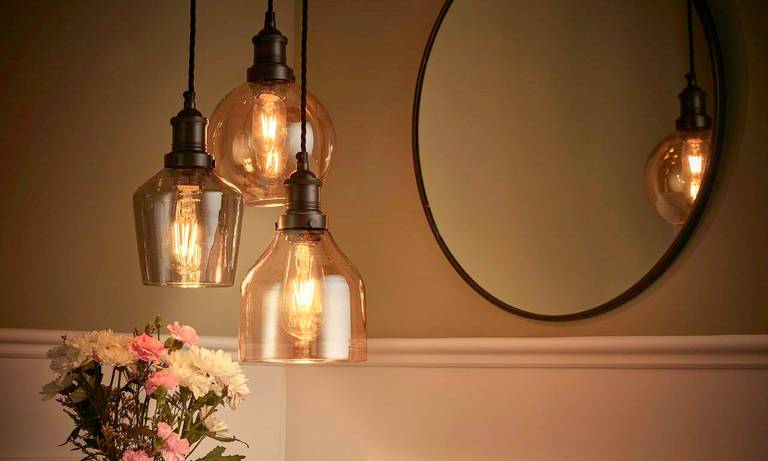 Brooklyn Tinted Glass Globe Pendant - 9 Inch - Amber, Brooklyn Tinted Glass Cone Pendant - 6 Inch - Amber & Brooklyn Tinted Glass Schoolhouse Pendant - 5.5 Inch - Smoke Grey by Industville (Image supplied by Andy Haslam Photography)
The Benefits of Edison Bulbs
If it's time to update your light fixture, LED vintage lights are an incredibly attractive option. Not only do they bring character and effortless style to your home or business, but they are also more cost-effective than incandescent or other non-LED bulbs in the long run.
Increased energy efficiency also means less energy is wasted – a bonus for the health of the planet.
Edison bulbs are suitable for use in pendant lights, cluster lights, wall lights and lamps. Their versatility also means they will look great in both vintage and modern interiors.
Pair these benefits with the wide range of fantastic styles, shapes and sizes available, and you can't go wrong!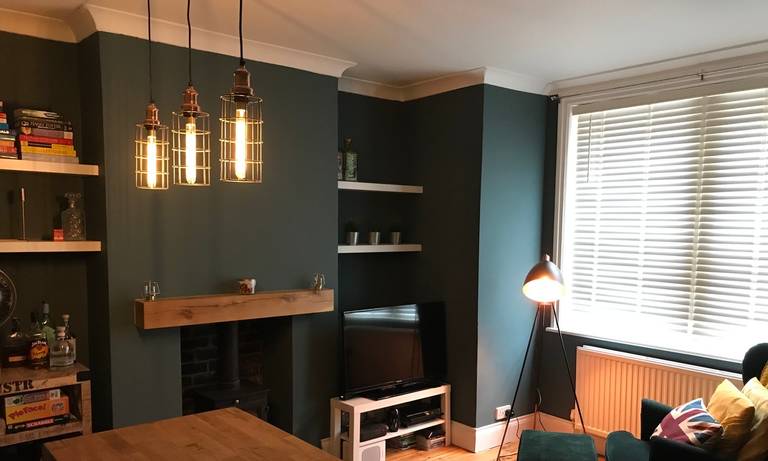 Brooklyn Wire Cage Pendant - 5 Inch - Pewter - Cylinder & Vintage LED Edison Bulb Old Filament Lamp - 5W E27 Cylinder T30 by Industvillle (Image supplied by @hucks83)
Different Edison Bulb Styles
To ensure you can choose the perfect bulb to enhance your interiors, we have a range of different styles and shapes, whether you want to go for the classic look or something more unique.
Classic Edison Bulbs
The Classic style gives you everything you need from an Edison bulb, providing that traditional shape that will make your modern, industrial or retro interior shine.
Pear Edison Bulbs
The pear-shaped Edison bulb provides a slightly more elegant, refined silhouette.
Globe Edison Bulbs
Globe bulbs are ideal for making a statement. Standard-sized and small globes are available.
Tube Edison Bulbs
The Tube bulb style provides a wonderful minimal look making it a great alternative to the Classic staple.
Cylinder Edison Bulbs
Another statement-making design, the Cylinder bulb displays a unique filament style, adding something special to your interiors.
Different Filament Styles for Edison Bulbs
When choosing one of our light bulbs, you'll also have the option to select which filament type you want, with standard or spiral filaments.
Remember you can also choose your preferred finish, whether you'd like clear or amber. Please note that spiral filaments are only available with an amber finish or smoke grey finish (only available with select styles).
When choosing an Edison bulb, make sure you take note of all the features and specifications on its label to ensure you're getting the lumen level and colour temperature you want.
If you want to pair your Edison bulbs with a stunning new fixture, check out our extensive range of stylish contemporary lighting, ideal for any room or interior style.