Choosing certain bulbs for a new light fixture can make or break your interiors, as different bulbs will change the mood and create varying levels of ambience.
One of the main things to look out for in this regard is the colour or 'colour temperature' of the bulb. While LEDs are now available in a wide range of colours, you'll most likely be choosing between either warm white or cool white bulbs to illuminate your spaces.
Here, we consider the difference between cool and warm light and which bulbs are most suitable for the different rooms in your house.
Light Bulb Colour Temperature
When referring to the temperature of bulbs, most people are likely not talking about the heat emitted from the bulb – especially as modern LEDs do not heat up like traditional incandescent or halogen bulbs.
Instead, the temperature of the bulb refers to the colour temperature of the light – i.e., whether it has cooler or warmer tones. This is measured in Kelvins and is visualised on a scale.
Using the Kelvin Scale to Understand LED Light Bulbs
At one end of the Kelvin scale is 1000k, which indicates a warm, red light (near candle light) and at the other is 10,000k, which indicates daylight.
There is a whole spectrum of light colour temperature between these two values, with lower numbers indicating warmer light and higher numbers showing cooler light. To determine the temperature of your chosen bulb, simply look at the product description or label; you will see a value for 'k', along with all the other relevant information on wattage and lumens.
Warm White vs Cool White vs Daylight
If you're looking for a bulb with warm white light, choose something from between 2200k to 2700k. Bulbs in the range will give a warm, golden light. Most bulbs for lamps and other household lights are around 2700k as these provide a soft and inviting atmosphere.
Bulbs with a cool white light are around 3000K to 4000k. 4000k tends to be as cool as most white bulbs will get and are most common for use in office and brighter spaces.
Lights with the colour temperature of daylight (over 7000k) can have a bluish tint, which, for most people, makes them too clinical or harsh for use in home interiors and are not particularly common.
What's the Difference Between Cool White & Warm White Bulbs?
Colour temperature is something you shouldn't ignore as it will significantly influence the atmosphere and ambience of a space. There are no hard and fast rules when it comes to choosing the correct bulbs for your home, but some LEDs will work far better in some rooms than others.
Colour Temperature
Kelvins
Where to Use
Warm white
2200k to 2700k

Perfect for creating ambience in:

Living rooms
Bedrooms
Hallways



Cool white
3000k to 4000k

Great as task lighting and in:

Kitchens
Bathrooms
Offices
Outdoor lights
Garages
Commercial & retail spaces






Is Cool White or Warm White Light Better?
Cool white light is often described as being a cleaner, crisper light, which is why it is ideal for kitchens and modern interiors.
Whereas warm white light is softer, so is more suitable for creating a relaxing atmosphere or incorporating into traditional or vintage interiors or anywhere you want to give a cosy feel, like the living room.
You may end up using different bulbs in different rooms depending on what you need from the space. Mixing colour temperatures in the same space, however, can be jaring if the colour differences are too stark.
Colour Temperature & Light Bulb Brightness
But what is brighter: cool white or warm white light?
While cooler white light can appear brighter to the eye, you should not rely on the Kelvin of the bulb to establish how bright a light will be.
When establishing brightness, you must look out for lumens, which measure how much light from a bulb is visible to the human eye. This number will also be displayed on the product's description or label. Depending on design and manufacture, a standard 5W LED light bulb will generally range from 250-500 lumens .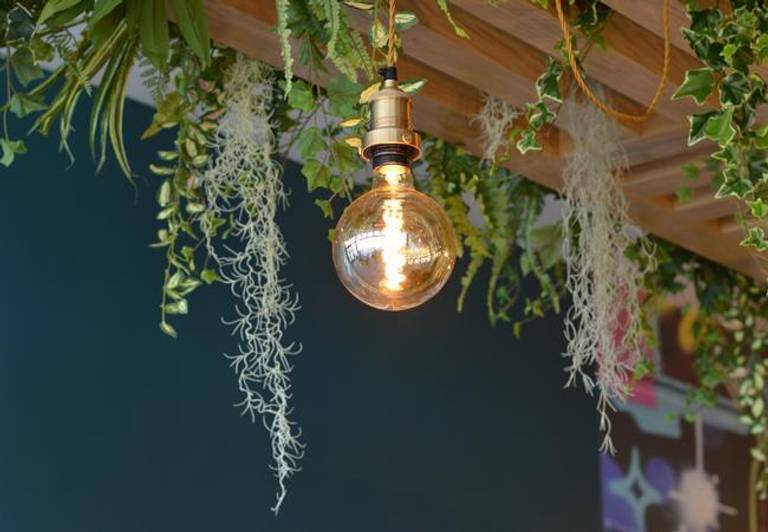 Vintage LED Spiral Edison Bulb - 5W E27 Globe G125 by Industville (Image supplied by G&T Interiors Ltd)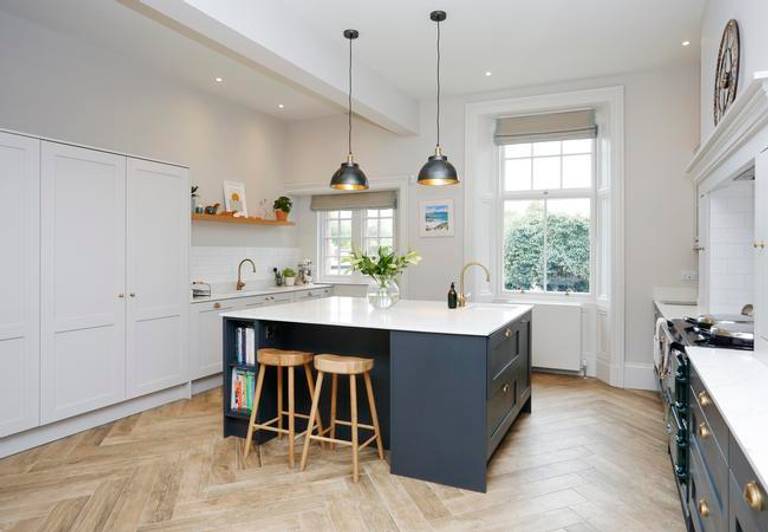 Choosing the Right LED Light Bulb
Our range of vintage Edison style LED bulbs and compatible bulb holders have been designed to elevate your interiors with an infusion of warmth and a cosy, comfortable atmosphere. Many of our light bulbs range from between 2200k and 2700k to give the perfect warm golden white light that illuminates your home efficiently without being too harsh.
These bulbs not only look great, but they also use eco-friendly and cost-effective LED technology, making them ideal for the modern home. They can also be dimmed when used with a compatible dimmer switch.
Compatible with all of our fixtures and available with a range of glass tints, you can combine your favourite light shades and bulb styles to create the perfect light to suit your space! Just make sure you choose the right size bulb for your chosen bulb holder – the relevant information is included in the technical specifications, or if in doubt, you can ask our team
Header image credit: @casacoton