There are several things to consider when lighting a space, with perhaps the first being what kind of ambience you want to create.
Brighter lights are ideal for illuminating a particular area and providing task lighting, while warm, dimmable LED light bulbs are great for creating a relaxing, welcoming atmosphere.
To achieve the desired result, you'll need the right light bulbs for your fixtures – so, understanding watts, lumens and what they measure is important. Find out what kind of light bulb will enhance your interiors.
What are Lumens in Lighting?
You may be familiar with watts (the metric indicating the amount of energy needed to produce a certain amount of light), but as energy-efficient bulbs become more desirable, lumens become a more important metric.
In short, lumens refer to how bright a light is. Lumens (lm) measure how much light from a light bulb is visible to the human eye – the higher the number, the brighter the light will be.
What is the Difference Between Lumens & Watts?
Watts measure energy usage rather than visible light levels. In the past, all you had to look at were the watts to establish how bright your light would be, but as the lighting industry becomes more energy-efficient, this is no longer the case.
As technology advances and LED light bulbs become more efficient, more energy in does not necessarily always equate to more light out, so referring to the bulbs' lumens provides a more accurate picture of how bright your light will be.
The figure describing the lumens per watt (lm/W) of a light can indicate how efficient a light bulb is. When a light has a higher lm/W, it produces more light for less energy, contributing to reduced running costs and offering a more eco-friendly option as less energy is wasted.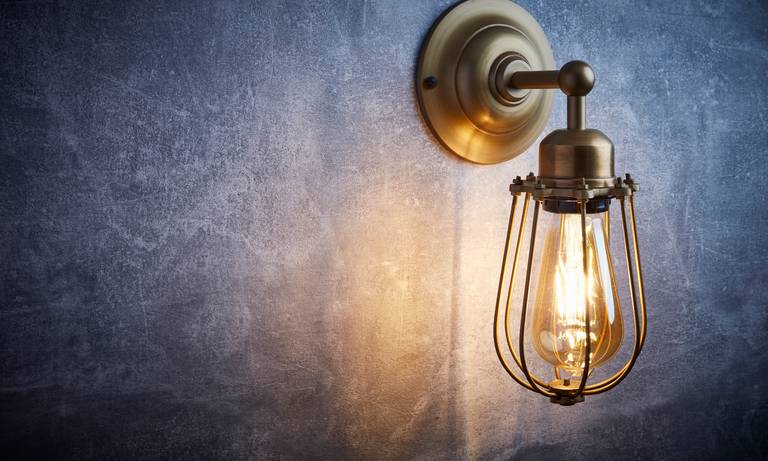 Orlando Wire Cage Wall Light - 4 Inch - Brass by Industville (Image supplied by Andy Haslam Photography)
How Bright is a Lumen?
A standard 100W incandescent bulb will provide around 1600 lumens, so if you are looking to replace your old bulbs with more efficient LEDs, this is the approximate figure to look for.
As they're much more efficient, LEDs tend to produce between 70 and 100 lumens per watt, so you can expect one of our 5W Vintage LED Edison Lighting Bulbs to produce around 500 lumens.
For the human eye to perceive an increase in brightness twofold, a lumen must be increased by four times its original level.
One lumen is often described as equal to one lit birthday candle. This means hundreds of lumens are required to adequately light your interiors.
How Many Lumens Do You Need?
As briefly mentioned, the light levels a room requires will largely depend on how you use the space and what kind of ambience you're aiming to create. You'll probably want different light bulbs for use in the bathroom than you would in the hallway, for instance.
There is no hard and fast rule when it comes to determining the lumens you'll need for a particular room, as you'll need to factor in the size and shape of the room and perhaps even the colour scheme, along with any tasks that are completed in the room.
For any space that requires task lighting, including the kitchen and bathroom, you will need around 700-800 lumens per square metre.
How Many Lumens Do I Need Per Square Metre?
Refer to the table below to see the lumens per square metre for different rooms in your house to get an initial idea of how many lumens will be appropriate for the space. Again, these are not definitive rules, as you may prefer particular rooms to be darker or lighter.
| Room | Lumens Per SqM |
| --- | --- |
| Bathroom | 600 |
| Kitchen | 400 |
| Living Room | 500 |
| Bedroom | 400 |
| Office | 400 |
| Hallway | 300 |
How to Light a Room
While lumens are important, they're not the only thing you need to consider when lighting a space. Along with the general light levels, you should also think about how to layer light. Once you've met your basic lighting requirements, you can incorporate:
Task lighting
Ambient lighting
Accent lighting
These different layers will contribute to the creation of a relaxing or energising space. You can incorporate countless styles and types of lighting to meet these different needs, with pendants, wall lights, table lamps, exposed bulbs and modern chandeliers being just some of the options.
Lumens and lighting levels will also be important for businesses to consider as lighting can influence a person's mood, changing a customer's behaviour or how they think about your establishment. For instance, lighting for restaurants and diners must create the right atmosphere while remaining functional and reflecting the business's style.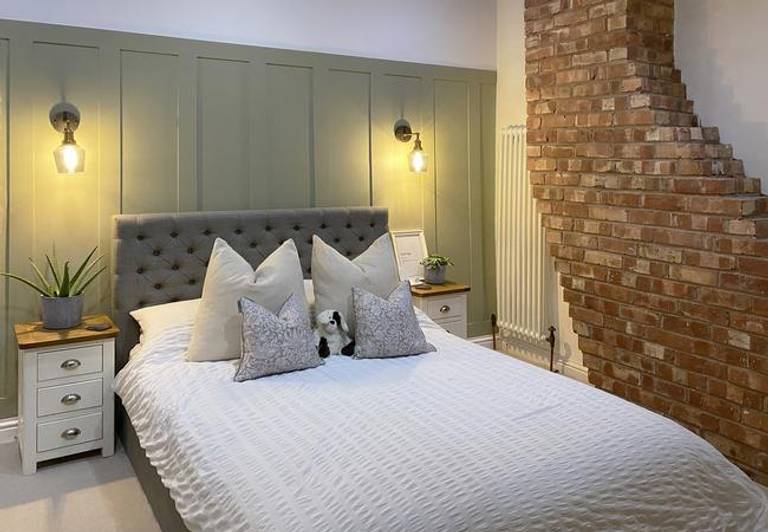 Brooklyn Tinted Glass Schoolhouse Wall Light - 5.5 Inch - Smoke Grey by Industville (Image supplied by @no1_maggots_nook)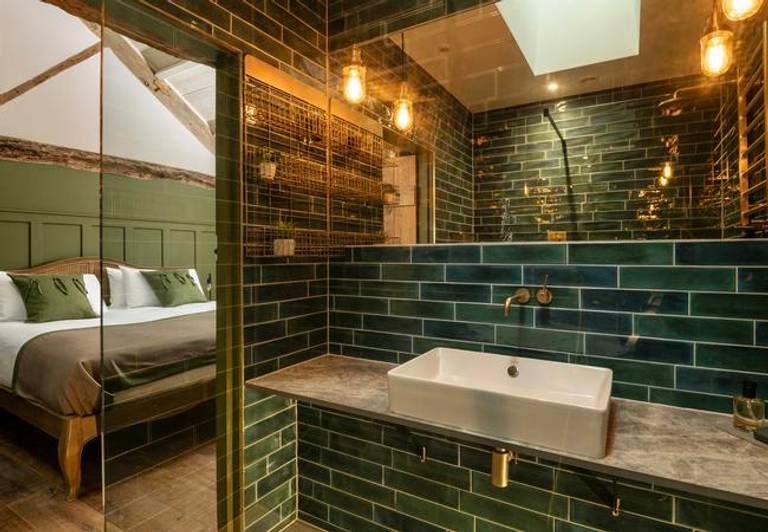 What is the Kelvin Scale in Lighting?
It's also worth noting the Kelvin measurement of a light bulb when deciding which style and how many bulbs you want for your interiors. This scale indicates the colour temperature of a light, showing if it has warm yellow or orange tones or colder white or blue tones.
The scale is illustrated with orange candlelight at one end at 1500K and cooler-toned daylight at the other end at around 5500K. Incandescent and LED bulbs tend to sit around 2700K, providing a warm yellow-white glow rather than a cool white light.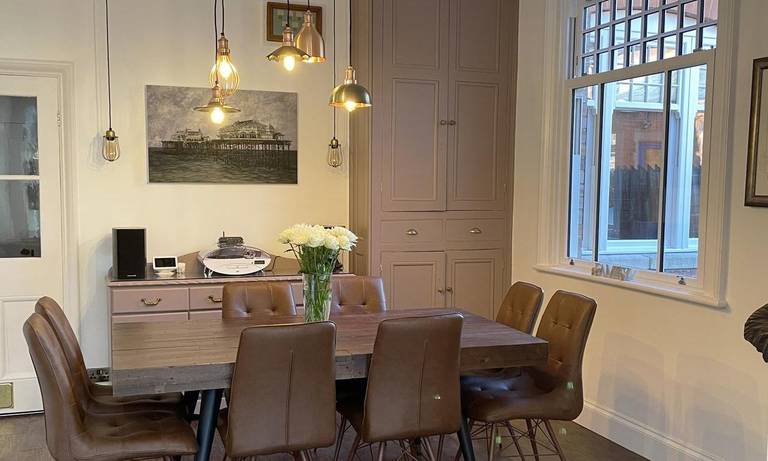 Brooklyn 5 Wire Pendant - Copper - Includes Shades by Industville (Image supplied by Andrea Buckley)
Industville LED Light Bulbs
When you purchase one of our shades or fittings, you can pair it with an equally stunning Industville light bulb to ensure you can create the perfect ambience for your space.
All of our bulbs are LEDs, meaning they are more sustainable and cost-effective as they use less energy than traditional incandescent bulbs. The Edison style offers your interiors a wonderful infusion of character. This style of bulb also tends to have a lower lumen output.
This lower lumen level is an intentional choice. Most rooms will benefit from having several lower-level LED lights strategically positioned around the space, creating an inviting and natural atmosphere, rather than having one harsh 1600 lumen incandescent bulb in the middle of the room.
To ensure you can further tailor your lights to reflect the ambience you want, our bulbs are also dimmable meaning that when used with an LED compatible dimmer switch, you can increase and decrease the light output as desired.
Our light bulb range is designed to help you harness the beauty of these glowing lights to curate an ambience that does your interiors justice. Choose from a range of bulb shapes, colours and filament types to find a style that matches your fixtures and intended aesthetic.
No matter your interior style, there's a light fixture to complete your space. The Industville range offers a versatile selection of modern and vintage style lights that are compatible with our great collection of bulbs to ensure you can make your dream interiors into a reality.
Header image credit: Andy Haslam Photography