Restaurant lighting is an essential element for any food establishment owner. Creating the right atmosphere for diners and enticing them to venture in is crucial to obtaining and retaining customers.
Research has shown that the lighting can have an emotional effect on diners, influencing their feeling of satisfaction with regards to their whole dining experience. Let's take a look at some must-see industrial restaurant lighting ideas for modern diners.
How To Make the Most of Your Restaurant Lighting
As mentioned above, there are so many different options that you'll likely never see the same lighting scheme twice. Finding out what's best for your interiors can be challenging, especially if it has never been thought of in detail before.
Before you choose what lights to include in your restaurant or diner, here are some things to consider.
Atmosphere – What kind of emotions do you want your customers to feel when they enter your establishment? Are you creating a soft, romantic atmosphere for couples or a place to catch-up with friends?
Food – What food are you serving? Do you want diners to take their time or eat quickly to make room for new customers?
Colour Scheme – What is the colour scheme for your establishment? You'll want lights that fit into the overall design of your space.
If you are looking for lighting inspiration for your restaurant or diner, bear these points in mind as we take you through ten ideas, from the classics to some of the latest trends.
1) Hanging Pendants
Hanging pendants are the most common form of lighting you'll find in any restaurant, no matter what the theme. One of the great things about pendants is how flexible they are, with so many options in terms of size, quantity, height and more.
The benefits of hanging pendants include, easy installation, versatile positioning, and an effective way to highlight other key features. This lighting idea is both practical and sleek, ensuring that your customers are dining in style.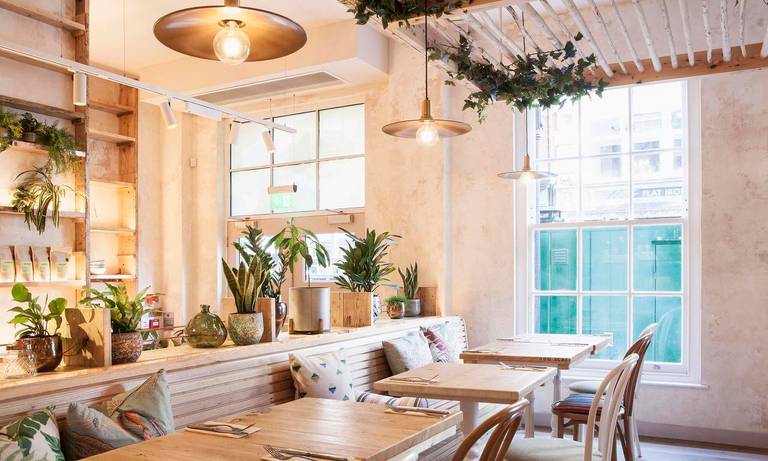 Sleek Flat Pendant - 15 Inch - Brass, £89.00, by Industville (Image Supplied by Avobar, photographed by James French Photography)
2) Chandeliers
When most people think of chandeliers, they think of giant glass sculptures that act as statement pieces in large homes. However, there are so many different chandelier sizes available, making them perfect for adding highlights to an elegant restaurant interior.
If a glass fixture doesn't quite suit the style of your restaurant, consider an industrial chandelier alternative, offering elegance and versatility in a more modern style. The benefits of chandelier lighting for restaurants include creating a focal point, providing atmospheric lighting and being surprisingly easy to install.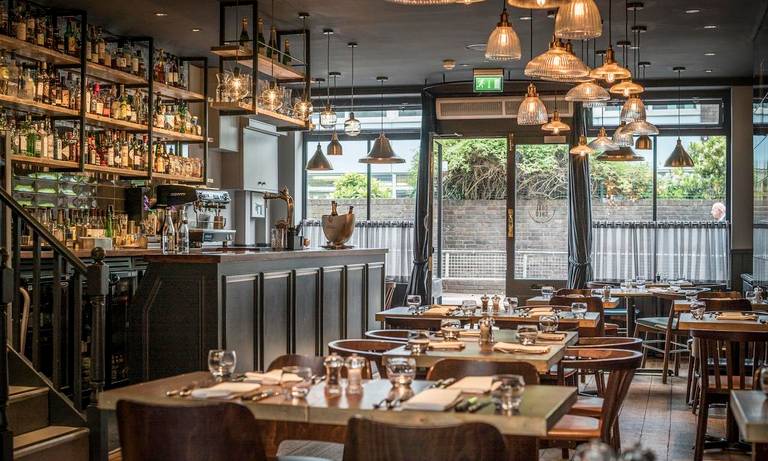 Brooklyn Glass Dome Pendant - 12 Inch, £109, and Brooklyn Glass Cone Pendant - 7 Inch, £69, by Industville (image supplied by @thecoalshed)
3) Track Fixtures
A form of lighting that has become popular over the last few years, especially in diners, is track fixtures. These lights are often small and come in large quantities, creating straight or circular paths across the roof or walls of your restaurant.
Track Fixtures are accompanied by a set of benefits, including the ability to draw customers' eyes to different areas of your restaurant and the fact that they can be installed as beams or clusters for versatility. This lighting is an incredible statement and could be the perfect fit for your restaurant.
4) Wall Accents
Wall accents are a crucial fixture in any diverse lighting scheme. Similar to hanging pendants, wall lights are incredibly versatile and can be used as ambience or accent lighting depending on your restaurant.
These lights are also a must for any small spaces, allowing you to make the most of what room you have.
5) Exposed Ceilings & Lighting
If your restaurant is based in an older building, you may have some characterful roof fittings to consider. Things such as extractor fans, industrial beams and pipework lean towards a more retro dining experience, so any ceiling lights you choose should accommodate this.
The best way to make the most of this natural industrial look is to complement it with lights boasting exposed wiring. Small hanging pendants are great for drawing eyes upwards to the key features of your space.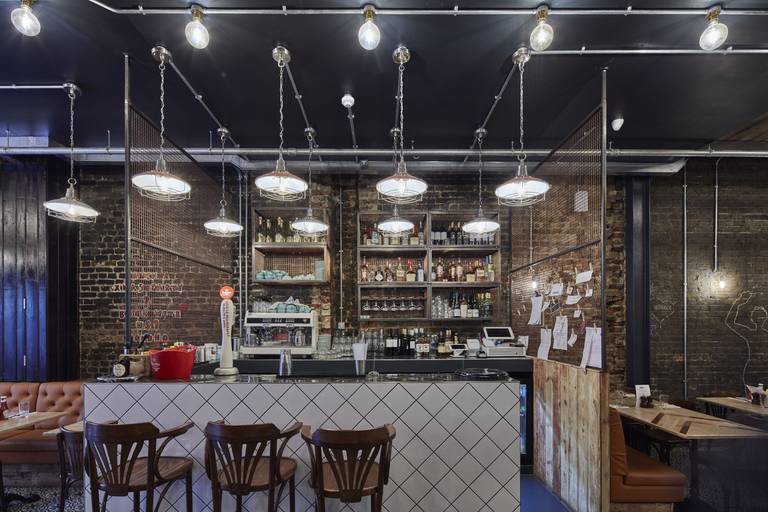 Retro Enamel Pendant - 14 Inch - Pewter, £59.00, by Industville (Image supplied by Andy Haslam Photography)
6) Menu Lighting
If you're a diner or restaurant in a busy location, then making sure your menu stands out is hugely important. To get people to pause and read your list, you need to make sure you create an instant atmosphere with the help of emotive lighting fixtures.
In many cases, your menu lighting will be in the form of wall lights. It helps to have a statement fixture that catches the eye of passing customers. You can bring potential customers towards your menu and invite them with a beacon of warm light.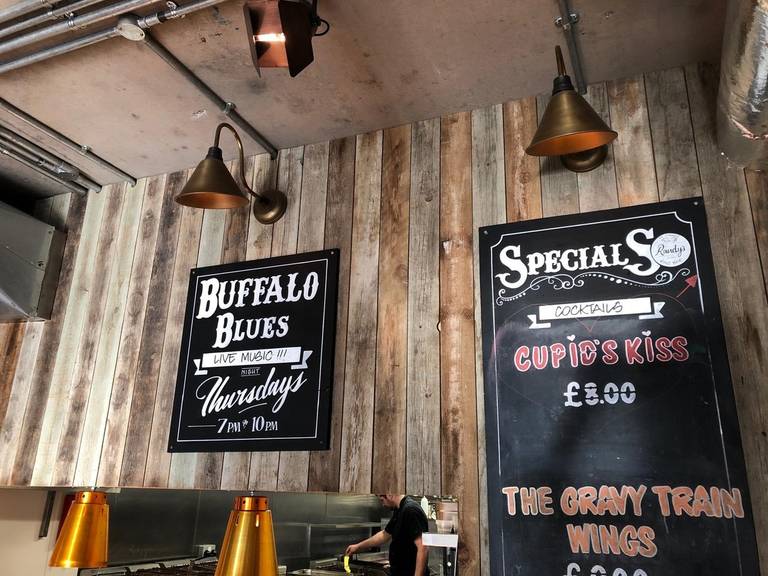 Swan Neck Step Wall Light - 16 Inch - Pewter, £89.00, by Industville (Image supplied by Randy's Wings)
7) Focused Illumination
Something of a modern alternative to wall lighting is the idea of focused illumination. Often lending itself to larger, open-planned spaces, this style uses softer accent lighting to draw the eye towards specific features of your design.
This idea is designed as a softer way to highlight key features and create a brighter open space.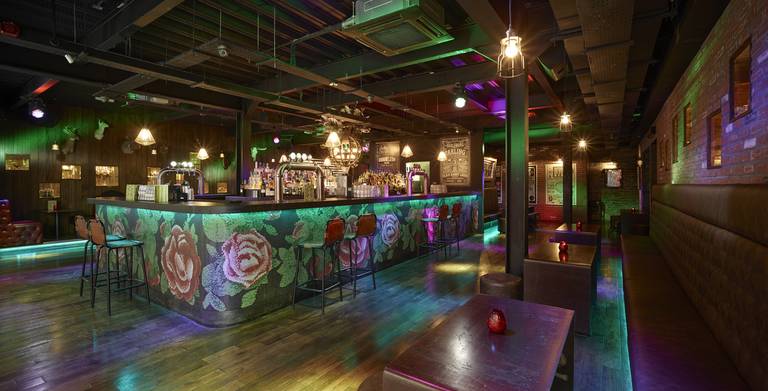 Orlando Wire Cage Pendant - 4 Inch - Pewter, £49.00, by Industville (Image supplied by Andy Haslam Photography)
8) Candlelight
The ultimate in romantic lighting, the candlelight is a must for any restaurant looking to appeal to couples. While it can seem slightly old-fashioned, candles can be designed to work with any style of interior, whether traditional or modern.
You will need to consider whether to include task lighting when using candles, as candlelight on its own is often not enough. A complete lighting solution with candles will often look to achieve a softness that provides warmth and comfort for a romantic evening.
9) Outdoor Lighting
If your restaurant is lucky enough to have outside space, it's important you make the most of what you have. Outdoor dining is hugely popular during the summer months, so you'll want to create your lighting scheme with this in mind.
Even if you don't have an outside dining space, you may wish to consider outdoor lighting options. After all, you want to entice guests to visit your establishment by creating an ambience that is recognisable to passers-by.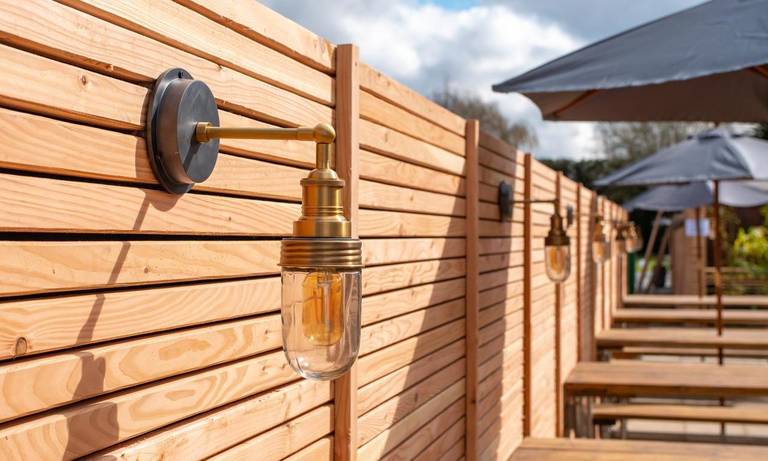 Brooklyn Outdoor & Bathroom Wall Light - Brass, £85, by Industville (Image supplied by The Bottle and Glass, Harby)
10) Natural Light
Last but certainly not least, be sure to always take advantage of all the natural light sources on offer. Installing large windows and glass-based doors are both popular ways of making the most of outside light.
It doesn't matter how big or small the establishment, natural light sources are hugely important as they could save you money whilst trading during the day.
No matter what kind of atmosphere you're looking to achieve, there are several different options to choose from, and our list of lighting ideas are just some of the inspirational and modern designs used in restaurants today. Lighting can make or break your restaurant, and its important to understand how it can effect your customers. Check out our guide to the psychology behind Restaurant design.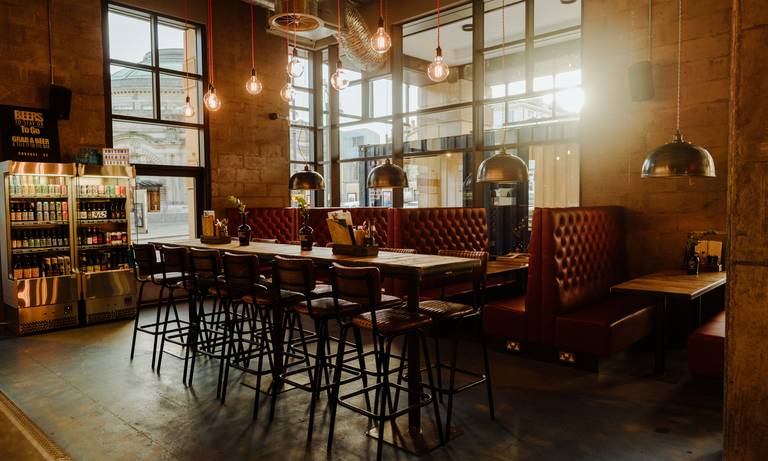 Brooklyn Giant Dome Pendant - 24 Inch - Pewter & Copper, £349.00, by Industville (Image supplied by BrewDog)
If you are looking for more lighting inspiration, why not check out our social media channels? We post inspiring interiors every day on Facebook, Instagram and Pinterest, and you can join the conversation using #Industville!
📸 Header Image Credit - Image Supplied by Pompette