Your design choices can say a lot about your restaurant and brand, giving patrons an instant idea of who you are. The best dining experiences are about more than just good food – the look and overall vibe of a space will greatly impact the kind of lasting impression given by your establishment.
The industrial style is an especially popular look for restaurants and bars as it combines the best of both function and aesthetics, creating memorable spaces with signature flair. From keeping things minimal to embracing the best restaurant lighting design ideas, there are plenty of ways to utilise industrial trends for a unique restaurant design.
Embracing the Modern Sleek Industrial Style for Your Restaurant
The industrial trend has certainly made its mark on commercial and domestic interiors over the past decade. While it remains popular, the style is undergoing somewhat of a transformation.
We're seeing traditional industrial looks undergo a modern upgrade, with more people opting for a more sleek, polished version of what has formerly been quite a rustic, unfinished look.
While the days of exposed brick walls and metal pipes as features are certainly not gone, the modern sleek industrial style does not rely on elements like this, instead opting for classic industrial style lights in otherwise modern spaces.
This shift towards modern industrial designs is ideal for restaurants, helping contribute to timeless yet characterful designs that align with the sensibilities of the contemporary customer.
Here are the best places to start when creating a modern industrial restaurant design.
Embrace Metal Highlights
Metal highlights have always been a cornerstone of the industrial look and are especially important for the modernised version of the trend. Metal fixtures and details will easily provide an element of sleekness, pairing well with clean lines and minimal restaurant interiors.
Buffed and polished metals give a sheen and aspect of luxury to your space. Classic metal finishes like pewter, brass and copper are ideal for restaurants because they are so versatile. No matter how you incorporate them, they will add new layers of depth to your design.
Pewter details are great for dark and dramatic looks but will also serve as timeless statement pieces for restaurants with a softer, brighter design. Equally, vibrant copper and brass details are perfect for creating subtle warmth for your restaurant as well as adding an eye-catching sparkle to darker colour schemes.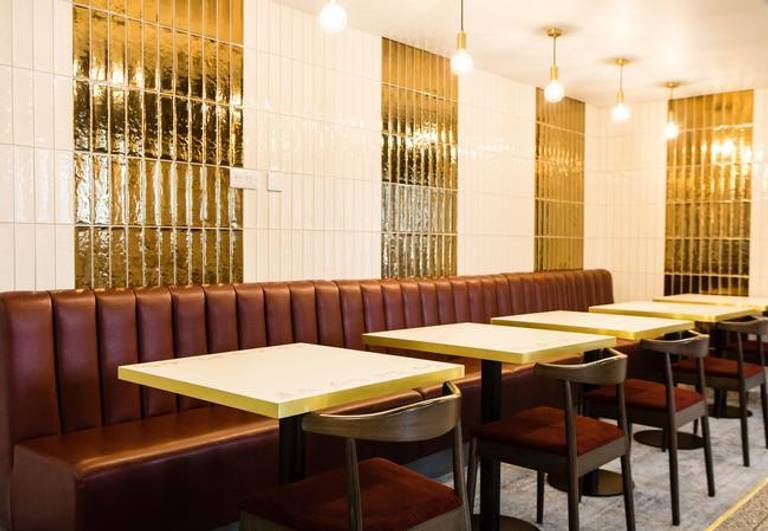 Sleek Edison Pendant - 1 Wire - Brass by Industville (Image supplied by Benchmark Designs - Royal Armouries)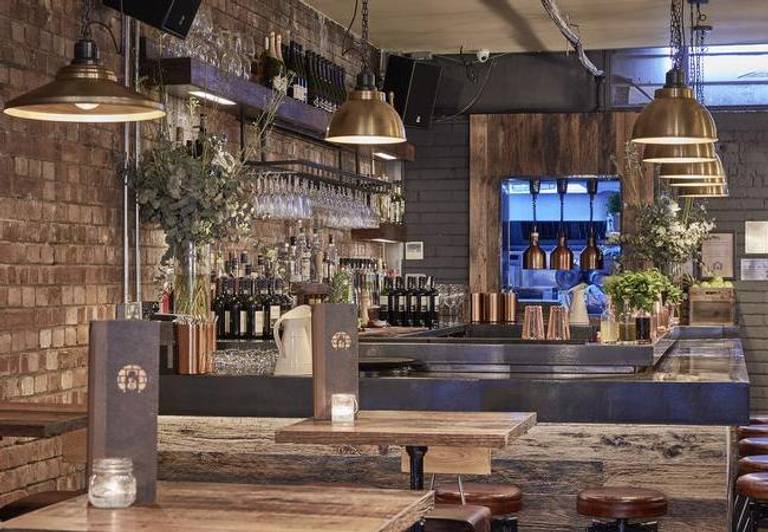 How to Light a Restaurant
One of the most obvious places to start with when incorporating metallic details is with your restaurant lighting. There are countless options to choose from in this respect, with statement restaurant ceiling lights being particularly attractive options for use over tables and bar areas.
Layering different kinds of lights will help you create the right mood in your restaurant. Pendant lights and restaurant wall lights will contribute to ambience and function as task lighting, allowing patrons to read menus and see their food.
Additional accent lights can further solidify your brand's vibe and theme, whether you choose to incorporate neon lights or industrial restaurant lighting with unique shades.
Our restaurant lights are available in a wide range of styles, suitable for whatever design route you choose to take. With pewter, copper and brass finishes to embrace, they offer plenty of opportunities to add some stylish metallic sophistication to your space.
Opt for a Minimalist Restaurant Design
Start by keeping things relatively simple.
It's good to have a theme that projects a certain image of your restaurant, but you don't want to overwhelm diners with a fussy, too-loud space. Keeping things minimal and classy will allow your modern industrial features to shine even further.
A minimalist approach allows you to hone in on your design requirements and wishes, taking only what you need to create an elegant but characterful space that relaxes and intrigues your customers.
Utilise the clean, sometimes bare nature of industrial design to embrace a sense of structure and order. Pay attention to how the different shapes that make up your chairs, tables, artwork and lights could harmonise and provide an easy sense of balance.
Brooklyn Cone Pendant - 7 Inch - Pewter by Industville (Image supplied by Kintan Japanese BBQ Holborn Fit out)
Choose Simple Restaurant Colour Schemes
Part of embracing the minimalist aesthetic is opting for a simple, classic colour palette. Subtle colour schemes that take note of the right contrasts are often highly effective at drawing out the natural edges of the industrial interior design trend.
While there are no strict rules for industrial colour palettes, especially for this new wave of sleek modern industrial looks, largely monotone colour schemes tend to work particularly well. A good foundation colour will help you maintain the uniform appeal inherent to industrial aesthetics while leaving plenty of room to play with metallic highlights or other small, surprising splashes of colour.
Working your colour scheme around natural materials like wood or leather can be a good place to start, as these materials will likely be heavily present in your restaurant.
Make the Most of Natural Materials
There are so many ways to interpret the industrial look. If your restaurant would benefit from a softer touch that isn't all edgy metal and dark colours, why not embrace the natural side of the trend?
Natural materials like wood, stone and different organic textiles will complement the refined, polished sense given by modern industrial interiors beautifully, adding a layer of comfort and additional character. Opting for lighter wood details combined with brass or copper will help you achieve an airier design without sacrificing that industrial flair.
It's never been more important for businesses to embrace sustainable practices and make eco-friendly choices wherever possible – this should extend into your design choices, which is made far easier when you put natural elements front and centre!
And don't forget about the plants. Adding greenery to a metallic space, or any space for that matter, brings an instant feeling of calm while also softening hard lines and adding moments of texture.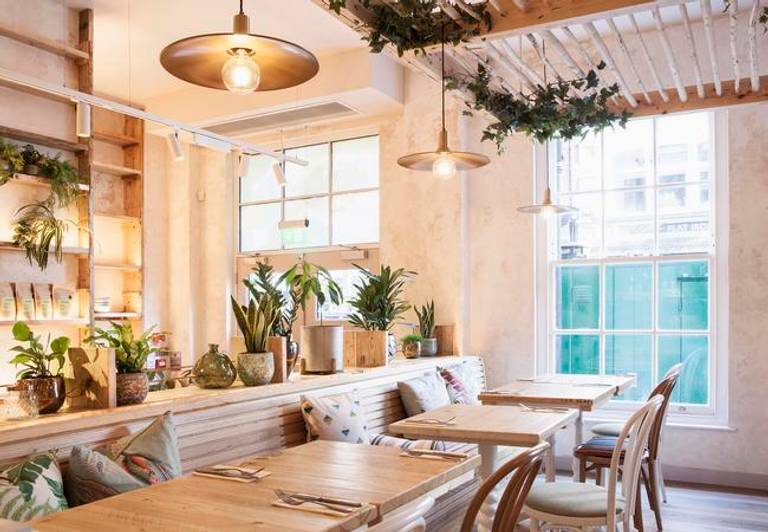 Sleek Flat Pendant - 15 Inch - Brass by Industville (Image supplied by Avobar, photographed by James French Photography)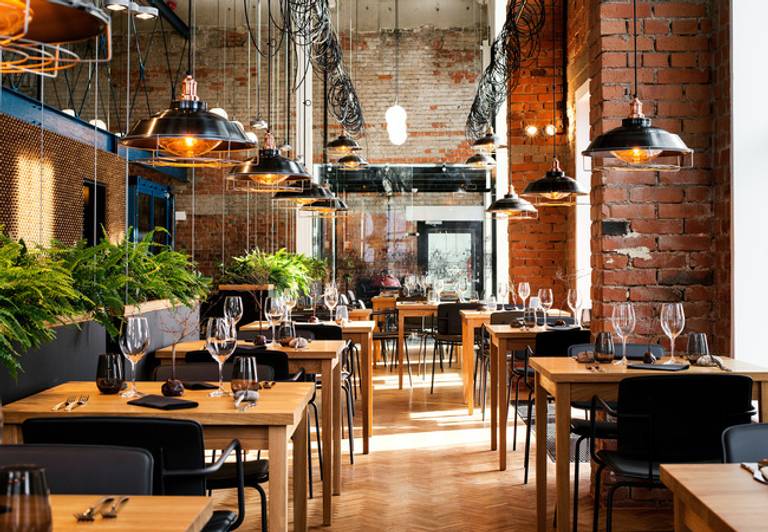 Exposed Industrial Details
While more polished interiors are being favoured over the raw, exposed look in many modern industrial restaurants, there are still some cues you can take from the core tenets of traditional industrial features.
A rustic, exposed brick feature wall paired with raw wooden shelves and modern metal highlights is a stunning way to pay homage to popular industrial trends without making your restaurant look like an unfinished warehouse!
Industrial-style restaurant furniture such as classic bar stools with exposed metal legs offers another good way to infuse your space with undeniable industrial flavour without having to commit to exposed pipes or wires hanging all over the place.
Highlight Your Restaurant's Individuality
When you break it down to its essential components – minimalism, natural materials, use of contrasts and highlights – the modern industrial look is really very versatile.
Even when sticking to the general sense of the trend, there are so many opportunities to let your establishment's character shine and capture the imagination of your customers.
Use art, texture and unique industrial-style lighting configurations to emphasise your restaurant's individuality. Your choice and use of metal, brick or wood features will help create a distinct feel.
One of the most effective ways to create a unique industrial interior is through the use of statement pieces, so don't be afraid to stray a little bit away from standard industrial trends if you've got some restaurant design ideas or special pieces you know will elevate your concept.
Ultimately, the industrial style is a timeless canvas upon which you can project your business's image and character.
The sleek industrial look is just one of the up-and-coming design trends we're loving. To discover more modern restaurant design ideas and get inspired, be sure to check out our other restaurant design guides.
At Industville, we're dedicated to ensuring your business can find the perfect lights that strike a balance between style and function. To find out more about our commercial lighting services, please get in touch with our sales team at sales@industville.co.uk.
Header image supplied by Pompette by Wiedemann Restaurants Ltd.