When restaurants and cafes take the opportunity to design and refine their outdoor spaces, they open the door to an influx of customers and increased profitability.
Alfresco dining is especially popular during the summer months, but it is also becoming a more frequently sought-after option as customers and establishments continue to respect safety guidelines, even after coronavirus restrictions have been lifted.
Whether your premises has a permanent outdoor area or makes use of pavement space to imitate traditional French cafes, there are plenty of things you can do to boost your outside dining options, draw customers in, and create a stylishly comfortable space.
Weather-Proof Outdoor Dining Areas
When designing your outdoor dining space or patio area, one of the first things to consider is whether it will actually be comfortable and usable for your customers.
You will want to ensure that you create a space that is pleasant to be in and offers effective protection from the elements, despite being outside.
Installing parasols or shades over any dining areas is a must as these covers will protect diners against rain and provide a bit of shade when it's sunny.
If you want to attract more people in the winter, you could also offer outdoor heaters to make sure that your customers are going to enjoy the fresh air, whatever the weather.
Brooklyn Outdoor & Bathroom Wall Light - Brass, by Industville (Image supplied by The Bottle and Glass)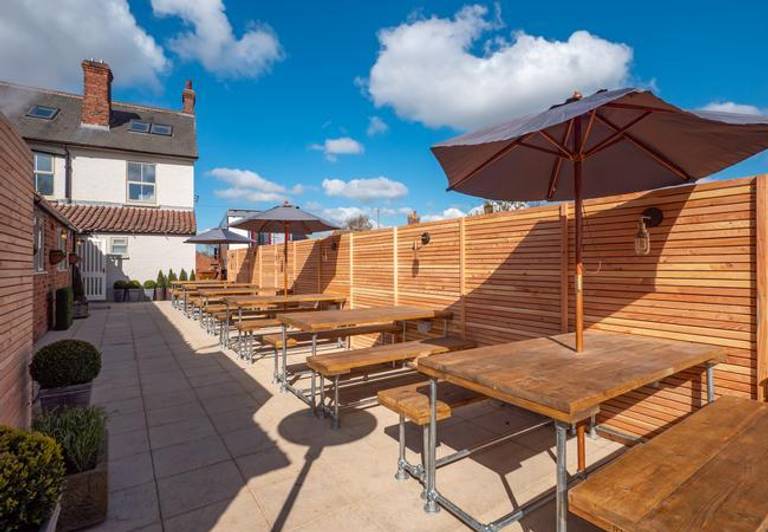 Go for Bold and Bright Outdoor Lights
Lighting is a well-established staple for restaurant design as it is integral to creating the right ambience and mood. Ensuring your outside spaces are just as well-lit as the inside of your premises is essential.
Stylish outdoor lights can become a real focal point of a space, especially when it starts to get darker - the right lights can turn a regular evening meal into a magical experience.
You could pair statement industrial outdoor lights with strings of fairy lights and candles to create dynamic layers of lights that contribute to a pleasant, welcoming space.
Discover our expert lighting guide for more advice on lighting outdoor areas with style.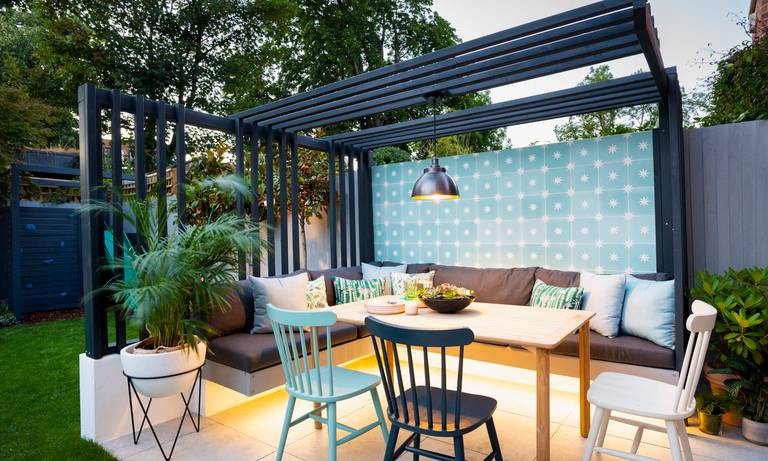 Brooklyn Outdoor & Bathroom Dome Pendant - 17 Inch - Pewter & Brass, by Industville (Image Credit: Credit line: © Joanna Kossak // If possible © Joanna Kossak, Designer: Chris Harrington)
Incorporate Art
You'll likely have thought about the art for your restaurant's interiors, but what about bringing that kind of energy outside too?
Issuing a mural full of colours and patterns that tie into the overall design concept is another great way to bring dynamic charm and personality to your outdoor dining spaces. This feature adds a memorable visual element that customers can enjoy.
Getting local artists involved in painting any murals also gives you a chance to invest back into the community and contribute to a sense of collaboration.
Consider Function When Choosing Outdoor Furniture
Outdoor furniture will include things like chairs, benches, tables and any other decorative features. As already touched upon, you will need to ensure that this furniture is suitable for a range of different weather types - furniture that is hardy and low maintenance is especially important.
When choosing furniture, also consider your available space. Is your outdoor dining space permanent (like an enclosed patio or beer garden), or is it a space on a public pavement that needs to be cleared when the restaurant closes?
If it is the latter and furniture will be moved around often, it may be better to choose something that can be stacked and stored easily.
Remember that staff and customers will also have to safely navigate around tables and chairs, so make sure that you maximise your space strategically rather than crowding in too much furniture.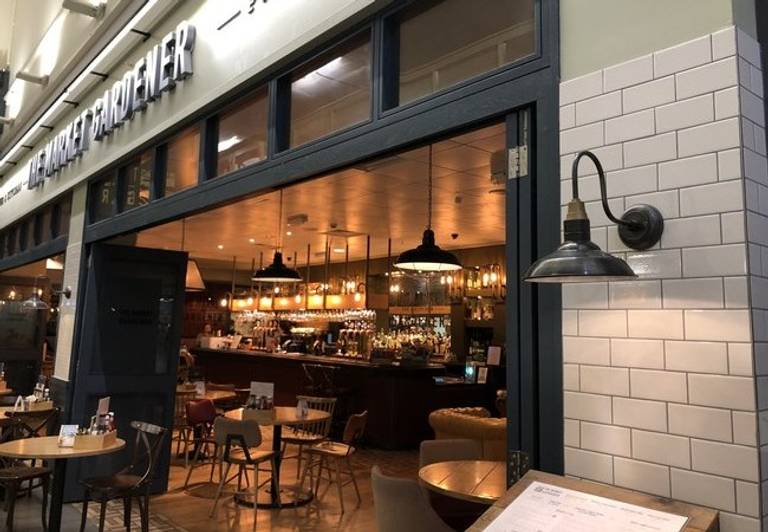 Swan Neck Round Wall Light - 11 Inch - Pewter, by Industville (Image supplied by The Market Gardener, Heathrow airport)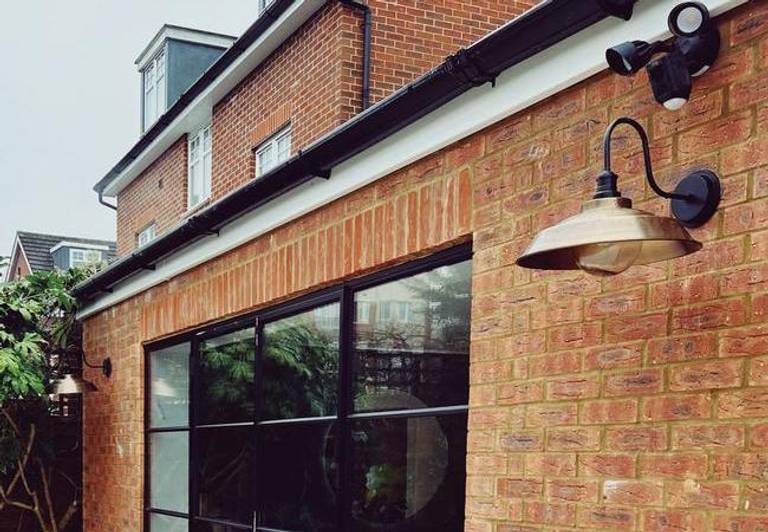 Consider Style When Choosing Outdoor Furniture
While function is an important consideration when it comes to furniture, so too is style. Your furniture, whether inside or outside, gives you a chance to show off your brand's personality and unique qualities.
Make sure that your outdoor furniture combines well with the decor inside - you want to create a cohesive and seamless look that gives diners an instant taste of your brand at every point throughout the establishment.
Opening up your outdoor spaces to customers provides a wonderful opportunity to give your entire restaurant a fresh new look. Whether you go for a cosy, chic, or minimal aesthetic, this should be embraced for both indoor and outdoor areas.
Bulkhead Outdoor & Bathroom Oval Light - 6 Inch - Black, by Industville (Image supplied by @upstyleyourhome)
Utilise Plants and Flowers
For many, a big draw of dining outside is being out in the fresh air. You can further enhance this outdoorsy experience by incorporating lush green plants and flowers into your exterior decor.
Outdoor plants offer a low-cost way to decorate your space, effortlessly adding splashes of life and colour to your restaurant. Pairing a simplistic overall design with elegant plants will provide an especially inviting and curated look.
Using potted plants or hedgerows as dividers in your outdoor space can be a great way to naturally separate each dining area, giving guests more privacy.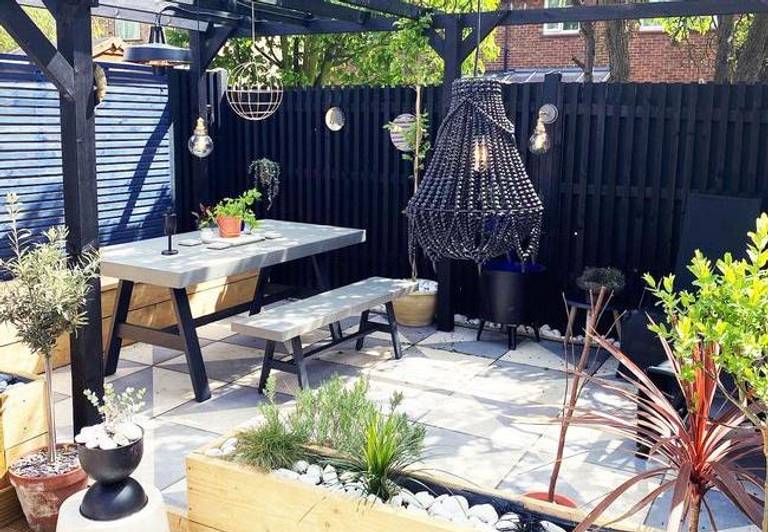 Brooklyn Outdoor & Bathroom Globe Wall Light - Brass, by Industville (Image supplied by @nooks.and.nests.at.no.18)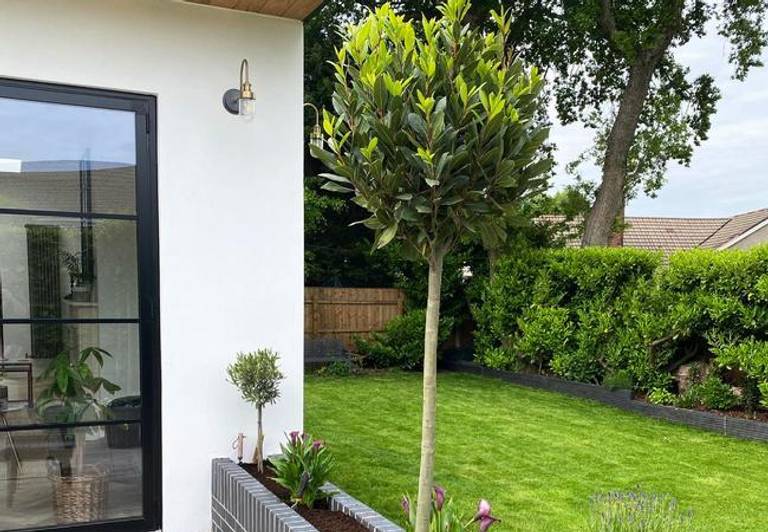 Use Outdoor Dining Areas for Other Events
Holding special events in your outdoor dining space is another way to contribute to a sense of community. Hosting a range of events helps turn your restaurant into an all-encompassing hub for people to gather, savour delicious food and enjoy some live entertainment.
If the available space permits it, a dedicated area for live music or other entertainment acts can be a great feature that attracts new customers and makes your establishment stand out from the crowd.
Paying extra attention to your restaurant's outside spaces provides a brilliant opportunity to refresh your establishment's look and atmosphere. A dining space that considers how it can best serve customers in style and comfort will no doubt help elevate the business.
If you are ready to take your restaurant or cafe's outdoor dining area to the next level, take a look at our range of handcrafted retro outdoor and garden lights.
For more design tips and lighting inspiration, check out our Instagram, Pinterest and Facebook pages.