Appreciating the great outdoors and spending time in nature can offer some great health and well-being benefits, which many of us have enjoyed over the past few years.
As outdoor living trends continue to take off, we're seeing more and more people turn their interior design makeover skills to their exterior spaces, transforming underutilised gardens, decks and patios into stylish havens where you can relax, dine and entertain.
Here are some of our favourite outdoor lighting ideas that are sure to help light the way to some stunning exterior designs!
How to Light Your Garden
Outdoor lights need to be incredibly functional, positioned in just the right place to illuminate those dark corners and highlight the areas that you'll use most. However, this need for practicality does not mean you have to sacrifice on style.
In fact, gone are the days of unattractive security lighting that don't do your exteriors justice; instead, there are so many more stylish outdoor lighting options that blend aesthetics and function to help you create a complementary, cohesive design.
The Industville lighting range includes a fantastic selection of modern and retro lights suitable for outdoor use. Whether you're after something with a bit of industrial charm, a vintage chic look or some sleek, modern outdoor lights, you're sure to find something to suit your space among our diverse collection.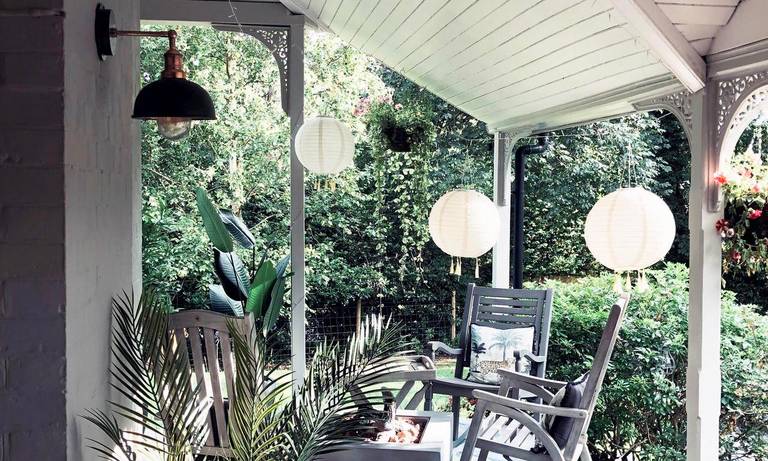 Brooklyn Outdoor & Bathroom Dome Wall Light - 8 Inch - Pewter & Copper by Indsutville (Image supplied by @nicbissekerphotography and @veryvictorianmerebrook)
1. Make a Statement with a Garden Pendant Light
Pendant lighting might seem like something that's exclusive for indoor use, but this is simply not the case!
Hanging pendants from garden structures can be a great way to introduce a sense of dynamic drama into your space. These lights are also ideal options for hanging over outdoor dining areas, shining a spotlight on your table and creating ambience as evenings get darker.
To make an especially bold statement, hang several pendants in a row if you have the space and structure to support this.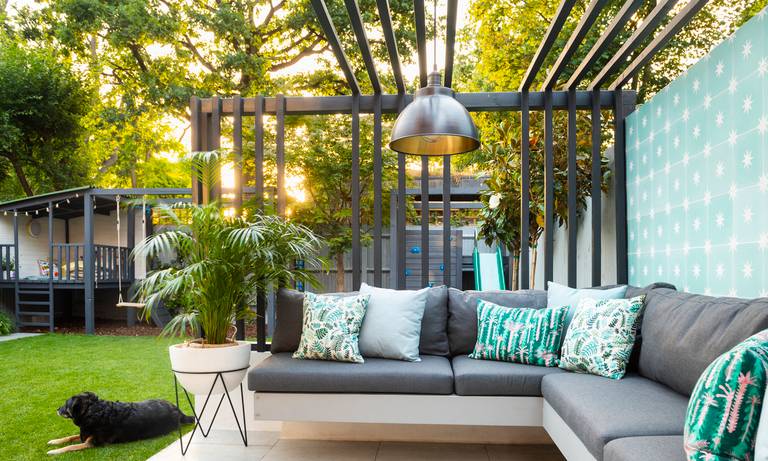 Brooklyn Outdoor & Bathroom Dome Pendant - 17 Inch - Pewter & Brass by Industville (Image supplied by Joanna Kossak & Chris Harrington)
2. Frame Doors With Outdoor Wall Lights
Outdoor wall lights are perfect for highlighting a particular spot in your garden, showcasing various features with a warm glow.
An especially good spot for wall lights is on either side of your doors. This frames entryways, further blurring the lines between stylish indoor and outdoor spaces. This could be used for front and back gardens, contributing to a cohesive design that gives a sophisticated throughline to your home.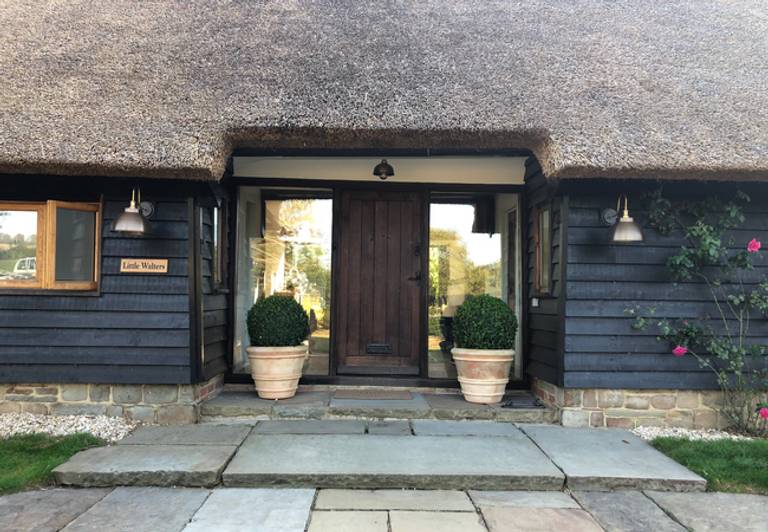 Swan Neck Outdoor & Bathroom Dome Wall Light - 13 Inch - Pewter & Brass by Industville (Image supplied by Danielle Khan Design)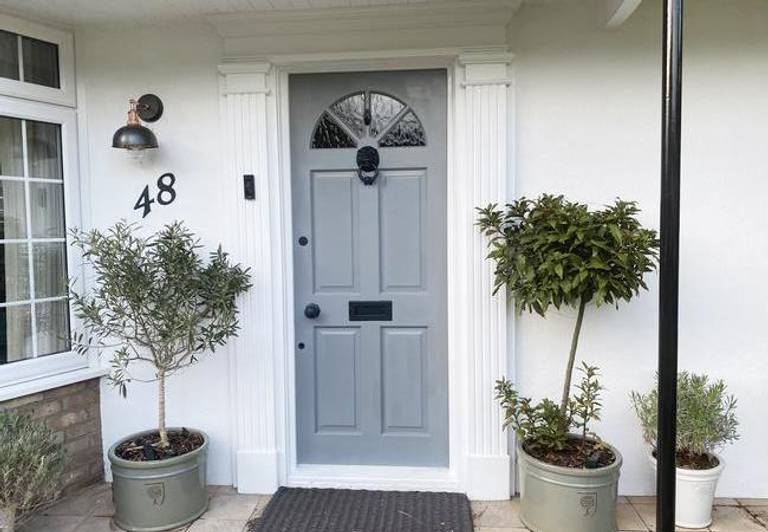 3. Put Lights Next to Water Features
For a whimsical view and magical ambience, strategically place your outdoor lights near any water features.
Your lights will beautifully reflect against the water, creating a shimmering spectacle and a calming atmosphere, perfect for evening dining and entertaining outside.
In a similar vein, you can also incorporate other reflective materials into your space, to bounce more light around your outdoor area and create that ethereal evening glow.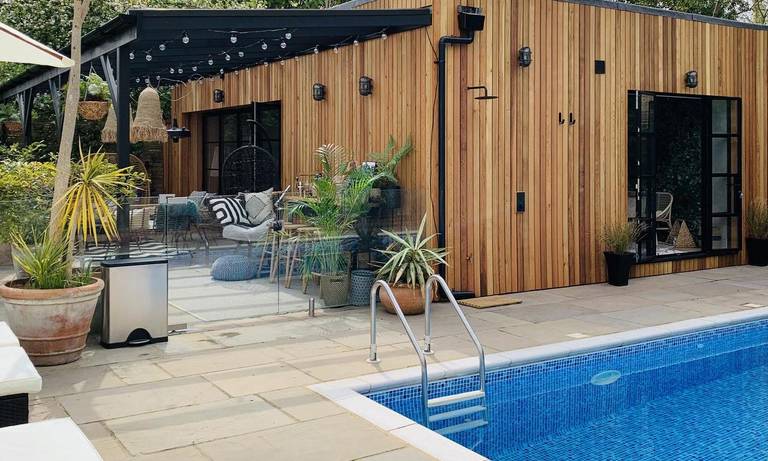 Bulkhead Outdoor & Bathroom Oval Light - 6 Inch - Black by Industville (Image supplied by @upstyleyourhome)
4. Exposed Bulb & Glass Outdoor Lights
For a more sophisticated take on the fairy light look, why not incorporate a couple of exposed bulbs or glass shade lights for that characteristic warm glow? These could be in the form of wall lights, pendants or both, depending on the layout of your space.
Exposed bulbs and glass shades that diffuse light are wonderfully practical, as they emit plenty of unobstructed light into the space, but they also provide a unique atmosphere that'll transform your regular garden into an inviting sanctuary.
Explore our different outdoor glass lights to find a shape and finish that works for you!
Swan Neck Outdoor & Bathroom Wall Light - Brass - Tube Glass by Industville (Image supplied by Andy Haslam Photography)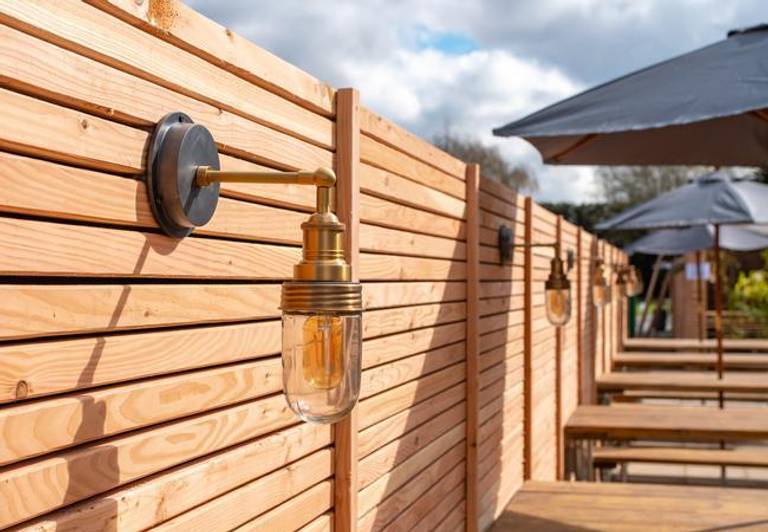 5. Nautical Style Outdoor Lights
Nautical style lights can imbue your garden with a rustic feel, providing effortless vintage charm. The diverse, industrial-inspired look also adds a metallic highlight, complementing the natural beauty of your exteriors.
Depending on the finish, nautical bulkhead-style lights can also suit modern spaces, infusing them with personality.
Our range of bulkhead lighting includes oval, round and pendant fixtures to ensure you can find the perfect design to enhance your exterior.
6. Mix & Match Your Outdoor Lights
Like with indoor lighting, you have plenty of opportunities to experiment with various different lighting combinations.
Combining contrasting styles in the same finish or vice versa can be a great way to bring some diversity to your space while still retaining a cohesive and meticulously styled look.
This will also help you create layers of light – something that is just as important to outdoor spaces as it is to your interiors as it will help you create distinct zones in your space, which can be especially useful for breaking up smaller gardens.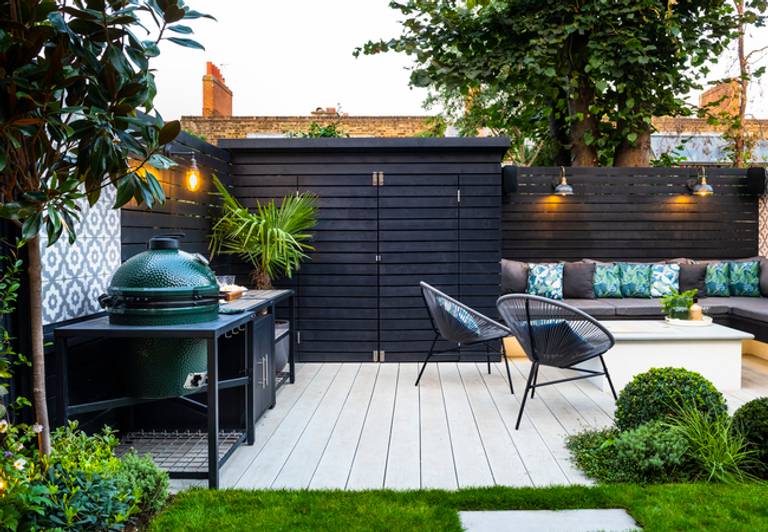 Wall Light - 13 Inch - Pewter & Copper by Industville (Image supplied by Joanna Kossak & Chris Harrington)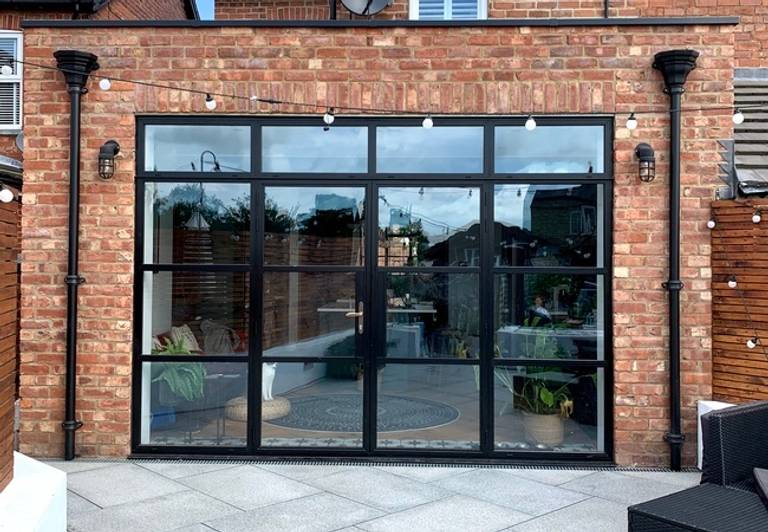 7. Brighten Up Outdoor Seating Areas
Outdoor living rooms are also becoming increasingly popular and there's no better way to increase the cosy factor of your seating area than with a couple of retro outdoor lights.
Surround your outdoor chairs with metallic lights to cast a lively glow over the space. You can also pair your lights here with outdoor sconces, candles or lanterns to further encapsulate that more intimate atmosphere.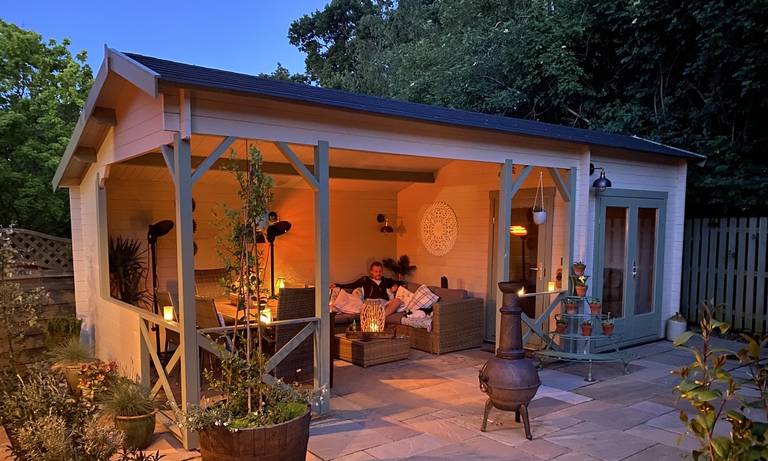 Brooklyn Outdoor & Bathroom Dome Wall Light - 8 Inch - Pewter & Copper by Industville (Image supplied by @Gardener_on_theedge)
8. Embrace the Outdoor Living Trend
Getting creative with your exterior lighting is just one of the ways you can boost your outdoor experience and truly make the most of your available space.
Outdoor living trends are taking the design world by storm, with outdoor kitchens and garden offices among just some of the things people are incorporating to get reacquainted with nature. There is no limit to how you can use your exteriors!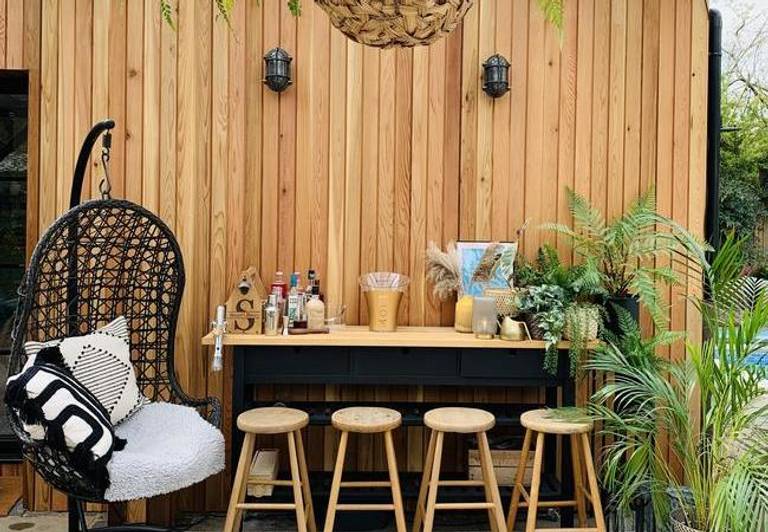 Bulkhead Outdoor & Bathroom Oval Light - 6 Inch - Black by Industville (Image supplied by @upstyleyourhome)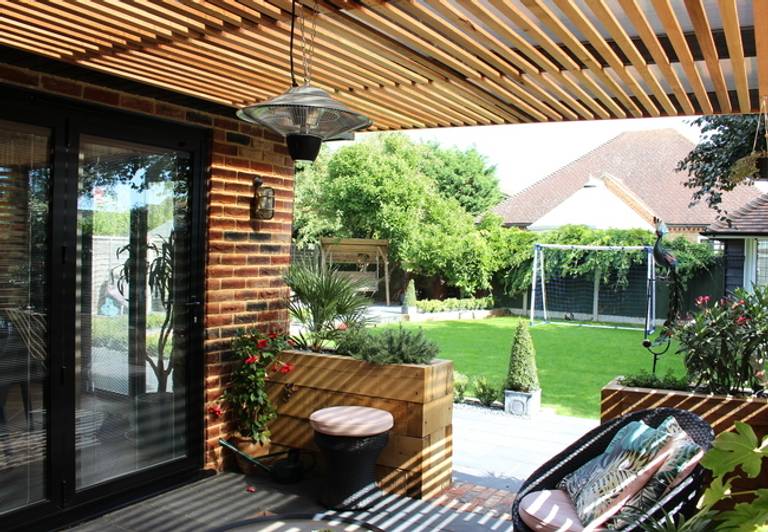 How will you be transforming your outdoor spaces this season? If the perfect outdoor lights are the finishing touch your design needs, remember to check out our range of stunning lighting, ideal for whether your garden space needs a modern, industrial or retro boost.
Header Image Credit: Joanna Kossak & Chris Harrington