Advantages Of Adding A Pop Of Colour To Your Commercial Interior Design
The use of colourful shade lighting in a commercial interior design project can have an enormous impact on the look and feel of an interior space. From expressing a company's branding identity to creating an atmosphere that encourages productivity and satisfaction, the power of colour should not be overlooked. When it comes to selecting the right colours for your commercial space, the key is to choose colours that suit the unique needs and aesthetic of your business.
When looking for inspiration for your colourful shade lighting commercial interior design project, one great way to start is by considering handcrafted pieces. Quality pieces crafted with skill make a statement in any room and are sure to stand out when combined with modern lighting. This can work especially well in commercial spaces such as coffee shops, allowing customers or employees to appreciate the craftsmanship on display while showing off the attention to detail that goes into every aspect of your operation.
Depending on the kind of aesthetic you're trying to achieve, you may opt for bold colours or more subtle tones. If you're looking for something bright and energetic, consider shades like reds, oranges, or pinks that create an inviting atmosphere while still encouraging efficiency. In collaborative spaces like offices, use of shades in vibrant colours like blue and yellow, can help to foster creativity, productivity and positivity. Alternatively, if you'd like to create a more calming environment for a restaurant, for instance, then blues and greens can provide this effect while still being pleasant enough to look at all day long.
You can browse our selection of colourful light fixtures here.
How Light Affects Colour In Your Commercial Space
Another important factor when using colour in a commercial interior design scheme is how light affects it. Colours can appear dramatically different depending on whether they are exposed to natural daylight or artificial lighting indoors. Colourful lighting fixtures look particularly vibrant and give character in restaurant interiors and bars. They bring your vision to life and create a more playful and relaxing atmosphere.
Overall, when selecting colours for your commercial interior design project it's important to consider what kind of mood you want to create, how light will affect them and whether they complement each other within their own palette. Handcrafted pieces and modern lighting can help bring these colours together into an impressive display that suits both form and function perfectly.
When it comes to using colourful shade lighting in commercial interior design, there are many options to choose from. Whether you're looking for modern, handcrafted, quality pieces that add a contemporary touch to a hotel interior - or simply want something more unusual, quirky and eye-catching for a bar – there's a solution that can fit your needs.
Adding colourful light shades to your commercial space, will bring an extra element of texture and vibrancy. Installing coloured shades in cafes and restaurants will create an inviting atmosphere that will not only impress customers, but also encourage them to stay longer. Used effectively, this type of lighting can elevate the look and feel of your commercial space from ordinary to extraordinary, and leave a lasting impression on everyone who walks through the door.
The most important thing to consider when selecting coloured lighting is the type of environment you're hoping to create and how it will affect the space. Will the lights be used for general illumination, or are you looking for more dramatic effects? Are you trying to create a moody atmosphere or a bright one? Not sure what you're aiming for with your commercial lighting? Check out our commercial lighting inspiration section.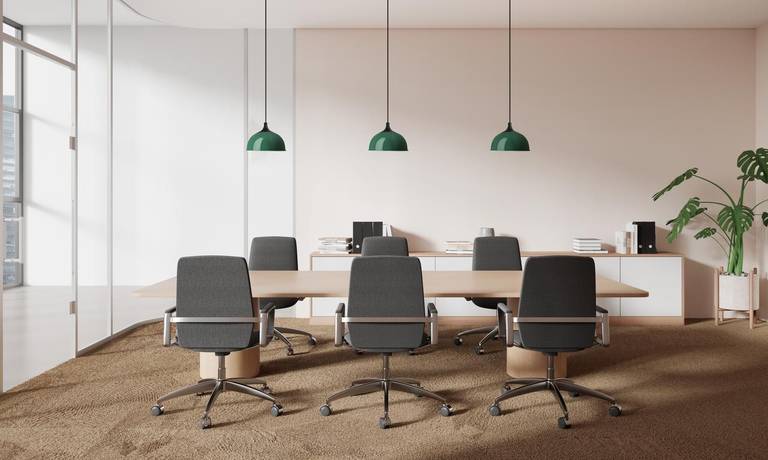 Chelsea Dome Pendant - 8 Inch - Dark Green by Industville (Image Supplied by Industville/Adobe Stock)
What Colourful Shade Lighting Should I Buy For My Commercial Space?
Before buying anything, take some time to think about how the piece will fit into the overall colour palette of your commercial space. Will it compliment other elements in terms of shade and contrast? The last thing you want is for it to stand out too much or be at odds with everything else around it!
Coloured lighting can also be used in combination with natural light sources such as windows and skylights. This allows for greater control over how much ambient light enters during specific times of day – perfect if you're looking for a solution that changes throughout different parts of the day.
What Else Can I Use To Introduce More Colourful Shade Lighting To My Commercial Interior Design?
By following these simple tips on how to use coloured shades in commercial interior design, you'll be able to make sure that each piece fits perfectly within your overall scheme – ensuring an inviting atmosphere that encourages customers and employees alike!
Summary
Utilising Quality Materials for Handcrafted Lighting: Using quality materials such as metals and glass can help create beautiful handcrafted lighting fixtures that will bring vibrant colours and patterns to commercial interior spaces.

Exploring Colourful shade options: From pendant lights to wall sconces, there are a variety of colourful shade lighting options to explore that will bring life and brightness into your space. Look into warm hues such as reds and yellows, cool shades like blues and greens, or try mixing multiple colours together to create a unique atmosphere.

Enhancing Visual Interest with Layered Lighting: Consider layering different types of lighting throughout your space for visual interest. This could be pairing chandeliers with recessed lighting in an office space, or installing ambient lighting alongside feature lights in a retail space.

Using Light to Guide Customers' Attention: Using strategic light placement can help draw attention to specific areas of your commercial interior design while helping define the navigation of the space. Use bright spotlights on key products or features, or use dimmer overall lighting to make certain sections pop out more than others.
Header image supplied by: Industville/Adobe Stock