8 Lighting Tips to Get Your Home Ready for a Cosy Winter.
As winter approaches, it's time to consider how you can create a cosy environment at home, whilst keeping your energy costs down.
Winter is a time to embrace the warmth and comfort of well-lit, cosy spaces at home. Lighting can play a significant role in creating a snug atmosphere indoors. While creating a warm and cosy space and activity promotion are essential, homeowners also need to focus on energy-efficient lighting to save money and create a comfortable and well-lit environment. This challenge demands a combination of practical strategies and innovative solutions to harness the benefits of smarter lighting systems.
In this article, we'll explore lighting tips that will help you to create a cosy winter ambiance whilst making lighting work smarter to save energy and reduce costs.
1. Warm lighting
Use warm and soft lighting fixtures, such as table lamps and wall sconces, to create a cosy ambience in living rooms and bedrooms. Warm colour temperatures like red, orange and yellow mimic the glow of a fireplace and make your space feel inviting.
2. Layered lighting
Adding layered light sources at multiple levels, like accent lighting paired with accent lighting paired with ambient lights or pendant lights in dining areas, will create new shades and depth across your space, allowing you to create a cosier interior. Avoid dazzling the room with intense downlights and aim to introduce gentle warmth and scattered, mellow winter lighting.
3. Install dimmers
Consider reducing the strength of your ambient lighting by combining multiple light sources with dimmers. This will allow you to adjust the colour temperature and brightness according to your mood and the time of day, helping you to create a warming glow that is perfect for relaxing after a long day. All our LED bulbs are dimmable, when choosing your dimmer switch or checking its compatibility please ensure it is LED compatible and with a trailing edge.
4. Use task lighting
In home offices or reading corners, use task lighting like table lamps and wall lights. This allows you to focus light where it's needed the most without having to illuminate the entire room.
5. Switch to LED bulbs for a cosy winter atmosphere
One of the key approaches to achieving energy efficiency in lighting is the adoption of LED technology. LED bulbs, offer several advantages, including longer lifespans and lower energy consumption compared to traditional incandescent or fluorescent bulbs. Switching to LED lights helps businesses save energy and money by reducing maintenance and replacement costs.
6. Install lighting controls & smart lighting for a cosy winter night
Implementing lighting controls and automation systems can greatly enhance energy efficiency. Motion sensors and timers are used to ensure that lights are only on when necessary. They automatically turn off in empty areas or during the day. Dimmer switches and adjustable lighting fixtures allow for fine-tuning illumination levels, preventing excessive brightness and further reducing energy consumption.
Consider investing in smart lighting systems that use advanced technology to adapt to changing lighting needs. Types of smart lighting systems include smart bulbs, smart switches, smart plugs and smart light strips. These systems often incorporate sensors, IoT connectivity, and data analytics to optimise lighting patterns in real-time. By responding to occupancy, daylight levels, and user preferences, these systems reduce energy consumption without sacrificing comfort or safety. Consider app-controlled light bulbs to help improve security, transform bedtimes, boost your mood and save energy.
Smart systems mean you can control your lighting even when you're not home. This means dimming down for a cosy movie night or before you go to sleep and brightening up for a gentle wake up or for a more focused environment. This ensures a calm end and a gentle start to the day. Smart lighting systems are designed to be energy efficient. They use LED bulbs that consume less energy than traditional bulbs. They allow you to schedule your lighting, ensuring they are only on when needed.
7. Maximise natural light
You can maximize natural light during the winter months, which is an invaluable resource. Effective daylight harvesting strategies involve optimising the placement of windows, skylights, and light shelves to bring in ample natural light. This reduces the need for artificial lighting during daylight hours, leading to significant energy savings and maintaining a cosy winter atmosphere.
8. Maintain your fixtures
Another crucial aspect is the importance of routine maintenance. Keeping lighting fixtures clean and well-maintained ensures that they operate at peak efficiency. Replacing old parts and cleaning lights regularly can keep them working well and make them last longer.
By creating well-lit, inviting spaces, you can encourage individuals to make the most of their indoor environments, even when the weather outside is less inviting. Energy efficiency measures during the winter months not only reduce utility expenses but can also create a cosy environment that fosters indoor activity. By investing in quality lighting, individuals can enjoy well-lit, comfortable spaces without compromising on costs. By combining these lighting strategies, you can make the most of your indoor spaces this winter, creating a cosy haven while keeping your energy costs down. So, embrace cosy winter lighting to make your home a warm and inviting place this season.
Banner image supplied by @amazingtelly, Photographed by @beetspulseandthyme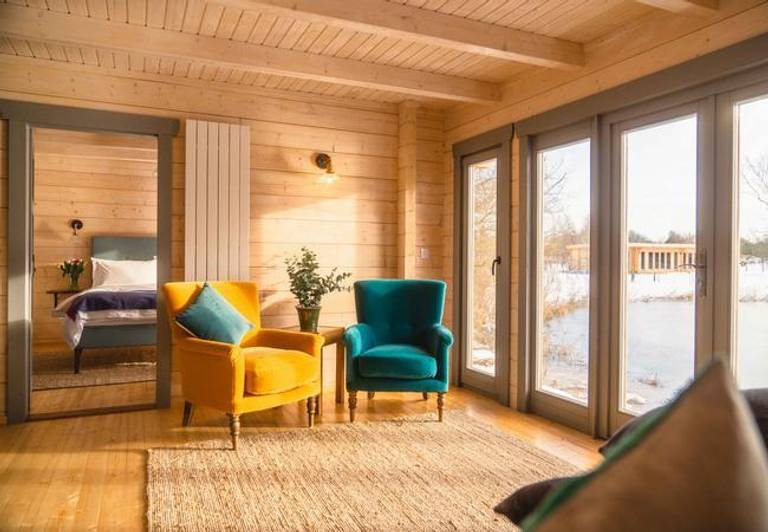 Brooklyn Glass Funnel Wall Light - 7 Inch & Brooklyn Glass Dome Wall Light - 8 Inch by Industville (Image Supplied by Blyth Rise Stays @blthrisestays)