Impact Of Lighting On Dark Interior Design
In the world of interior design, lighting design for dark interiors has become a vital element. No longer confined to moody and dramatic spaces, these designs are becoming popular in kitchens, living rooms and bedrooms. Whether you're drawn to the cosy embrace of deep hues, or the elegant charm of moody décor, dark interiors create a canvas of intrigue and style. However, achieving the perfect balance is an art, and it's where lighting comes into play.
We explore the art and impact of illuminating dark interiors with different types of lighting.
Layered lighting is key in lighting design for dark interiors
Combining ambient, task and accent lighting allows for flexibility, which is essential in dark interiors as they tend to absorb and diminish natural and artificial light. Layered lighting compensates for this by introducing various light sources at different levels, ensuring that the space remains well-lit without losing its cosy, intimate atmosphere.
Ambient lighting provides a general glow throughout the room. This can be achieved through cluster chandeliers, pendant lighting, or ceiling fixtures. Opt for fixtures with dark finishes like black, blue or green, to keep the overall design cohesive. Soft, warm lighting can enhance the cosy, inviting feel of a dark living space, making it a perfect space to relax and unwind.
Lighting can also create visual depth in dark kitchens and living rooms, with ceiling lights illuminating areas and making the space feel larger. Our Swivel Spotlights also allow you to direct light towards your focal features. The adjustable swivel head means you can personalise how the Light is dispersed in a way that works for you and your dark interior.
Accentuate with task lighting
Dark interiors can sometimes lack the necessary ambient light for performing specific tasks. Task lighting is important as it ensures that specific areas are well-lit for practicality, whilst also adding depth to the overall design. For example, table lamps provide concentrated light for reading, writing, or working on a computer, allowing you to concentrate effectively on tasks.
Evoke drama with accent lighting
Accent lighting is the magic touch that elevates dark interiors. Wall sconces or spotlights highlight artwork, architectural features or a statement wall, making the elegance of dark wood, the depth of textured fabrics or the drama of dark wall colours, the focal point in a space. The right lighting draws the eyes to these pivotal points.
Wall lights add a layer of drama to dark interiors. Mounted on dark walls, they create intriguing plays of light and shadow. Their soft, diffused illumination enhances the cosiness of living spaces, casting an inviting ambiance.
Pendant lighting can also work as statement pieces that become the focal point in dark kitchen interiors. Suspended above dining tables or kitchen islands, they add both illumination and style. The contrast between the dark walls and the warm glow of pendant lights creates a captivating visual dynamic.
Texture and shadows
Dark interiors thrive on the interplay of light and shadow. Consider fixtures with intricate designs, such as Geometric table lamps or ribbed glass pendants, that cast captivating shadows on the walls. These add depth and visual interest to the space.
Creating atmosphere and ambiance
In dark interiors, lighting is paramount for setting the right mood. Warm, ambient lighting through fixtures like pendant lights or chandeliers foster a cosy and inviting atmosphere. This is ideal for spaces where you want to relax and socialise, like living rooms or kitchens.
The choice between warm and cool lighting tones is also crucial. For a cosy, intimate atmosphere, opt for warm, soft lighting, which pairs beautifully with rich, dark interiors. Alternatively, cool lighting can create a more modern and sleeker vibe, especially in minimalist dark designs. We recommend sticking to one temperature across your fittings to ensure cohesiveness in your design.
Dark-themed bedrooms benefit from soothing and intimate lighting. Table lamps with warm-toned bulbs or wall sconces provide soft illumination that encourages relaxation and sleep.
Still unsure what lighting fixture to use? Have a read of out blog post on How To Choose The Right Lighting
Installing dimmer switches gives you control over the intensity of the light, allowing you to adapt the ambiance to different occasions. Whether you want reduced living room lighting for film nights or bright kitchen lighting for preparing meals, this flexibility is essential in dark interiors as it lets you create the perfect mood.
Industrial or vintage
Industrial and vintage lighting fixtures often blend seamlessly with dark interiors. The raw materials and rugged charm of these fixtures add character to the space without overwhelming it.
Materials and finishes should be considered in dark interiors. Metal finishes like brass, copper or matte black, complement dark colour palettes beautifully. Whilst glass diffusers soften the light, contributing to the overall cosy and inviting atmosphere.
Pair your lighting with a dark-coloured flex to create consistency and cohesiveness in your design scheme, or choose light colours for a pop of contrast.
Use LED bulbs
Edison bulbs with filament designs exude warmth and vintage appeal, making them an excellent choice for dark interiors. LED bulbs provide energy-efficient, long-lasting illumination, whilst adding a classic look.
Dark interiors are a canvas of endless possibilities, and the right lighting is your brushstroke of magic. By layering different types of lighting, playing with textures and shadows, and carefully choosing the tones and fixtures, you can create a dark interior that's both inviting and captivating.
Now you have the inspiration, check out our range of lighting fixtures to enhance your dark interior!
Banner image supplied by @barnconversionblog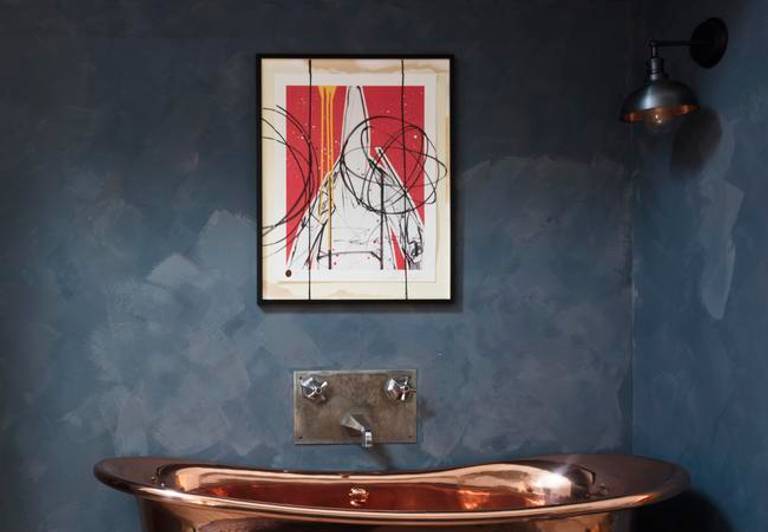 Brooklyn Outdoor & Bathroom Dome Wall Light - 8 Inch - Pewter & Copper (Image Supplied by @susielowestudio)