A front porch is a place to greet guests, shelter yourself from the elements, light your doorway at night and take a deep breath before you step out into the world. With the right lighting, your front porch can make a dramatic statement and set the tone for the rest of your home interiors.
Outdoor Wall Lighting to Complement Your Front Porch Exteriors
Outdoor lighting make the perfect fixtures to beautifully illuminate your front porch. Wall lights are an ideal space-saving option to light your porch successfully.
Explore some of the best wall lighting ideas to elevate your front porch.
Exposed Bulb Wall Lights
If you are looking for a minimal functional style, exposed bulb wall lighting is for you. Placing exposed wall lights on your front porch projects light onto your front porch to improve visibility.
Our range of exposed bulb lights are dust-tight, waterproof and weatherproof, perfect for creating a stylish front porch.
Metal Wall Lighting
Sensationally transform your front porch with stunning metal lighting. Metal lighting combines an elegant industrial design with flawless functionality to showcase a welcoming atmosphere on your front porch.
All of our lighting ranges come in brass, pewter and copper shades and works perfectly as a wall light to cast a warm glow over your front porch.
Glass Wall Lighting
Glass wall lighting is also an essential option for your front porch as this style showcases traditional elegance and sleek functionality.
Glass lighting works well with modern, traditional and vintage front porch exteriors allowing you to tailor your wall lights to a style that suits you.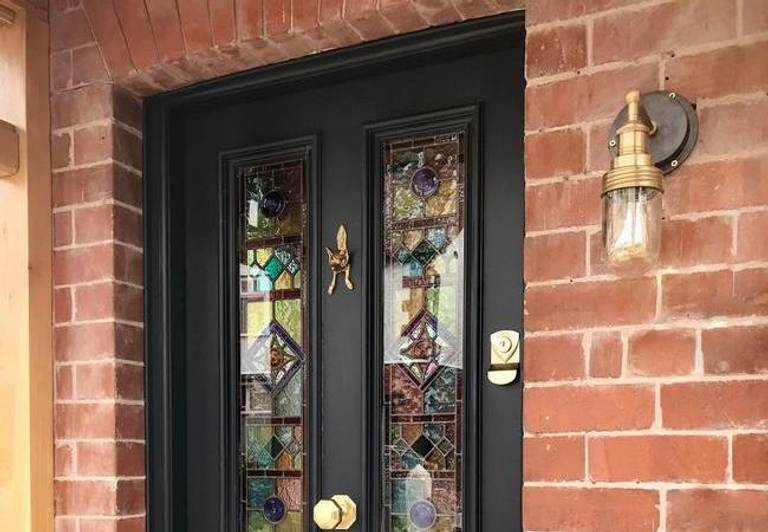 Brooklyn Outdoor & Bathroom Wall Light - Brass by Industville (Image Supplied by: @edwardian_vignette)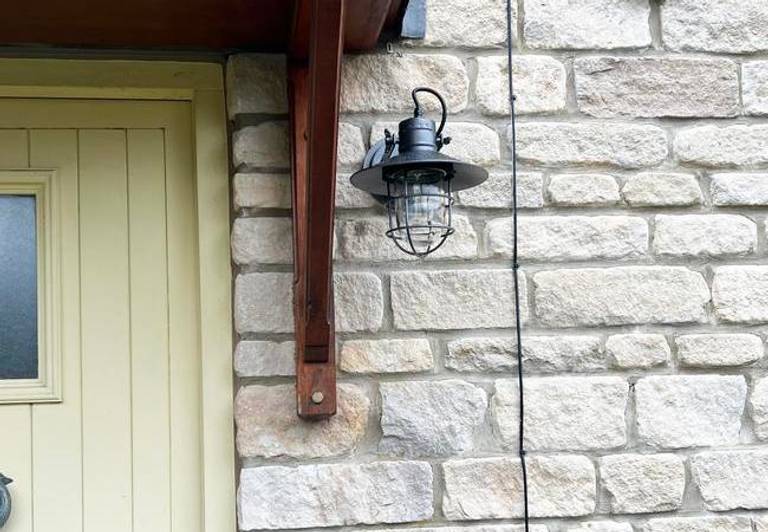 Wall Lighting in Pairs
Strategically place wall lights as a pair on walls of your home on either side of your front door to create subtle pockets of warm, welcoming glow and effortless symmetry.
Having a pair of wall lights on your front porch adds a distinct dimension and an inviting, warm ambience to your exteriors.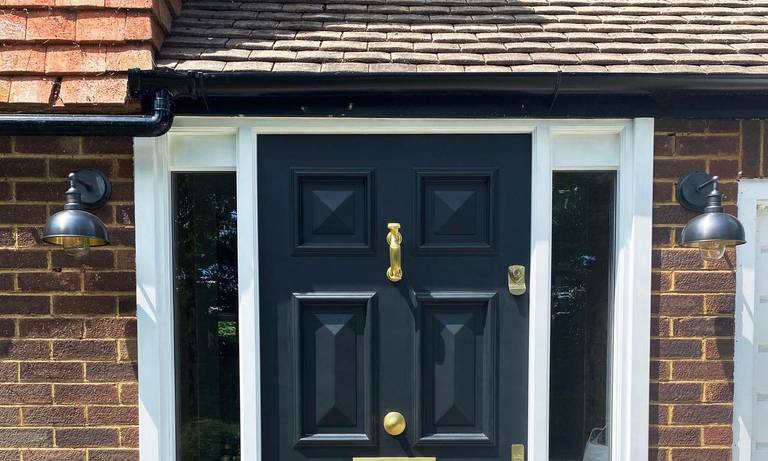 Brooklyn Dome Wall Light - 8 Inch - Pewter & Brass by Industville (Image Supplied by: @hunters_homerenovation)
Outdoor Waterproof Lighting
Combining exterior style with optimal functionality is important for the perfect front porch lighting. The outdoor lighting you choose for your porch needs to hold up against the elements safely.
Our extensive range of IP65 lights are weather resistant, ideal for embracing a stylish look for your front porch. Our collection of IP65 lights are available in complementary styles and finishes and can be adapted to suit all exterior design preferences.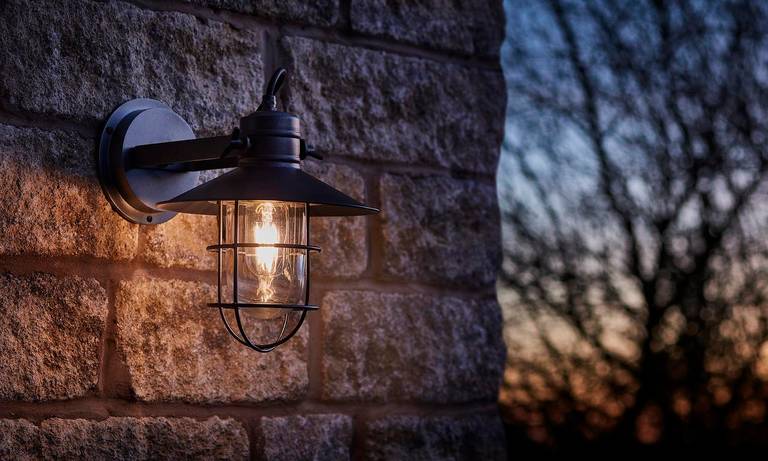 Harbour Outdoor & Bathroom Wall Light – 6 Inch – Pewter by Industville (Image Supplied by: Andy Haslam Photography
Illuminating Garden Plants on Your Front Porch
To warmly illuminate plants, use outdoor lighting over small bushes, potted plants, and low-level shrubbery. You can create a welcoming and sophisticated front porch by combining nature and lighting.
Embracing biophilic design in your front porch area bridges the gap between nature showcased within your exteriors and interiors. The illumination of plants adds an extra layer of style and depth to your front porch exteriors.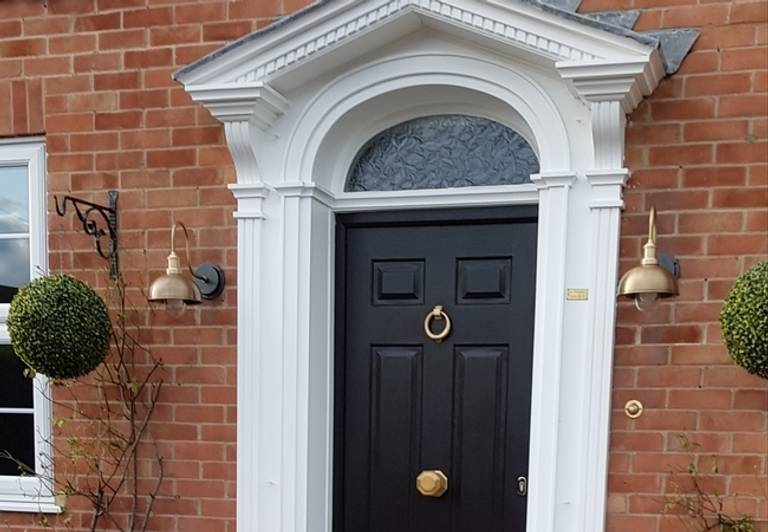 Swan Neck Outdoor & Bathroom Dome Wall Light - 8 Inch - Brass by Industville (Image Supplied by: @lorlahenry)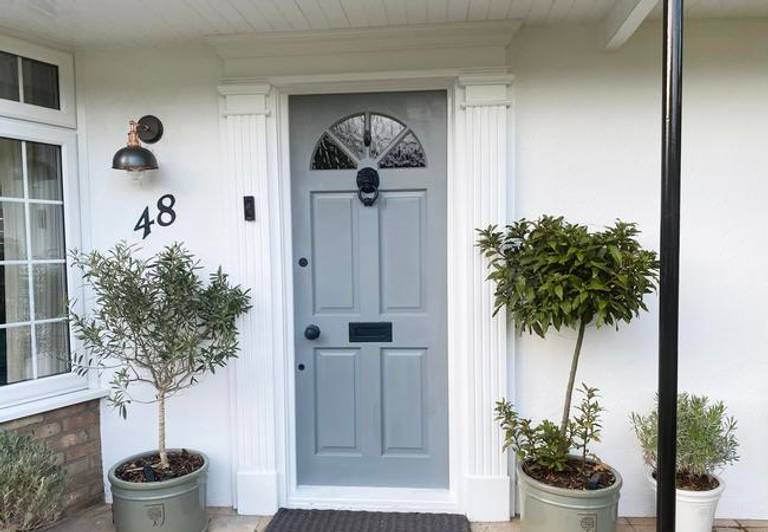 Elevate Your Front Porch with Flush Mounts
Although it may not be the most obvious choice, statement pendant lighting can elevate your porch exteriors just as much as your home interiors. Overhead lighting, such as flush mounts, cast plenty of ambient light outwards into the entrance.
Choosing stylish pendant lighting that sits above the doorway is essential for optimal brightness in the porchway. Our extensive collection of flush mount ceiling lights provides effortless elegance and suits any exterior style.
Edison LED Bulbs
Vintage Edison LED bulbs are an ideal option for your front porch if you are environmentally conscious. Edison LED bulbs are energy efficient and provide a longer lifespan than other bulbs. These bulbs are perfect for any front porch as they offer less maintenance, brighter lumens and effortless style.
Our collection of Edison light bulbs flawlessly casts a warm glow adding unique character to any front porch, and are compatible with the majority of our lighting fixtures.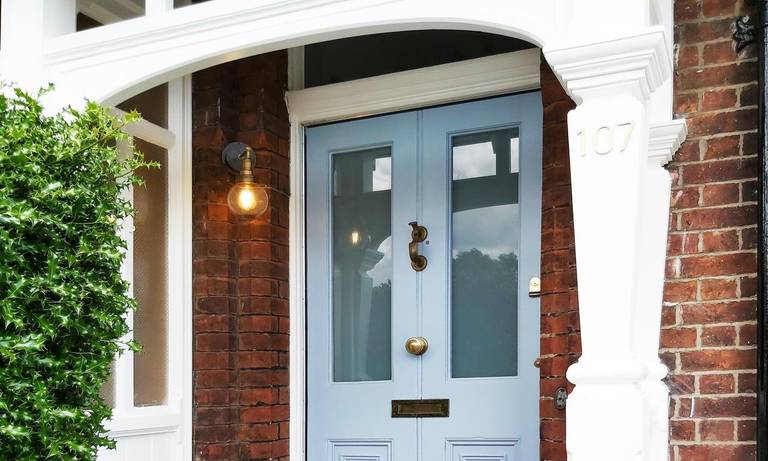 Brooklyn Outdoor & Bathroom Globe Wall Light - Brass by Industville (Image Supplied by: @homeisheathside)
Outdoor Accent Lighting
Consider layering your lighting to combine style and functionality within the space. This technique might include incorporating general lighting with ambient and task lighting.
Light layering combines three types of lighting:
Ambient/General
Task
Accent
Incorporate lighting fixtures such as overhead pendant lights with wall lights, as this can diversify areas and create depth and texture within the front porch.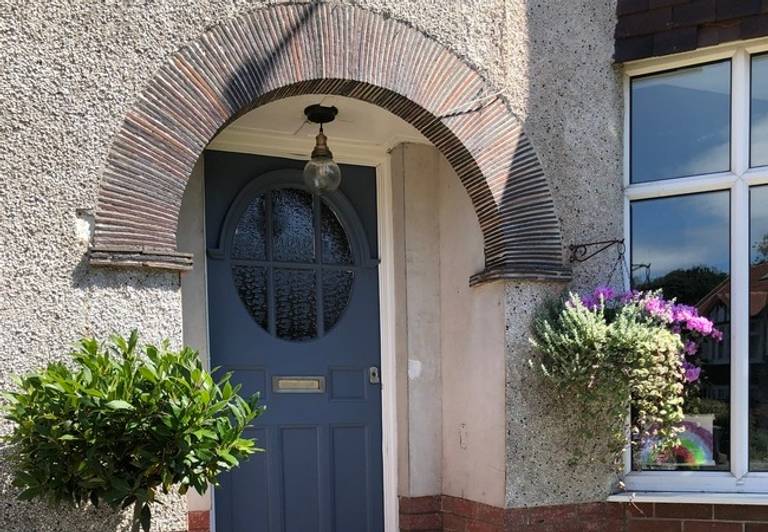 Brooklyn Outdoor & Bathroom Globe Pendant - Brass by Industville (Image supplied by @renovating_no.seventeen)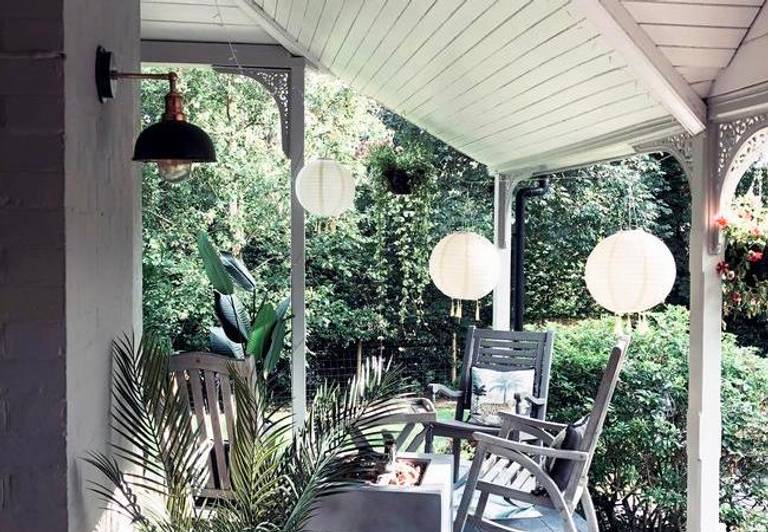 Outdoor Bulkhead Lighting
Bulkhead lights combine functionality with industrial flair to illuminate dark areas within the front porch. Bulkhead lights can be incorporated into the front porch on steps, entrance and outdoor walls for safe and easy use in the dark.
Bulkhead lighting provides the perfect industrial outdoor lights for your front porch as they make a sensational statement while slowly cascading a warm glow throughout your porch exteriors.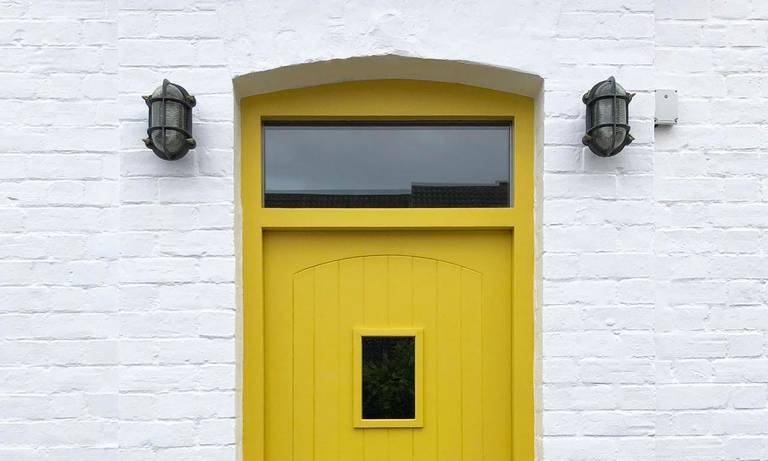 Bulkhead Outdoor & Bathroom Oval Light - 6 Inch - Black by Industville (Image Supplied by: @theunlovedhouse)
Will you be giving your front porch an exterior makeover? If you need new exterior lights to complete your design dreams, look no further than our extensive outdoor lighting range that offers various styles and designs for modern, vintage or industrial-inspired spaces.
Header Image Supplied by: @homeisheathside