Open plan interiors can offer many benefits, including creating bright spaces that flow and invite awe, but they're not for everyone – especially if practicality, cosiness and distinct spaces dedicated to different activities are top priorities for you.
This is where broken plan living comes in. This architectural and design method ensures you can embrace the openness favoured by open plan living while also allowing you to retreat to specific zones in the home.
Broken plan living is the natural evolution of the open plan trend, presenting a middle ground that's perfect for the modern home.
What is Open Plan Living?
Open plan living is fairly self-explanatory – there are no walls or dividers between rooms, allowing you to treat different areas and one continuous room and do several things at once. For instance, you can easily prepare dinner in the kitchen area while still having a clear line of sight to the kids in the living room area.
Multi-functional spaces are incredibly useful; however, interiors like this can only offer limited privacy and may mean your home feels louder. Usually, open plan homes are zoned by the clever use of several colours or textures, but what if you need something a little more solid to delineate a space?
What is Broken Plan Living?
While the concept of broken plan still embraces open, airy qualities, it also reintroduces partial structural elements and unrestrictive divisions to effectively zone a space. This might include adding a bookshelf, a row of ceiling pendant lights, glazed partitions or half walls to separate completely open floor plans.
Strategically adding these things helps give you moments of privacy and peace without making you feel like you're closing in your space and removing the benefits of open plan living. Semi-open plan kitchen living room designs continue to grow in popularity as more people seek the best of both worlds.
Broken Plan Living Ideas
Some of the most effective methods of embracing broken plan living include:
Glass partitions and dividers
Sliding doors
Wooden screens
Freestanding bookcases and shelves
Split floor and ceiling levels
Half walls or furniture as dividers
Wide entrances
Rows of ceiling pendant lights
Layering light for different atmospheres
Using Pendant Ceiling Lights as Subtle Room Dividers
It may not seem obvious at first, but using several pendants to create a sense of separation in a large, open room can be incredibly effective. This is especially true when you incorporate totally different lighting styles into the various areas.
For example, you might use bold metallic pendants over your kitchen island but incorporate a unique cluster light over your dining table. This gives each area a different feel, highlighting the distinct purposes of the spaces while retaining a sense of flow and fluidity.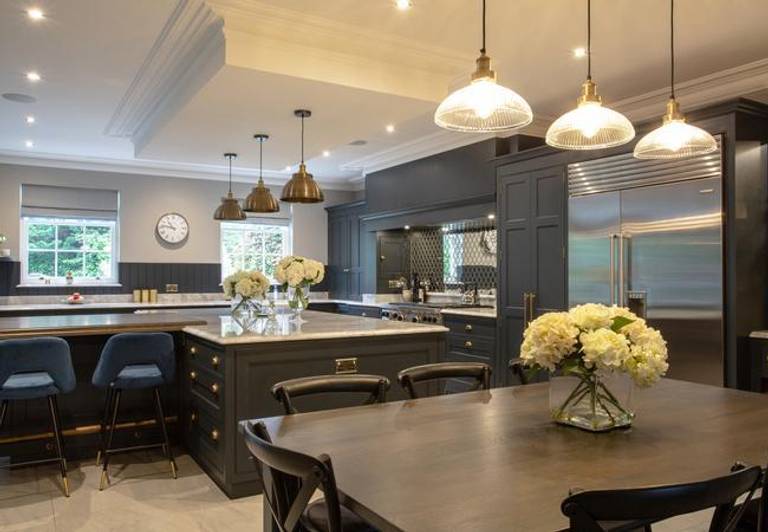 Brooklyn Dome Pendant - 13 Inch - Brass & Brooklyn Glass Dome Pendant Light - 12 Inch by Industville (Image supplied by @stgilesfurniture)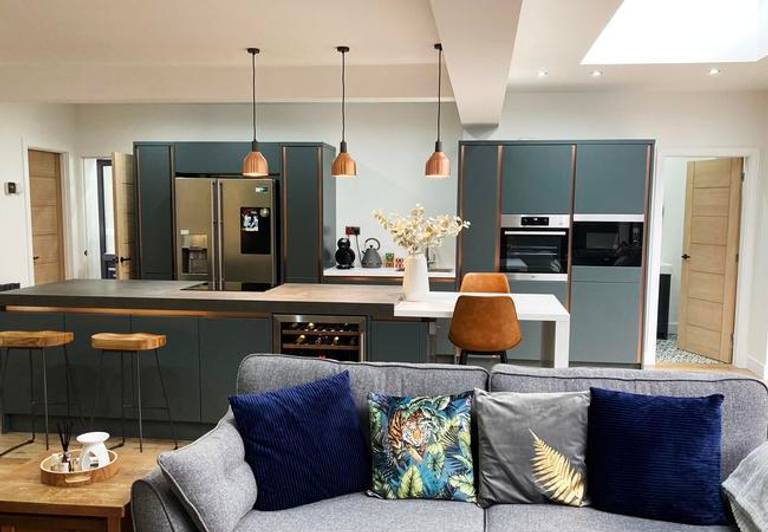 Using Lights to Tie Rooms Together
Lighting can also be an incredibly useful tool in bringing together different rooms or areas with different designs to create a more cohesive interior that feels like it belongs to one continuous space.
Additionally, the right lights will help you create the right atmosphere, which is especially important in larger spaces where the smaller details may end up getting overshadowed.
Try layering different kinds of light, whether from pendants, wall lights or flush mounts, by installing the various types around the room. This will help create zones of cosiness in more open spaces that could end up feeling quite stark without.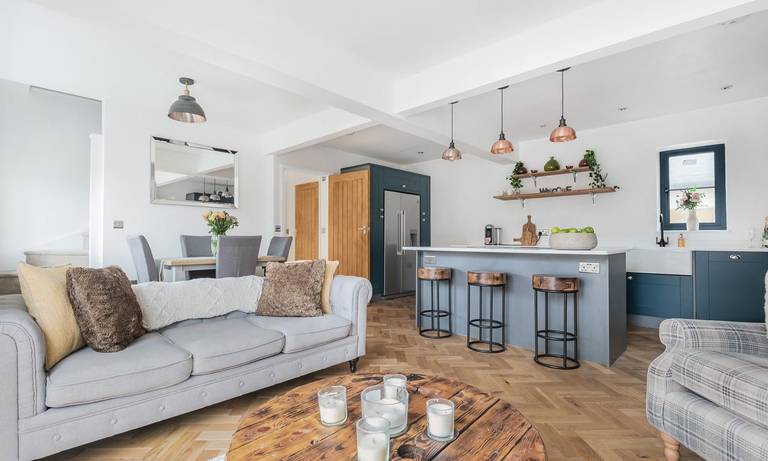 Brooklyn Dome Pendant Light - 8 Inch - Copper by Industville (Image supplied by @cscotswoldproperties)
Wooden Partitions
Partitions, whether you opt for wood, glass or even a metal frame, are less permanent and imposing than a wall. The wooden wall partition pictured below provides a great example of how you can section off a space without losing any light or that vital sense of flow.
If your partition is not entirely solid, you will get this same effect, doing away with the restrictive nature of walls while still successfully building distinct areas that don't entirely blend into one another.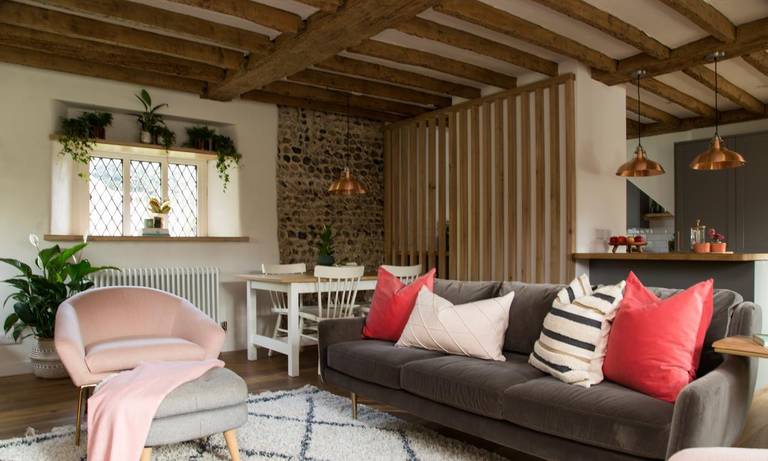 Old Factory Slotted Pendant - 15 Inch - Pewter & Copper by Industville (Image supplied by @amazingtelly, Photographed by @beetspulseandthyme)
Bookshelves & Furniture as Room Dividers
If you want to add some separation back into your open plan living room or want to create an office nook within the space, shelves are a simple yet elegant solution. Whether it's a single freestanding bookcase acting as a partition or an open shelving unit built partially into or in place of a wall, there are several ways to interpret this idea.
Open shelves allow for the flow of light and also give you the opportunity to style some favourite decorations or books. Decorating a larger open space can be surprisingly difficult, so shelves provide an element of structure on which you can base your furniture around.
Other pieces of low furniture, like a side table or sofa, can also function as dividers that visually cordon off a space. How exactly you position your furniture can go a long way in creating zones and a sense of delineation.
Different Levels & Split Floor Heights
Making the most of different heights and levels is a core element of broken plan living. It allows for a different kind of flow than that afforded by open plan living, taking you through spaces that can be styled more distinctly and are more obviously separate.
Having to step down slightly into the living room from the kitchen or vice versa offers a more concrete transition. A living room at a lower level also provides a sense of increased cosiness and a different level of comfort compared to the sleekness of a kitchen.
Wider Entrances
Larger openings and doorways or sliding doors that don't take up space within a room are great for connecting two disparate areas while still ensuring each retains a sense of privacy and seclusion if needed.
You will still have a clear sight line between your dining room, living room or kitchen, for instance, without having to feel like you're only ever spending time in one room. Removing connecting doors in favour of one large, empty entryway between spaces is another simple way to embody broken plan living.
As you can see from all this broken plan living inspiration, there are so many ways to give your open plan interiors a modern update and evolve with the trends.
If you're ready to create spaces of stunning style in your home, remember to head over to our lighting range suitable for all rooms and interior aesthetics.
Header image credit: @Westcross_property_renovation