Lighting plays a pivotal role in shaping the ambiance and character of a space; it's a powerful tool that can transform the entire experience of hospitality spaces. When it comes to creating a modern and atmospheric interior, our Boston wall lights and Beehive pendants are popular hospitality lighting choices. With their robust silhouette and versatile design, these fixtures have made their mark on many commercial spaces. In this comprehensive guide, we'll delve into our lighting collection, their unique features, and how they can transform interior design.
Materials and craftsmanship
Boston Round Diffuser
The Boston Round Diffuser is handcrafted from raw iron and pays homage to the robust and utilitarian nature of industrial spaces. The exposed iron and metal diffuser create dynamic lighting effects, casting intricate patterns of light and shadow on walls and ceilings. Their uncomplicated form and the industrial allure of exposed metal, accentuate an interior utilitarian yet stylish appeal.
The Boston diffuser also boasts an intricate geometry that transcends the ordinary. It's a captivating piece that adds both visual intrigue and functional illumination to any space, making it a design choice that shines in every aspect. It can seamlessly fit into a variety of interior design styles. Its versatility makes it a valuable addition that will catch guests' attention. Whether you're designing a loft flat, a contemporary office or a trendy café, these lights will complement existing décor.
The design of the Boston round metal diffuser wall light blends form and function perfectly. The round diffuser is crafted with precision, featuring clean lines and well-defined edges. This complexity adds visual interest, making it an eye-catching piece of décor. The metal exterior exudes an industrial edge, while the diffuser softens the light, casting a warm and inviting glow. This textural interplay adds depth and character to the design.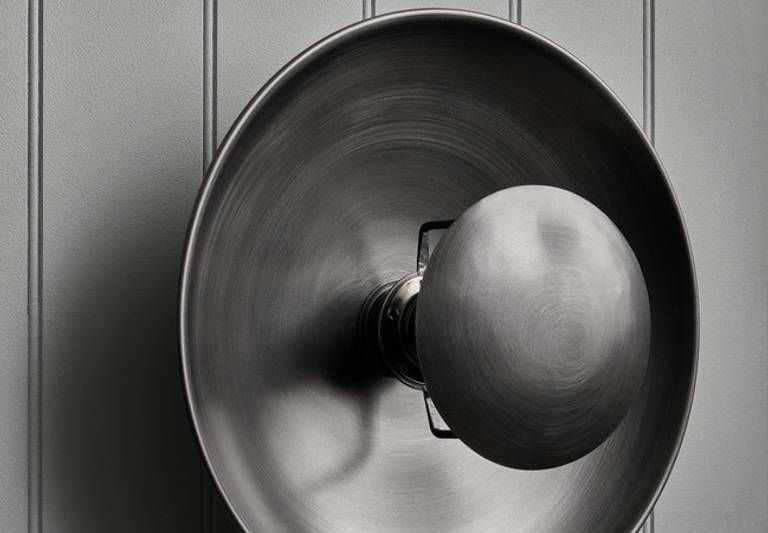 [Boston Round Metal Diffuser Wall Light Flush Mount - 13 inch - Pewter](Boston Round Metal Diffuser Wall Light Flush Mount - 13 inch - Pewter)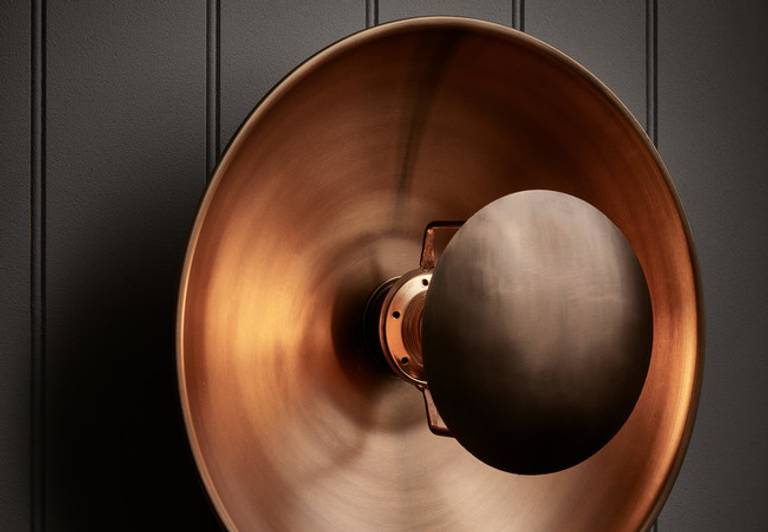 Boston Opal Glass
The Boston opal glass wall lights boast a clean and bold look that is perfect for modern interiors. These fixtures embody the elegance and glamour of the Art Deco design era, making them a distinctive and timeless addition to a commercial space. Whether placed in a boutique hotel lobby or a trendy restaurant, these fixtures effortlessly complement modern décor, creating an inviting and stylish atmosphere.
Their robust silhouette commands attention without overwhelming the space, with the geometric features adding a touch of contemporary sophistication. Popular additions to light up a restaurant or café, these wall lights serve as statement pieces, guiding guests with its leek and bold aesthetics.
Elevate your guests' dining experience with Boston lighting.
Beehives
The Beehive lights are exceptional works of art designed to capture attention and admiration. This Industville lighting collection comes in 4 distinct shapes Drop, Spinner, Diamond and Oval, and their large, unique aesthetic make them an excellent choice for larger residential or commercial spaces. Each Beehive light is meticulously handcrafted from durable iron mesh wire, ensuring both sturdiness and elegance. This Industville lighting collection is available in 2 finishes: pewter and brass. The central bulb elegantly resides within the shade, emanating warm and inviting light. These handcrafted features are designed in-house and lovingly created by expert artisans. As a result, each one carries the charming imperfections that make them truly unique.
With a contemporary design aesthetic, Beehive lights seamlessly integrate into modern and bohemian interior styles. Their unique shapes and intricate mesh wire patterns create captivating patterns of light and shadow, adding depth and character to your spaces. The metal finishes add an extra layer of sophistication to the ambiance.
Tying design elements together
Whether it's connecting colours, textures or styles, these lights add cohesion to the overall design scheme. Not only do the Boston lights serve as consistent visual elements throughout a room, their presence in interior spaces, provides a thread of continuity that connects different parts of the space. This visual consistency helps to create a sense of unity and flow in the design.
Whilst Beehives make a statement in large interiors, they also foster unity and cohesion in interior design. Adding the cherry on top, these distinctive fixtures play a significant role in drawing design elements together. Their pewter and brass finishes complement a range of design styles, allowing them to bridge style gaps, complement other materials and maintain consistency. Whether they're installed in a restaurant, hotel lobby or residential setting, Beehive lights contribute to a harmonious atmosphere that promotes comfort and relaxation.
Lighting is a strategic tool that can transform the ambiance and functionality of hotels, restaurants and pubs. Lighting plays a significant role in creating a warm and inviting ambiance, so guests can unwind and dine in elegance and style. From the lobby to the restaurant, well-placed, quality lighting sets the tone for a memorable experience. With their versatile designs and handcrafted, premium quality, our lighting adds a touch of sophistication to any space.
Set a unique and memorable experience with Industvilles lighting collections.
Accent, task and ambience with Industville lighting collection
Our Boston wall lights are the ideal choices for restaurants, cafes and pubs, seamlessly transitioning between accent, task and ambient lighting roles. Pair these wall lights to add visual interest and depth to the décor, creating a captivating focal point for guests to enjoy. When placed strategically, these fixtures draw attention to specific areas or design features like a piece of art or a stylish bar area, creating focal points to captivate diners' attention.
In restaurants, task lighting is essential to ensure that guests can read and interact comfortably. The Boston lighting range offers task lighting solutions by providing focused and directed illumination on tables. When dimmed, Boston wall lights emit a warm and inviting glow that envelops the entire dining area. This soft, atmospheric lighting sets the mood, creating a cosy and intimate atmosphere for guests.
You can also use our Beehive lights as creative ambient lighting solutions. For instance, in a high-ceiling room, a cluster of Beehive lights can be used to visually lower the ceiling and create a cosier atmosphere. In smaller spaces, a single fixture can make a dramatic statement without overwhelming the room. Whether you need a statement piece for a high-ceiling hotel lobby, or a series of fixtures to illuminate restaurant dining areas, Beehive lights offer options to suit your needs.
Warm and inviting glow
The warm and inviting glow emitted by Boston and Beehive lights create a cosy and welcoming atmosphere. This is perfect for restaurants, where the ambiance sets the stage for memorable dining experiences.
Work your Boston Wall Light into bedrooms or intimate cafés, the gentle, soothing diffusion of light will create a subdued and calming atmosphere for your guests. When illuminated, the Boston Diffuser casts captivating patterns and shadows on the surrounding surfaces, creating a dynamic and interesting visual experience.
Our fixtures can be paired with dimmer switches, allowing you to adjust the level of illumination to create the perfect ambiance for pubs, restaurants and cafés. Whether it's setting a romantic mood for a cosy dinner or brightening things up for a lively evening, these dimmable fixtures offer versatile lighting control that enhances the dining and drinking experience.
Adding depth and texture with Industvilles lighting collection
The captivating play of light and shadow is another aspect that makes these lights enchanting. The mesh wire patterns of our Beehives cast intricate shadows on walls and ceilings, adding depth and texture to the space. This dynamic interplay enhances the visual interest of the environment. They turn flat surfaces into dynamic canvases of texture, making the space feel more vibrant and engaging.
Boston lights also introduce depth and texture to an interior space, by creating a multi-dimensional visual landscape. The exposed metal of the Round Diffuser introduces a textural contrast to concrete walls and metal surfaces, whilst the smooth touch of the Opal glass offers a tactile counterpoint to the rougher textures of the surroundings. Whether you choose to place them individually, in pairs or as a cluster, different lighting arrangements can emphasise various aspects of depth and texture within the space. Play around with the display to see what works best for your interior.
Focal points and visual interest
Both the Boston and Beehive Industville lighting collections are designed to naturally draw attention. Whether places in a hallway, living room or dining area, they become focal points that command the viewer's gaze.
Due to their large size, Beehive lights are the ideal choice for restaurants, hotel lobbies and spacious cafes, or any space you want to make a memorable statement. Whether you choose the elegant Drop or playful Spinner, Beehive lights add an immediate touch of drama and sophistication to an interior.
Perfect for boutique hotels and restaurants, our beehives can become an iconic part of your space, making it instantly recognisable and memorable.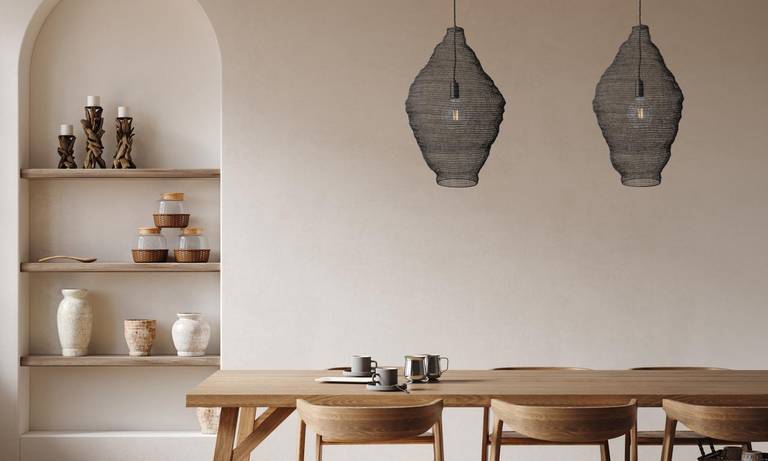 Beehive Wire Cage Metal Mesh Pendant Light - Diamond - Pewter by Industville (image supplied by Adobe/Industville)