Here at Industville, we're hugely fortunate to work with exciting and passionate interior designers, using our industrial lighting to create stunning spaces. We also have an interior designer directory which is perfect if you're considering a professional's input for your renovation.
Recently, we caught up with our good friends at Fresh Start Living. Beth and Jon Miller have been working on homes together for 15 years and have frequently chosen our products to help create that luxury feel for their clients.
Read our interview below, where we speak to them about their passion for interior design and their tips for making the most of your living space.
Tell us a little bit about your services - you provide everything from interior design services to extension design and planning.
We work across all aspects of home renovations, from refreshing a room to a full renovation with extensions and reconfiguring layouts. Our focus is always on what our clients need from their home and we design spaces that enable them to live in the way that suits them and their lifestyle.
One day we can be designing a rear and side extension to provide more living space for a growing family. The next, we'll be choosing colours and furniture for a bedroom scheme.
You are award winning interior designers and home renovation experts, but which is your favourite interior style?
Our own personal style is colourful, rustic and sustainable.
We try and source second hand furniture as much as we can and we design and make pieces for our own home using materials that would otherwise be thrown in a skip. Add to that a lot of colour (usually blues, greens and yellows) and that's a good reflection of how we design our own spaces.
However, we're fully aware that style isn't for everybody. So, we adapt and tailor each of our designs to suit each individual client. Our aim is always to reflect them in the design, whilst pushing them out of their comfort zone of doing what they would have done without the input of a designer.
What changes have you seen in interior design in the last year?
Our homes are having to work harder than ever since the start of the Coronavirus pandemic. They're having to become workplaces, home schools, entertainment zones as well as all the usual things now.
Creating multi-functional areas that can support those things has become more important than ever.
That might mean building extensions for some, but that doesn't always have to be the case. You can carve out zones from existing rooms. Why not add a small home office area in a spare bedroom or under the stairs?
And if you've got a loft or basement that's ripe for converting then those spaces can work really well for these additional needs, like a den/snug in a converted basement. Perfect for movie night as a family, something we're all doing more of during these winter months.
But if you do have the ability to add more space, then make sure that those spaces are designed with purpose. If you're building an extension, think about how you'll use the space and how you plan to furnish it to make sure it's the right size and layout before you start the build.
What will be the interior trends for 2021?
Given what's been going on for the past year, we all deserve a bit of positivity in our lives. And that means creating homes that put us all in a better mood.
For us, that's usually an injection of colour and vibrancy. We think deep greens will be even more prominent in 2021, with pops of rust and ochre. The more colour and pattern the better, as far as we're concerned.
But if colour is not for you, then uplifting interiors can also mean calm and serene. Bedroom spaces, in particular, need to create the right mood to eliminate the stresses and strains that we're all under at the moment.
Either way, your home needs to bring you joy and lift your spirits. So, it's about helping people to create a home that makes them feel positive.
Are clients considering the design of the exterior as well as interior in the same way?
Historically, we don't think this has been the case. But we are finding that this is becoming something far more important for our clients. No longer are matching the bricks and roof tiles enough to fulfil what people want from their exteriors.
This is really exciting for us as designers as it allows us to think about using different materials and textures and creating real character with a building.
It also means that exterior lighting has become far more of a consideration for our clients in the last year or so.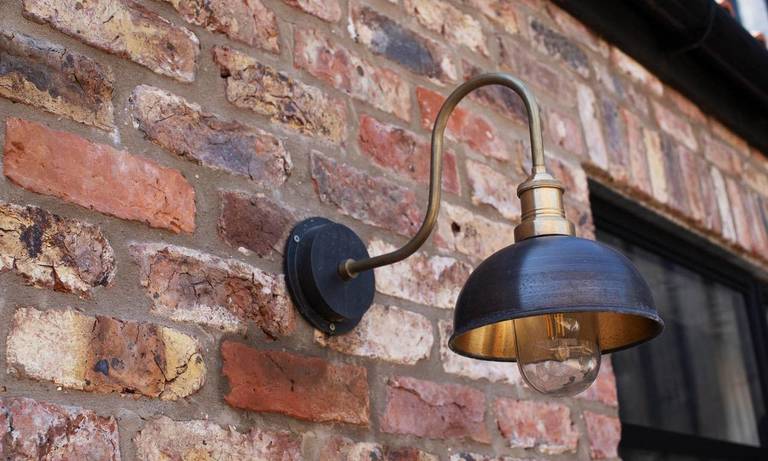 Swan Neck Outdoor & Bathroom Dome Wall Light - 8 Inch - Pewter & Brass, by Industville (Image supplied by Fresh Start Living)
Where did you discover Industville?
We came across Industville four years ago when we were researching lights for our own home renovation. We loved the rustic nature of the designs and how you could create your own light using different colours for the ceiling rose, pendant holder and the flex. They're also great quality whilst being value for money.
We've since bought various lights for ourselves and our clients and we've never been disappointed.
We have your images on our Instagram page as a source of inspiration to our customers, where do you find inspiration?
Instagram is a great place to source inspiration as a designer. There is a fantastic community of other designers on there and we all push ourselves to think of more creative designs using different materials, products and techniques all the time.
But we find inspiration in all sorts of other places too. It could be a walk in the park and we find a pattern or shape formation that inspires us. Or it could be visiting a hotel or commercial space and finding inspiration for clients' homes.
You have used our lighting in every room of the house. How did you decide Industville was the best option for the interior?
Although the Industville range of products is generally industrial and rustic in its design, there is still a variety of products to choose from.
From a simple single wall light to a statement seven-way cluster pendant. From glass to pewter, brass or copper, there's plenty of options to choose from for all sorts of different spaces.
You have created some statement bathrooms; is it hard to find stylish lighting that complies with IP rating?
Finding stylish lighting that works in a bathroom has always been quite difficult. And often clients end up thinking they'll just install a number of downlights to avoid having to find something that doesn't seem to exist.
What's great about Industville's range of products is that there are options for bathrooms and outdoor, without having to compromise on the aesthetic or the style. We've just installed a couple of Swan Neck Bathroom Wall Light in Brass in a recent bathroom project and they really finish off the space.
You have also created a stunning design with a dark wall that our brass lighting looks great on. Are bold colours often requested? What was the inspiration behind this?
Bold colours are usually quite divisive. Some people love them and embrace dark colours across their homes. Others are fearful of them and think that they'll make a room feel small, dark and dingy.
Used in the right way, dark colours can transform a dull, uninspiring space into one that evokes all sorts of positive feelings.
The living room that you mentioned is a south facing room with a large bay window and high ceilings with period coving details. It's the type of room that can really pull off a dark wall colour. But we've counteracted the dark walls with a pop of orange in the sofa, Industville's brass wall lights and a bohemian rug.
Which room of the house is your favourite to design?
This is a really difficult question. Some rooms, like living rooms and bedrooms, are 'easier' to design in some ways as there's generally less complexity.
Kitchen and bathrooms are notoriously complex to design well. But getting a space like that right gives us a real sense of achievement, especially where we've been able to bring an innovative element into the design.
Which is your favourite colour combination?
We are always naturally drawn to greens and blues as core colours in most spaces. But a pop of orange or yellow can then elevate those further.
Which of the Industville products is your favourite and why?
Probably the Swan Neck Dome Wall Light in Brass, but it's a difficult choice to make.
There's something about the swan neck that is really elegant and adds a certain wow factor. Plus the brass is warm and cosy and goes with a variety of colour schemes.
What should customers look at when choosing an interior designer for their project?
There are probably two core things we would recommend somebody does when hiring an interior designer.
The first is getting a designer involved right at the start of the process. We can be far more helpful to somebody who is starting on their home renovation journey, rather than coming in part way through the process.
There's nothing worse than starting a project where the first thing we say is "we wouldn't have put a light here" or "we'd have put the radiator somewhere else". We'd much prefer to help clients make the right decisions from the get go.
The second is to find a designer that you click with. This can be style wise, but also personality wise.
Style wise, you can usually work out whether a designer is right for you just by looking at their website, their portfolio of projects and their social media channels. But you also need to be able to have an open and honest relationship with each other. And that only comes from spending some time with that designer, either in person or on the phone
How are you finding your customers?
When we first started our business, we were finding more of our clients through recommendations than anything else.
This is still happening now. But we are finding more and more people are coming to us directly now having seen our website or our presence on Houzz. We've been working hard over the last year to enhance our website with a larger portfolio of project photos, as well as making sure we're creating useful content like our blogs.
Any tips for anyone looking to change their interiors?
Don't be tempted to follow trends and copy other people's style. Your home should reflect you and your personality so don't be afraid to do what feels right for you, regardless of whether it conforms with the usual interior 'norms'.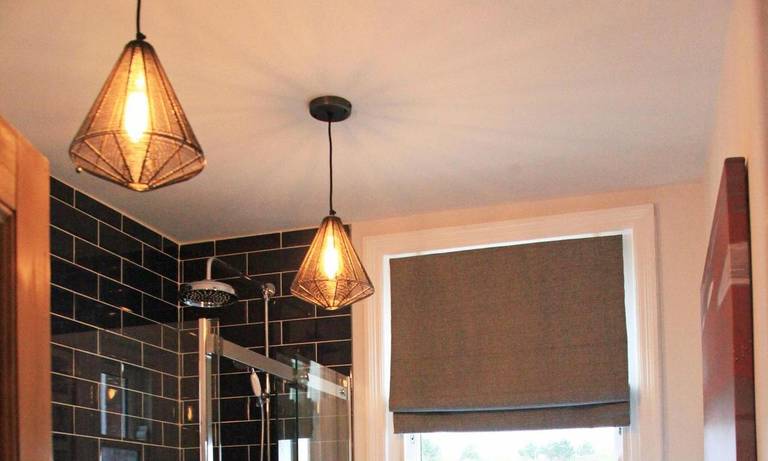 Handcrafted Wire Cage Pendant - 9 Inch - Cone, by Industville (Image supplied by Fresh Start Living)
Thank you to Fresh Start Living for taking the time to talk to us!
If you're looking for more interior inspiration, you can see Fresh Start Living's designs currently on our Instagram page. If their passion has inspired you to look again at your interior, why not browse our collection of handcrafted lights?