We are proud to present our most recent exhibition, featuring Joe Webster, a fantastic landscape graffiti artist with a strong connection to the natural world. Joe's paintings are energetic, impressionist landscapes that capture windswept Cornish seas, woods and cliffs.
By elevating graffiti, his work perfectly encapsulates the concept of urban and industrial elements underpinning a wide range of post-modern designs and styles that we like to call post-industrial. We consider industrial elements now as a design language, that is so widely adopted that it functions to support a huge range of interior styles, from Minimalism to Maximalism.
Joe Webster
Drawn to the natural world, Joe thrives in the harsh elements of gale-force winds, hail and sea foam to create artworks that reflect an at times unforgiving Cornish coastline. Being drawn to the wilderness his process plays between abstraction and realism, mirroring the natural world that is as beautiful as it is brutal.
Showroom Exhibition
Joe's exhibition at the Industville Showroom in Greenhithe runs from October 2022 to January 2023, with artwork for sale online or in-person. Seven pieces have been selected to complement the spaces and are vivid additions to a space that is, as you can expect, strongly lit with a cacophony of atmospheric light that champions the very best of the Industville range.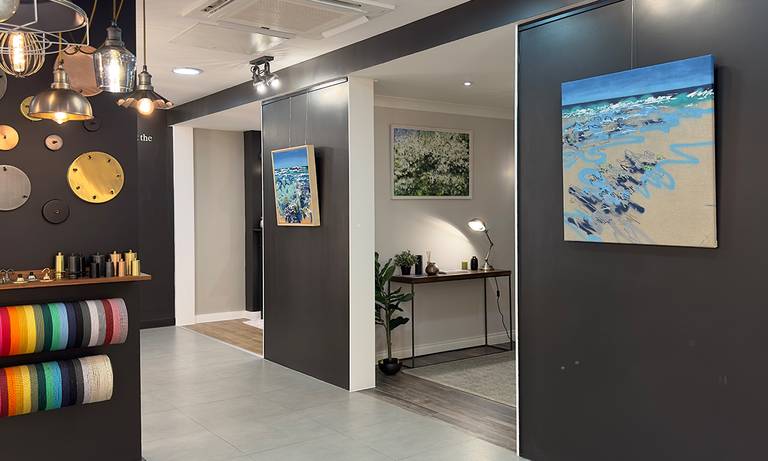 Landscape Graffiti Art by Joe Webster
Reflecting the naturally stark contrasts in the South of England's weather, Joe's art ranges from tranquil meadows to raging grey seas, manifesting these energies in the application of graffiti elements of varying intensity. Vivid colour and dramatic forms create standout pieces that are as characterful as they are elegant.
Artist Studio Lighting
Joe's studio in Devon has no shortage of Natural light, owing to an expanse of skylights throughout the space. To mirror the urban nature of Joe's work, he selected a Gunmetal Oval Industville Bulkhead to adorn his walls for accent lighting and a touch of task lighting when working as the sun recedes.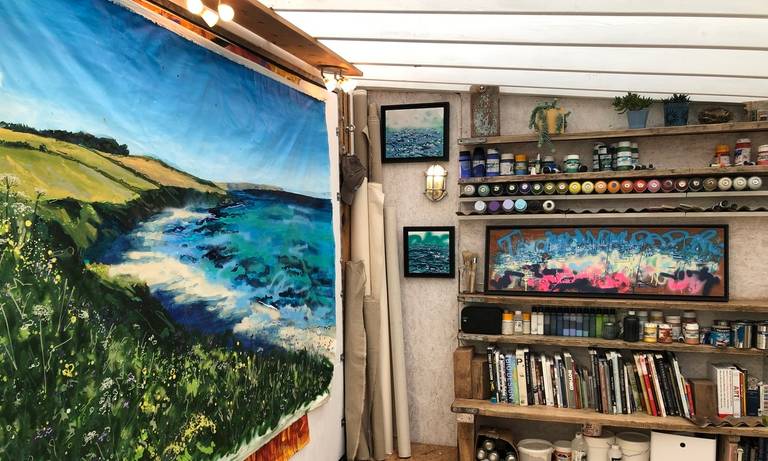 Bulkhead Outdoor & Bathroom Oval Light - 6 Inch - Gunmetal, by Industville (Image supplied by @joewebsterart)
Supporting Artists
Industville are proud to support craftspeople and artists of all kinds, providing a free platform for artists, illustrators and designers to sell or promote their work. We do not take any commission from the online sale of wall art.
We are always looking for vibrant artists of all disciplines to feature in our gallery. If you wish to be considered, please contact us at marketing@industville.co.uk or call 020 7971 7871.