Choosing the right commercial lighting can be essential for the success of your small business, whether it's a shop, cafe or office space.
Not only will the correct lights help boost the mood, atmosphere and aesthetics of your premises, but investing in the right fixtures can also help you reduce energy costs. Keeping costs down is becoming an increasingly pressing priority for all of us – reviewing your business's lighting arrangements is a simple, efficient place to start.
The Importance of Choosing the Right Commercial Lighting
Lighting plays such an important role in all kinds of interiors, helping office employees stay productive, creating inviting retail spaces where customers are more likely to make purchases or adding to the cosy ambience of cafes and coffee shops.
Consider the needs of your business and whether the current lighting solutions are best for the job. If saving energy is your goal, you'll want versatile fixtures that optimise energy output and brighten the relevant space sufficiently.
1. Opt for Energy-Saving LED Bulbs
Reviewing your current light bulbs and replacing them if necessary is often the best place to start when looking to cut down on lighting costs.
Many businesses will have already moved away from using halogen or incandescent bulbs in favour of energy-saving LEDs – if you haven't yet, this is a must. LED bulbs are far more efficient than traditional bulbs, offering the same levels of illumination for a fraction of the energy usage.
This can go a long way in reducing running costs. Additionally, LED bulbs are longer-lasting than other bulbs meaning your establishment will also save money in maintenance costs in the long run.
These days LEDs are incredibly diverse, coming in a range of styles and sizes. Edison-style LED light bulbs, for instance, provide the attractive look of classic vintage bulbs with all the benefits of modern energy-saving technology.
2. Turn Off Lights When Not in Use
Another simple place to start is encouraging a workplace or company culture that prioritises an energy-saving mindset. Remind employees to turn off lights when they're not in use and generally be more mindful of how many lights need to be on and when.
It is often worth incorporating lights with motion sensors into a space as this'll ensure they're only on when a room is in use.
If you're not using lights with sensors, stay conscious of empty meeting rooms, stock rooms and even bathrooms – if the space is not in use, do the lights always need to be on? Again this is a relatively obvious but effective step to ensure you aren't wasting energy.
3. Use Dimmer Switches Where Appropriate
Not every space in your business needs to be illuminated to full brightness at all times. In fact, slightly lower light levels can create a more pleasant, intimate atmosphere that's great for a cafe or restaurant and will be less harsh on the eyes – something that's especially important for office workers.
Using a dimmer switch with your commercial lighting means you have great control over the general mood and brilliance provided by your lights. Doing this can also provide opportunities to reduce energy usage.
When you use a dimmer switch to dim a light, less electricity is sent to the bulb, reducing costs over time. If you use a dimmer more often than not, you can also extend your bulbs' lifespan, as they won't have to use or process as much power.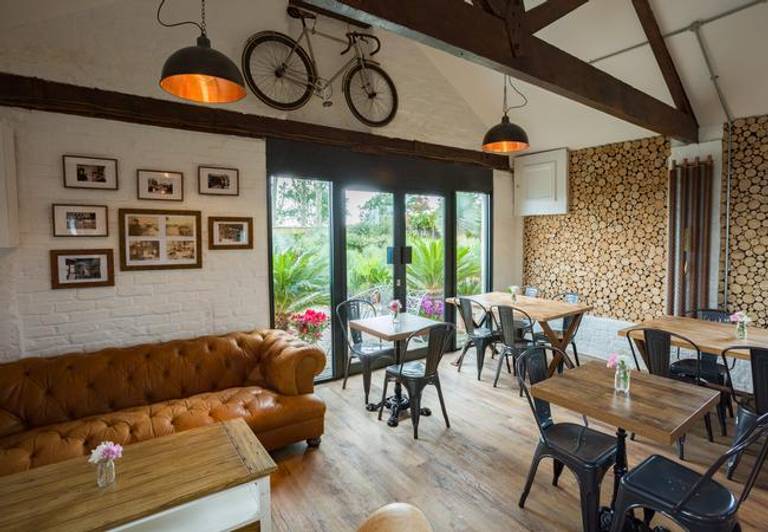 Brooklyn Dome Pendant - 13 Inch - Pewter & Brass by Industville (Image supplied by Stones coffee shop)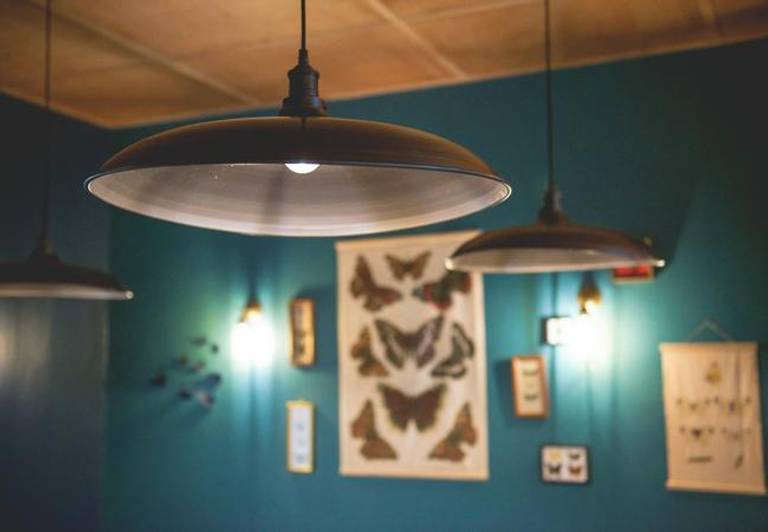 4. Consider Lighting Placement in Your Business
It is a good idea to review your current lighting placement and general setup to remove any inefficiencies here. You may not actually need as many lights as you have, leading to energy waste, especially if they are controlled by the same switch.
Consider whether the lighting layout could be reconfigured to remove redundant lights and optimise the lights that remain.
This will also include making sure you hang any pendants at the right height and place wall lights at a suitable distance apart, using them to shine light where it's most needed.
5. Make the Most of Natural Light
Don't hide windows away behind obstructive blinds or too much clutter. Maximising possibilities for natural light helps reduce the need to turn lights on during the day and can give interiors a more open, welcoming feeling.
Additionally, increased natural light can help boost people's mood, making it especially important in offices as the latest office trends lean towards embracing features designed to promote employee well-being.
Old Factory Pendant - 12 Inch - Pewter, Copper & Light Pewter by Industville (Image supplied by @gandt_interiors_)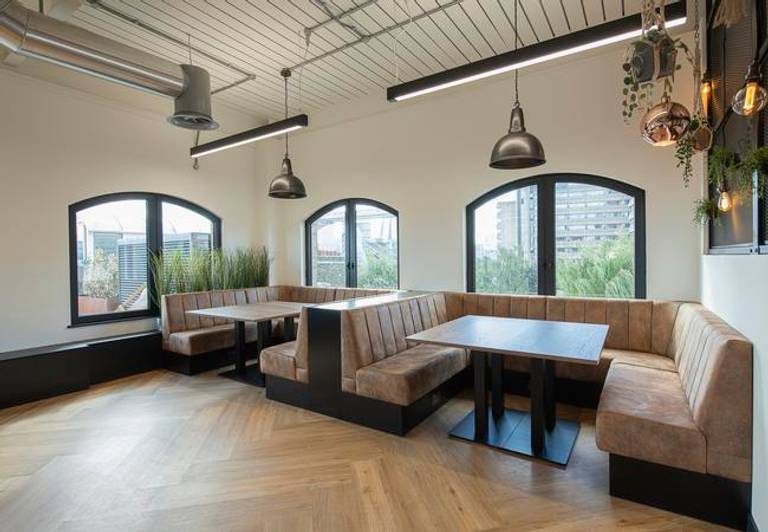 6. Invest in Commercial Lighting Solutions That'll Last
Choosing hand-crafted, expertly designed lighting that's made to last means you can reap the benefits for years to come. Even if refitting your business with new energy-efficient, sustainably-made fixtures incurs a high initial cost, this can be offset by their energy-saving capabilities and long lifespan.
Other Ways Your Business Can Save Energy & Money
Lighting is obviously not the only thing to consider when your small business is looking to save energy and cut down on non-essential costs. Other simple energy-saving methods may include:
Perform an energy audit: An audit from your utility company can help identify areas where you are wasting energy and where more efficient methods should be adopted.

Review thermostats: You likely don't need to heat or cool your premises while no one is there, so make sure your thermostats run on a timer or are set up to run more efficiently.

Power down equipment when not in use: Switching off and unplugging devices at the end of the day is a simple way to reduce 'phantom energy' usage from computers and other daily equipment.

Energy-efficient equipment: Where appropriate, make swaps for more energy-efficient office or commercial equipment. Also consider going paperless if possible, so you don't have to run a printer.

Be mindful of peak demand: Stagger workplace start times and other activities to reduce a surge in energy usage at typical peak demand times throughout the day.

Encourage energy efficiency in the workplace: Encourage staff to get involved in energy-saving practices and initiatives to retain a long-term mindset geared towards efficiency and sustainability.
If your business is ready for new, more efficient lighting, Industville can help. Our commercial lighting range is suitable for all manner of interiors, offering a wide selection of styles to complement your business's identity.
To get a quote, please get in touch with our sales team. For additional lighting inspiration for your business, explore our gallery of commercial lighting ideas.
Header image supplied by: @cocoonandbauer