Even the smallest bedrooms can be a space where you are able to relax in ultimate comfort. There are plenty of ways you can pack style and personality into smaller rooms while still preserving that sought-after sense of calm and escape.
Clever use of multi-functional furniture and strategic placement of retro bedroom lighting is vital when styling smaller bedrooms, but what else can you do to create the perfect modern bedroom when space is limited?
Stick to a Theme
Deciding on a theme can always be a useful place to start if you're not sure how to transform your interiors.
Sticking to a particular theme or design style can help make a space feel more cohesive. Choosing colours, patterns and types of furniture that complement each other and feed into an overall theme is a good way to infuse smaller bedrooms with curated style.
Whether you focus on a specific colour or delve into popular over-arching styles like industrial, maximalist or cottagecore, relying on a theme will help keep your design choices focused, allowing you to create the ultimate bedroom sanctuary.
Unique Bedroom Storage Solutions
Storage can often be one of the biggest hurdles to overcome when styling small bedrooms. Functionality is a major consideration for bedrooms as you'll likely need to store clothes and other personal items.
When dealing with small bedrooms, it's important to think about how you can advantageously use all the available space by getting creative with storage solutions.
Make that awkward alcove into a set of custom shelves or invest in under-bed storage. Window sills and ledges can also double as handy shelves.
Cut Down on Clutter
Smaller rooms can always benefit from a reduction of clutter. This does not mean that you have to fully embrace the minimalist lifestyle, but instead means you should try to cut down on extra things that don't serve you or your space.
Cutting down on clutter is all about giving your chosen decor pieces and possessions room to shine. Ensuring that everything in your bedroom has a place and purpose will help you make more intentional choices about which items should stay.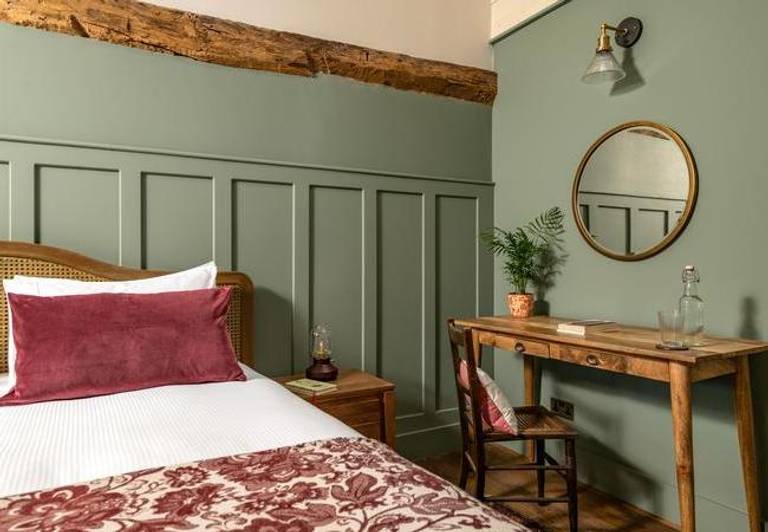 Brooklyn Glass Funnel Wall Light - 7 Inch, by Industville (Image supplied by @dovecotebarns www.dovecotebarnsyork.co.uk)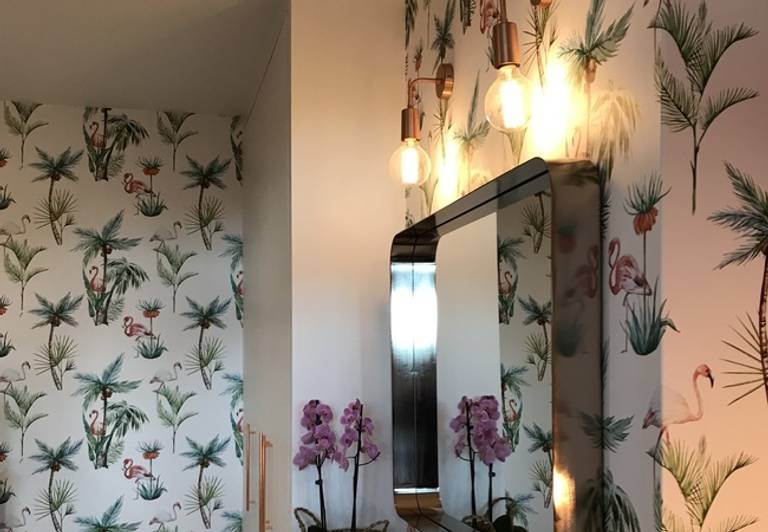 Wall-Mounted Lights
Clearing some floor and side table space can also help open up small bedrooms and make them feel more spacious.
Being strategic with your lighting choices can be really beneficial in this regard. Instead of illuminating your room with intrusive table lamps or large floor lamps, go for wall-mounted lights or sconces.
This helps you make use of wall space that would otherwise go unutilised. Here at Industville, we have a range of stunning wall lights to suit every interior design, giving you the best of both functionality and style.
Make Use of Vertical Space
Making your space more visually dynamic by adding vertical elements can not only give the illusion of a room being taller and more spacious but can also help when it comes to maximising your bedroom's functionality and increasing your storage options.
Using ladders as hanging storage is becoming an increasingly popular option for people with small bedrooms. Ladders can be used to hang clothes or towels and even used as bookshelves depending on the depth on the steps, making them great options for tighter spaces.
Using tall, thin decor pieces like bigger houseplants or vertical mirrors and art is another good way to extend the room upward.
Use Mirrors
Using mirrors is a well-known trick for opening up small spaces to give a lighter and airier feel.
Mirrors can give the illusion of continuous space, so harness this by combining different mirrors in your bedroom. You could install mirrors into wardrobe doors or use a variety of shapes to boost that feeling of openness.
Colourful Accents
You may think that small bedrooms have to be plain or pure white to convey a calming openness, but adding colour to your room can actually add more depth.
Bright, welcoming tones can help to invigorate your bedroom, especially when contrasted against a neutral colour palette or complementary hue.
Whether you choose to incorporate bright rugs or colourful splashes via art and decoration, there are plenty of ways to show off your personality through colour without overwhelming a small space.
Don't be Afraid to Make a Statement
Using dark tones to make a statement is an ever-popular trend that even rooms with limited space can embrace.
Although many may shy away from using darker colours in small bedrooms for fear of making them dingy, being bold with darker hues, whether this is through painted walls or dark furniture, can make a room feel more expansive and luxurious.
For smaller rooms, painting only the lower half of the wall can give you that added bit of depth while creating a lightness that extends toward the ceiling, making it appear taller.
Wall Murals
Maximalism is becoming an increasingly desirable trend for all areas of the home, but for smaller spaces, it can be trickier to achieve - you don't want to add back in any clutter.
Murals are a great way to embrace bold patterns and more elaborate themes without actually taking up any space in your bedroom.
You could choose a serene scene to further boost the sense of calm you're trying to achieve or go for a tapestry of colour and pattern to give your bedroom a transportive quality.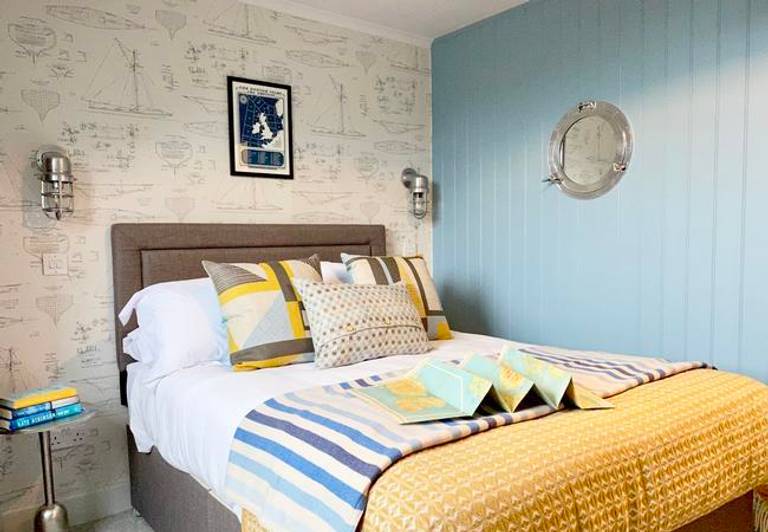 Bulkhead Outdoor & Bathroom Sconce Wall Light - 12 Inch - Gunmetal, by Industville (Image supplied by @emmaclanfieldinteriors)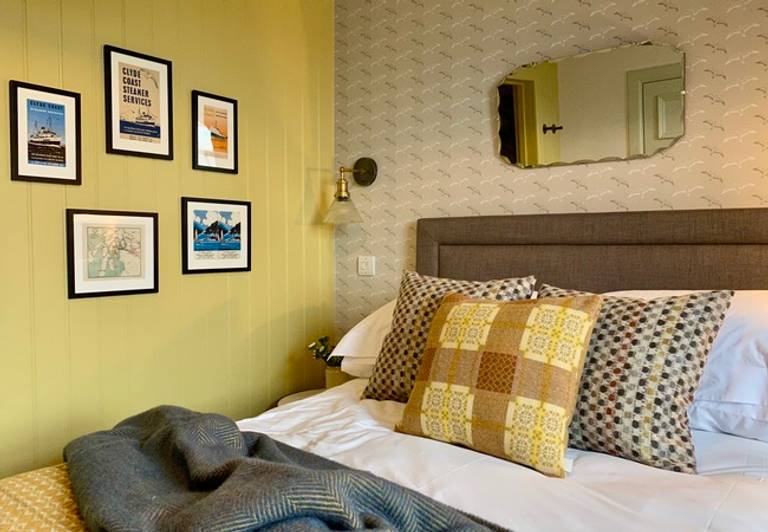 Bring the Outdoors In
Plants can enhance any room, no matter which interior design style you prefer. As houseplants are so diverse, there is lots of scope to play around with different shapes and heights to bring life and dynamic visuals to your bedroom.
Using an array of plants will make your room feel fresher, which can be especially beneficial for small rooms that can suffer from feeling too stuffy.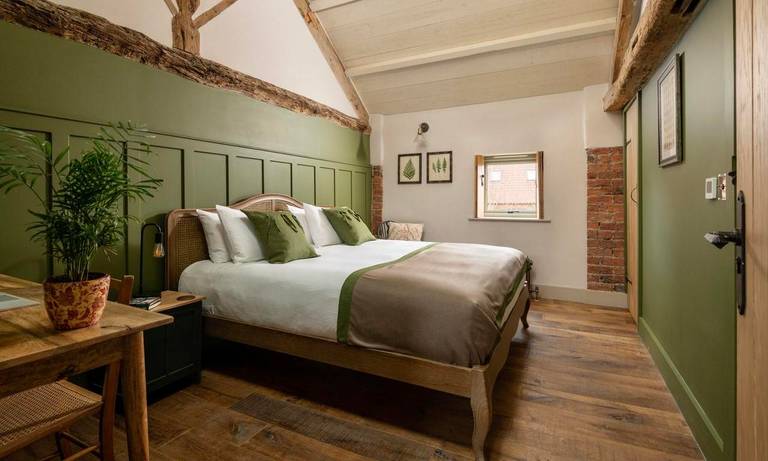 Brooklyn Glass Funnel Wall Light - 7 Inch, by Industville (Image supplied by @dovecotebarns www.dovecotebarnsyork.co.uk)
Hopefully, we have shown you that you don't have to compromise on style when tackling small bedroom design! There are plenty of ideas here to help you create the ultimate bedroom retreat, no matter the size of your space.
If you want to transform your interiors, check out our Instagram, Pinterest and Facebook pages for even more inspiration.