Our homes and interior design requirements evolve over time. At the beginning of every new year, there comes a brilliant opportunity to reflect on the trends of the past twelve months and cast our minds forward to the upcoming trends of the next year.
While 2020 and 2021 were all about creating dual-purpose living and office spaces, the trajectory for 2022 is leaning towards embracing more unique and personal designs along with highlighting the importance of sustainability in interior design.
What kind of things should you embrace as you create new interiors to complement the new year!
Bright Colour Palettes
Bold colour palettes that make use of bright blues, greens and yellows are perfect for starting the new year with a dash of cheerful optimism.
Adding small accents of vibrancy means you can constantly swap in new colours, mixing and matching the highlights to suit the season. Colours inspired by retro looks are also firm trends for the new year. This includes hues like:
Mustard yellow
Burnt orange
Vibrant pink
Earthy green
Warm beige
Eye-Catching Wallpapers
Boldly-patterned wallpapers will continue to take centre stage throughout 2022, with vibrant florals and unique surrealist patterns working their way into lots of homes that favour a striking look.
A new year brings a fresh start and the chance to experiment with your style and design; and what better way to do so than with statement-making wallpaper?
Textured wallpapers are also expected to become more popular over the next few months as they can add a sense of effortless luxury, replicating the richness of boutique hotel rooms.
Calming Blues
Along with bright colours, subdued, calming blue tones are making their way into our interiors.
With Pantone announcing their colour of the year as 'Very Peri' – a periwinkle blue – and Dulux announcing their 2022 colour as 'Bright Skies' – a grey-blue – we can see the colour asserting its prominence.
Lighter blues help promote feelings of tranquillity and peace, making them increasingly popular options for bedrooms and open kitchens.
The transition towards blue over black and greys contributes to an uplifting sense of hopefulness that many will strive to bring into the new year.
Elegant Industrial Looks
The industrial look has been making waves for years, and it's definitely here to stay. The 2022 iteration of the trend will take a more refined approach, with many incorporating one or two details like metallic industrial lights and bare floors to give a subtle taste of the look.
The elegant industrial look pairs well with numerous other trends mentioned here, giving some structure to free-flowing spaces that play with colours and patterns.
Permanent Home Offices
While many have had to make do with temporary measures, it may be time to seek a more permanent solution when it comes to creating comfortable and productive work-from-home spaces.
Even as we hope to return to some semblance of pre-Covid life during 2022, we expect the home office to remain an essential feature in many households. Refining home offices will likely include making the spaces more personal, inspiring and functional.
Even the smallest spaces can be fitted with extra storage and much-needed task lighting.
Curved Furniture
While geometric shapes and sharp lines have reigned supreme in previous years – especially in minimalist spaces – curved furniture and decor pieces with soft rounded edges are now starting to become more popular.
If you're giving your sofas a refresh for the coming year, why not consider furniture with this more dynamic profile? Curved shapes have become more desirable as many seek to make their spaces feel less rigid following the confines of the pandemic, along with the resurgence of retro 70s aesthetics.
Watch out for domed pendant lights and lamps, rounded chairs, vases and mirrors to help achieve this softer look.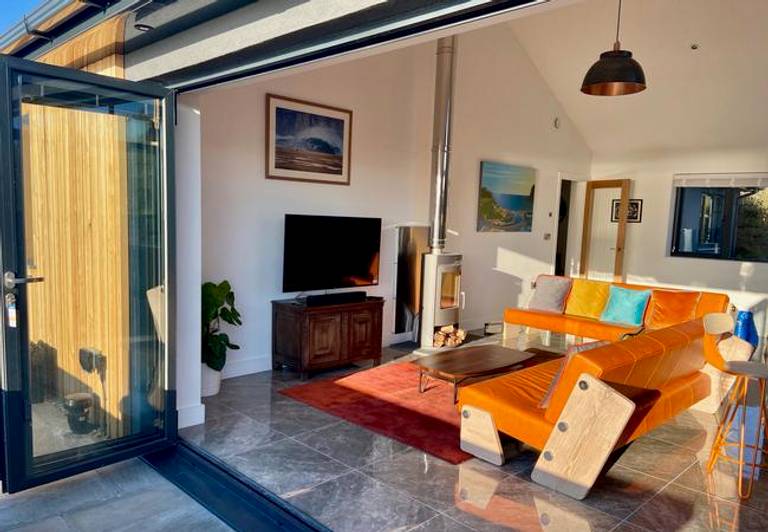 Sleek Dome Pendant - 13 Inch - Pewter & Copper, £99, by Industville (Image supplied by Cancleave Holidays)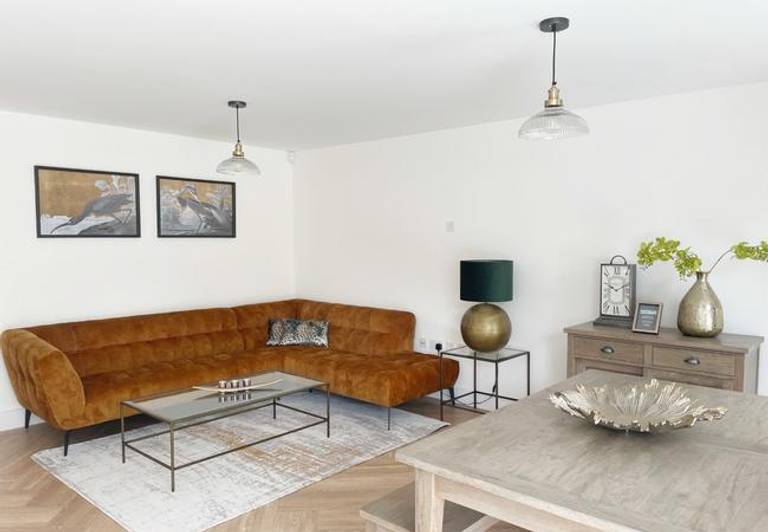 Nature-Inspired Interiors
If you're looking to give your interiors a refresh, look no further than incorporating elements from the natural world.
Investing in houseplants that purify the air can be a great way to ring in the new year. Shades of green can be particularly refreshing colours – various plants will bring a sense of vibrancy and new life to your spaces.
Earthy tones and neutral colours will likely remain popular in 2022 as they also help bring a sense of the outdoors in. Leafy and botanical patterns also contribute wonderfully to the interest in pattern-on-patterns and this yearning for natural, soothing interiors.
Sustainable Interior Design
The last few years have seen this on the list, and it's a trend that's here to stay. In 2022, sustainable interior design will be all about investing in durable furniture and decor that's going to last.
This also means that more and more people are seeking timeless pieces rather than mindlessly following every trend that gains traction.
More mindful design might include incorporating:
Antiques and second-hand items
Items made with natural materials
Long-lasting items made with sustainable methods.
Outdoor Spaces
When considering the design of your home, outdoor spaces may be the last on your list. However, as the way we entertain and welcome guests in our homes has changed due to social distancing, elevating outdoor porches and patios is becoming more of a priority.
Renovating gardens and outdoor spots to include dining areas or spaces to relax comes with many design opportunities and creates a whole new element for you to experiment with.
Flexible outdoor furniture is a key element when it comes to transforming gardens and courtyards into places where you can host outdoor gatherings and parties in style.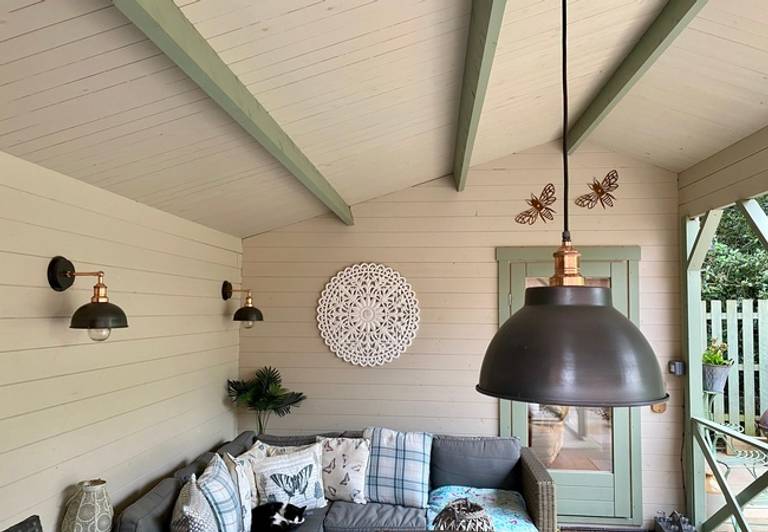 Brooklyn Outdoor & Bathroom Dome Pendant - 13 Inch - Pewter & Copper, £149, by Industville (Image supplied by @Gardener_on_theedge)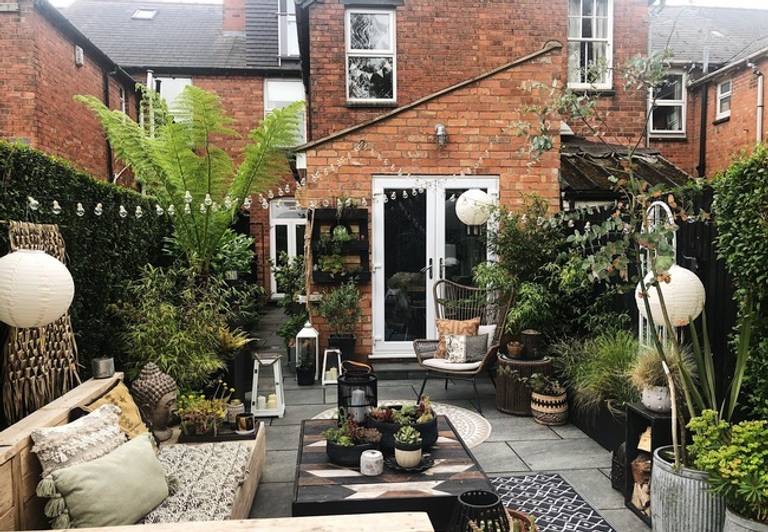 Have we inspired you to start your 2022 interior makeover? There are loads of great ideas to bring into the new year to help elevate your space to the next level. If you can't wait to get started, check out our stunning range of vintage lights – you're bound to find the perfect style!
If you need a little more inspiration, head over to our Facebook, Instagram and Pinterest pages, where we post every day.
Header image credit: Chris Snook Photography / @snookphotograph