Creating interiors that effortlessly exude luxury isn't always about picking the most expensive designs and decorative items you can find. Even just knowing which colours, patterns and materials to embrace is a great place to start when you want to capture a sense of limitless luxe and sophistication.
The past few years have seen a rising interest in the so-called 'royalcore' aesthetic, with interior enthusiasts reaching for hints of opulence inspired by royal interiors, often with different historical influences.
With gorgeous photos of this aesthetic circulating social media and the buzz around the Queen's Jubilee celebrations, you might just be inspired to adopt the lavish style in your own interiors!
Here's how to get a royalty-inspired look for your home.
How to Add Luxury to Your Home on a Budget
You're unlikely to reach Buckingham Palace levels of extravagance, but that probably isn't your goal – and it also doesn't mean you can't take inspiration from a bit of lush royal elegance when you're itching for your next interior makeover.
Maximalists will find lots to love with this look's characteristic extravagance; think a combination of bold metal details, vibrant colours, plenty of luxurious materials and rich patterns.
However, a sense of luxury can also be achieved with a more subdued, minimal look if that's your preference. Our top tips for executing a luxurious interior design can be adapted to suit a range of interiors, with plenty of royally good ideas to elevate your space.
Modern Chandelier Ceiling Lights for Living Rooms
Ornate chandeliers are staples of palaces and stately homes, with these glittering crystal lights being a hallmark of luxury. Modern cluster chandelier lights provide this same statement-making look with a slightly more updated and versatile feel.
These fixtures can work especially well in living rooms or kitchens, providing a sense of grandness without feeling disconnected from the rest of your modern home like a traditional chandelier might.
Cluster lights make a unique focal point, giving you a chance to showcase your style while providing a pleasant atmosphere.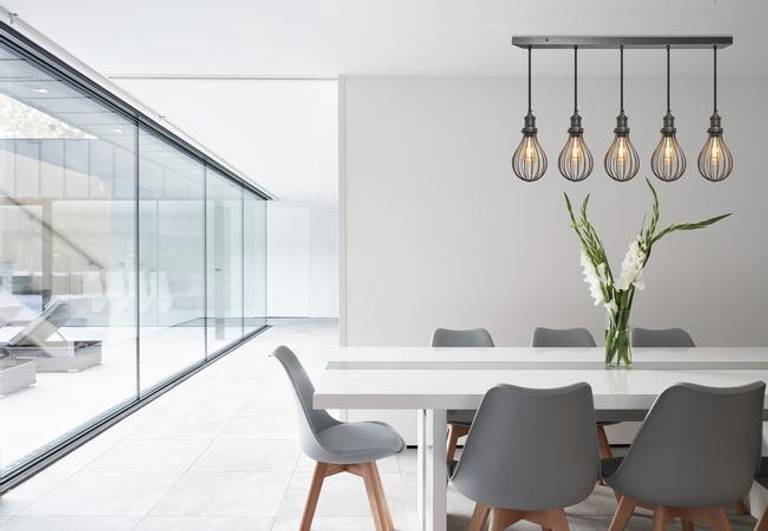 Brooklyn Balloon Cage 5 Wire Cluster Lights - 6 inch - Pewter by Industville (Image supplied by Andy Haslam photography)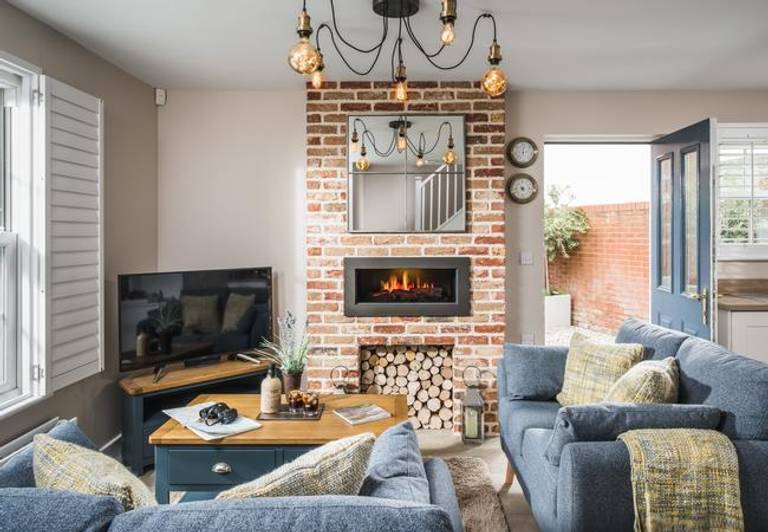 How Can Lighting Add Luxury?
Getting the lighting right is essential for any interior, but you might not have considered how it can add a sense of luxury and contribute to an overall feel of sophistication.
Different layers of light create a more inviting ambience, which determines the mood of the space. Dimmable LED light bulbs allow you to experiment with how light levels play with natural light and contribute to different moods.
Pairing similar style wall lights with pendant ceiling lights can also give your space a cohesive and professionally-styled look, further adding to that sense of effortless luxury. The Industville lighting range offers a diverse selection of refined modern lights, ideal for giving you kitchens, living rooms, dining rooms and bedrooms an instant boost.
Vintage Furniture & Antique Room Decor
Royalty-inspired looks are steeped in history, with many historical aesthetics closely tied to the monarch of the period. So, it's no surprise that chairs, coffee tables, mirrors and other vintage features with classic silhouettes make a great addition to this look.
Because of their inherent history, antiques are often accompanied by a sense of sophistication and luxury. They tend to be well-made and stand the test of time, taking on a personality all of their own.
Made with good quality materials, vintage furniture adds an element of refinement and tradition into your space. Ornately detailed dark wooden furniture is especially good for achieving a grand yet livable look.
Luxurious Fabrics & Interior Design Materials
Luxury interiors make the most of all the senses, so incorporating a rich tactile experience into your space offers yet another luxurious layer.
This could be as simple as adding a couple of velvet-feel cushions and blankets to your sofa or reupholstering chairs with plush new materials to refresh and refine them.
Luxe rugs, curtains and throws in rich jewel tones can also be particularly good ways to introduce more texture and points of brightness into your living room or bedroom.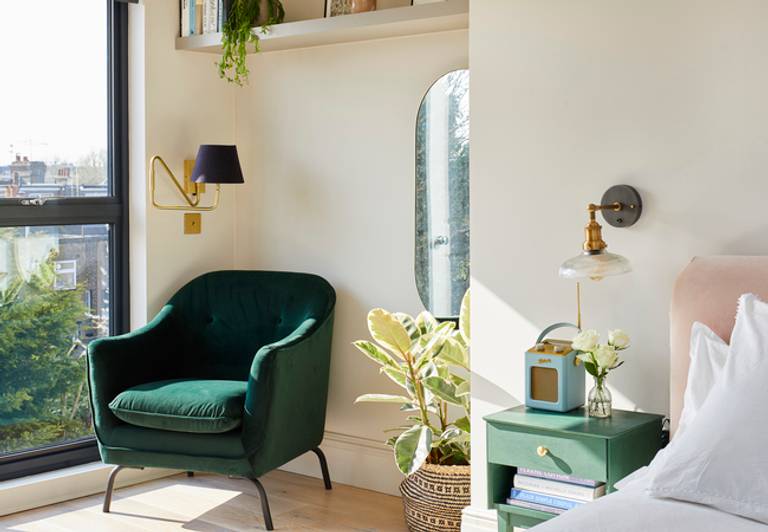 Brooklyn Glass Dome Wall Light - 8 Inch by Industville (Image supplied by @lunaslittlehouse and @snookphotograph)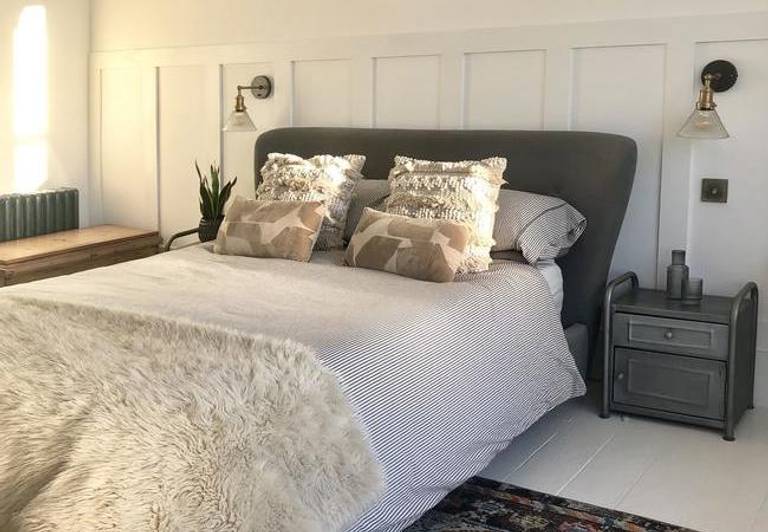 Simple & Bold Colour Combinations For Your Interiors
Bold or pastel colour schemes both work equally well in luxury-look interiors as a sophisticated look often relies on how you bring different elements together and how the little details contribute to the overall effect.
Neutrals and pastels have a romantic, whimsical effect that is great for people who want to take an airier approach to luxurious interiors. Deeper tones like red, purple, gold, emerald and, of course, royal blue are great for providing drama or vibrant bursts of colour in an otherwise subdued space.
Royal blue pairs beautifully with pale neutrals like white or beige as they highlight the depth and effortless sophistication of the colour. Combine a royal blue sofa or wallpaper with gold, brass or copper details for a modern palatial feel.
How to Use Patterned Wallapaper to Create Luxury Interiors
Incorporating wallpaper with bold florals or royal-look motifs is a relatively easy way to add that wow factor to your space.
Embracing richly patterned wallpaper gives the impression of stylish elegance and visual texture. Textured walls or intricate wall hangings also work well to incorporate another rich dynamic layer to your interiors.
If you don't want to commit to an entire wall that embraces extravagant patterns, featuring pieces of stunning artwork can function in the same way. Pair your favourite piece with a gilded frame, and you'll be left with an undeniably luxuriant effect.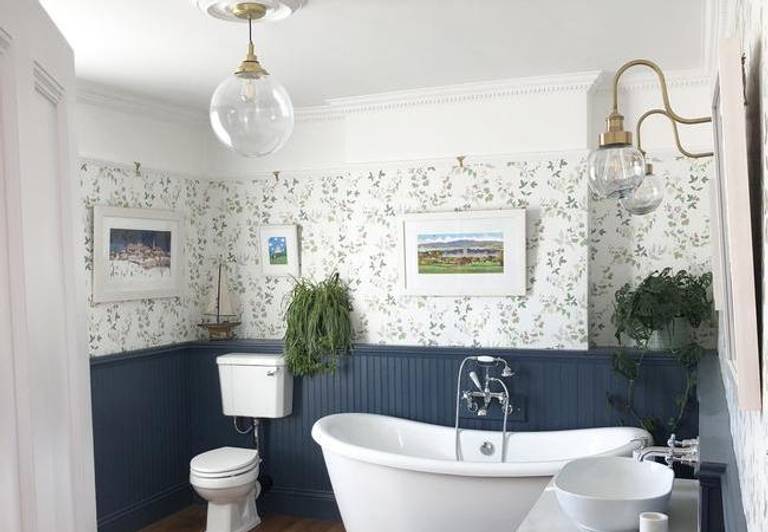 Swan Neck Outdoor & Bathroom Wall Light - Brass - Globe Glass by Industville (Image supplied by @a_victorian_house)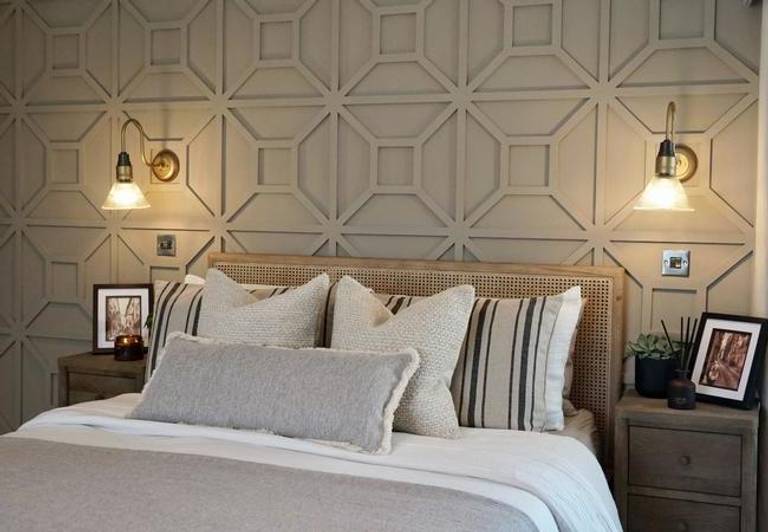 You may already have some of the above-mentioned elements in your home that you could reframe, refresh or put a new spin on!
What is considered 'luxurious' may differ from person to person, but with this selection of royalty-inspired interior touches and design tips, you're sure to awe guests and create unique spaces where you can relax in refinement.
Will you be embracing any of our luxury interior ideas?
Header image credit: Fawn Interiors Studio