The last few years have seen the rapid rise of maximalism in the mainstream design world, with more people steering away from minimalist colour palettes and simple motifs to instead opt for something that packs more of a visual punch.
One of the easiest ways to transform your interiors with this notion in mind is to incorporate wallpaper – think intricate patterns, bold colour combinations and eye-catching installations! However, decorating with wallpaper can be hard to get right, especially when certain patterns or kinds of wallpaper often seem to dip in and out of fashion.
We've rounded up some of our best wallpaper design tips to ensure your interiors confidently exude refinement and style.
How to Decorate a Room With Wallpaper
Painting over a wall colour when you want a change is simple enough, but switching out your wallpaper is a more elaborate process, so choosing the right wallpaper and installing it in the best place for your interiors is important.
Wallpaper can be a defining feature in your home, helping dictate the mood and theme of a space. There are several things to consider when choosing the perfect wallpaper, including:
The scale of the pattern
How the pattern and colours interact with existing furniture and art
Where you install it
Longevity – in terms of durability and the timelessness of the style
Like most design features, your main concern will likely be aesthetics – which wallpaper design speaks to your personal style and complements the look embraced in your interiors?
Do: Get a Wallpaper Sample
If you get a sample, you can see how your potential design would look against existing features and your current interior style. This ensures you don't excitedly put up new wallpaper only to realise that it does combine well with all your other decor.
As you'll likely be living with your wallpaper for some time, it's best to start with a plan. Try out different samples to get a feel for how different patterns and colours will transform your space.
Do: Pay Respect to Timeless Styles
Keeping track of the latest trends is essential when designing your home. Staying up to date with the best colour pairings, unique furniture styles or new light designs can all help you inject your own personality into your interior.
However, it's important to remember that trends can change, making it equally as important that you combine aspects of these new styles with timeless elements of design to make something unique to you. In a world dictated by a fast turnover of information, using accessories, furniture or fixtures in your home that evoke a timeless style can be seen as something to anchor your interior design to.
These timeless pieces don't need to be changed with the seasons, instead lasting year after year, saving you money on home makeovers and proving to be a more sustainable option.
Do: Seek Wallpaper Inspiration
With so many wallpaper textures, patterns, colours and ways to incorporate it, it can be easy to become overwhelmed when deciding on the right look for your space.
Social media is a great tool to use when seeking inspiration. Instagram and Pinterest are full of unique and creative designs that may prompt an idea for your interiors. This will be especially useful in the planning stage when you're deciding whether you want to wallpaper a whole room or limit yourself to a feature.
TV shows can also be a great source of inspiration, especially as historical shows with lavish, wallpapered interiors increasingly adorn our screens.
Don't: Limit Yourself to One Room
Wallpaper has always been a staple for living room and bedroom walls, but this doesn't mean you can't venture into other rooms. Wallpaper in bathrooms and kitchens might seem counterintuitive as these spaces tend to get wet or dirty, but wallpaper specifically designed for these spaces is more than up to the challenge.
There is no rule saying you can't wallpaper behind your bathroom sink, for instance – in fact, it can offer a fantastic effect!
Also, don't feel like you have to limit yourself to installing wallpaper to just one room in the house – mixing and matching different colours, patterns or themes across the house is a great way to express your style in its entirety as you move from one space to another.
You can also take this opportunity to think outside the box when it comes to where to install your wallpaper. Installing wallpaper in unexpected areas like the front of each step of your stairs or even your ceiling are great ways to incorporate your favourite wallpaper designs.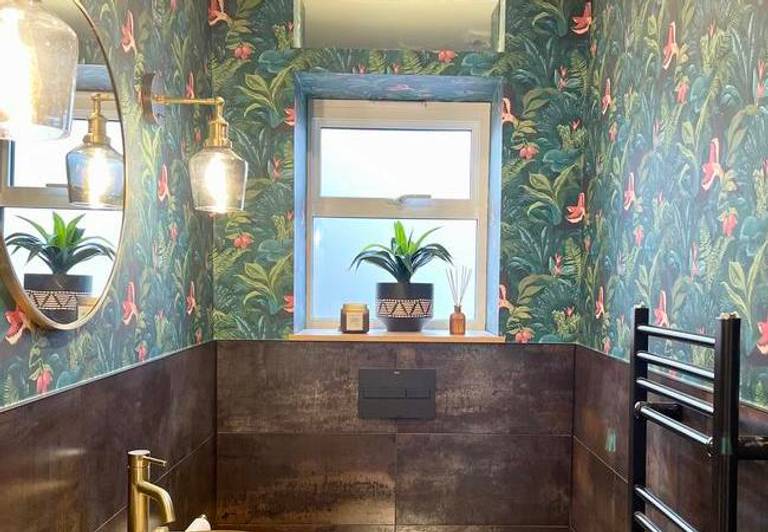 Brooklyn Tinted Glass Schoolhouse Wall Light - 5.5 Inch - Smoke Grey by Industville (Image supplied by Claire Rebecca Interior Design)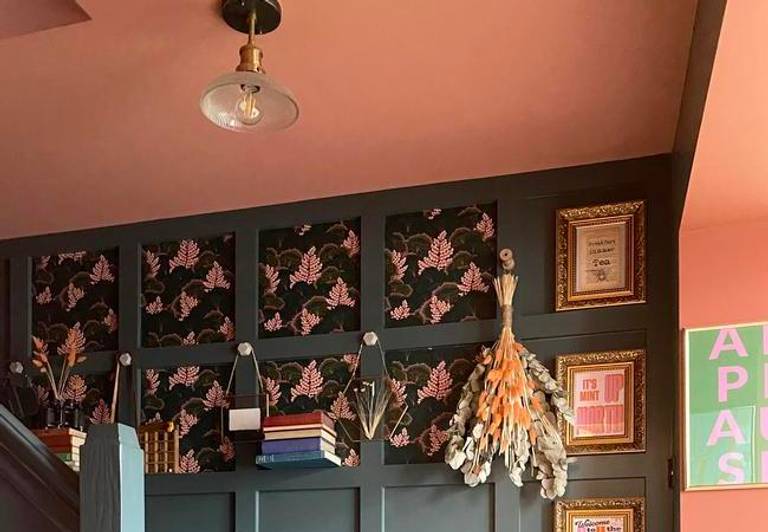 Do: Take Creative Risks
Despite the practical considerations you'll need to make, for many, decorating with wallpaper offers an opportunity to consider fresh designs and provides a new avenue to express creativity.
Bold, colourful patterns can leave a lasting impression, so if you find something you love, why not go for it? Your home should be an expression of yourself and how you'd like to see the world after all!
Don't: Forget About Scale
Think about the size of the space you plan to wallpaper – large-scale prints won't work as well if you're wallpapering a smaller room or alcove, as the pattern will be broken up and won't provide the intended effect.
Similarly, small-scale prints in larger, more open rooms might make the space feel fussy or too elaborate.
Wallpaper can be great for adding dimension, but getting your pattern to room ratio wrong can skew the proportions and overall balance of the room.
Do: Use Wallpaper to Highlight a Space
An interesting wallpaper can make all the difference to a drab space and will help add definition to create different zones or moods within a larger area.
Incorporating wallpaper in entryways, dining rooms, behind shelves or kitchen backsplashes adds a sophisticated infusion of style while highlighting the space and ensuring it stands out against a more neutral interior.
Don't: Forget About Texture
For many, the draw of wallpaper lies in the wide range of eye-catching colours and unique patterns available, but there are plenty of options to choose from if you're looking for a more subtle wow factor.
Textured wallpaper is ideal for more minimally designed spaces that have subdued colour palettes as they provide an element of interest and additional dimension. Don't think that bright florals are your only option.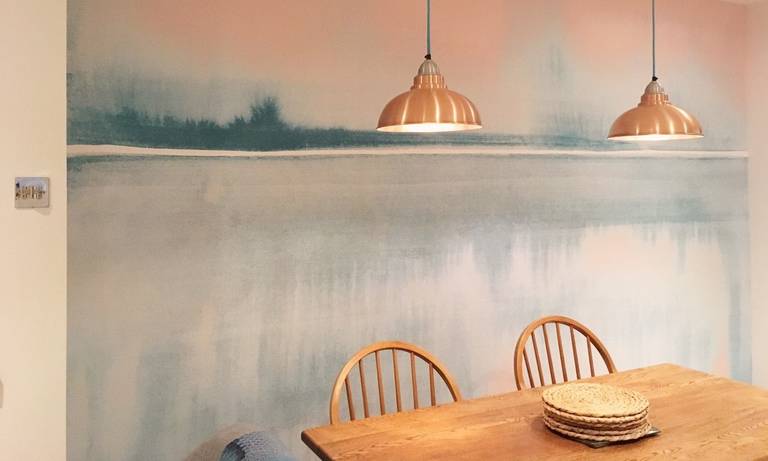 Old Factory Pendant - 12 Inch - Copper by Industville (Image supplied by Jennifer Smith & David Eyre-Walker)
Do: Highlight Wallpaper with the Right Lights
Once you've chosen your wallpaper, you'll want to make sure the rest of your interiors do it justice. And what better way to do so than by highlighting your new design with some stunning lights?
Wall lights make particularly good options here, as metallic sconces will stand out against any style, adding a refined gleam and casting a warm glow over your wallpaper's details. Our diverse selection of stylish wall lights is available in various shapes, sizes and finishes, so you can choose the perfect fixture to match with your wallpaper.
Are you renovating a space or want to give your interiors an instant refresh? Browse our modern and retro-style lights now to get inspired.
Header image credit: @snookphotograph, Designed by: @eveydunbavinhands