Want to return to a home that exudes elegance and luxury? A quick internet search will show how many potential ways there are to make your interiors look and feel more expensive, but one of the easiest ways to give your rooms an elegant boost is with carefully considered lighting.
Whether it's contemporary living room lighting or sophisticated dining room pendants, lights can add something special to any room, instantly changing the character and mood of the space. They can provide that somewhat elusive sense of elegance, no matter your preferred interior design style.
Perfect your interiors with some of our favourite elegant lighting ideas.
1. Refresh Your Light Fixtures
Simply updating your existing light fixtures with a new shade or bulb can be a great, inexpensive way to bring fresh hints of elegance and refinement to your space.
You may see lighting as a small detail or purely functional addition to a room, but the right lights have the power to transform a space, creating new points of focus, introducing clean lines and becoming decorative art pieces in their own right.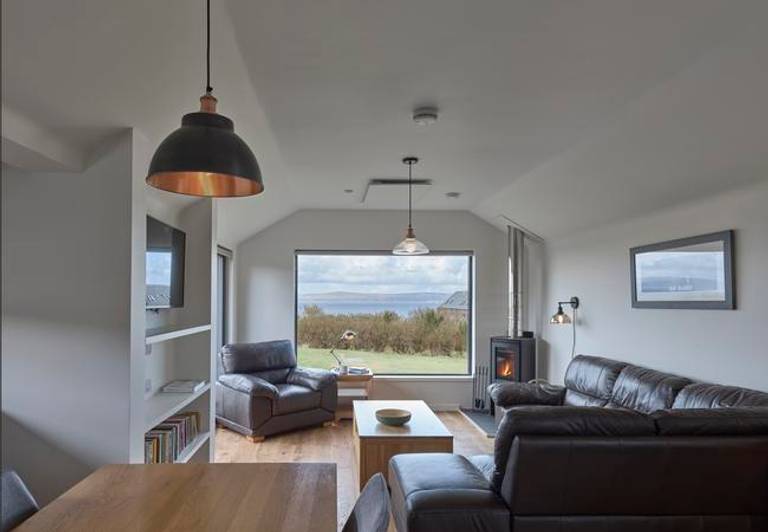 Brooklyn Dome Pendant - 13 Inch - Pewter & Brass, by Industville (Image supplied by Monkstadt / Andy Haslam photography)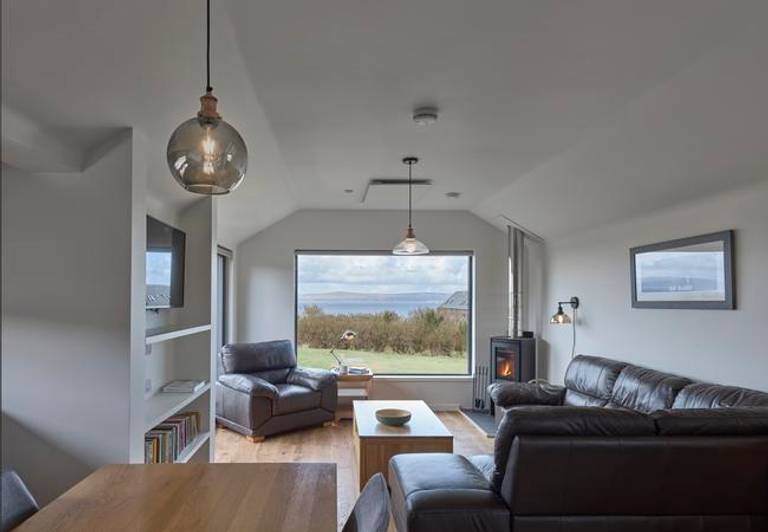 2. Customised Light Fixtures
Opting for lights and other pieces of furniture that are unique to your space is another good way to give your home that more elegant, expensive feel. Custom lighting, where you've hand-picked different elements, offers a more bespoke look, showing off intentional style rather than the same basic fixtures you'll see in every other house.
At Industville, many of our designs can be customised with the option to mix and match various holders and shades, the choice of a range of finishes, numerous sizes and different coloured light cables. These options allow you to create unique lights curated specifically for your space.
3. High-Quality Handcrafted Lights
When it comes to making your home look more refined, it's best to invest in pieces you know are going to last and stay looking sleek for years to come. Timelessness and elegance go hand in hand, so it pays to choose versatile, effortlessly elegant light fixtures that aren't just catering to a fleeting trend.
Lights made with high-quality materials and a handcrafted finish help you achieve this, also embracing this idea of uniqueness.
4. Modern Chandelier Lights
Chandeliers have a reputation for adding grandeur and an element of luxuriousness to the home. Modern cluster chandeliers offer a sleek contemporary twist on the classic look, providing new ways to illuminate kitchen counters and dining tables.
These lights are made up of a collection of pendants, incorporating elegant lines and dazzling style into any room where you want to make a statement.
5. Oversized Pendants
Like cluster chandeliers, a giant or oversized pendant offers a new focal point and area of interest in your room. Bold lighting looks give your home a sense of being professionally and meticulously designed.
Oversized pendant lights work especially well to add eye-catching refinement to hallways with high ceilings or over tables and counters, creating distinct pools of light.
6. Tinted Glass Lights
For a hint of colour and a rich atmosphere, opt for tinted glass lights. The smooth finish and delicate glass offer a classic feel with a refined modern twist. Glass fixtures diffuse light beautifully, especially when paired with a tinted finish.
We can offer smokey grey and warm amber finishes to bring shining hints to your final design. They make stunning, elegant additions, no matter if you need a pendant or series of wall lights.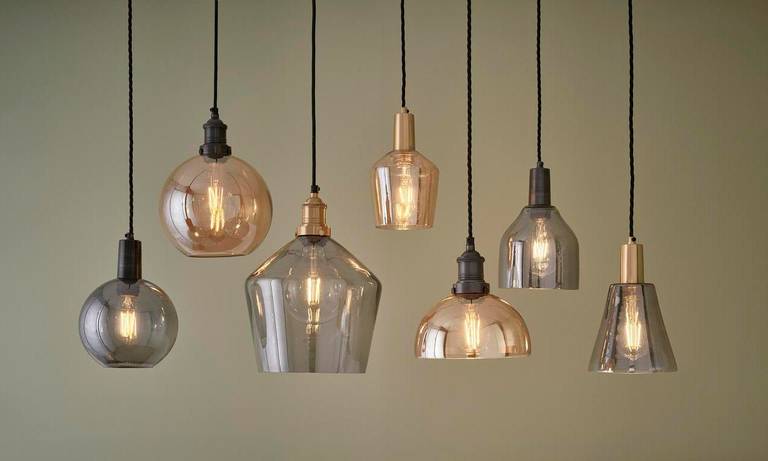 Brooklyn Tinted Glass Schoolhouse Pendant - 10 Inch - Smoke Grey & other tinted glass products by Industville (Image supplied by @andyhaslamphoto)
7. Multiple Light Fixtures
Create a lively, layered look with different types of lighting fixtures. Embracing wall lights and table lamps, along with pendants, perhaps of different sizes, can help create various zones within a room, giving the space a more textured feel.
Using varying kinds of fixtures in the living room is a good way to create a cosy ambience while still incorporating the sense of effortless luxury afforded by multiple points of illumination. Keeping your lights in the same family style or finish also allows for a sleek, cohesive look.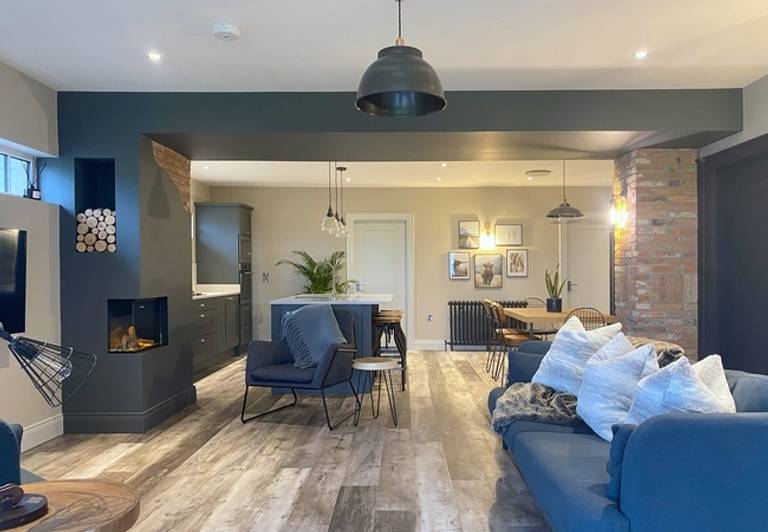 Brooklyn Dome Pendant - 17 Inch - Pewter, Brooklyn Step Pendant - 16 Inch - Pewter, Brooklyn Glass Cone Pendant Light - 7 Inch & Sleek Edison Wall Light - Copper by Industville (Image supplied by @the_hideaway_ni)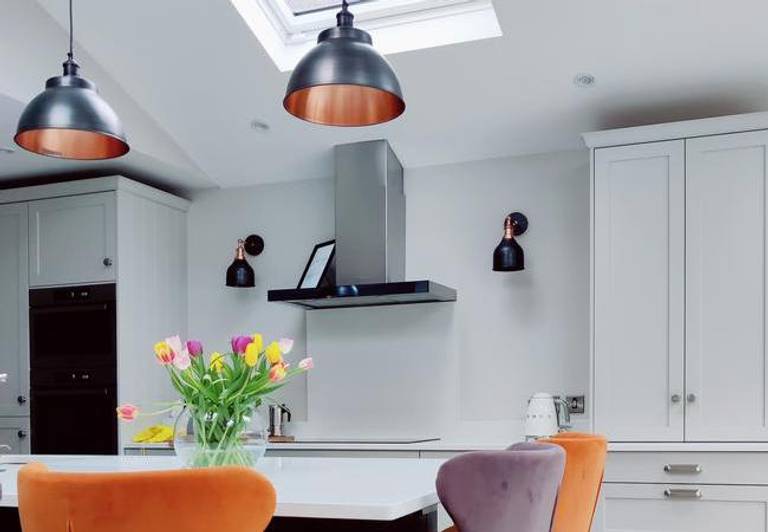 8. Light Bulb Colour Temperature
It's also important to pay attention to the quality of the light itself. You'll want to use the right light bulbs and a colour temperature that adds to the particular ambience you want to create.
Light bulbs with cooler light can seem harsh or too clinical in the home. Our vintage Edison-style light bulbs tend to range between 2200k and 2700k, which shows as a golden white light on the slightly warmer end of the colour temperature spectrum. This kind of colour temperature is ideal for home interiors, creating relaxing, easy-on-the-eyes spaces with enough brightness.
9. Front Door Lighting
Why not make the best first impression by giving a bit of love to your front porch? We often neglect this area of our home, but lights to illuminate your front door are not only highly functional, but they can also set the tone for your interiors, inviting guests.
A pair of swan neck wall lights framed on either side of your door offers a particularly elegant aesthetic, accentuating the dynamic nature of your entryway.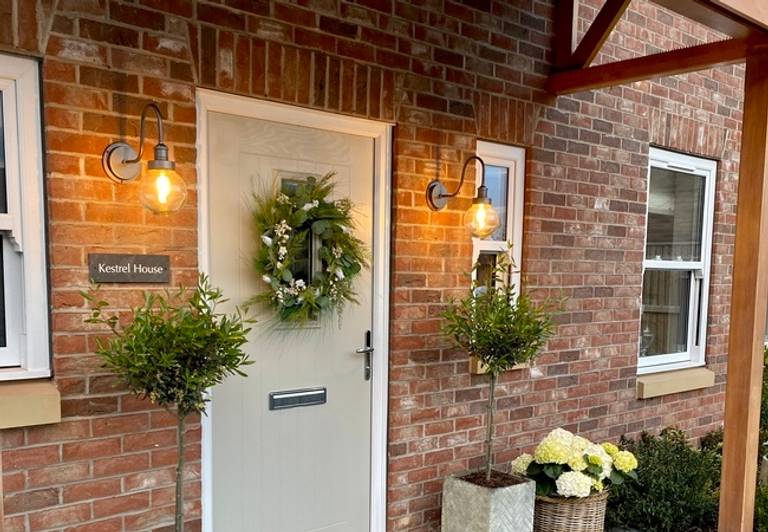 Swan Neck Outdoor & Bathroom Wall Light - Pewter - Globe Glass by Industville (Image supplied by @ourruralnest)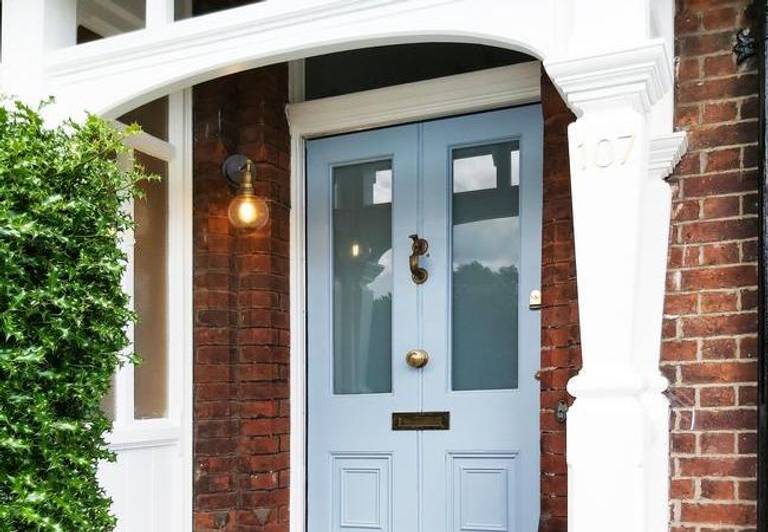 Feeling inspired? The Industville lighting range is home to an extensive variety of lights, whether you're after metal or glass shades, pendants or wall lights or any kind of fixture to help define and perfect your rooms.
Explore our full range of lights to discover the perfect piece to add effortless elegance to your home.
Header image supplied by @willmundydesign & @markhardycreative