As the weather hots up its only right for us to mention the hottest new trend to have hit the interior design world in 2015. Copper is here and it is everywhere. Recognisable for its reddish hue, Copper is a hot new metal working its way into every type and style of interior projects!
Copper's surprising versatility appears to be the reasoning behind its continued popularity within interior design. The variety of tones, finishes and textures allow for copper to be used in an inveritable feast of creative schemes. The growing popularity of greys and blues within interior design works extremely well with pinkie tones of copper. Our own redesigned Industville Showroom in Dartford is the perfect backdrop for our exciting new launch. In testament to its versatility though, copper works equally well against warmer tones too, showing that the possibilities truly are endless.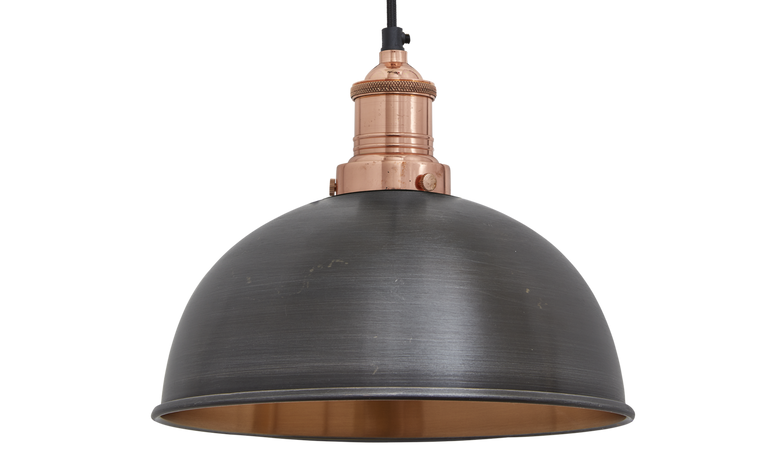 Brooklyn Dome Pendant - 8 Inch - Pewter & Copper](https://www.industville.co.uk/products/brooklyn-dome-pendant-8-inch-pewter-copper-1), by Indusvtille (Andy Halsam Photography)
As the popularity of the Industrial style continues, the use of Copper both softens and adds an attractive warming quality not typically associated with the style making it perfect for use in more domestic spaces where the demands are to create a softer and more cosy effect. Copper is also a great addition too many bars, hotels and restaurants as it maintains the illuminating aspect of the metals and metallic tones whilst adding an uplifting and dramatic grandiose quality to the space.
At Industville, we are proud to present our new Vintage Copper Lighting Collection! This beautiful new range features a selection of our most popular designs from the existing collection hand crafted in a hot copper hue. We have purposely designed the collection to allow you to bring as much or as little copper as you like into your design project. This new collection works particularly well with our range of Vintage Edison LED Filament bulbs, as their warm white glow really works to bring out the rich tones in the copper to create a beautiful effect perfect for domestic interior projects and commercial spaces alike.
The Collection features a wonderful range of light fittings, from statement copper pendant lights for an instant upgrade to a more subtle hint, with our new copper holders, for both pendants and wall sconces, that can be used with any of our existing Brooklyn range for those who wish to create a more restrained and sophisticated interior effect. We personally love the combination of our classic pewter shades with the copper holders, with copper adding a beautiful warmth and dimension to the light fitting as a whole.
At Industville, we are so excited at the introduction of this new Retro Copper Restaurant and bar Lighting Collection to our lighting repertoire and think these products will be an exhilarating and rejuvenating addition to our current collection just in time for summer!