Metallic materials will always have a place in trendy, uber-cool design magazines, but this year introduces copper as the new black. When it comes to this season's trends, copper is unparalleled and provides a welcome escape from the cold, stark stainless steel fixtures that have dominated interior design for far too long!
How to Make the Most of Copper in Your Home
Copper usually works best in kitchens and bathrooms, but, when integrated correctly, can become a credit to any room in the home.
Copper in the Kitchen
First and foremost, kitchens need to be practical, but they also need to look good. For those who value both points, copper is a hard, easy-to-clean surface that also happens to be bang on trend. Kitchens are the place for exquisite food creations, succulent home-baked smells or, at the very least, the spot for a quiet cup of tea. As such, being brightly lit is of paramount importance, and copper pendant lights that hang down will do so perfectly, particularly if you have an island as the focal point of the room. You can complement these shades without forking out for a complete kitchen refurb, opting for copper cupboard door handles, kitchen utensils, or even taps. This is an easy way for even the most amateur of interior design enthusiasts to 'tap' into the trend!
Copper in the Bathroom
The bathroom is arguably one of the most important rooms in the house. It's where you start and end your day, and for some, it's the only place you can grab five minutes to yourself! If you're looking for something completely different, why not opt for a free standing bath in gold or copper for a show-stopping finish? Matching the main feature of the room with copper lighting will highlight the minimalist, industrial vibe and give you free reign to contrast with other textures and colours. Again, practicality is key when it comes to the bathroom, and copper is a go-to for many, thanks to both its resistance to rust and its warm, relaxing aesthetics. In this sense, copper interiors are as practical as they are indulgent.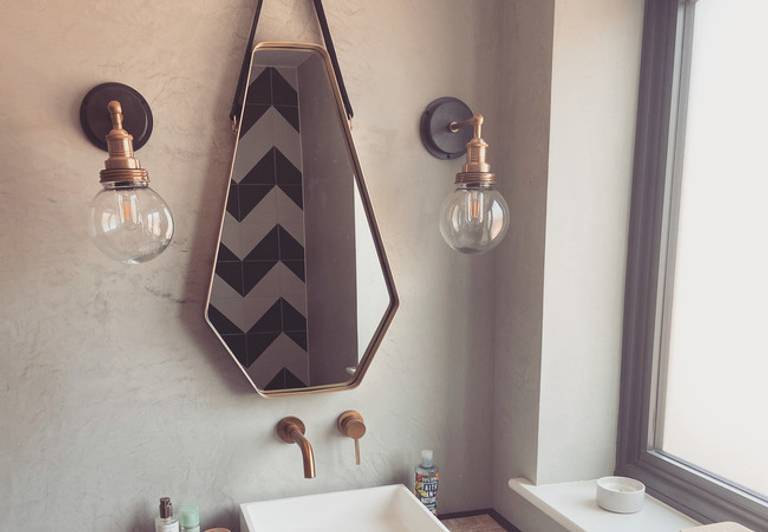 Brooklyn Outdoor & Bathroom Wall Light - Copper, by Industville (Image supplied by Caz Perry / @interiors_fangirl)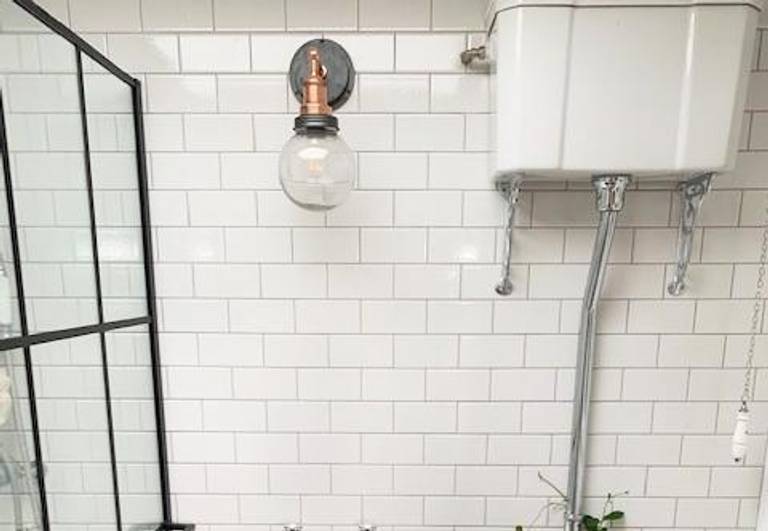 Copper Everywhere Else!
Copper is a fabulous material to experiment with, regardless of the room you're looking to incorporate it into. Below, you'll find a few general styling and décor tips to take into consideration before you take a one-way journey to Copperville.
Set copper against a plain background. It goes without saying that for the minimalist, industrial style to have maximum impact, the colours need to stand out. Neutrality will draw the eye to the warmth of copper from the moment people enter the room, but shades of white will work notably well. Include a mix of patterns, prints, distinct shapes and textures to help break up the monotony, and encourage a modernistic feel. The beauty of copper is that it gives you the freedom to experiment with different décor ideas creatively, so let your inner artistic flair run riot!
Thanks to the copper exposed pipework that is all the rage in stylish, industrial interiors, the metal has long-since been associated with chic and rustic homes. This association with trade and services has led the metal to shine particularly brightly when used with geometric shapes. This makes angular furniture, artwork and lighting a good way to emphasise your copper theme.
Don't be afraid to mix your metals. If copper is your dominant metal, use others sparingly, either in small pieces of furniture or other accessories which will create a juxtaposition in the home.
Copper accessories can be brought into any room of the home, and items like candle holders, placemats and clocks make for a stylish addition to your copper-themed interior.
Lights, Camera, Action!
One of the best ways of incorporating this theme is by installing copper light fixtures, and luckily for you, we know a pretty good lights shop that can help!
Here at Industville, we offer a range of copper lighting fixtures in an array of styles and sizes so finding one that you love won't be too difficult. Whether you would like several smaller lighting fixtures that create a dramatic effect or you'd prefer a single hanging copper light for a subtle, modern interior; you can't go wrong with copper!
We hope this guide to all things copper has given you the inspiration needed to bring copper into your home in time for Christmas. If you'd like to discuss your lighting requirements further, don't hesitate to contact the team today, where you can even arrange a visit to our London showroom to browse our copper collection and see them in action!